Frugal living idea: Freezing vegetables is a great way to store your garden harvest. Whether you grow or purchase your butternut squash, learn how to preserve butternut squash while it's in season and cheap! I'll show you how to preserve butternut squash and what to do with the seeds too.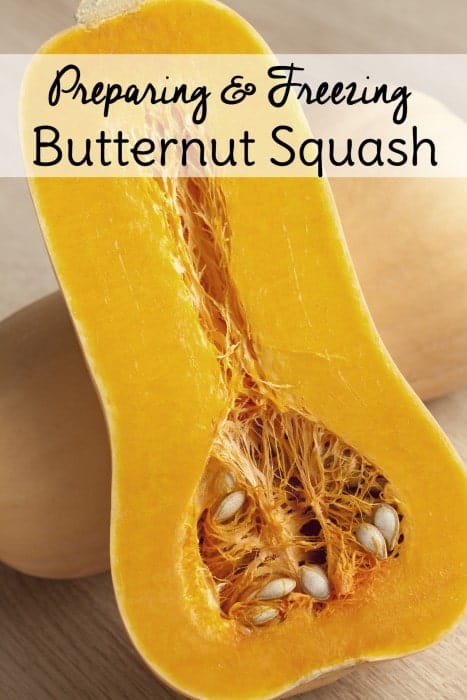 butternut squash so you can make different butternut squash recipes year round!" width="467″ height="700″ />
After the work of preparing a garden you certainly don't want to let any of the produce go to waste. When the garden is in full production sometimes it can be overwhelming to try to preserve the bounty. I look for the easiest way that provides good results.
Although butternut squash can keep for a couple of months on its own you still must have a place to store them. I didn't relish the thoughts of having squash laying on my kitchen table or counter for two months so I decided to freeze them. Not only is freezing the squash easy it also leaves it in manageable portions just right for a quick recipe.
How to Preserve Butternut Squash
Begin by cutting the squash in half lengthwise and removing the seeds and membrane.
Place squash in a baking dish cut side down.  Add 1 cup of water and bake at 350 for 1 hour.  You can place as many squashes that will fit in the pan.  I have baked up to five at once.  Only add 1 cup of water no matter how many squashes you are preparing.
Remove squash from the oven and allow to cool until they can be handled.  Scoop out squash being careful not to remove the skin with the "meat".
Place squash in 1 cup portions into freezer bags and place in freezer and enjoy you produce throughout the upcoming year! You might want to try this butternut squash bread recipe or this butternut squash muffin recipe.
Be sure to save the seeds for roasting!