There are lots of reasons to make homemade taco seasoning instead of relying on a taco seasoning packet.
Maybe you have food allergies and want to make sure your taco seasoning is gluten-free. Maybe you're pinching pennies and realized you're paying too much for the convenience of a taco seasoning pack. Or maybe you like to make everything from scratch in your recipes for the best, freshest taste.
Whatever the reason, making your own taco seasoning is easy and inexpensive. Let's get started!
How much taco seasoning is in a packet?
Most taco seasoning packets contain once ounce of seasoning. One dry ounce is the approximate equivalent of two dry tablespoons.
This homemade taco seasoning recipe yields about an ounce and is designed to use with one pound of ground beef.
That answers another question! How much taco seasoning should you use for ground beef? About 2 Tablespoons per pound.
Now that you know how much taco seasoning to use, feel free to double or triple this recipe to store for later use.
Is taco seasoning gluten-free?
The beauty of making your own homemade taco seasoning recipe is that you control all the ingredients.
This particular taco seasoning is absolutely gluten-free when I make it. Please check your spice containers for a list of all ingredients just in case certain brands contain gluten. I haven't run across this yet but you never know!
A taco seasoning packet is a little suspect though. For example, check out the ingredients in this taco seasoning pack from McCormick:
There's nothing in the ingredient list that overtly contains gluten, but "spices" is vague. I'm guessing there is either gluten in their special spice blend or since their seasoning packs are manufactured in a facility that also processes gluten, they can't technically label the packets as "gluten-free."
Maybe McCormick taco seasoning is "gluten-friendly" which works just fine for Hubs, but if you have celiac disease or a serious gluten allergy it will matter.
More evidence is pictured below.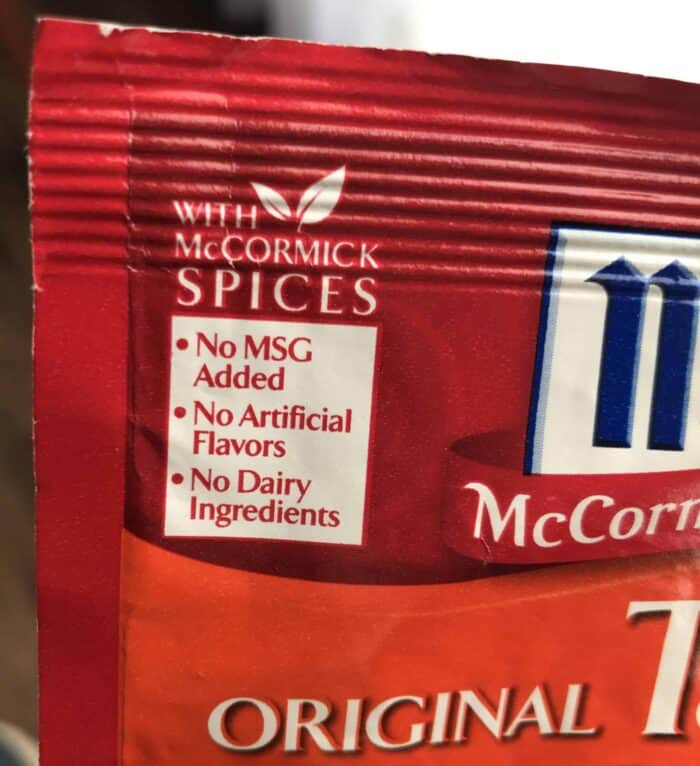 I think if the McCormick tace seasoning packet was free of gluten, it would be proudly labeled as such just like the dairy mention. Take this information for whatever it's worth for you.
Does taco seasoning go bad?
As long as you used fresh ingredients, your homemade taco seasoning can be stored in an airtight container for at least a year or used immediately to season ground beef for nachos, tacos, etc.
Taco seasoning doesn't "go bad" in the sense that it will become rancid and make you sick. However, it can clump up over time due to moisture creeping in and the spices can begin to taste stale after a while.
Use the sniff test to determine if your spices are old. They will smell rather…weak if they retain any scent at all.
The rule of thumb is that ground, blended spices can last for 2-3 years. Assuming that the spices you already have in your pantry to use in this homemade taco seasoning recipe weren't purchased last week, I'd say your taco seasoning DIY should be fresh for at least a year if you keep it airtight.
Now let's get on to making our own homemade taco seasoning!
Beef Taco Seasoning Ingredients
This taco seasoning is designed to go with ground beef for tacos, nachos, etc. If you try it with chicken or ground turkey let me know what you think!
Here is a list of spices you will need for homemade taco seasoning:
ground chili powder
ground cumin
ground coriander
garlic powder
smoked paprika
chipotle powder – If you don't have chipotle powder or can't find it in stores, substitute with additional smoked paprika. The chipotle powder adds a distinct flavor that puts a bit of sweet heat in this ground beef taco seasoning recipe but if you need to substitute it will still taste great.
black pepper
sea salt – For low-sodium taco seasoning, reduce or eliminate according to taste or dietary restrictions
Directions:
Are you ready for this complicated process? I've got to warn you that it's not for beginners:
Combine the taco seasoning ingredients in a small bowl and stir to combine. BAM! You're done.
Your taco seasoning is ready to add to ground beef.
What will you make with your beef taco seasoning? I recommend you use it in my restaurant style beef nachos recipe. It's perfect for busy nights.
📖 Recipe
Homemade Taco Seasoning
Ingredients
1

Tablespoon

ground chili powder

2

teaspoons

ground cumin

1

teaspoon

ground coriander

1

teaspoon

garlic powder

½

teaspoon

smoked paprika

¼

teaspoon

chipotle powder

½

teaspoon

black pepper

¾

teaspoon

sea salt
Instructions
Combine the taco seasoning ingredients in a small bowl and stir to combine.

Store in an airtight container for a year or use immediately to season ground beef for nachos, tacos, etc.
Notes
For low sodium taco seasoning, simply reduce or omit the sea salt in this homemade taco seasoning recipe
Nutrition Facts
Homemade Taco Seasoning
Amount Per Serving (1 serving)
Calories 61
Calories from Fat 27
% Daily Value*
Fat 3g5%
Sodium 1847mg80%
Carbohydrates 11g4%
Protein 3g6%
* Percent Daily Values are based on a 2000 calorie diet.
Did You Make This Recipe?
Please leave a comment below or share on Pinterest