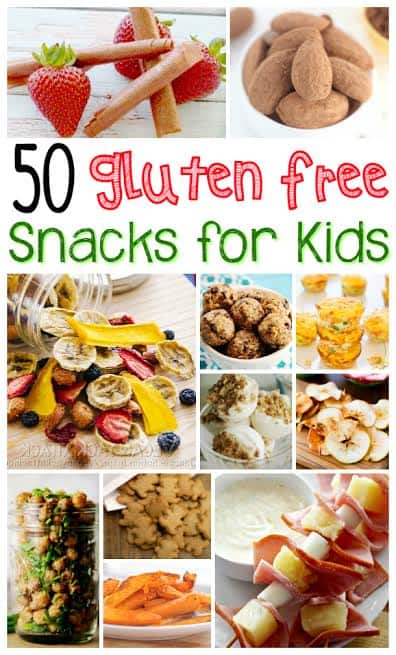 Need simple, gluten free kid's snacks? Check out these 50 gluten free snacks for kids for inspiration! Some of them make great gluten free lunches for kids too.

Who needs bread when you can enjoy ham, cheese, and pineapple kebabs? These finger-friendly foods include everything from energy bites, homemade fruit-filled trail mix, various veggie treats, and even a few sweets. There are many options on the list that are perfect for swapping with the gluten-free variety. Ditch crackers made with wheat flour and make cheese or quinoa crackers.
French fries and tater tots sometimes contain wheat – so make your own flavorful fries out of sweet potatoes or even avocado. Don't be surprised if making things from this list for your kiddos, makes you super hungry!
Gluten Free Snacks for Kids
If the thought of finding a gluten free snacks for kids gives you a headache – don't worry! Even though it may seem like everything has gluten in it, I've compiled this list of 50 gluten free kid's snacks. By putting in a few extra minutes of prep in the kitchen, you'll be amazed at the number of yummy snacks you can put together for your family.
50 Gluten Free Kid's Snacks
This Mama Love – Ham and Pineapple Kababs
Chocolate Covered Katie – Paleo Raw Chocolate Fudge Balls
Almost Super Mom – Gluten Free Paleo Crackers
Cookie and Kate – Spicy Indian Baked Chickpeas
Amy's Healthy Baking – Cocoa Roasted Almonds
Averie Cooks – Cheese, Vegetable, and Egg Muffins
Cupcakes and Kale Chips – Baked Cauli Tots
Sugarfree Mom – Mini Zucchini Pizza Bites
My Whole Food Life – Banana Chocolate Energy Bites
Jay's Baking Me Crazy – Paleo Corn Dog Muffin
Frugal Coupon Living – Banana Split Sticks
Be a Fun Mum – Frozen Blueberry Yoghurt Kebabs
Fork Knife Swoon – Berry Watermelon Fruit Salad
The Soccer Mom Blog – Fruit Ladybugs
Make the Best of Everything – Cucumber Dip Cups
Eat Drink Love – No-Bake Energy Bites
Four Generations, One Roof – Gluten Free Banana Muffin
Fit Foodie Finds – Cinnamon Sugar Tortilla Strips
Midget Momma – Zucchini Fritters
Shared Appetite – Avocado Fries
Southern-in-Law – Gluten Free Homemade Tiny Teddies
Sally's Baking Addiction – Baked Cinnamon Apple Chips
Totally the Bomb – Asiago Cheese Crisps
Vegan Yack Attack – Cool Ranch Roasted Chickpeas
This Mama Love – Apple Cobbler Yogurt Bites
Strength and Sunshine – Mint Chocolate Sunflower Bites
Lexi's Clean Kitchen – Low-Sugar Gluten Free Pumpkin Bread
Goddess in the House – Gluten Free PB and Berry Blast Snack Mix
Domestic Mommyhood – Gluten Free Tortilla Pizza
Living Sweet Moments – Homemade Strawberry Fruit Roll Ups
Cupcakes and Kale Chips – Blueberry and Peach Fruit Roll Ups
Not Too Shabby Gabby – Pepper Jack Cheese Crackers
Stockpiling Moms – Apple "Cookies"
The Lean Green Bean – Sweet Potato Banana Bites
Happy Healthy Motivated – Broccoli, Hash Browns, and Cheese Cups
Living Well Mom – Chunky Monkey Bites
Family Focus Blog – Cucumber Sandwiches
Wonky Wonderful – Gluten Free Quinoa Pizza Bites
Tablespoon – Fruity Frozen Yogurt Snacks
Kids Activities Blog – Healthy Veggie Popsicles
Ali Went Paleo – Turkey Cucumber Roll Ups
Eats Amazing – Frozen Pineapple Ice Pops
The Cooks Pyjamas – Green Smoothie Popsicles
Eating Richly – Kiwi and Grapes Turtle
Cookie and Kate – Baked Sweet Potato Fries
This Mama Love – Trail Mix Apple Snack
Amy's Healthy Baking – Chocolate Chip Peanut Butter Protein Bars
Averie Cooks – Chocolate Peanut Butter Snack Mix
Vegan Yack Attack – Tropical Trail Mix
Ben and Me – Kale Chips
If you found these gluten free snacks for kids helpful, try these 25 Easy Gluten Free Crock Pot Recipes