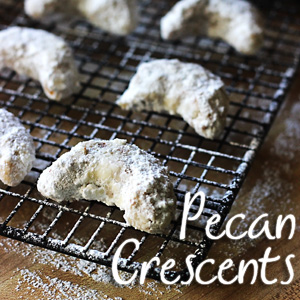 My mother-in-law has been making these pecan crescent cookies for years. Everyone in the family has a favorite out of all the cookies she makes. Hubs favorite are her cream wafers but pecan crescent cookies are mine. Hope you enjoy them as much as I do!
Pecan Crescent Cookies
Ingredients:
1/2 cup butter
2 cups chopped pecans
5 tbsp granulated sugar
1/2 tsp salt
2 tbsp vanilla
1 tbsp water
2 cups flour
1/2 cup powdered sugar
Directions:
Cream butter and sugar together. Add vanilla and water. Add in flour, salt, and pecans and mix well. Pinch off walnut-sized pieces of dough, roll into a ball, then shape into a crescent. Place on ungreased cookie sheet and bake at 325 degrees for 20 minutes. While still warm, roll cookies in powered sugar.