Gatlinburg is one of the most popular tourist destinations in Tennessee, and for good reason. Gatlinburg, TN offers everything from Appalachian Trail hiking to the most beloved aquarium in the USA. With so many activities to choose from how do you narrow down your itinerary, especially if you only have a weekend to enjoy this Smoky Mountain town?
From the best things to do and eat to a sampling of the different lodging options in Gatlinburg, we've got you all covered for your next weekend getaway to the Smoky Mountains. Ready? Let's go!
Things to Do in Gatlinburg
Roaring Fork Motor Nature Trail
Even if hiking isn't your thing, you can still enjoy the beauty of The Great Smoky Mountains National Park thanks to Roaring Fork Motor Nature Trail. While there are of course trails off of Roaring Fork Motor Nature Trail to hike on foot, there are two waterfalls accessible by car! This makes it a great outdoor activity for people of all ages and physical abilities and provides a way for everyone to get out and enjoy the natural beauty of the Smoky Mountains.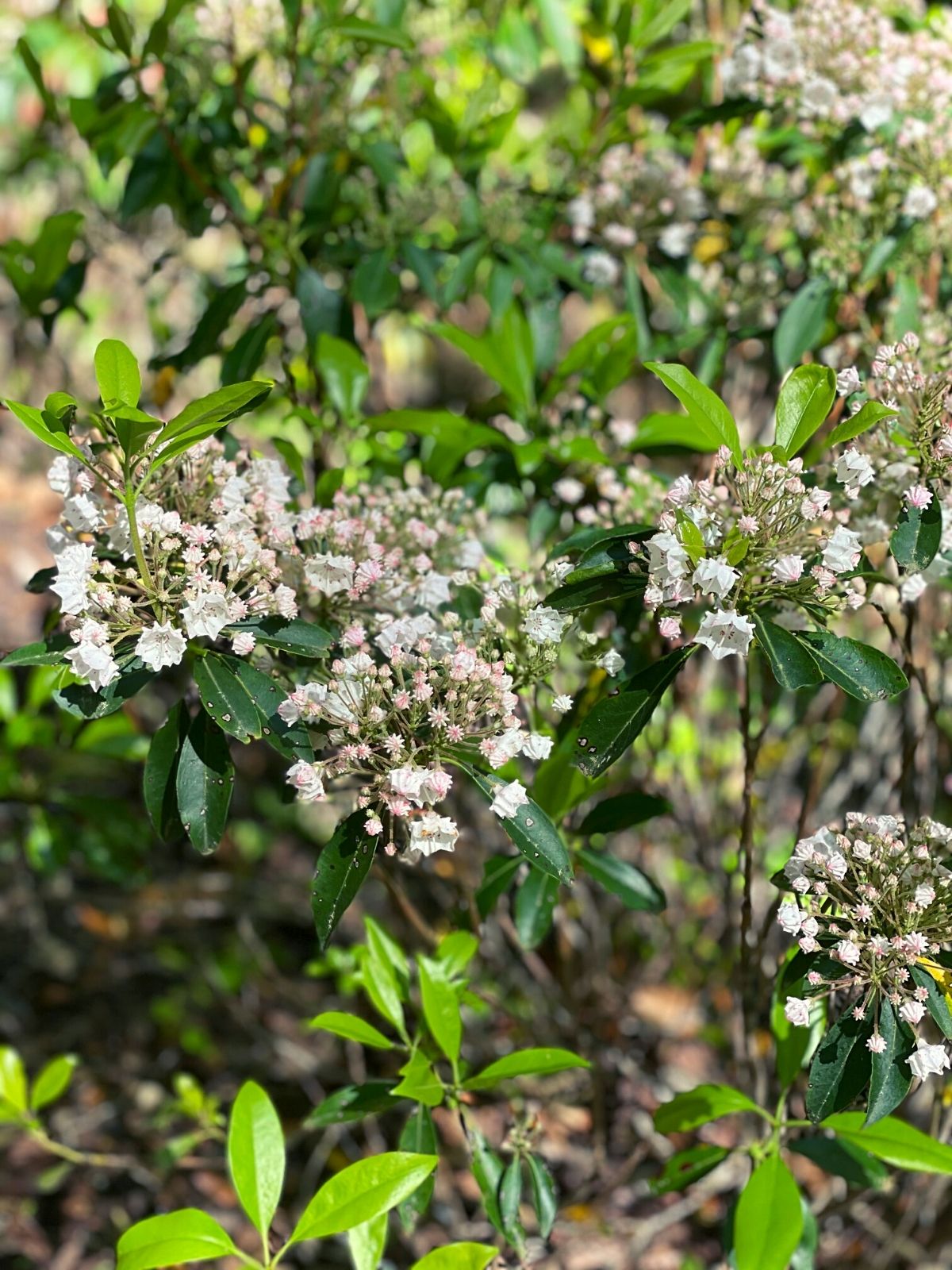 Ely's Mill
Accessible directly from Gatlinburg's Parkway (or found toward the end of your drive through Roaring Fork Motor Nature Trail), Ely's Mill has stood at the edge of the Great Smoky Mountains National Park for nearly 100 years. This piece of old Gatlinburg is managed by founder Andrew Ely's granddaughter, Ruth, and is free to visit!
Have your camera ready for the many Instagram-worthy spots and be sure to stop by the shop at Ely's Mill. You'll find everything from crafts made by local artisans to antiques collected by "Old Man Ely." Say hello to the Mill's resident cat while you're there. She likes to sleep in the case under the register.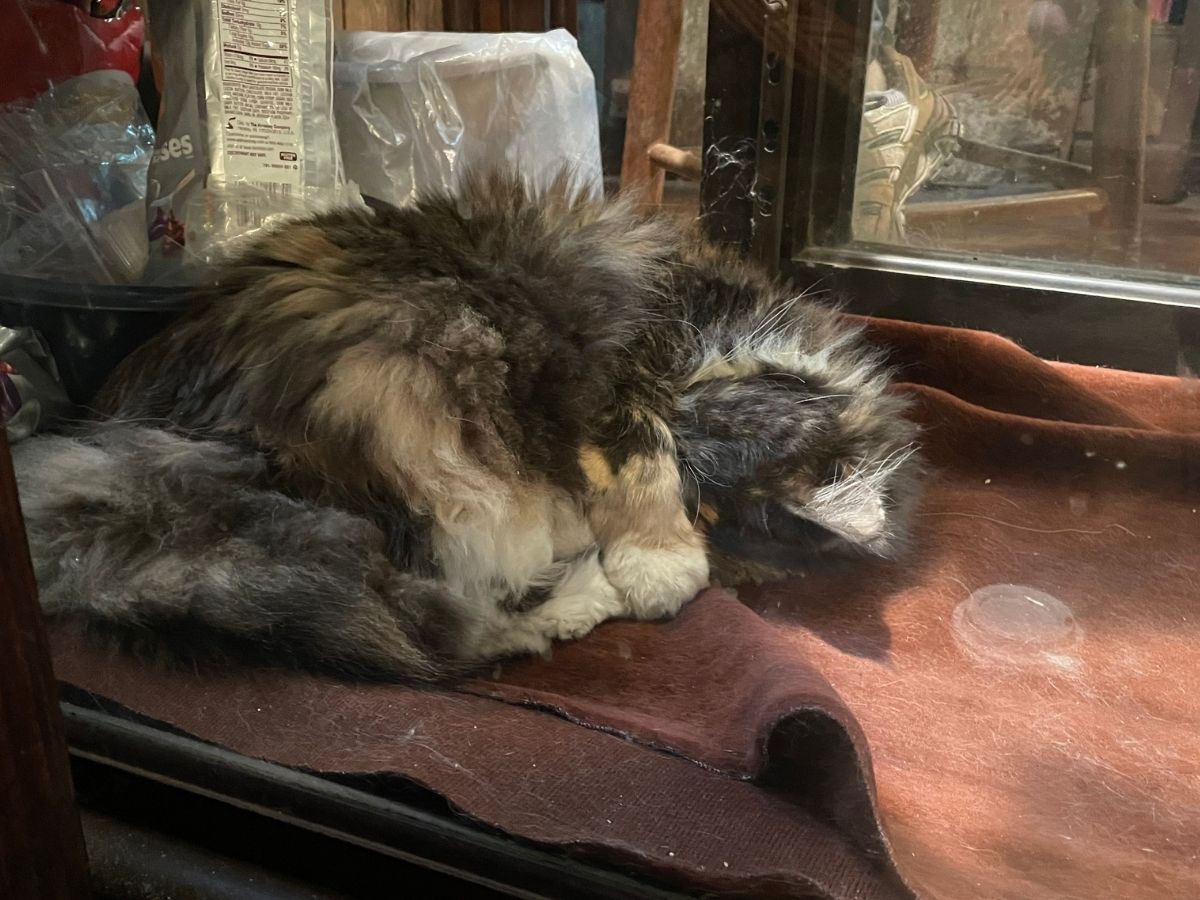 Gatlinburg SkyLift Park
Towering at the top of Gatlinburg's Crockett Mountain is SkyLift Park. The view from this mountain attraction is nothing short of breathtaking! You can see for miles in every direction, including a panoramic view of Gatlinburg and the Great Smoky Mountains National Park. Ride to the top of the mountain on the SkyLift then spend some time relaxing and enjoying the view from the SkyDeck. Don't forget to walk across America's longest pedestrian suspension bridge before you ride back down the mountain. Are you brave enough to walk across the thirty feet of glass panels and look down while you do it?
Anakeesta
Anakeesta rests 600 feet above the heart of Gatlinburg. It's a beautiful place where you can get away from the hustle and bustle of town and really soak in the beauty of the mountains. Climb 60′ AnaVista tower are you'll be treated to a nearly 360-degree view of the surrounding mountain range with visibility for miles.
Ride either a Chondola or a Ridge Rambler adventure truck to the top of Anakeesta and get ready to enjoy more than just spectacular views.
Anakeesta is home to the largest TreeTop SkyWalk in the US, the Railrunner Mountain Coaster, a splash pad, gem mining, ziplining, shopping, dining, and more! You might just see some black bears underneath you as you walk through the forest. We saw one at a distance which was exciting.
Your admission will be valid all day so you can ride up and down the mountain as much as you'd like. Admission tickets purchased at the ticket booth one hour before closing time, will give you access to Anakeesta the following day for free! I recommend doing this so you can catch the sunset and enjoy a chondola ride at night then play all day the next day.
Ober Gatlinburg
Tennessee is a state that enjoys all four seasons, and Ober Gatlinburg provides the perfect place for you to get out of the summer heat or enjoy winter fun. Ober Gatlinburg Ski Area and Amusement Park is a place for the whole family to have a great time.
Whether you want to get your adrenaline pumping with the ski mountain coaster, snow tubing, or skiing or you'd rather ice skate indoors and then relax by the indoor fire pits with a cuppa, Ober Gatlinburg has you covered.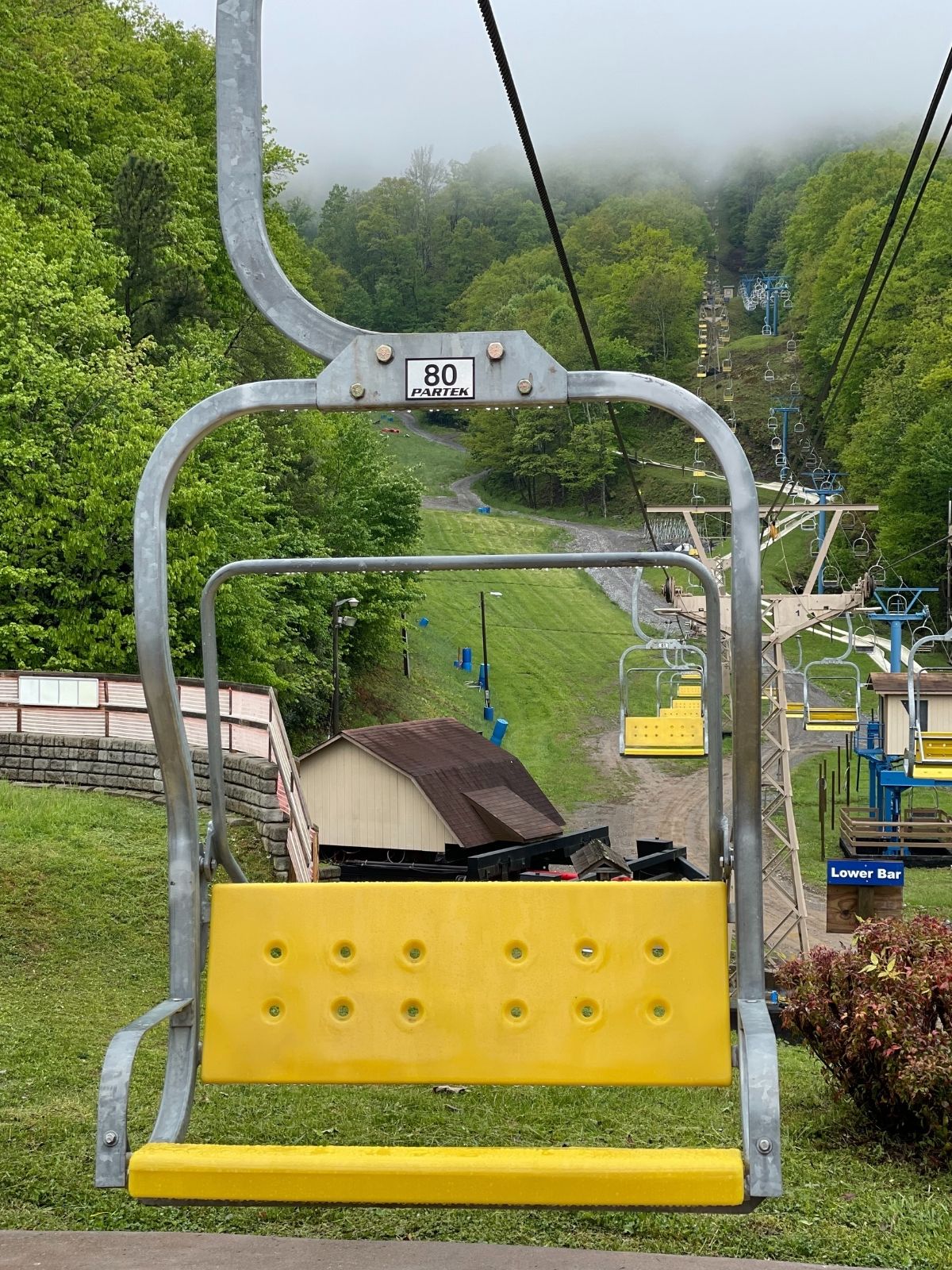 There are beginner slopes, ski lessons available, and plenty of rental equipment which is great news for ski newbies like me.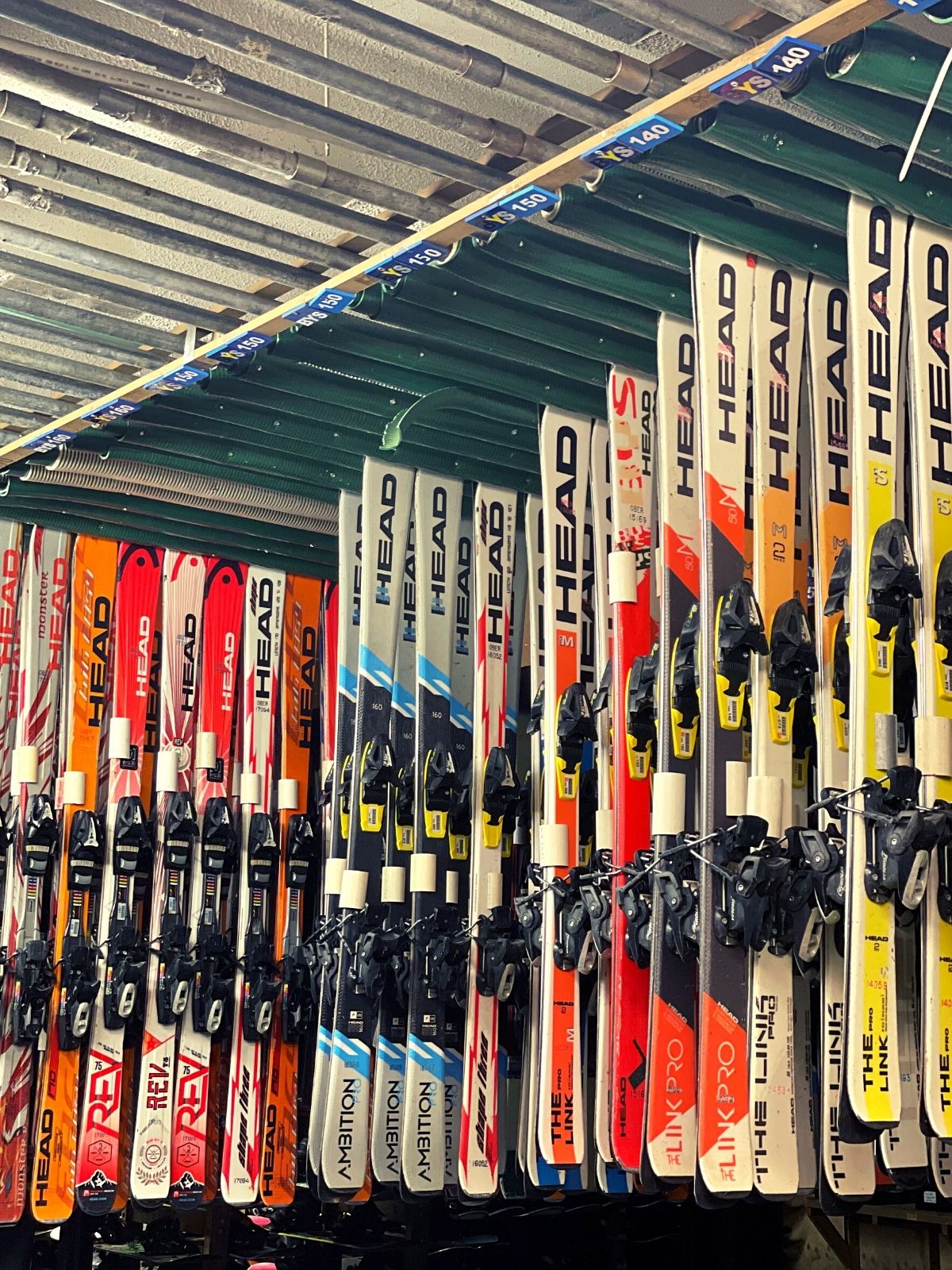 If you're visiting Gatlinburg during warmer weather, enjoy summer tubing, alpine slides, and the indoor ice rink year-round. Ober Gatlinburg even has the Southeast's only ice bumper cars! We visited during Ober's annual spring maintenance and got to watch the snowflakes being painted on the ice which I thought was pretty neat.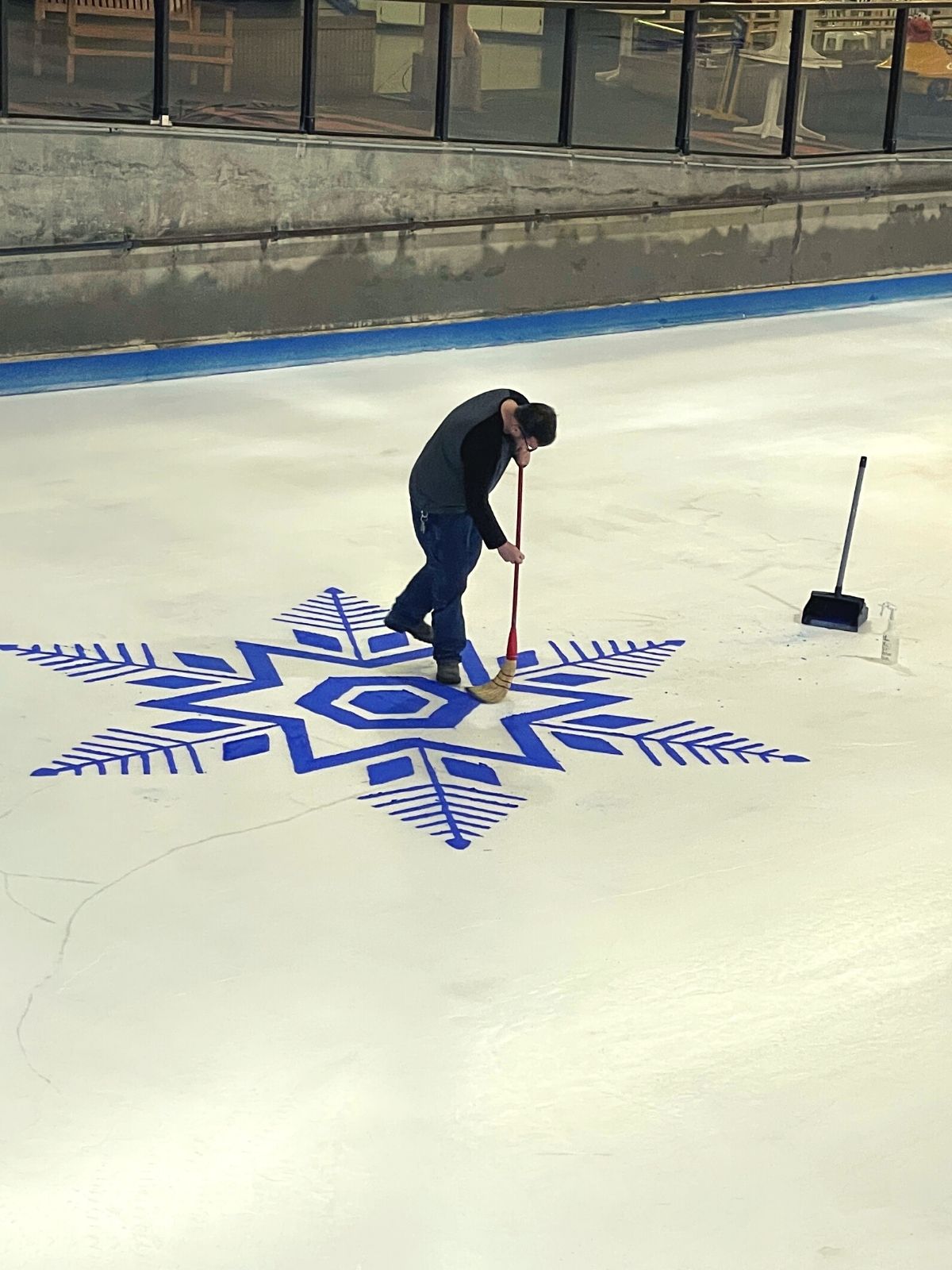 Many of the activities at Ober Gatlinburg are open weather-permitting, so stay up-to-date by following their Facebook page.
Great Smoky Arts & Crafts Community
The Gatlinburg Arts and Crafts Community is THE place to find authentic Appalachian arts and crafts. The community consists of over 130 artisans, many of whom are second and third-generation artisans.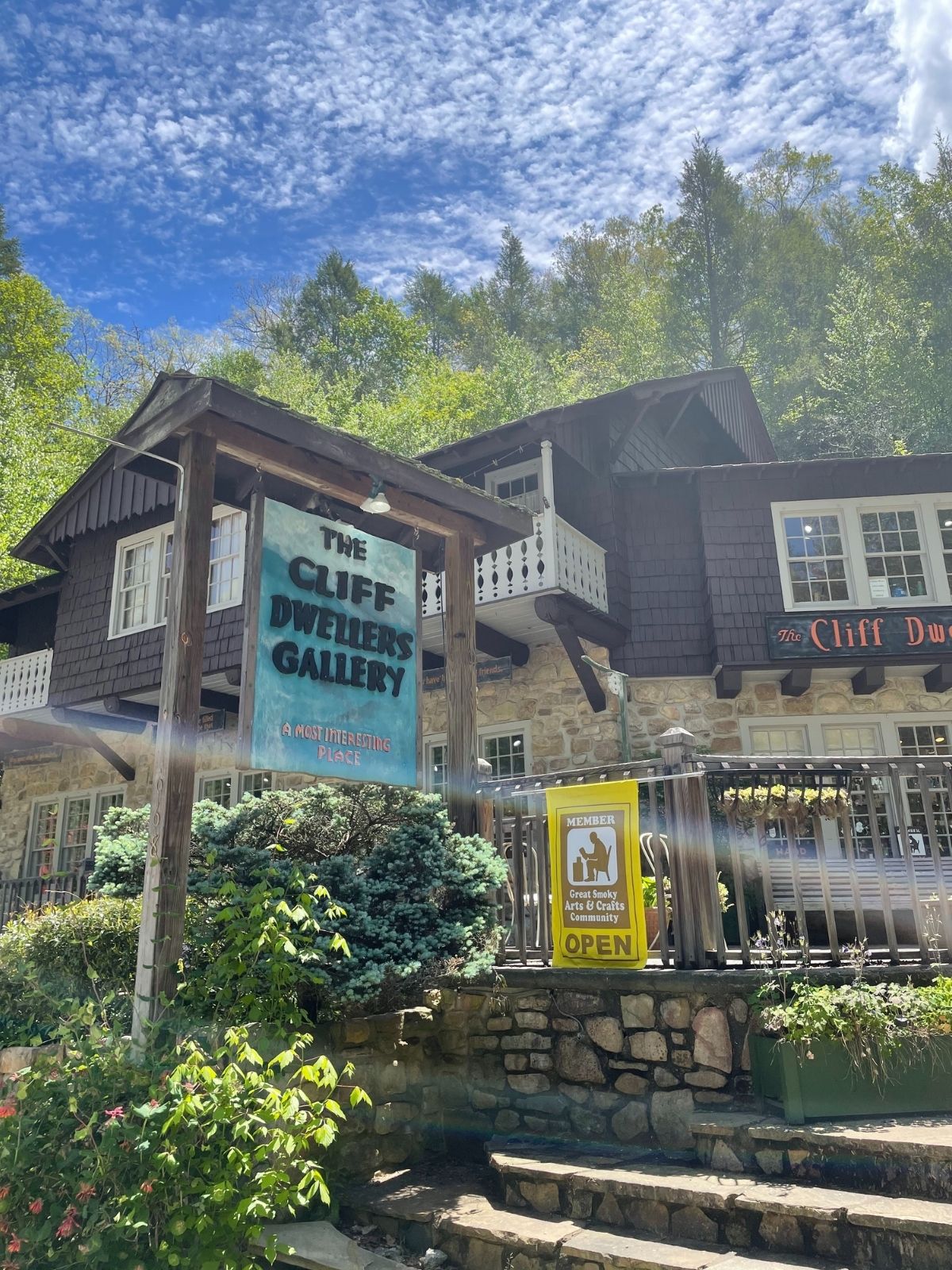 You can find everything from handmade pottery to woodworking, as well as jewelry and quilts. Prices are very reasonable and I could happily spend an entire day here.
If you're in Gatlinburg just for the weekend and need to pick and choose where you go, Stop at Cliff Dwellers Gallery for sure.
Not only will you find a variety of handmade offerings but the studios upstairs are open most days so you can watch some of the artisans at work.
Built in 1933, Cliff Dwellers has quite a bit of Gatlinburg history within its wall too. You won't regret stopping by and learning not only about Appalachian art but some of the region's heritage as well.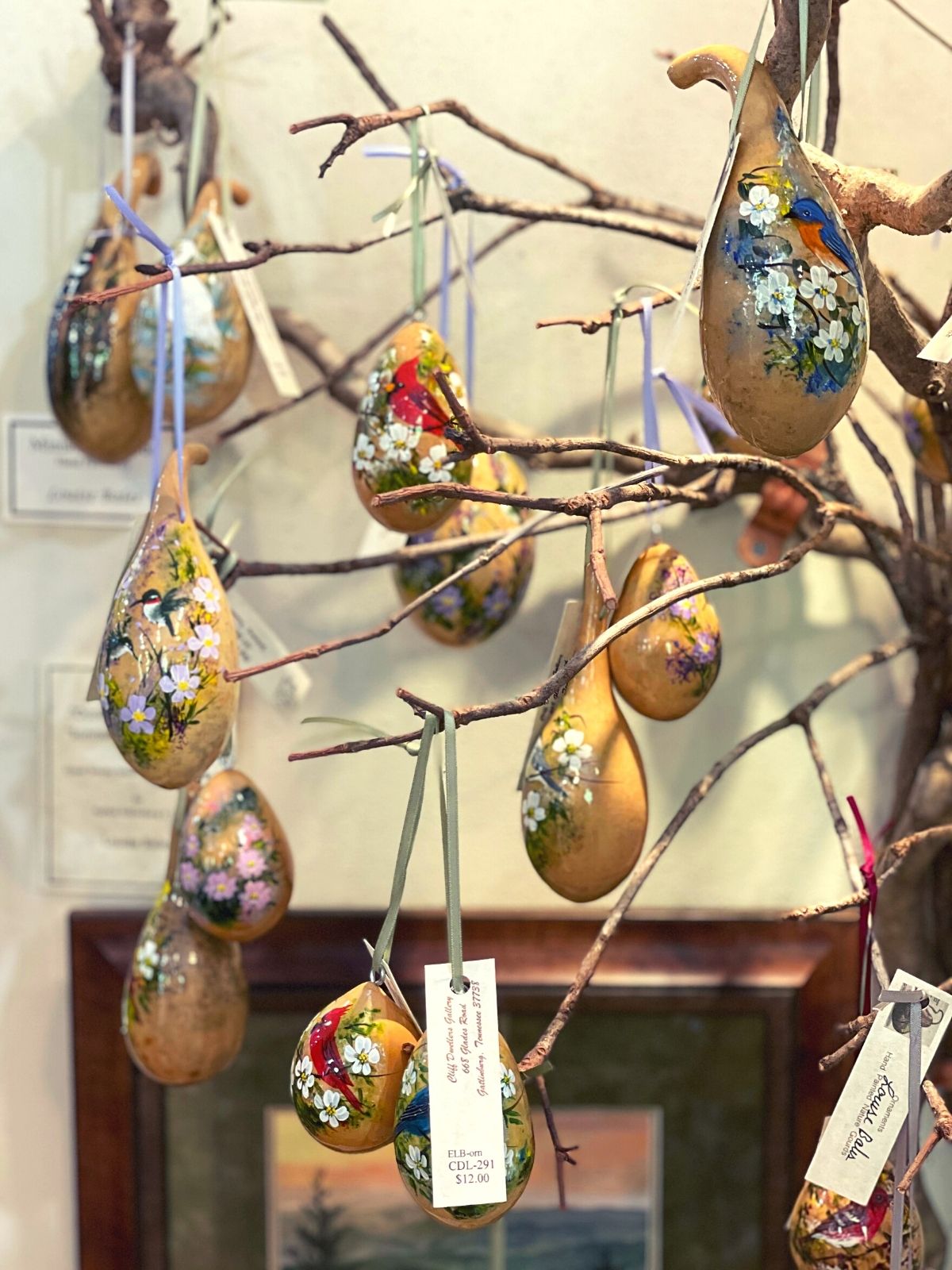 Next door to Cliff Dwellers is a 130-year old church building that houses both The Jim Gray Gallery and Ogle's Broom Shop. The gallery has an eclectic assortment of paintings and sculptures both indoors and out. Jim's grandson, Dan, runs the gallery and can tell you all about his grandfather's art as well as his own.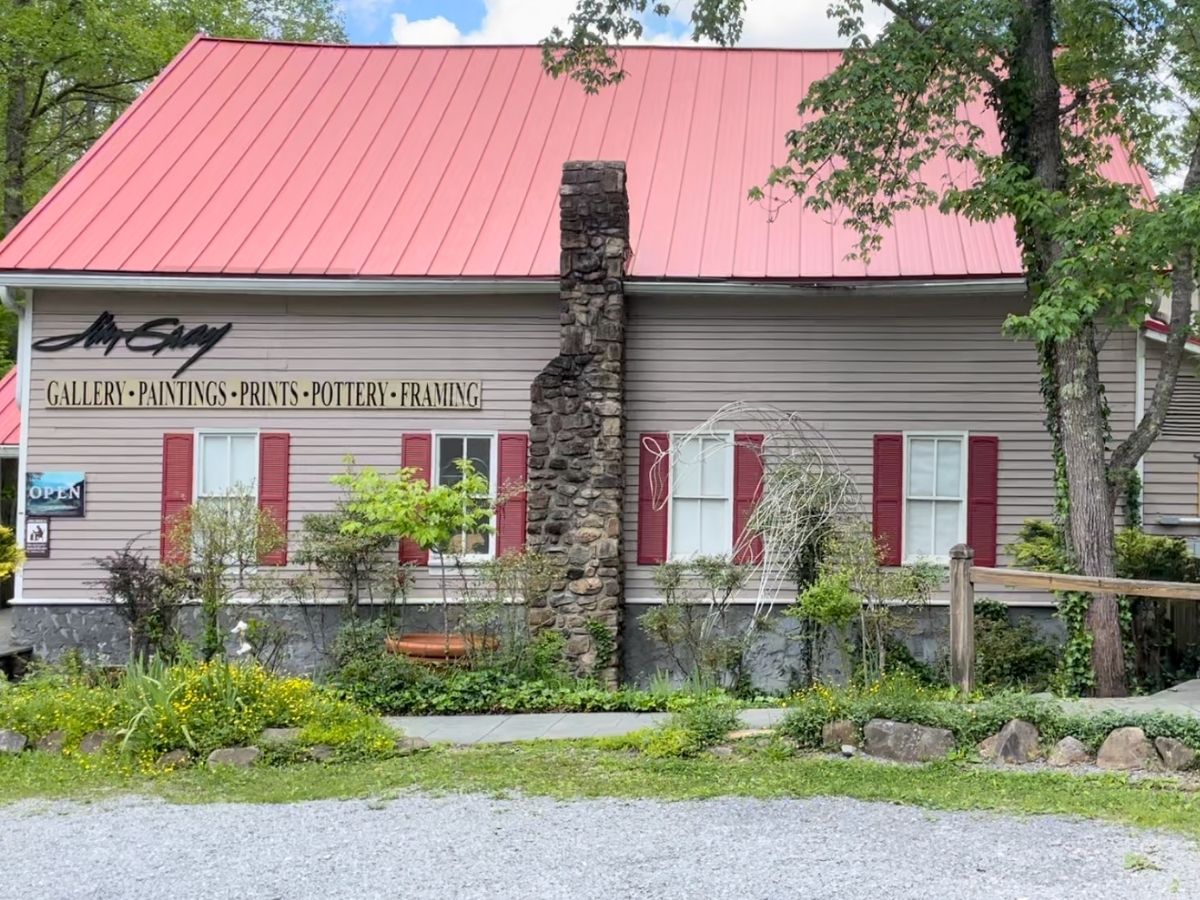 The juxtaposition of styles on display from this artistic family makes The Jim Gray Gallery a wonderful place to just sit back and appreciate some of the talent that has come from the region. Be sure to purchase some prints to remember your visit then head out back to Ogle's Broom Shop.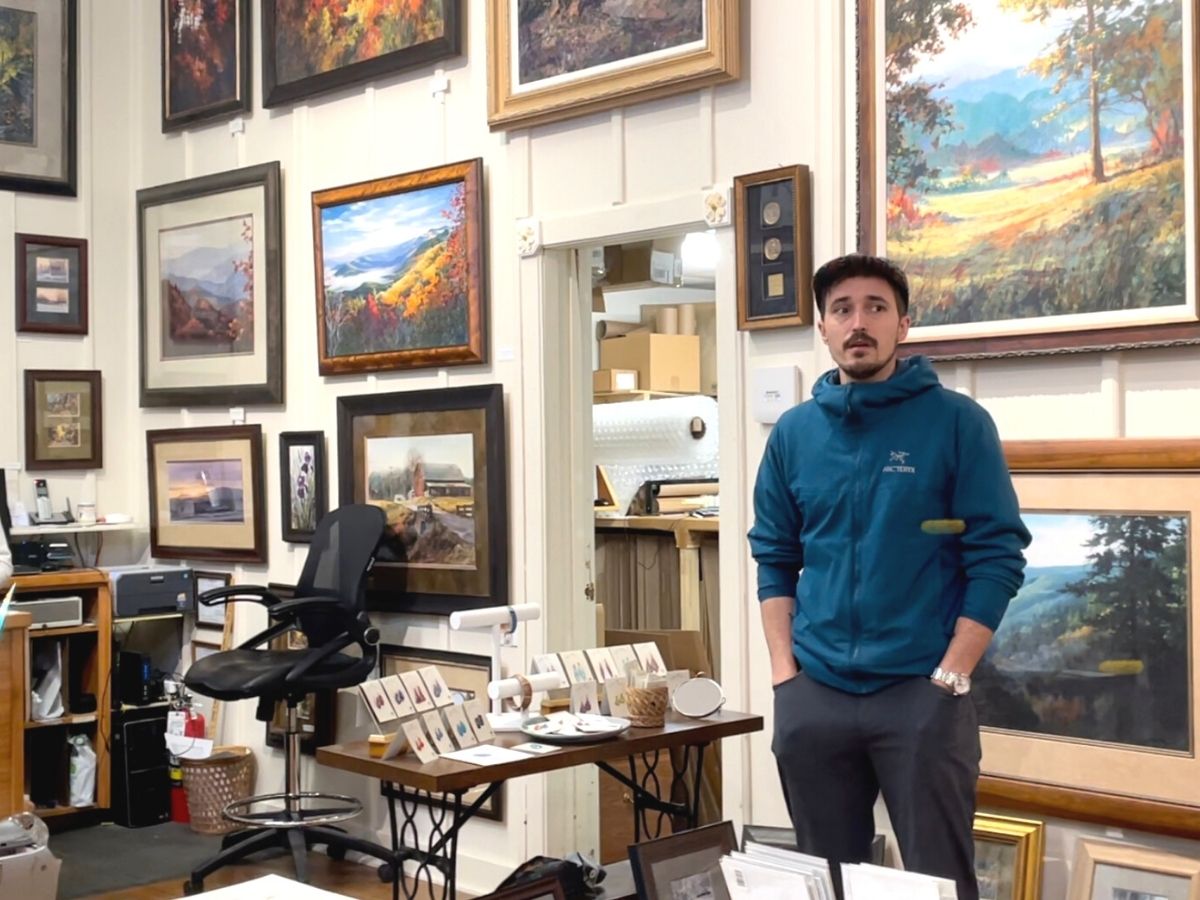 David Ogle is a 3rd generation broom maker who first started making brooms when he was 13 years old. Ogle's have been making brooms in the area for nearly 100 years and any of their pieces will make a beautiful and functional addition to your home.
A broom made in the 1920s and used for many decades hangs above David's workbench. Its color has changed with age but that's about it! I picked out an Ogle broom for my hearth that will make a unique heirloom for my family.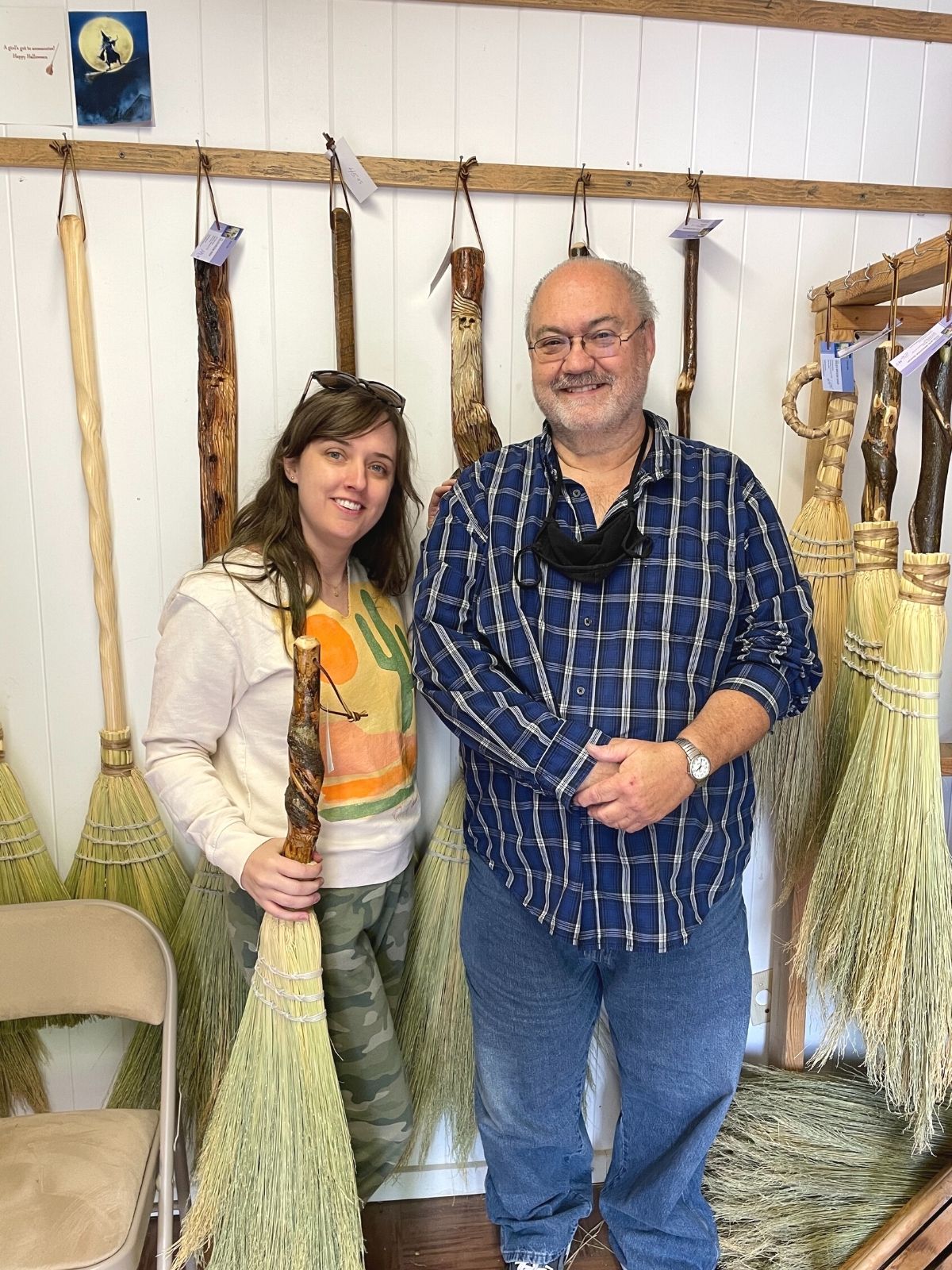 Whether you're looking for something unique or just want to browse, there's sure to be something that sparks your interest here at this amazing craft community!
Arrowmont
At the heart of Appalachian arts and crafts is Arrowmont school of arts and crafts. Dedicated to keeping the legacy of Appalachian arts and crafts alive through classes, workshops, artists in residence, galleries, and community events, Arrowmont has a rich historical tradition as well.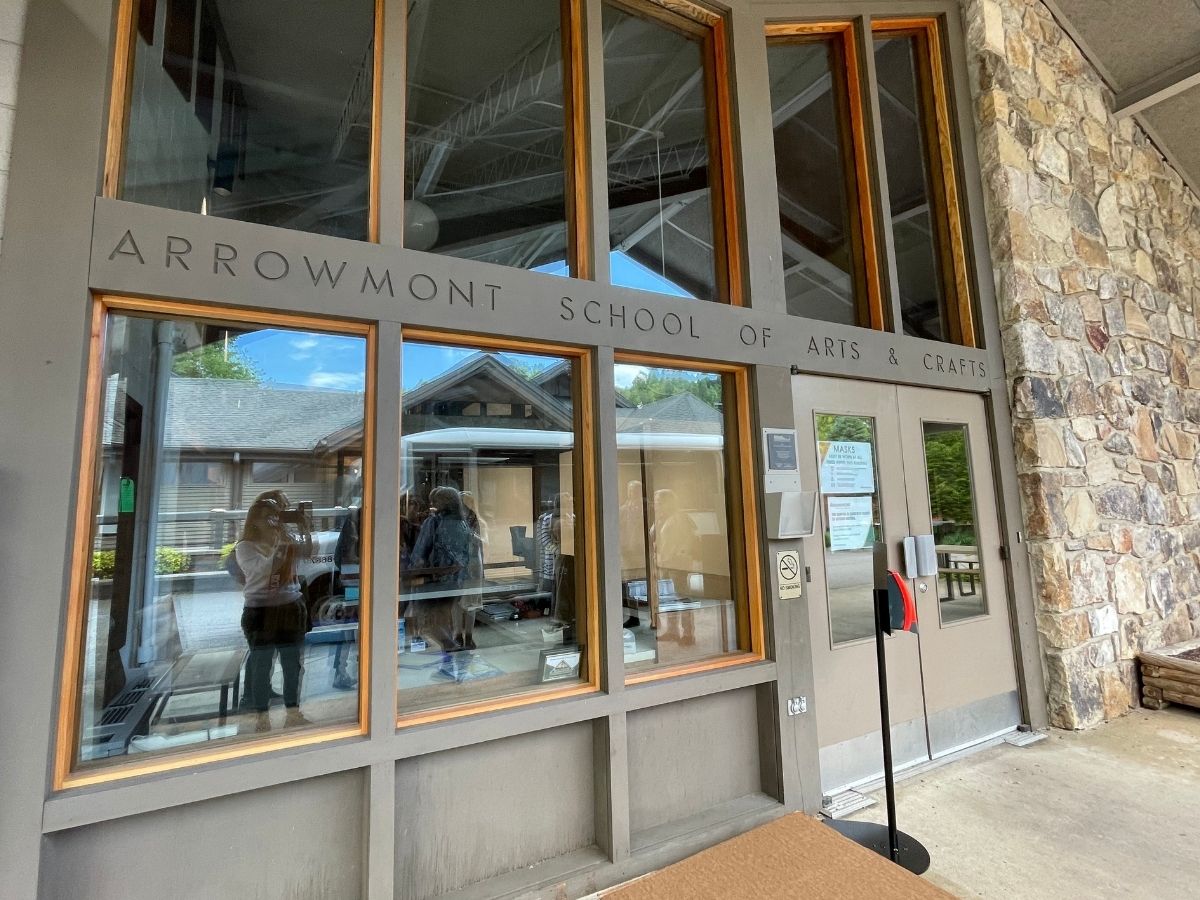 Built in 1912 as the Pi Beta Phi Settlement School, Arrowmont has provided community outreach and art education since 1926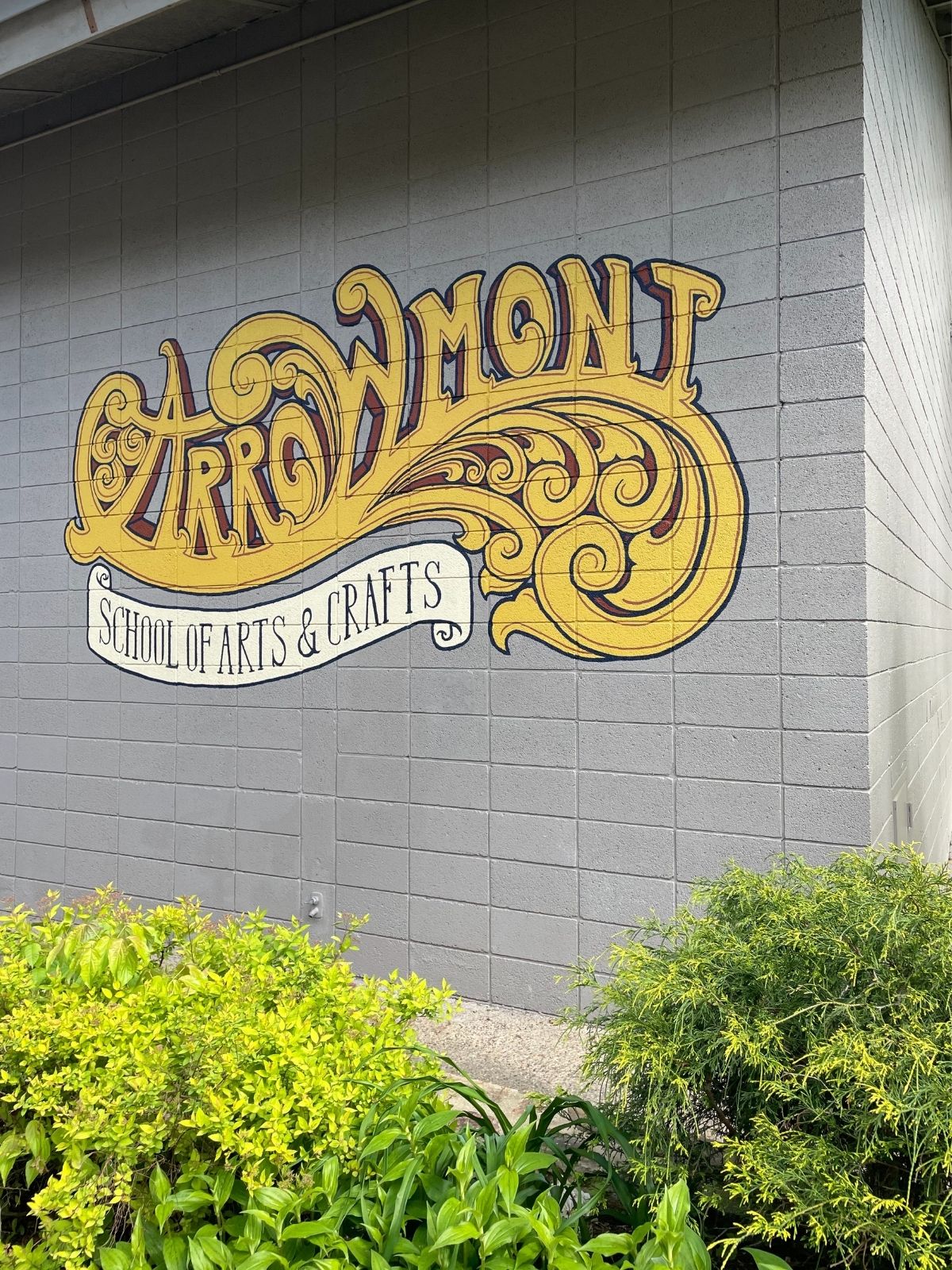 Check the calendar before you go to find out if there are any workshops or community classes being offered during your visit to Gatlinburg. If not, you'll want to at least stop by to see one of the many galleries featuring the work of Arrowmont students and instructors.
You might even decided to plan your next Gatlinburg trip around Arrowmont's schedule! They offer children's classes in addition to the adult classes so there's something for each member of your family to enjoy.
The Village Shops
No trip to Gatlinburg is complete without at least a quick visit to the Village Shops downtown. Here you'll find 27 unique shops and dining establishments to choose from as well as some shady respite from the summer heat.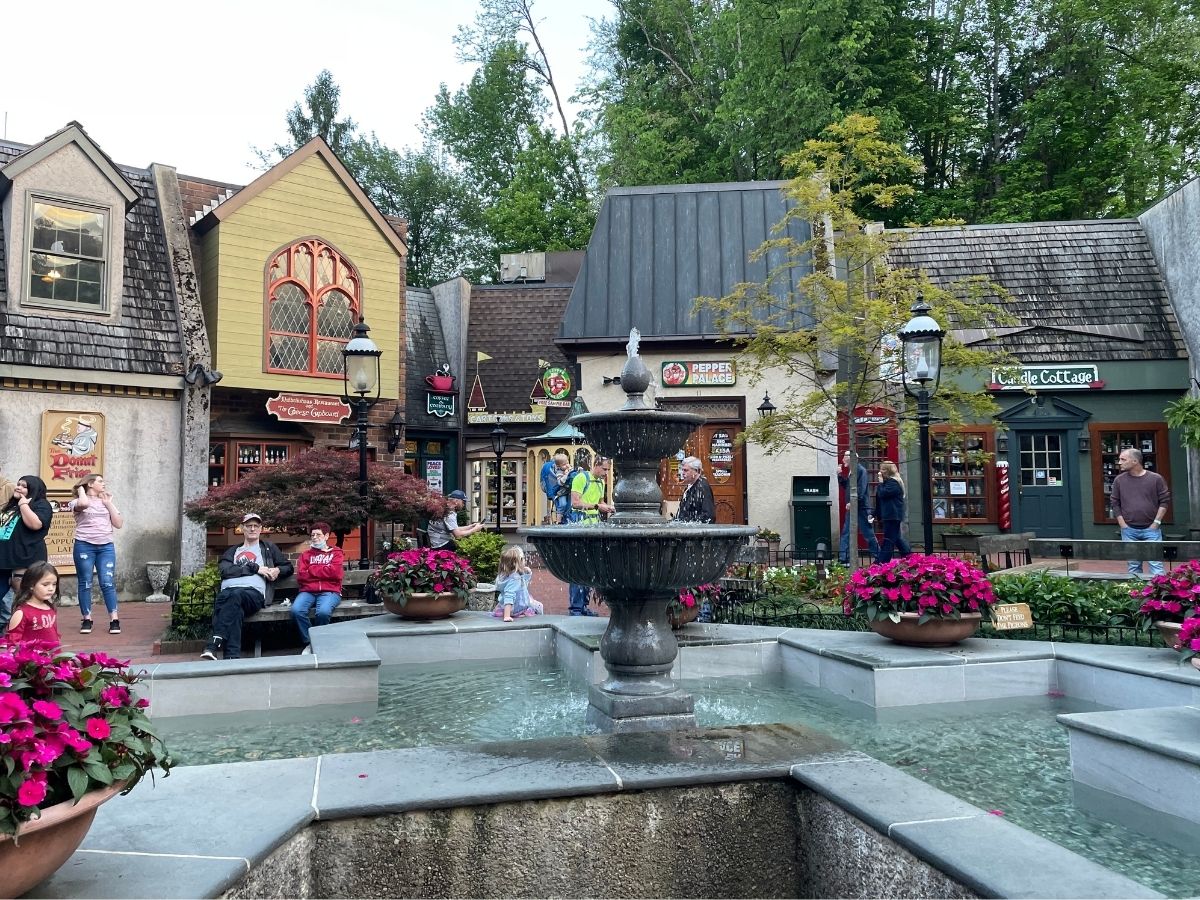 In addition to a fun shopping and dining experience, the Village Shops are a great place to take photos. From the Italian fountains to the shop facades you'll find a nice place for a group photo during your visit.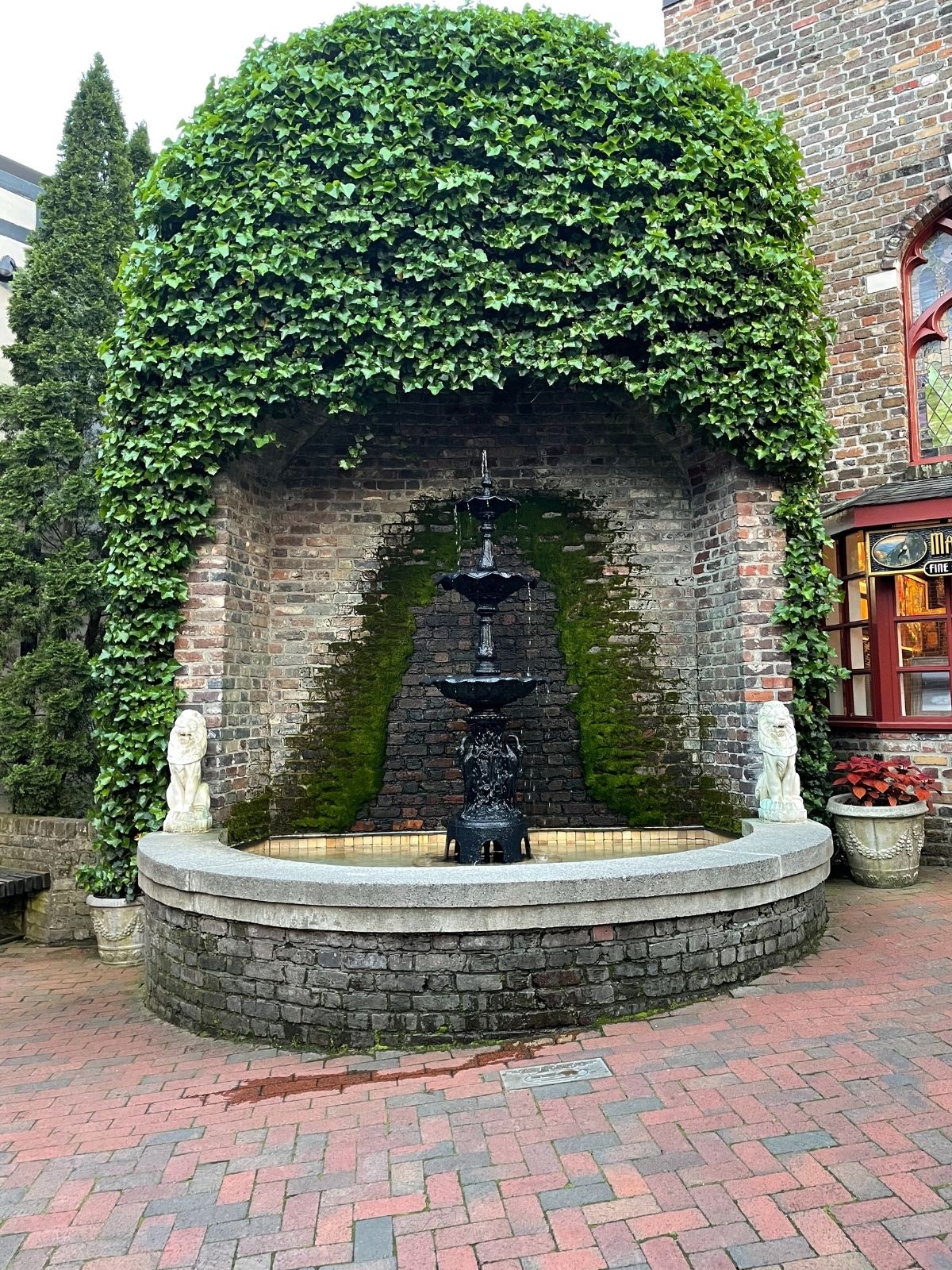 The Village Shops is a dog-friendly area (check with individual stores before bringing your pooch inside) with water bowls provided outside many stores with your canine friend in mind. Overall it's a lovely respite from the hustle and bustle of the Parkway. Plus…donuts. Keep reading!
Ripley's Aquarium of the Smokies
This Gatlinburg attraction features over 1 million gallons of water, more than 100,000 sea creatures, and is the second most visited attraction in the whole state of Tennessee. The aquarium houses everything from penguins to sharks to jellyfish.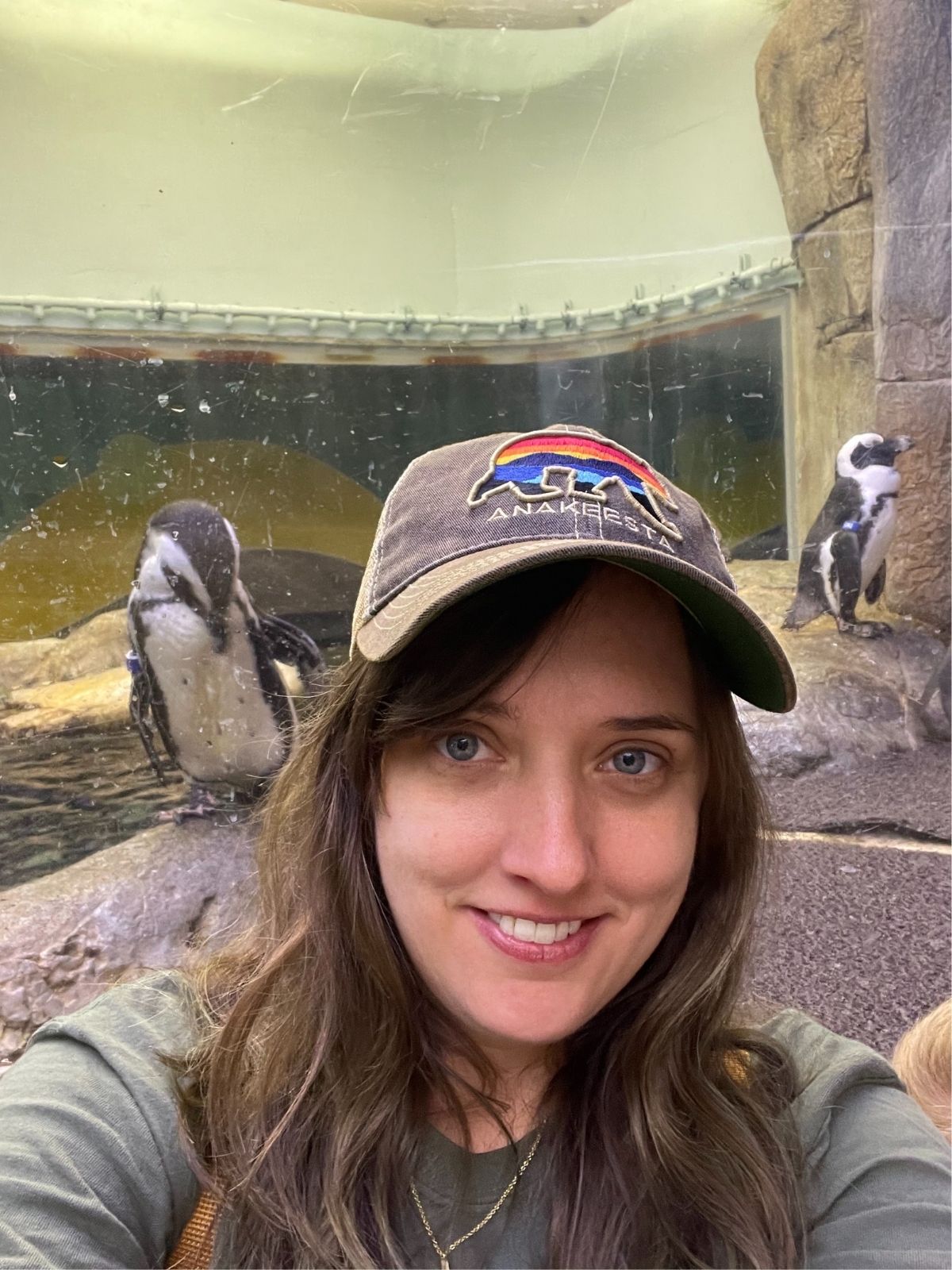 Check out the video below for a walkthrough of this amazing aquarium.
Gatlinburg Restaurants
If you're looking for things to do in Gatlinburg I hope my suggestions have provided you with plenty of options to choose from. Now let's look at where to eat during your weekend in Gatlinburg!
Donut Friar
Open from 5:00 AM – 8:00 PM The Donut Friar has you covered no matter when you're craving donuts. It's one stop you absolutely have to make while you're browsing The Village Shops.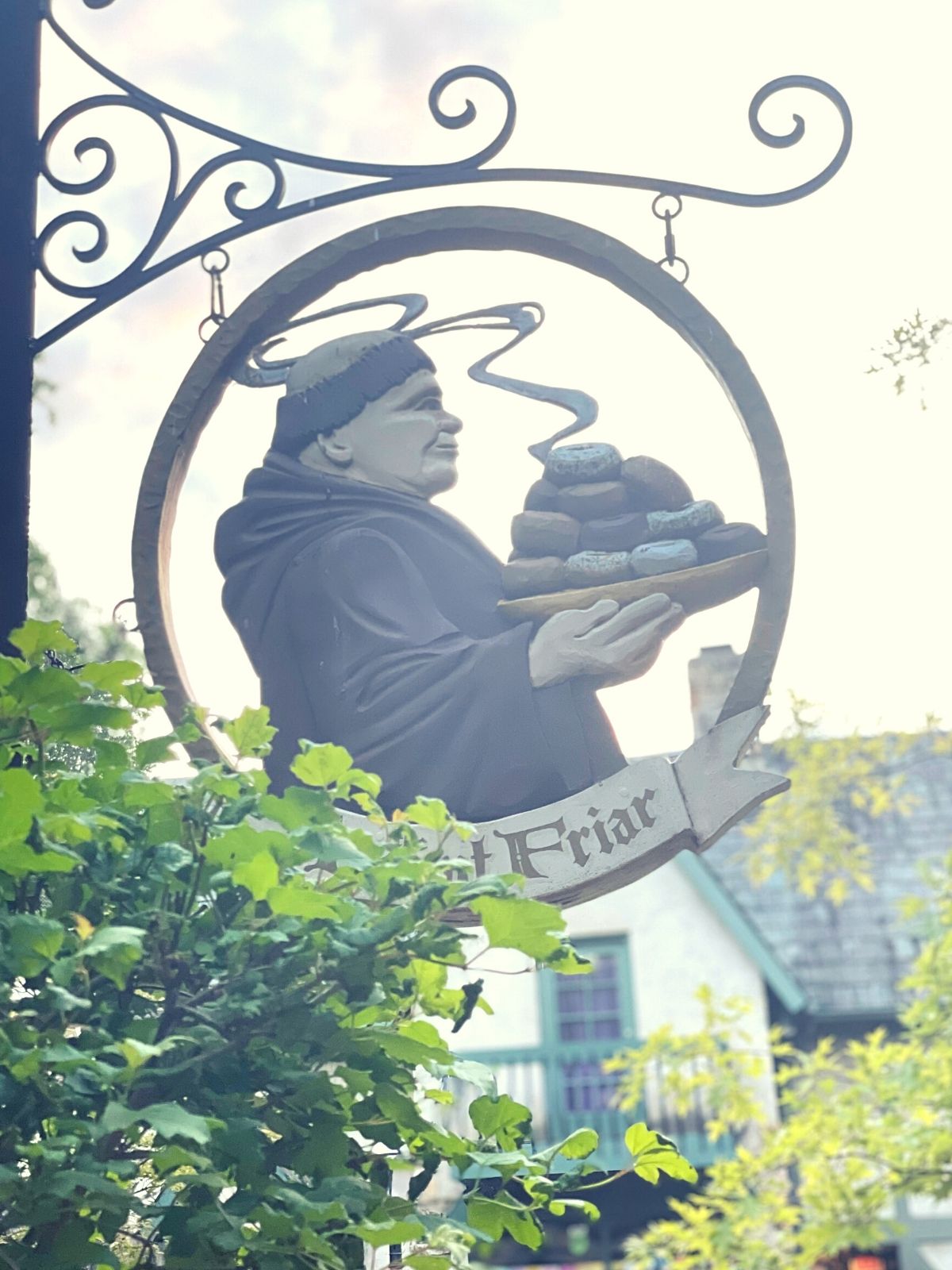 Grab a dozen to bring back to your rental or stop by every morning during your stay to enjoy a donut fresh from the fryer. You're on vacation and deserve it!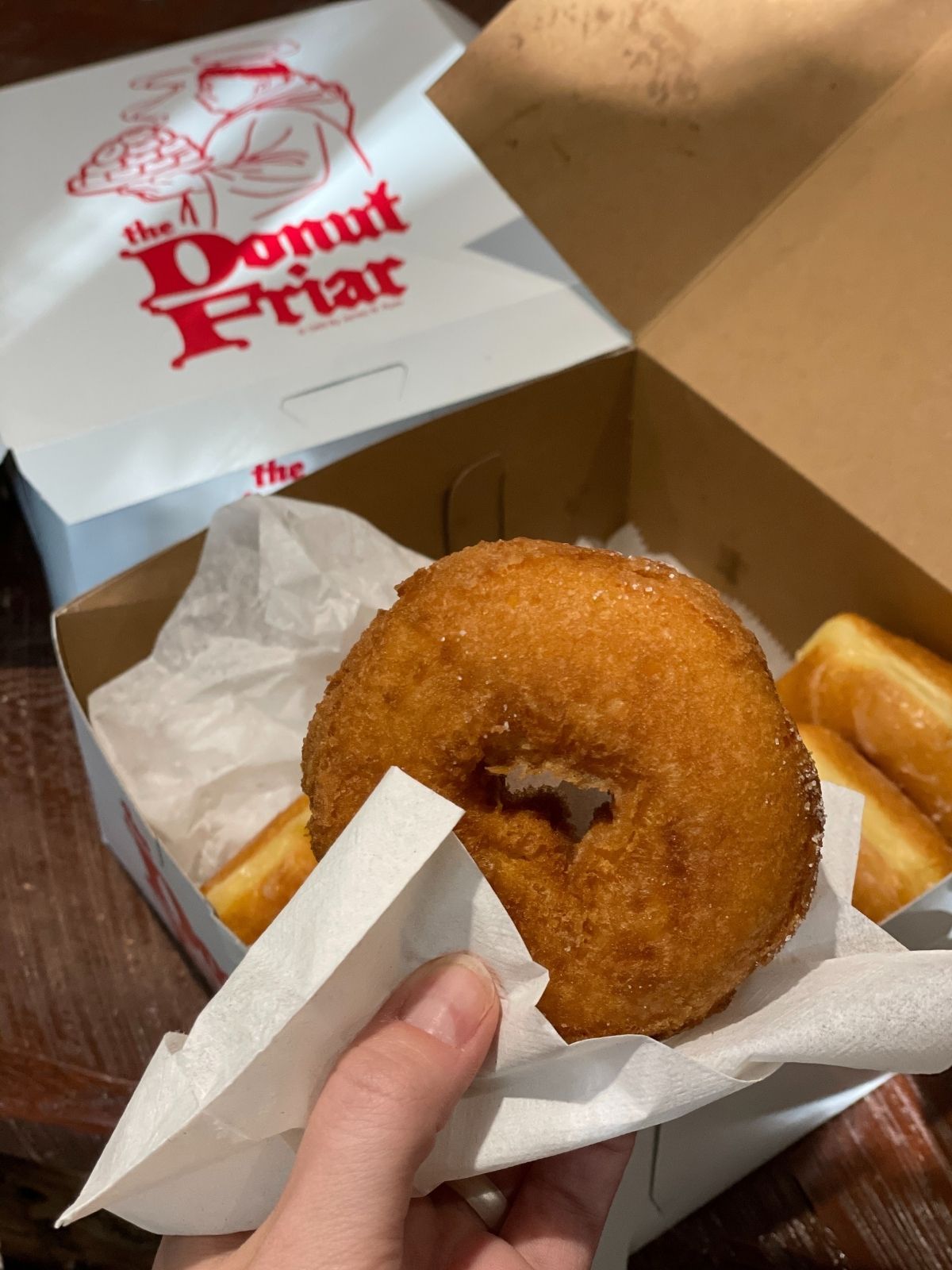 Log Cabin Pancake House
If you're more in the mood for a sit-down breakfast, Log Cabin Pancake House will not disappoint. This female-owned business has been serving breakfast in Gatlinburg since 1976!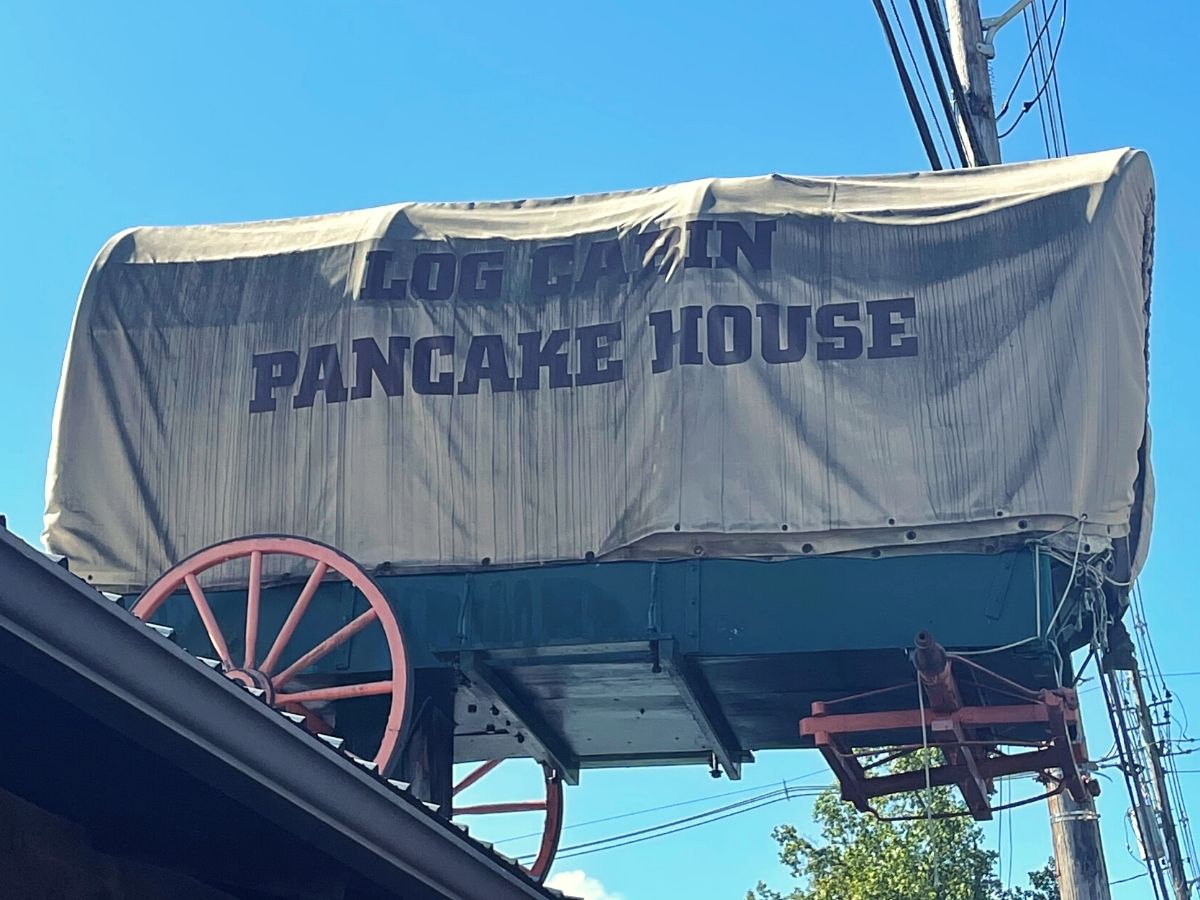 The name isn't just something cute they came up with to go with the culture of Gatlinburg. The building is actually constructed from 200-year-old hand-hewn yellow poplar timbers. It's truly a log cabin and I swear breakfast tastes better when you're immersed in Log Cabin's atmosphere.
I had a butterscotch Belgian waffle with coffee and a side of bacon. DELISH.
Log Cabin Pancake House serves breakfast all day (7am-2:00pm) and they offer a lunch buffet as well.
Crockett's Breakfast Camp
Opened in 2014, Crockett's Breakfast Camp is a bit of a newcomer to the breakfast scene in Gatlinburg. I'm surprised they don't have a Texas location too because everything is bigger here from the cathead biscuits to the cinnamon rolls.
And let's not leave out their insane scrambler skillets! That's a Michael Phelps breakfast right there and since you're on vacation you'll want to treat yourself.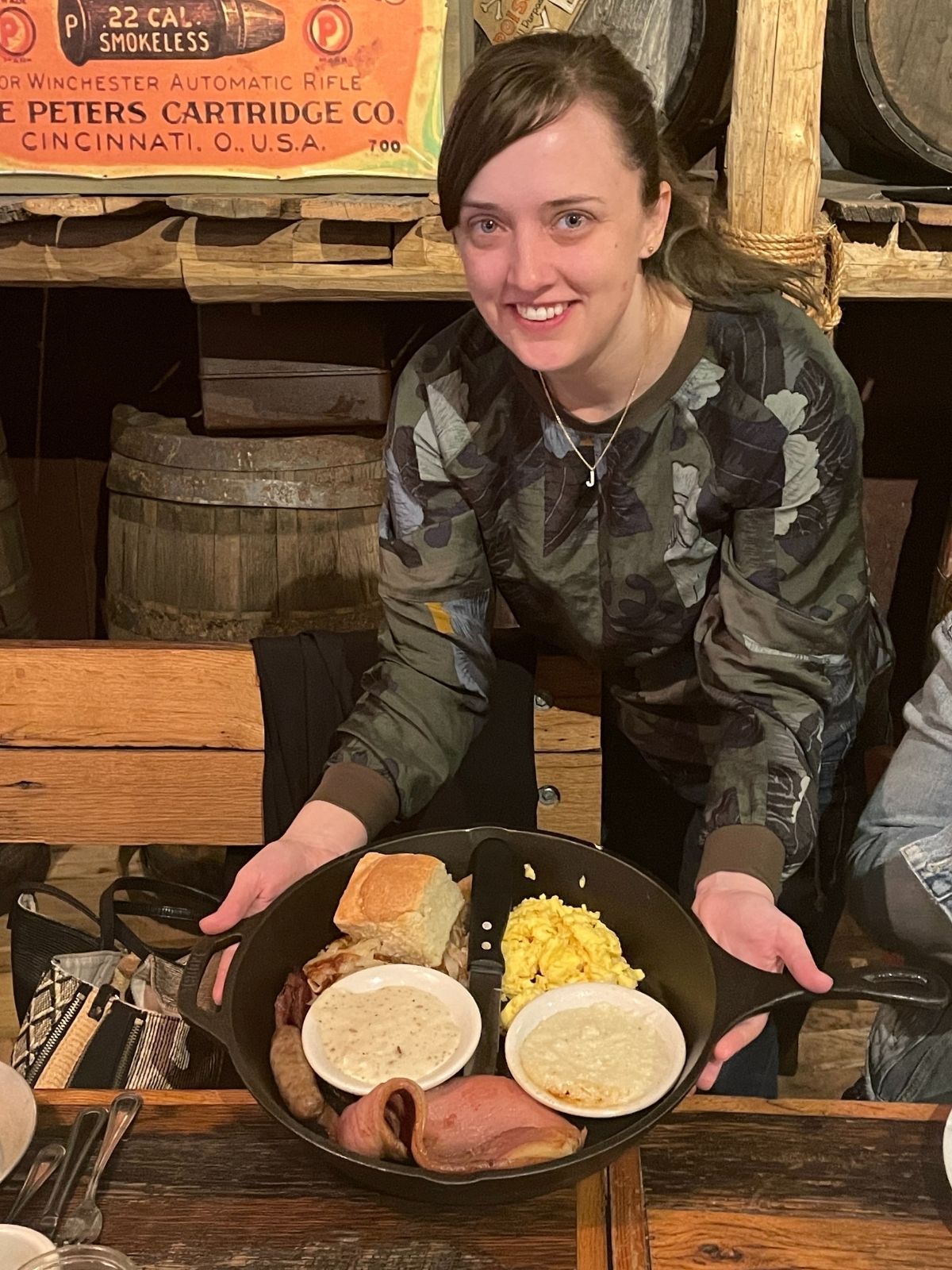 Crockett's Breakfast Camp is a popular place so you'll want to take advantage of their online waitlist to make sure you get a seat. I took the screenshot below at 10:00 AM on a random Tuesday in May to give you an idea of what to expect. Get on the waitlist because I promise it's worth it!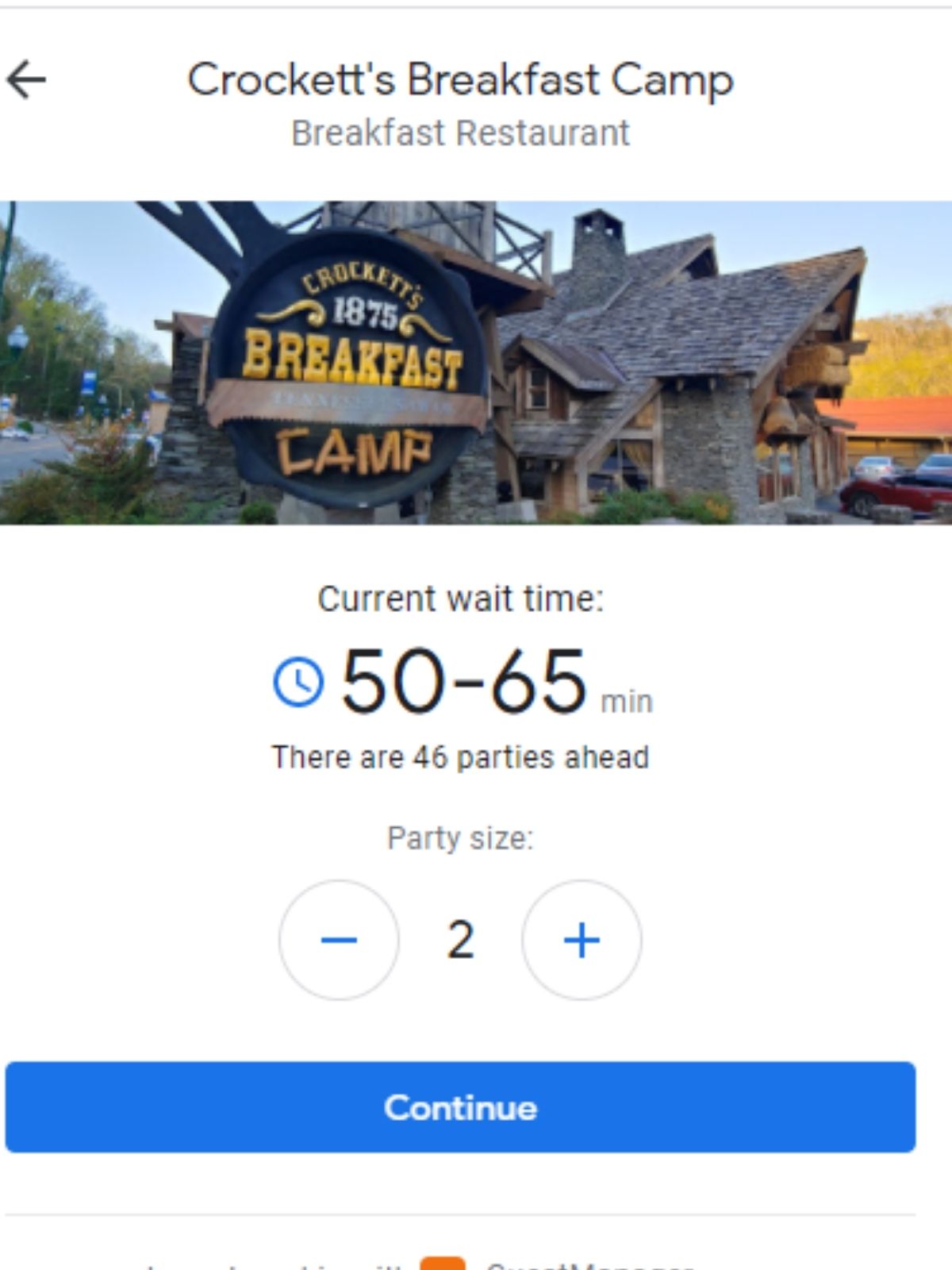 Ole Red
Ole Red Gatlinburg Tennessee Restaurant is a great place to enjoy some of the best barbecue in town. Ole Red offers mouth-watering, pulled pork and ribs among other delicious main dishes (if you try the bacon-wrapped meatloaf you won't be disappointed).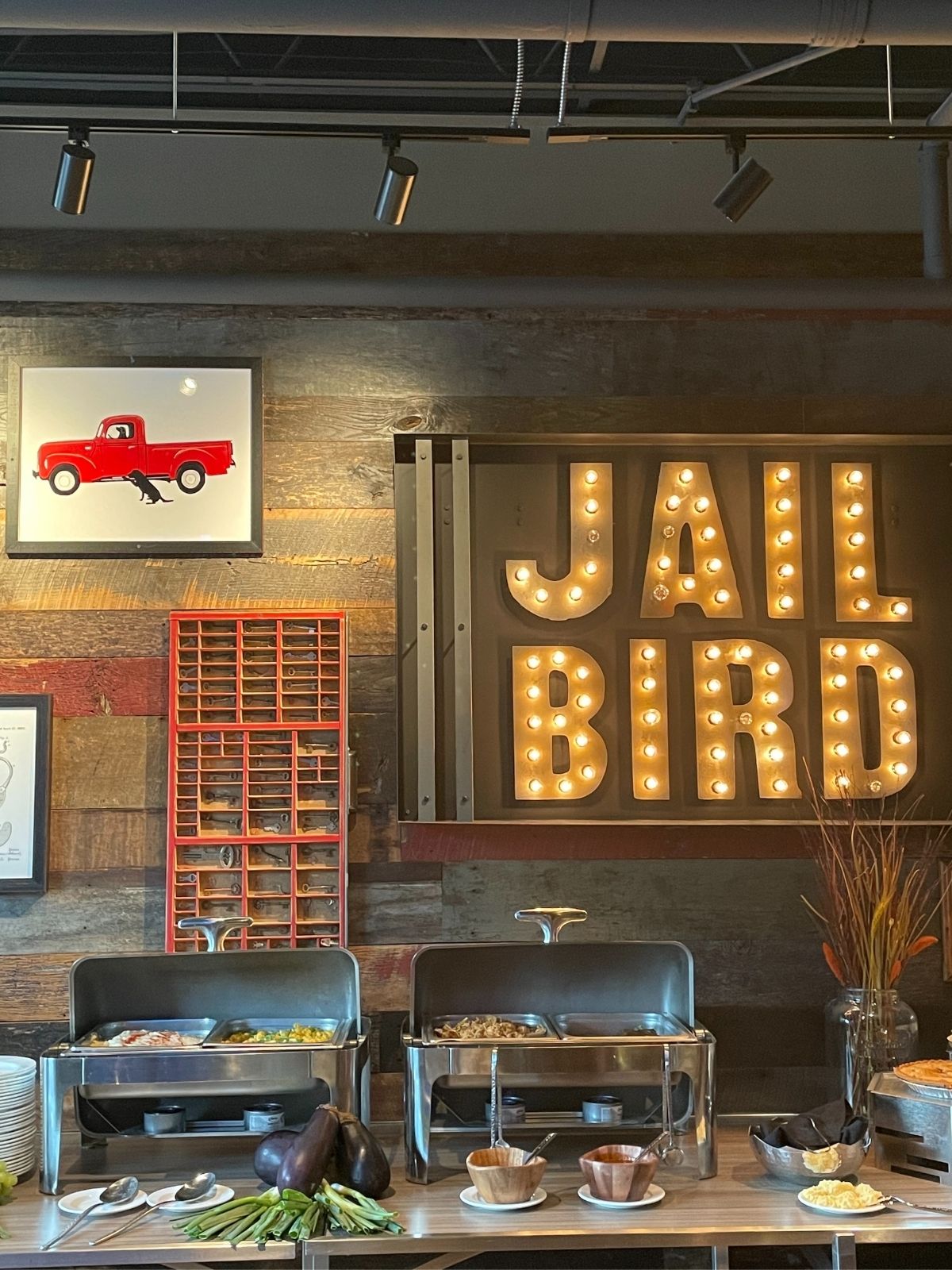 You can also get your hands on some incredible sides such as macaroni and cheese, Tishomingo potato salad, and fries or tots smothered with Velveeta beer cheese. I was a big fan of their mac and cheese.
This Blake Shelton-owned restaurant is the place to be if you love live music. You can find it here 7 days per week from 11am – 10pm. When our group walked in, Sarah Collins from The Voice was performing on stage. Check the Ole Red schedule to plan you visit around your favorite performers.
The Greenbrier
Eating at The Greenbrier is an unforgettable dining experience. Between the beautiful mountain view, the specialty cocktails served with flair, and the in-house, dry-aged steaks, you'll want to take your time at this chef-driven restaurant.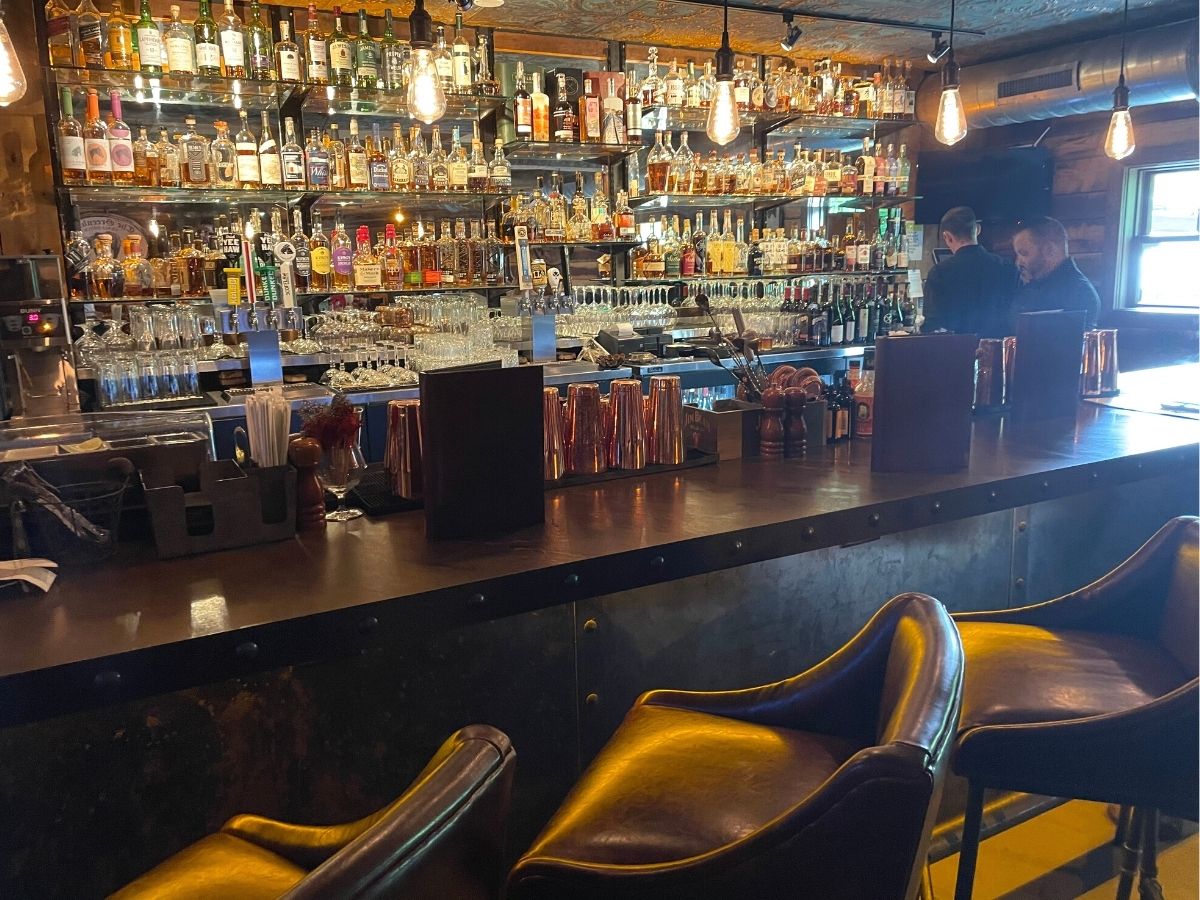 The steaks on the left have been dry-aging for two months and they aren't finished yet. I can personally tell you they are worth the wait. I could cut my filet (pictured on the right) with a fork.
If that isn't enough to convince you to try some of The Greenbrier's beef cuts, maybe go for the salmon instead? It doesn't get much fresher than this.
Split Rail Eats
Split Rail Eats is where the locals go for a bite. If you're spending time in the Arts & Crafts Community be sure to stop in for lunch or dinner. Indoor dining is available or you can enjoy your meal out front under an umbrella if the weather is nice.
Split Rail Eats is famed for its tater bowls. Try one with tots or fries and then enjoy some homemade banana pudding for dessert. You'll be refueled and ready for more time in the Arts & Crafts Community! Note that they are closed on Sunday and Monday of each week.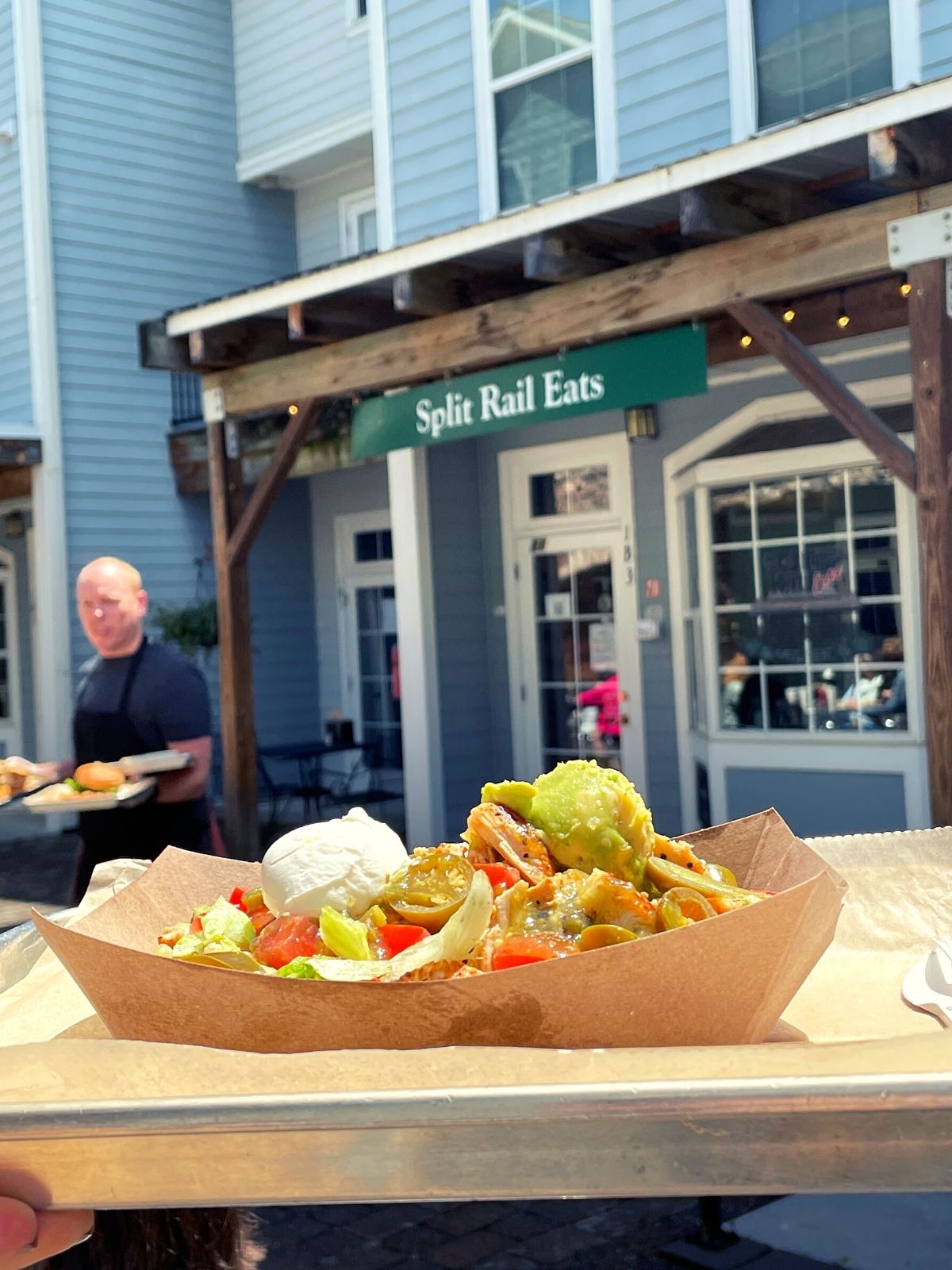 Cliff Top
Annakeesta offers several dining options and we got to try Cliff Top on this Gatlinburg trip. The views from indoors are fantastic thanks to an abundance of windows and views from outdoors are absolutely spectacular. It's a romantic place to have dinner and watch the sunset.
I had the scallops which were amazing and my friend's salmon didn't look half bad! The orchid blossom garnishes add to the whimsy that is all over Anakeesta.
Where to Stay in Gatlinburg
There are many different places to stay in Gatlinburg that offer something for everyone's needs, whether you're looking for luxury or affordability. Below are three Gatlinburg accommodation options to help you decide where to stay in Gatlinburg.
Appy Lodge
If you're looking for affordable and family-friendly lodging in the Great Smoky Mountains National Park, Appy Lodge Gatlinburg is a great choice. Short for "The Appalachian Lodge," The Appy surrounds guests with the history and experience of the Appalachian Trail.
Rooms with balconies, whirlpool tubs, and fireplaces are available and there are firepits and rockers on the front porch. The gas station next door has everything you need to make s'mores!
My family and I stayed at the Appy Lodge for three nights and my kids were big fans of both pools. I love a hotel with an indoor pool option because it really saves the day when it's raining. If you're spending a long weekend in Gatlinburg and it happens to rain during most of your visit, you'll be glad the kiddos are still able to swim.
The Appy Lodge is located right on The Parkway and is within walking distance of many attractions. Ripley's Davy Crockett Mini Golf is The Appy Lodge's neighbor so you can throw on your flip flops from your morning at the pool and be playing mini-golf in minutes.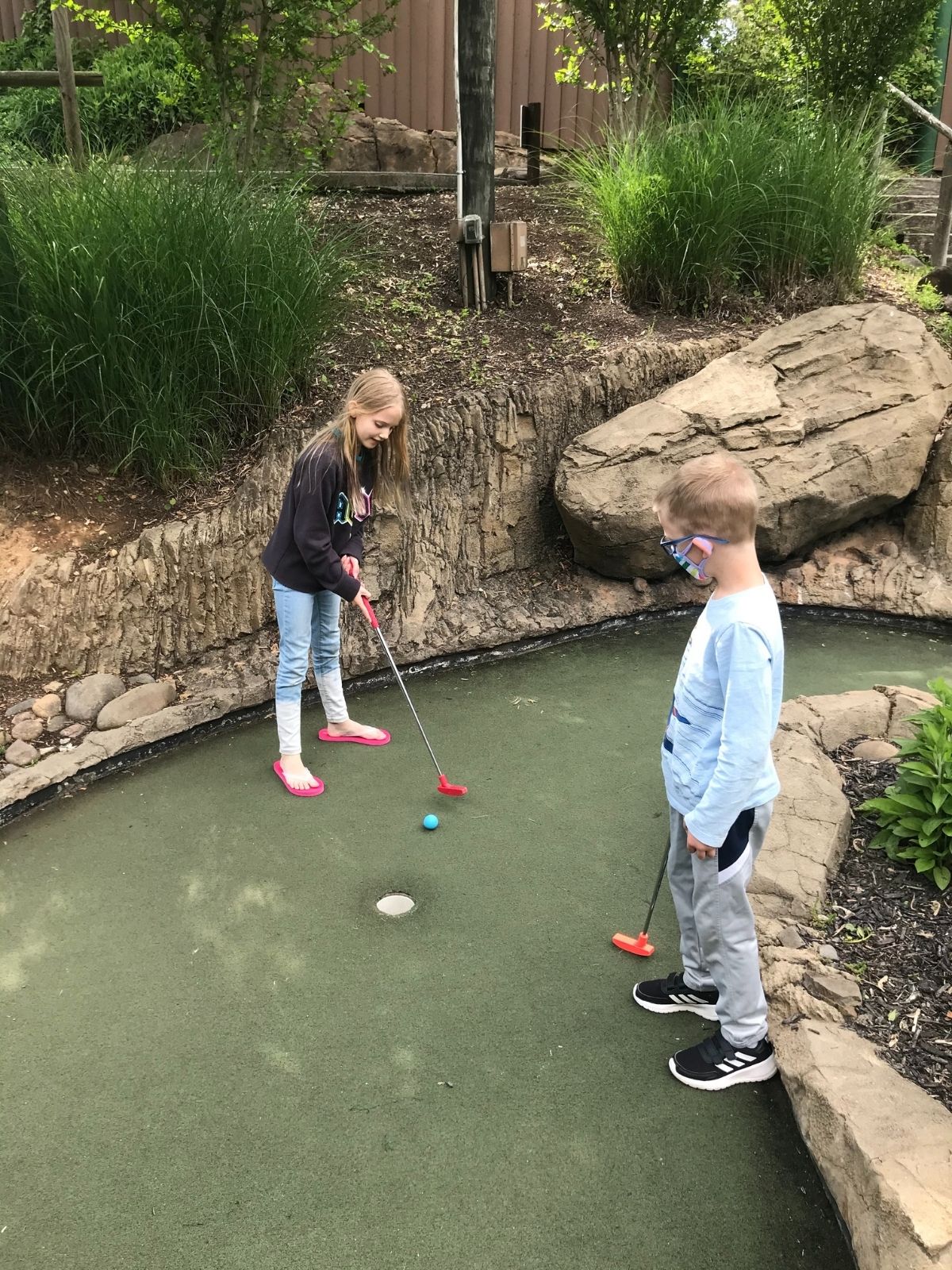 A downtown Gatlinburg parking pass is provided free of charge to guests of The Appy Lodge which can save you quite a bit of money on parking garage fees when you head into town. We would definitely stay here again!
Treehouse Grove at Norton Creek Resort
Are you looking for a more secluded getaway? Then Treehouse Grove is the place to be. This wooded area is perfect for those who enjoy hiking or camping in the backwoods but don't want to go too far away from civilization. Designed and built by Pete Nelson of Treehouse Masters fame, Treehouse Grove will delight both fans of the show and newcomers to treehouse living.
The soothing sound of Norton Creek can be heard from the deck of all 8 of the treehouses and you'll definitely want to bring a folding chair to "creek sit" in the summer heat. My kids are both Treehouse Master's fans and have all but demanded to stay here on a return visit.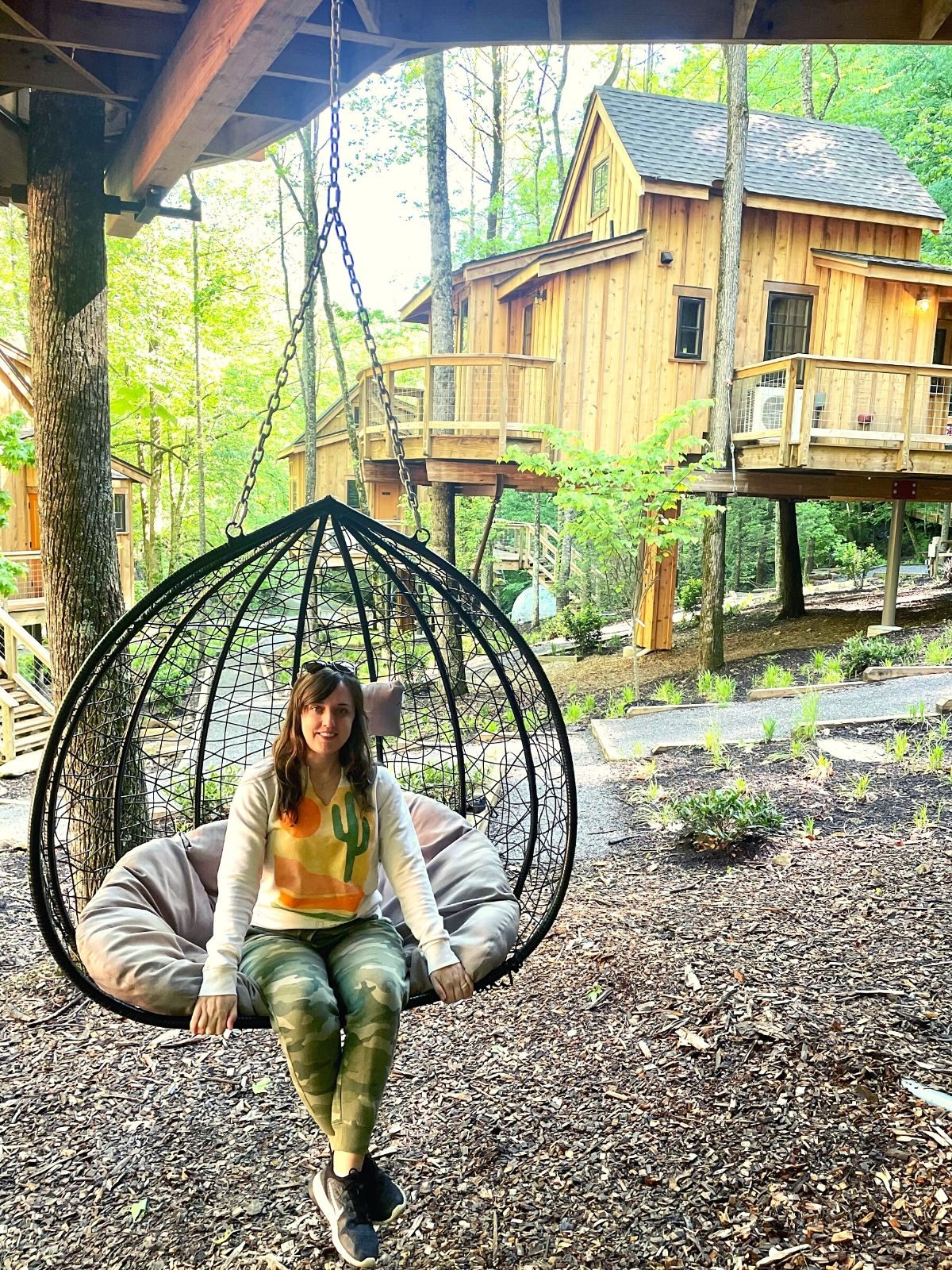 Check out my walkthrough of one of the treehouses in the video below.
LeConte Luxury Campground
Glamping anyone? Yes, please! At LeConte Luxury Campground you can bring your tent or RV to enjoy the beautiful scenery and luxury amenities.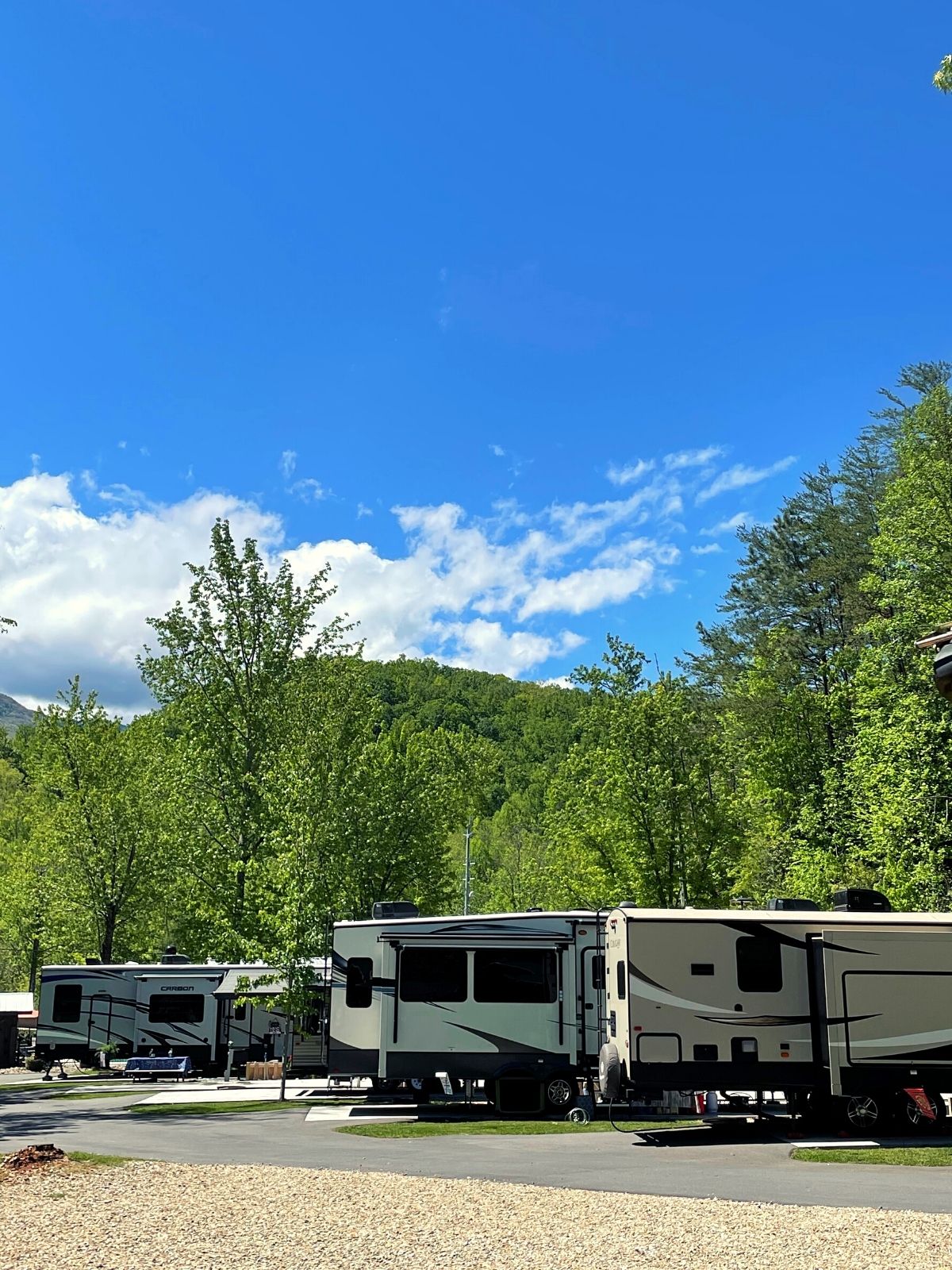 If you don't own a camper or aren't one to pitch a tent (that's a big no thank you for me!) try one of two retro campers…
or a safari tent…
Enjoy free Wifi, a swimming pool, and a playground during your stay.
---
If you're looking for a weekend getaway, Gatlinburg is the perfect destination. Home to beautiful mountain views and plenty of outdoor activities, Gatlinburg has something for everyone. What are your favorite things to do in Gatlinburg? What would you add to this list of Gatlinburg activities, restaurants, and places to stay? Let me know in the comments below.
Thanks to the city of Gatlinburg for providing lodging, food, and activities for this trip. All opinions are my own.