Gulf Shores is a foodie's paradise from the freshest Gulf seafood to desserts to die for  Here is a list of 10 dishes to eat on your next trip to Gulf Shores.
What to Eat in Gulf Shores and Orange Beach
1. Candied Bacon at Sunliner Diner – Is it breakfast? Is it a sweet treat? Either way, it's a great way to start your day. Served up in a parfait glass, this candied bacon is meant to share but you may not want to!
2. Spicy Panko Shrimp at Fin and Fork – Fin and Fork's menu varies based on season and availability. All of their food is made from scratch to order, so you really can't go wrong. However, if you order the Spicy Panko Shrimp, you're in for a memorable treat.
3. Murder Point Oysters at Fisher's Dockside – Fresh oysters on the half shell abound in Gulf Shores, but the best I've tasted so far have been the Murder Point oysters at Fisher's Dockside. They have a unique buttery taste that you'll love.
4. Crab Melt Nachos
 at Lulu's – When you can't decide between Tex-Mex and seafood, Lulu's has you covered with their crab melt nachos. They may be an appetizer, but if you don't feel like sharing just order them as your meal. I won't judge. 
5. French Toast Batons at The Ruby Slipper Cafe – The are lick-your-lips good as Gus is proving here.
6. Crawfish Etouffee at DeSoto's Seafood Kitchen – Crawfish Etouffee is hard to photograph, but if you're already a fan of it you know that it always tastes way better than it looks. You'll need a to-go box for your dish at Desoto's!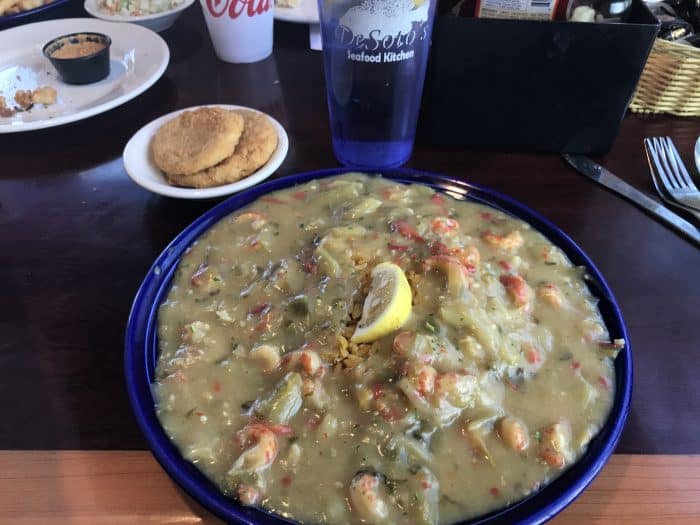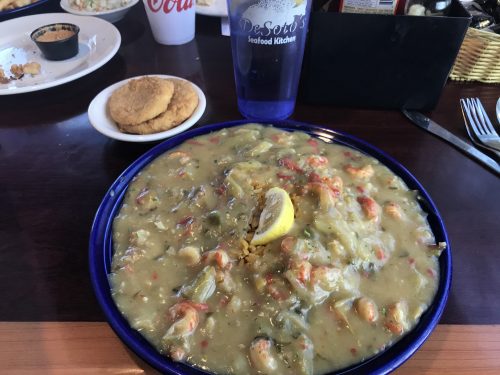 7. Brisket at Blue Water BBQ Company, Orange Beach – You can't go wrong at Blue Water BBQ, but the brisket is my favorite. They slice it up to order right before you. See?
8. Smoked Ribs at Picnic Beach – If Hubs were writing this post and not me, the ribs at Picnic Beach would occupy places 1-5 of this list before he moved on to tell you about anything else. He's the most introverted person you'll ever meet, and yet he just had to meet the pit master to fanboy over him and gush over his cooking. If you are a meat-eater, don't miss out.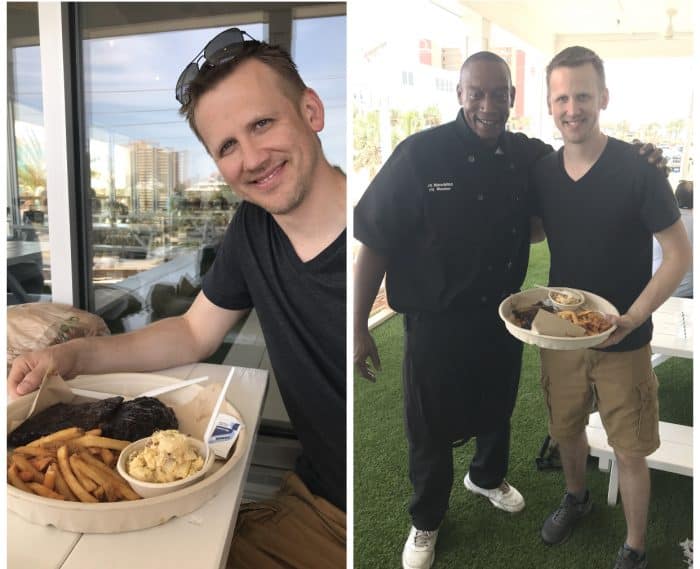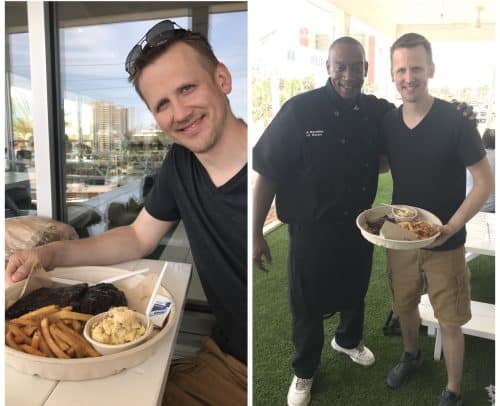 Don't hesitate to bring your vegan friends and family because Picnic Beach has something for everyone from carnivores to juicers.9.
9. Fried Green Tomatoes Topped with Blackened Popcorn Shrimp at The Original Oyster House
– I've never had a mediocre meal here, but this Southern seafood mashup has to be my favorite. Choose slow cooked turnip greens and cheese grits as your sides to make your seafood topped fried green tomatoes even more special.
10. The Unicorn Milk Shake at The Yard Milkshake Bar – Does it need commentary? Look at it!
Eating one of The Yard's many choices of extreme milkshakes will be something your kids will never forget. Even if you can't finish a whole one, your Instagram followers will love it! Plus you get to bring your mason jar home with you. We use our set of four all the time at meals and it brings back fun memories.
If you are still hungry, check out
Where to Eat in Gulf Shores and Orange Beach
! Right now is a great time to #KeepOnSummering at Alabama Beaches. You'll enjoy lovely weather, off-season lodging rates, plus some unique festivals. When are you planning your next trip?