Wondering what to do with leftover Halloween candy? Turn it into Thanksgiving place cards!
With Christmas starting in October these days, Thanksgiving seems to be more and more overlooked every year. Any chance it might have
as our major fall holiday is crushed by the commercialism of Christmas and Halloween
.
Thanksgiving
is probably my favorite holiday just because of it's simple, peaceful nature: No gifts to buy, cookies to make, parties to attend, house to decorate inside and out, cards to send, or presents to mail. Just be thankful, eat food, and watch football (says the woman who has never been responsible for
Thanksgiving
dinner!)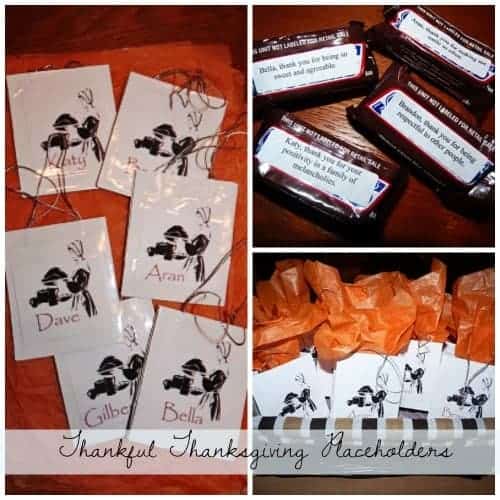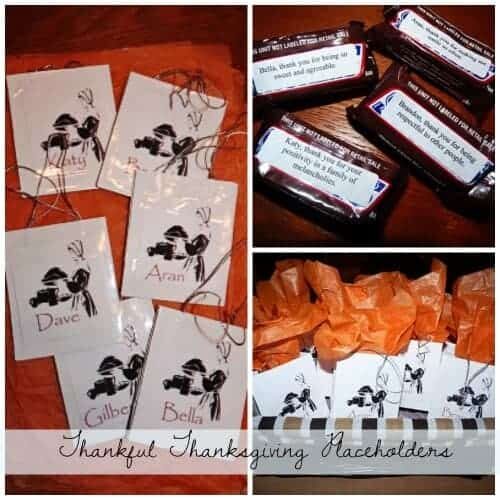 This year for my side of the family's get-together I've made a simple way to decorate the table, mark our seats, and share my thanks with each family member. It's super-cheap too since most of you will have the materials already, especially if you planned for too many trick-or-treaters.
DIY Thanksgiving Place Cards
You will need
Wedding favor bags (use a weekly 40% Michael's coupon and you can get 20 for a couple bucks)
Fun-size candy bars
Computer labels (optional)
Computer with a word processor
Printer
Tissue paper
Clear Tape
Each bag will hold 2-3 Snickers bars so for each
family
member you want to think of 2-3 reasons you are thankful for them. Since Snickers are rectangular, a return address computer label sticks perfectly on the back. If your candy is a different shape or you don't have any labels, just print off what you are thankful for on a piece of computer paper and tape it on the back.
Next, use your word processor to open a piece of Thanksgiving-themed clip art and use the text wrap tool to add your family members' names to the graphic. Google image search "turkey" or "pilgrim" and you'll find plenty of options. Size the images to 2×2 inches each for these particular bags, print, and tape on the front of your favor bags. Cut up some tissue paper (two pieces oughta do it)
Put the candy in the bags and add tissue paper just like you are "wrapping" a gift and viola! Cheap, easy
Thanksgiving favors
with meaning. Enjoy your
DIY
Thanksgiving placeholders!