I don't think Gus has ever seen Veggie Tales. However since his name is Gus, his nickname has been Asparagus almost since day one. We have my dad to thank for that stroke of brilliance. Asparagus soon turned into Jr. Asparagus after the Veggie Tales character so it was only natural that Gus have a Veggie Tales first birthday party.
The cupcake wrappers are from Koyal Wholesale and leftover from Sweet T's Curious George birthday party. The Jr. Asparagus cupcake picks and rings came from a local cake supply shop as did the green cupcake sleeves. The candle is from The Dollar Tree.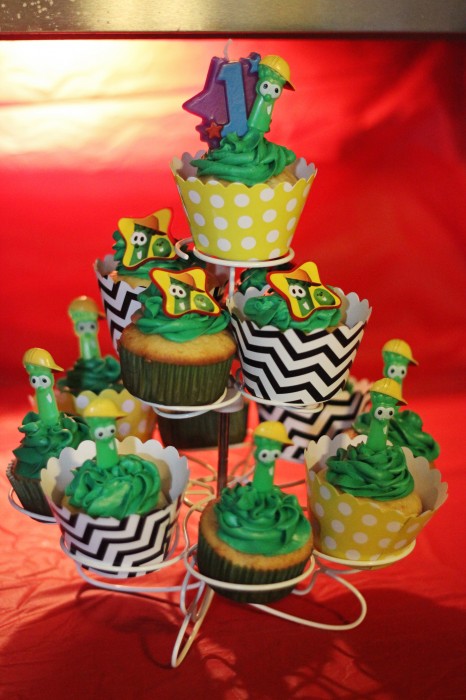 Once again I used a yellow cake mix and green frosting in a can. I swear the kids are never going to get actual birthday cakes. This is just too cheap and easy.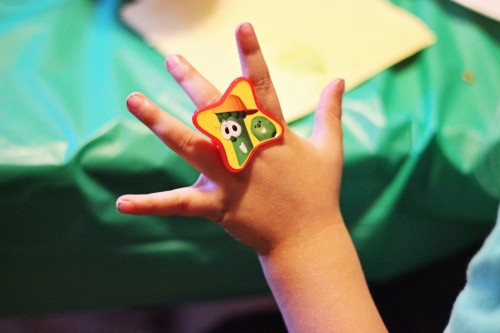 What's a Veggie Tales Party without veggies? Bob the Tomato served the pre-assembled veggie tray. You can find free Veggie Tales crochet patterns by clicking the link. Hubs' mom was nice enough to make a whole set for her little Jr. Asparagus.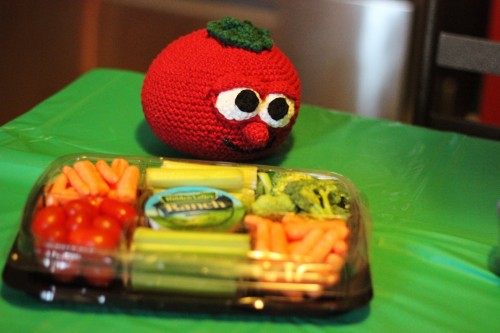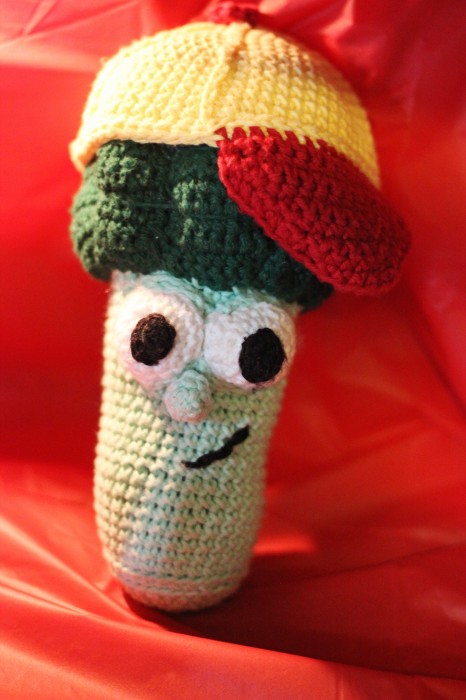 We served Little Caesar's hot and ready $5 pizzas which make Sweet T and Gus happy (and me VERY happy since I didn't have to cook)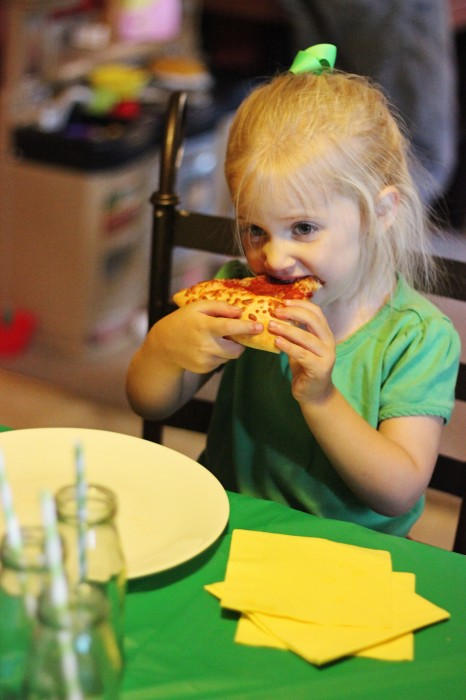 Drinks were served in the same milk bottles used for Sweet T's party only I bought some green paper straws.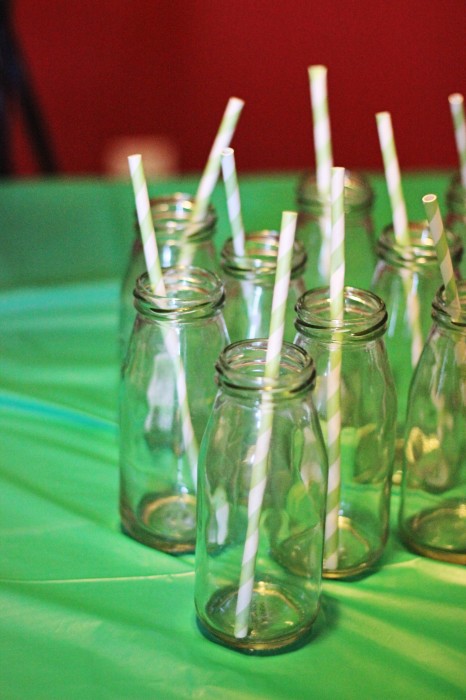 Except for Gus who had his own special cup from Lifeway
My mom found the Veggie Tales gift bag at Lifeway and I found the vegetable gift tags and The Dollar Tree or Target One Spot. Can't remember which!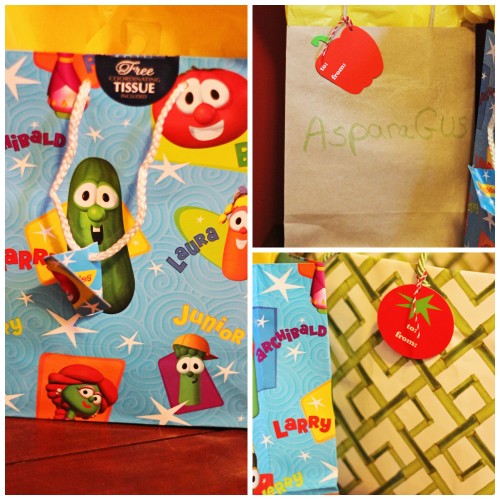 I didn't know this until the day of the party, but Walgreen will fill latex balloons that you bring in for 50 cents apiece.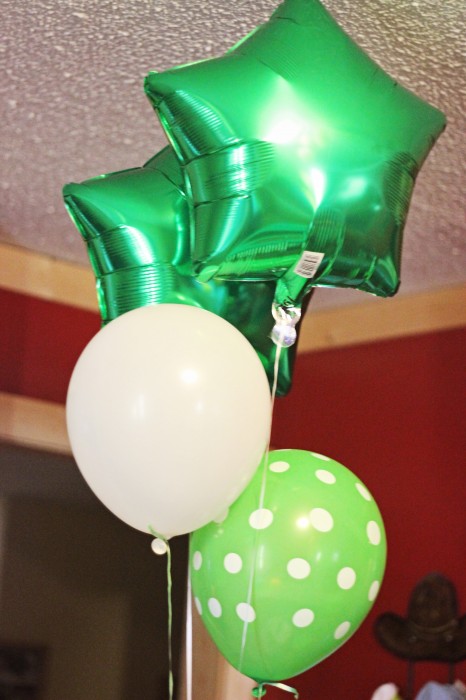 Of course Gus had to dress for the occasion with this Asparagus Onesie from Etsy.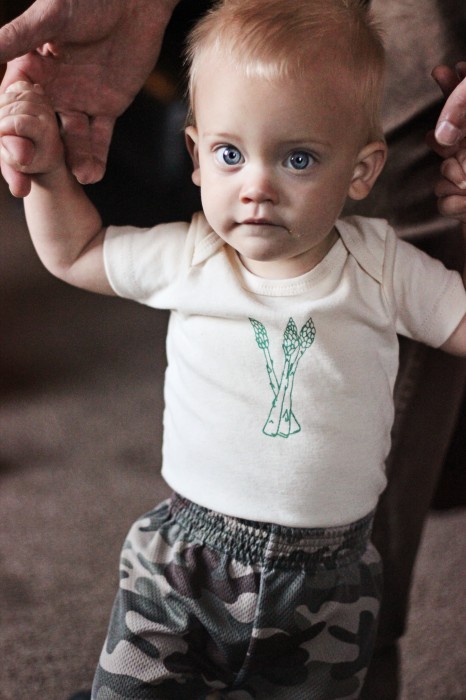 He got some nice presents from his teen and adult family members and a good time was had by all. How long do you think I can get away with "no kid" birthday parties?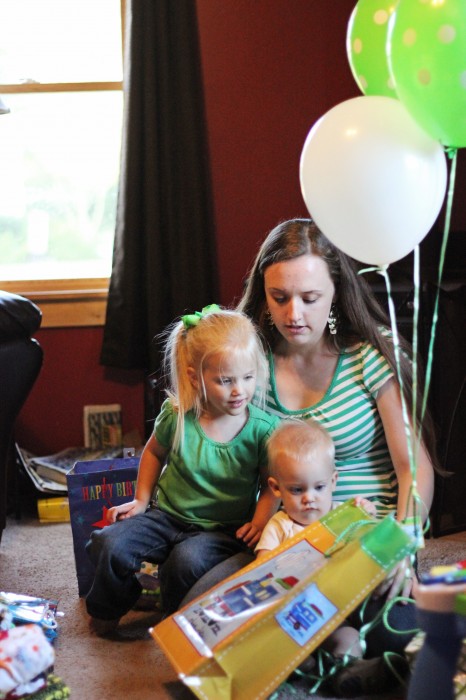 Happy birthday, Jr. Asparagus!