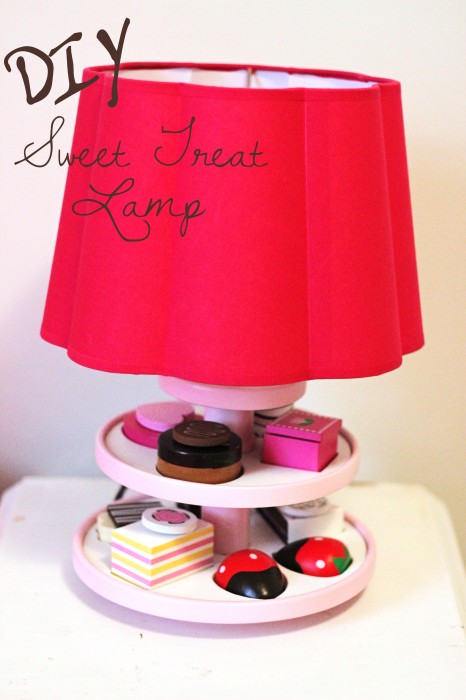 Sweet T received a Melissa & Doug Sweet Treat Tower
a couple of years ago and enjoyed playing with it for about 6 months before she outgrew it. Her brother enjoyed playing with it about the same amount of time. It was too cute to give away and still in great shape so when we decided on a sweet treat theme for Sweet T's room, I knew I wanted to turn it into a lamp. Now we can eek a few more years out of it.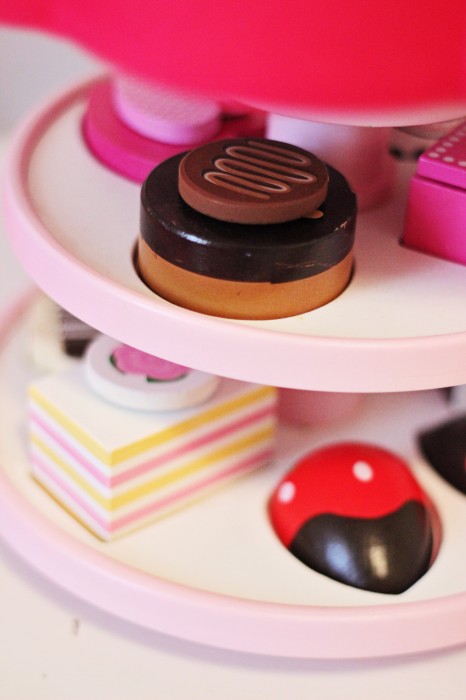 To turn this sweet treat tower into a lamp you will need:
A Make-A-Lamp Kit
similar to this one. We found ours at Lowe's
A lampshade. The pink one pictured is from Target
A power drill with a 12″ bit
Drill a hole all the way through the center making sure the hole's diameter will be a snug fit with your lamp kit's threaded insert. Exact size will depend on your kit. NExt drill a smaller hole from the outside in on the base so the power cord can come out the side and the lamp can rest on an even surface.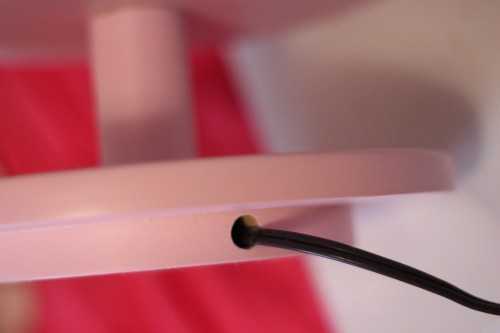 Continue assembling lamp according to kit package directions. We got everything assembled and realized that some of the metal on the lamp kit interfered with our particular lamp shade. Hubs took a hacksaw to those piece and the problem was solved.
Such an easy project and yet so satisfying to re-purpose a toy the kids had outgrown.
A Tom's of Maine's recent study showed that more than half (55%) of parents frequently throw out toys to reduce clutter in their home.
I'm definitely in that 55%. How about you? While I try to donate or "re-home" as much as possible, some items just aren't in good enough condition to sell or donate so into the trash they go.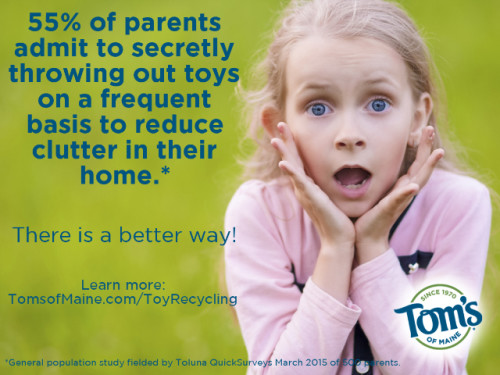 This Earth Month, Tom's of Maine has partnered with TerraCycle to keep toys out of the landfill! This new program provides parents with a "teachable moment" and allows them to recycle broken toys into something useful like park benches or playground equipment.
Click the link to request a free Tom's of Maine Recycling Box. Place the Box in a school or similar location where your community can easily contribute and fill it up with broken toys. After it's full, send it to TerraCycle using the prepaid shipping label. In this case, it doesn't cost you a thing to be green!
Tom's of Maine wants to encourage families to "Start young. Live green." Another great way to do this besides contributing broken toys for recycling is to upcycle! If you don't want to do something as elaborate as a sweet treat lamp, how about turning an old deodorant can into sidewalk chalk?
There are so many ways to start young and live green. For more ideas, visit Tom's of Maine on Facebook.
This is a partnered post. All opinions are my own.