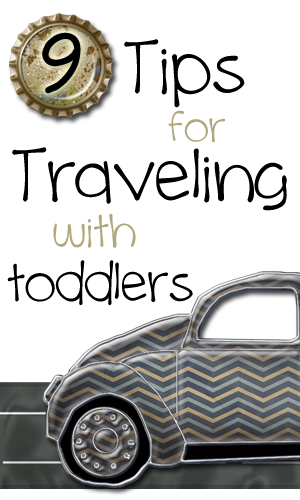 Do a media fast before the trip – No TV, tablets, smart phones, computer time, or hand-help games prior to the road trip. If your child is pretty saturated with electronic entertainment, a one-day fast will be sufficient. If your child isn't very "plugged-in" it may take a 2-3 days for them to start missing their gadgets. Either way the goal is to bring back the excitement and entertainment value of these items for the duration of your trip.
Invest in a headrest-mount DVD player – I wish we had done this when Sweet T was an infant. Thanks to Hubs' ingenuity and a double-screen portable DVD player, even our 8 month old enjoys watching Baby Einstein from his rear-facing car seat. It sure beats listening to either one of my kids whine or cry!
Serve special snacks – Fruit snacks, crackers, M&M's, and anything else your toddler would live on if you didn't force him to eat real food should be brought along. You can even use their favorites as a reward system. Yay, you didn't whine for a whole 2 minutes! Have a fruit snack.
Bring the potty with you – Even if your child uses the big toilet at home, bring along their plastic training potty. You'll be glad you have it when you're 5 miles from the closest interstate exit and your child has to go NOW.
Time your trip around bedtime – If you and your spouse don't mind driving when you're normally sleeping (or you're on your way to the grandparents' house and know you can crash once you arrive) consider beginning your trip around your toddler's bedtime or heading out hours before they normally wake up in the morning. We do this when traveling 5 hours to Hubs' parents' house. Sweet T will sometimes sleep as much as 4 hours of the trip!
Pack a busy bag – Hit up the Dollar Tree for crayons, activity books, foam stickers, flashcards, new books, construction paper, etc. and pack in a small bag or backpack. The items in this special bag only come out for car trips. 
Keep them in their PJs – Toddlers are young enough to run around in their jammies all day without society giving you the stink-eye for not bothering to dress them. Take advantage! Heck, if you live in the deep South like I do adults can wear their PJs out and about. 😉 Your child will be comfortable in his car seat and able to transfer from bed to car or car to bed without much disruption. 
Indulge in fast food – This works particularly well if you're one of those families that only stops at McDonald's once every 3 years. If you can find an establishment with a PlayPlace all the better. Even if you go to the drive through more often than you care to admit (*raises hand*) this is still a winner with toddlers. Do you know a 2 year old who will turn down a french fry? That's what I thought. Junk food plus plenty of room to run and stretch = happy travelers.
Sit in the backseat – Take turns at the wheel with your spouse and rotate sitting in the backseat with your toddler (if there's room.) I prefer to ride up front so we don't implement this strategy until the last leg of the trip when the previous 8 methods of entertainment are growing old.
Find the perfect travel gifts for men while you're here!