This is a sponsored post about one of our favorite family travel destinations. All opinions are my own.
Spring break is here for a lot of families, with summer vacation coming up right behind it. One of the South's favorite family travel destinations is ready to help you make some memories with your little ones while school is out. Let's check out some of our favorite things to do in Pigeon Forge with kids.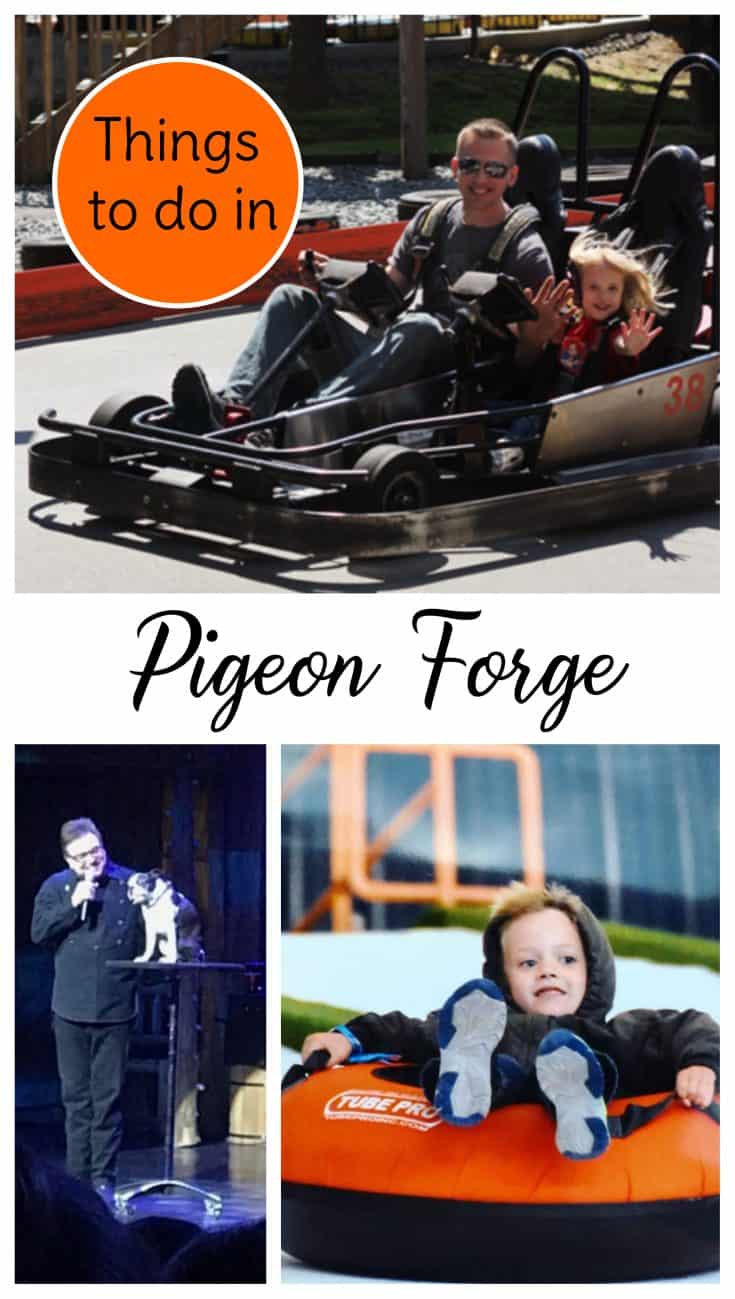 Things to do in Pigeon Forge with Kids
"Where to begin?" is the real question because so many Pigeon Forge attractions are kid-friendly and designed with families in mind. Below are a few of our all-time favorites. Which ones will you do first?
1. The Track
We are a 4.5-hour drive from Pigeon Forge and yet my kids beg to go to The Track at least once a month, usually on a random Tuesday after school as if I have the power to make that happen. If they could snap their fingers and teleport anywhere, it would probably be here. Sweet T took her first ever go-cart ride at The Track.
and Gus recently started driving his own go-cart at their kid's track. The power has totally gone to his head.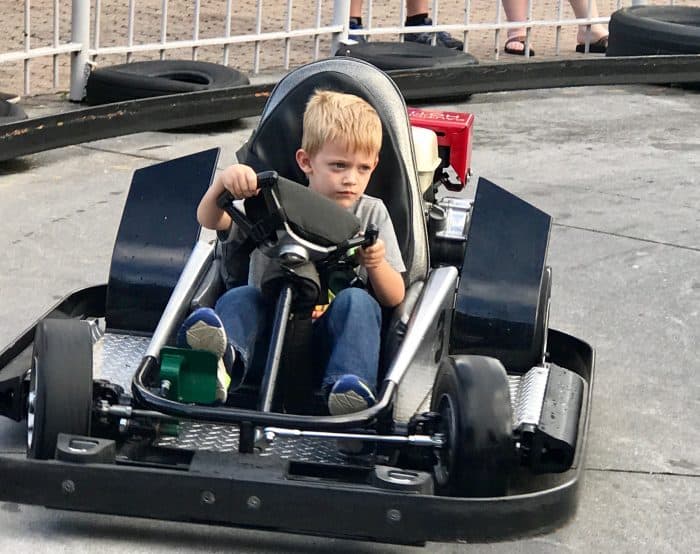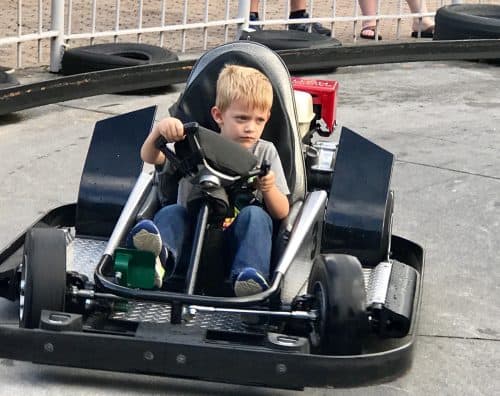 At The Track they also love:
The Bumper Boats
The Wild Woody (with Hubs or me driving as fast as we can)
Kid's Country even though they are technically getting too old for it. They don't care!
Mini Golf
2. Hatfield and McCoy Dinner Show
We've seen this Pigeon Forge dinner show multiple times and it just doesn't get old. They've recently expanded the show to include a water feature and diving dogs so the kids love it now more than ever.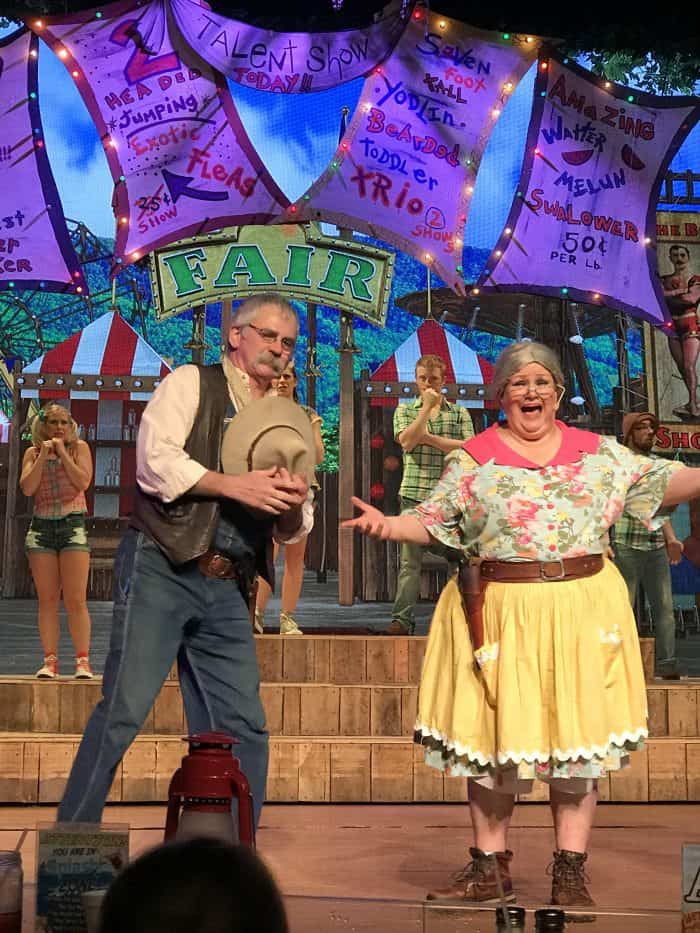 Check out my video below for an idea of what do expect. Oh, and did I mention the food is delicious and plentiful?
3. Dollywood
This may be the first thing that comes to mind when you think of things to do in Pigeon Forge with Kids, and with good reason. Dollywood is enjoyed by all ages and families flock to it for the food, entertainment, and fun.
In addition to the regular attractions, there's often a special event going on at Dollywood that just might be worth planning your trip around. We've been there for both The Festival of Nations and the Barbeque and Bluegrass Festival.
4. Pigeon Forge Snow
This fairly new on the list of things to do in Pigeon Forge with kids and I've got to tell you it's a great way to take a break from the summer heat. Pigeon Forge Snow is the only indoor snow tubing venue in the United States so far. How great is it that Southerners who rarely get snow at home can experience it on vacation in Pigeon Forge?
We definitely made some unforgettable memories here. The kids braved the slopes just once and were so proud of their own courage that they each have framed photos of the experience in their bedrooms.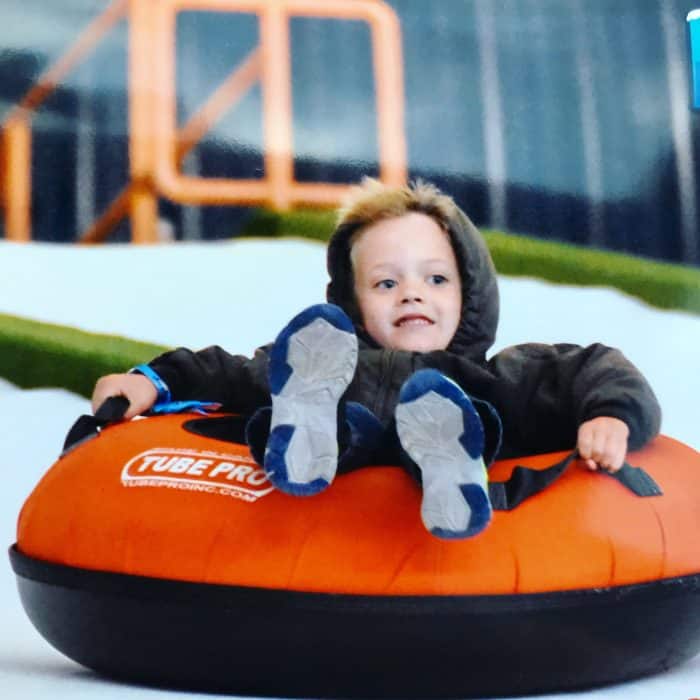 Sweet T's face! This picture still makes me smile and it's the very one she has framed and displayed in the middle of her dresser. She was very proud of herself as was I.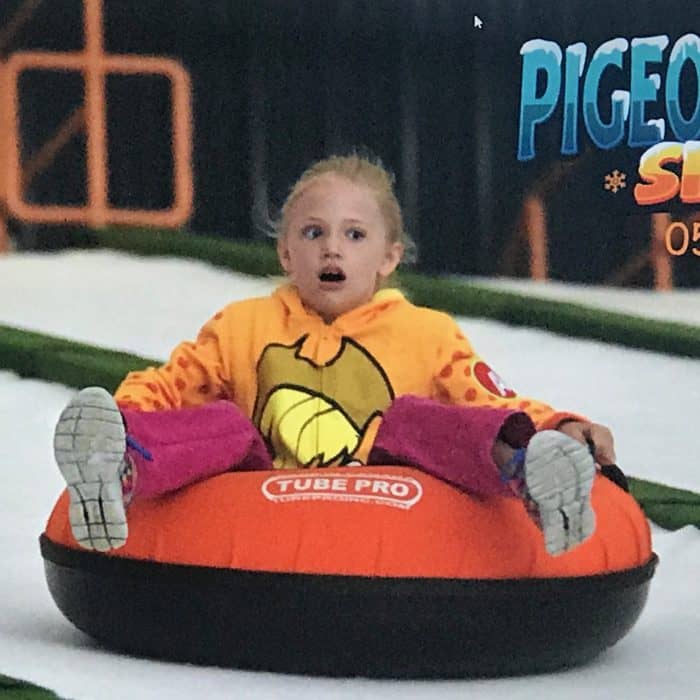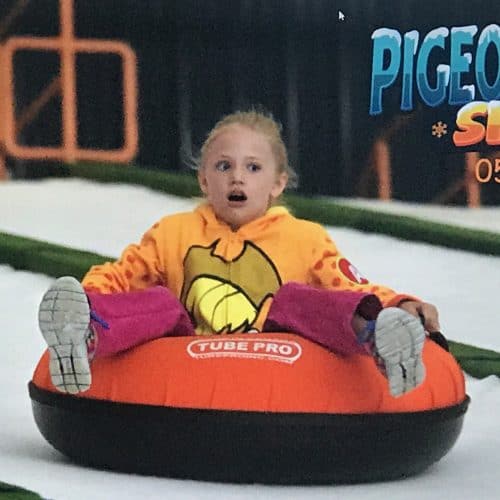 5. Wonderworks
When the kids are reminiscing about things to do in Pigeon Forge, they often bring up "the upside down house." If you're wondering what sorts of things there are to do at Wonderworks and what ages will have the most fun, check out my walkthrough below.
Gus discovered his love of laser tag at Wonderworks and now plays every chance he gets.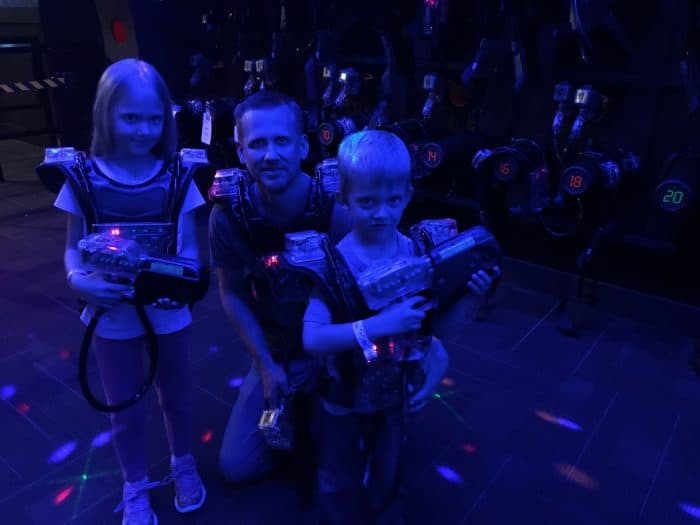 Wonderworks is particularly great to visit on a rainy day since everything is indoors, but be sure to arrive right at opening when the weather is bad so you can beat some of the crowd.
6. Pigeon Forge Gem Mine
Gem mining is something I remember doing in Pigeon Forge during my own childhood and the kids love it just as much as I did.
Purchase a bucket of mining ore mixed with your choice of gems, fossils, arrowheads, shells or a mixture of the above and use their screened pans and water flow to mine for treasure.
After you've sifted through your bucket and bagged your treasures, head inside to the Assayers to have your gems identified, cut, and even turned into jewelry if you'd like. The kids won't let us complete a Pigeon Forge family vacation until they've gotten their hands dirty here so I'm betting your kids will love it too.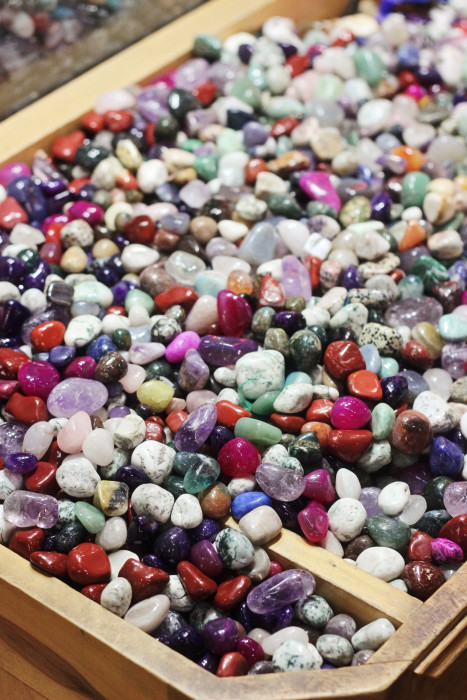 7. Mini-Golf
There's miniature golf to be found all over Pigeon Forge and our kids are both finally old enough to enjoy playing a whole round without getting bored so we now take advantage!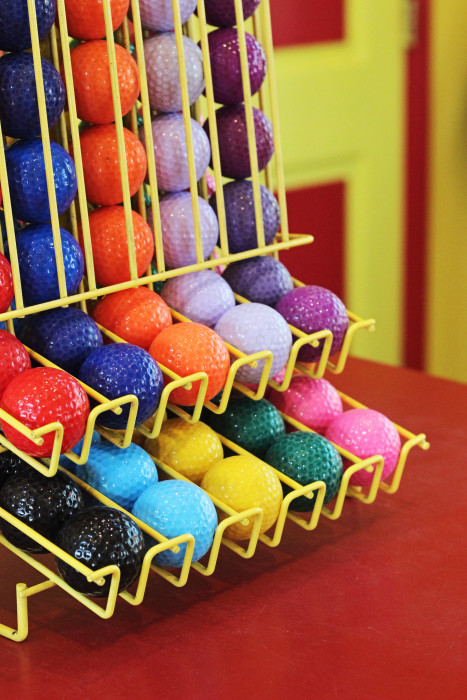 8. Amazing Animals at The Comedy Barn
Of all the things to do in Pigeon Forge mentioned in this post, I saved this one for last since we haven't actually been to it yet. We've promised Sweet T multiple times since our last trip that we will take her to see Amazing Animals during our next visit to Pigeon Forge. Our kids liked the regular show at The Comedy Barn ok, but a lot of the humor went over their heads. However, this act with the ventriloquist and his dog had them rolling and they still talk about it.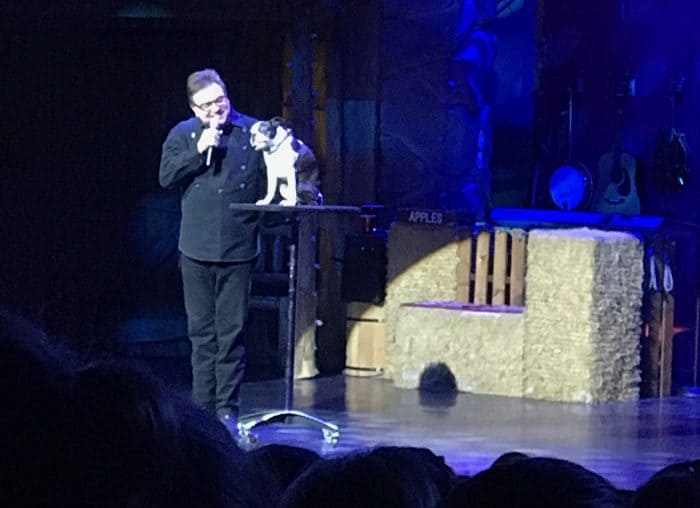 He got big, big laughs, especially from Sweet T!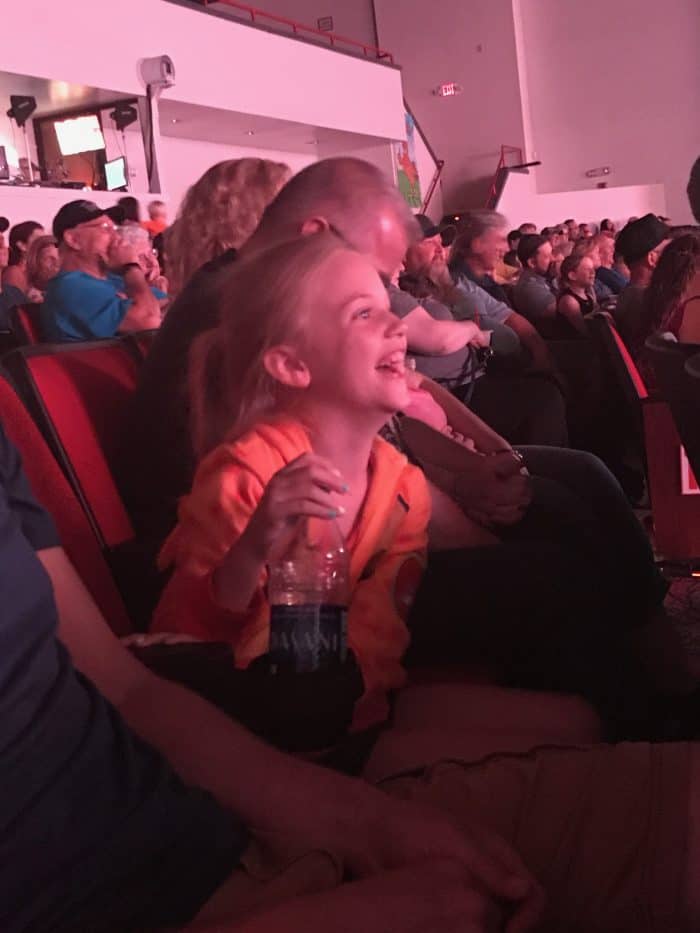 We're going to try the Amazing Animals show next since this act was such a hit. I think the kids will love it. (Plus a promise is a promise!)
What are your favorite things to do in Pigeon Forge with kids?