It finally FEELS like fall around here now. Today we're celebrating with these cute little turkeys for an after school snack. Hoping the kids gobble them right up! (*groan*)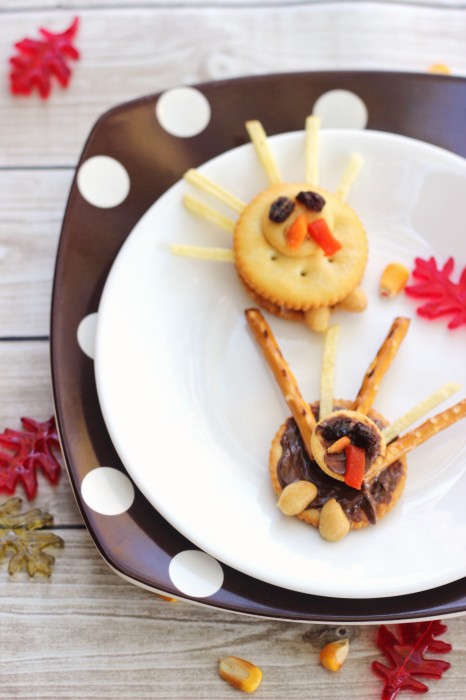 Thanksgiving Turkey Snacks
Thanksgiving Turkey Snacks
Author:
Prep time:
Total time:
Your kids are sure to "gobble up" these little turkey snacks. Easy to make together for some
fall fun
!
Ingredients
Round crackers
Mini cracker sandwiches
Pretzel sticks and/or shoestring potatoes
Peanuts
Raisins
Carrot
Pimento
Peanut butter, Nutella, cream cheese, or cheese spread
Instructions
Spread peanut butter (or other choice of spread) on flat side of one cracker
Arrange shoestring potatoes and/or pretzel sticks on top of the spread to look like tail feathers
Place two peanuts on top of spread at the bottom of the cracker for feet
Top with another cracker
For the head, press 1/2 of a mini cracker sandwich toward the top of the body
Use a triangular piece of carrot for the nose, raisins for the eyes, and a piece of pimento for the wattle. Attach to the face using spread of choice
I totally had to Google what a wattle was called. Somehow "dangly red thing that hangs from a turkey neck" just wasn't concise enough. Now your kids can learn something while they are helping you make fun snacks. 😉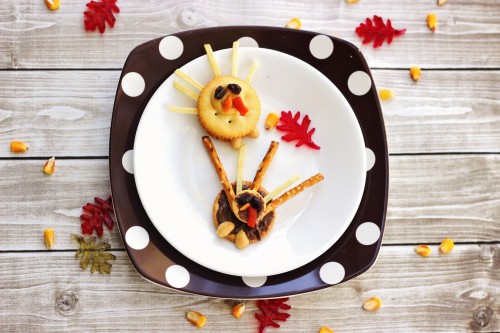 What do your little turkeys like to eat for an after school snack?