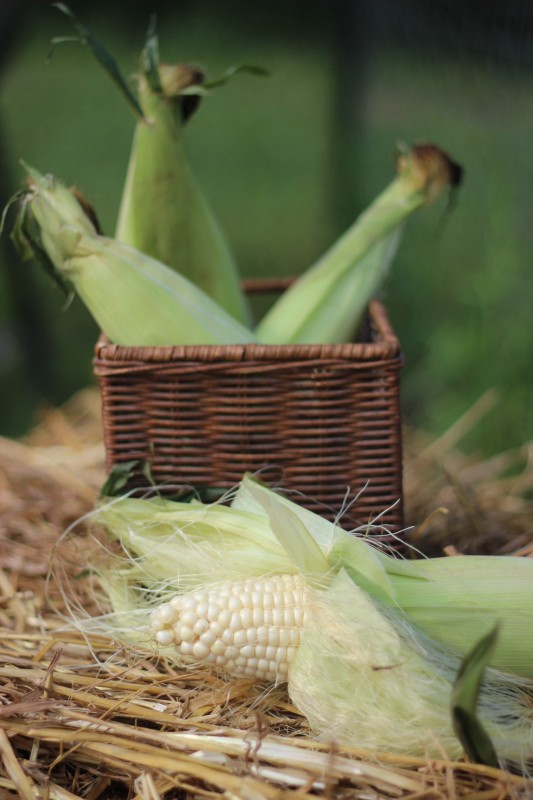 Sweet corn on the cob is a family favorite of ours. We've eaten it with dinner twice this week already! It's rare to find something fresh, wholesome, and easy to prepare that all three of enjoy eating, that's I pick some up each week at the grocer during the spring and summer. Sweet corn helps us meet our recommended intake of whole grains which are an essential part of a healthy diet. Recent studies have also shown that sweet corn is one of the best dietary sources of the antioxidants lutein and zeaxanthin. These antioxidants help promote healthy vision and protect eyes. And let's not forget about fiber, ya'll! Pregnant mamas got to have their fiber. That's all I'm going to say about that. 😉
How do you like to prepare sweet corn? Watch the video below for tips on getting corn from the shuck to the table in a hurry.

Sweet corn saved the day for dinner one night last week when I was in a hurry. We enjoyed our corn ready-made pulled pork on onion buns along with a salad of garden veggies from our back yard.
My favorite way to prepare corn on the cob is by boiling:
Shuck corn and remove any remaining "silkies"
Place in large pot and add enough cold unsalted water to cover
Bring water to a boil
As soon as the water begins to boil, turn off the burner and cover the pot
Allow corn to rest in pot at least 10 minutes and up to 30 minutes
Enjoy with butter, salt, and pepper
If you'd like to give your butter a little kick, try this recipe from Sunshine Sweet for Cilantro Lime Butter. Check out the other great recipes there too.
So tell me: What is your favorite way to eat sweet corn?
I wrote this review while participating in a blog tour by Mom Central Consulting on behalf of Sunshine Sweet Corn. I was reimbursed to purchase Sweet Corn and received a promotional item to thank me for taking the time to participate