Christmas is rapidly approaching and with it comes all the seasonal eats and treats we love. This year we have more intimate gatherings to attend than large Christmas parties, and I'm looking forward to doing some small-scale holiday entertaining of my own.

Last night we appreciated this delicious winter meal next to our Christmas tree with a fire roaring in the woodburning stove. We both commented how picture-perfect it was (Trust me, it was the only picture-perfect moment of the day. Ha!) We'll be having friends over to enjoy it with us the next time I make it since it's good enough to share and easy to make.
If you're in need of a new Crock-Pot® Brand Slow Cooker, an upgrade, a second (or third) one, or want to give the gift of Crock-Pot® Brand this year, check out their cyber week deals by clicking the link or the image below.
Steak for an easy dinner. You'll fall in love with Crockpot meals live I have!" width="700″ height="373″ />
Slow Cooker Cranberry Pork Chops
Ingredients
My dad just purchased an organic, humanely-raised pig from a friend's farm and shared some of the cuts with us. There's nothing quite like unwrapping butcher's paper and preparing fresh, organic meat that you can eat in good conscience. I could get used to it!
Directions
Pat pork chops dry and season both sides with salt and pepper.
Heat oil in skillet on high heat and sear both sides of each pork chop until golden (takes less than a minute)
Add potatoes to Crock-Pot Brand Slow Cooker along with 1/2 cup water or broth.
Top with onions, then seared chops, then cranberry sauce.
Cook on low heat for 3 hours or until center of chops are 145° in the center (cook time may depend on the thickness of your chops. Use a meat thermometer to be safe without overcooking) and potatoes are tender.
I served this simple slow cooker meal with some roast Brussels sprouts to round it out. If you'd like to trim the fat on the pork chops after cooking, feel free. You're just better off leaving the fat on during cooking for better flavor.
Crock Pot pork chop recipe with cranberry sauce for a delicious holiday meal with only a few simple ingredients!" width="700″ height="538″ />
If you're looking for more delicious Crock Pot® Slow Cooker recipes, click the link to visit crock-pot.com for inspiration.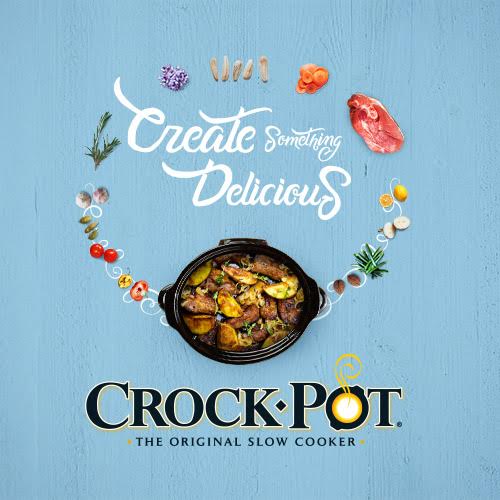 Sponsored post by Crock-Pot® Brand. All opinions are my own.