I miss having a garden. Working a full-time job from home with two preschoolers who stay home with me all day, doesn't lend itself to much free time. Thankfully, my dad has an abundant one and doesn't mind sharing with his only child. Over the weekend he sent me a goodie bag fill with garden fresh veggies.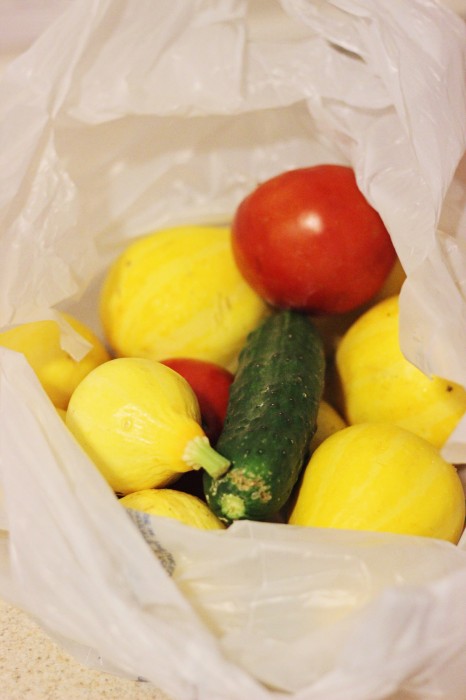 He knows I'm trying to clean up my diet and I appreciate the support. Ever since giving birth to Gus, it's been hard for me to eat raw vegetables or drink plain water. Neither appeal to me like they used to for some strange reason. As a result, I'm always looking for ways to make vegetables more palatable. This Simple Summer Salad does the trick and couldn't be easier to make.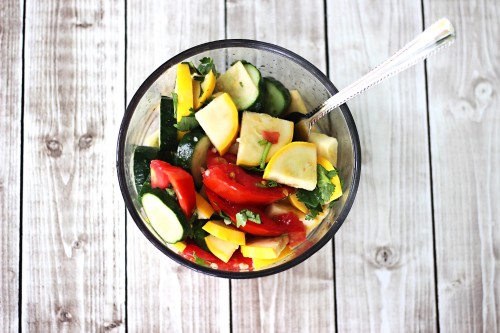 It's a great way to use up the abundance of summer squash or zucchini that many gardeners find themselves with during summer harvest. I hope to have that problem in the next couple of years. Sweet T is old enough to help me garden. Gus is…close. 😉
Simple Summer Salad
This simple summer salad captures all the flavors of your summer garden
Ingredients
1 cup diced tomatoes
1 cup sliced summer squash or zucchini
1 cup sliced cucumber
¼ cup chopped cilantro or basil
1 Tbsp minced garlic
2 tsp olive oil
3 Tbsp vinegar (rice or apple cider are good choices)
salt and pepper to taste
Instructions
Combine vegetables, cilantro, and garlic.
Add oil
Add vinegar, salt, and pepper. Toss to coat.
Chill for 30 minutes before serving.
If you only have a few vegetables on hand, you can easily make a single serving of this Simple Summer Salad.