Sensory kids! Whether you have an official diagnosis of Sensory Process Disorder or just have kids who, like mine, arbitrarily seek or resist certain sensory experiences, here you'll find a Sensory Gift Guide tailored to their needs and desires.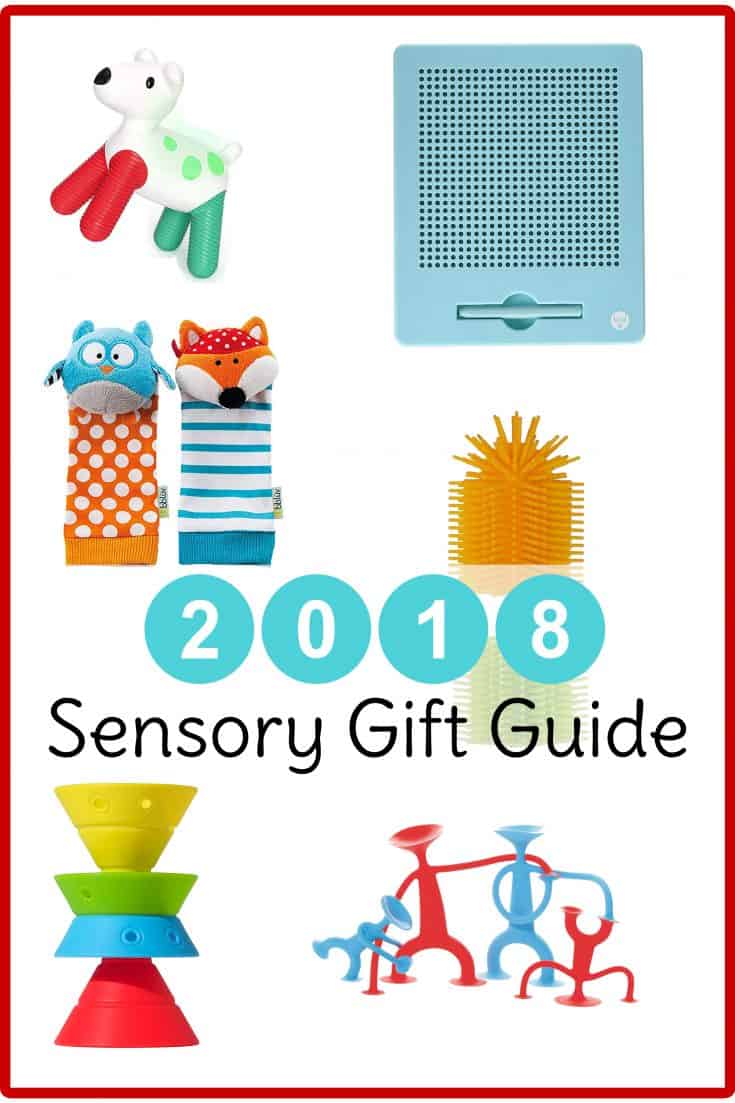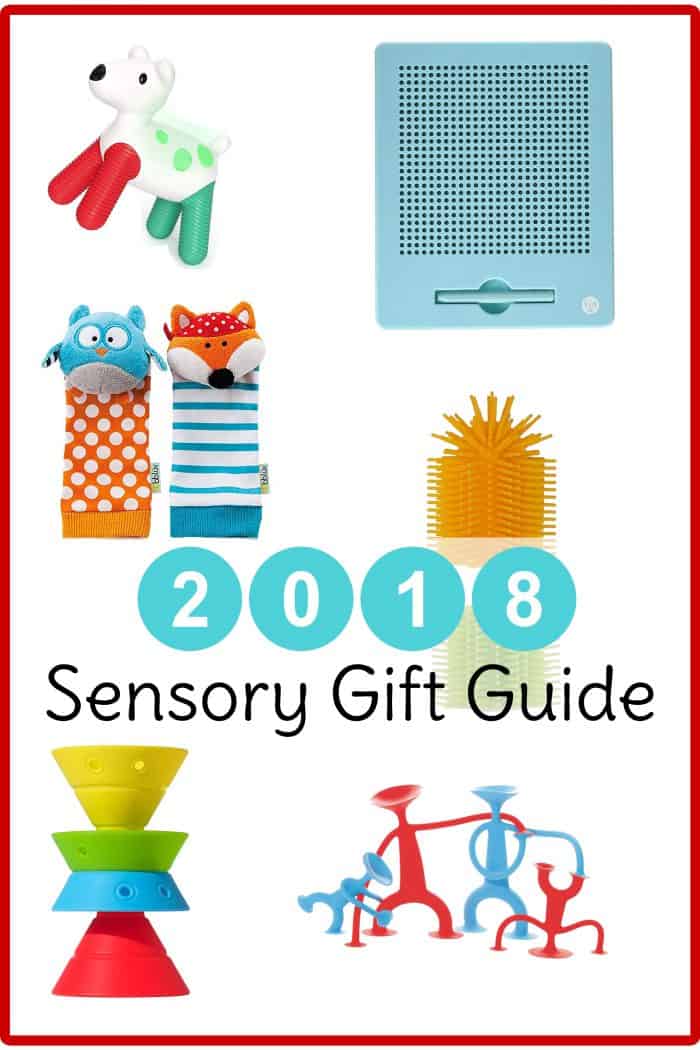 Magnatab – You know the satisfaction you get from popping bubble wrap? Imagine that plus an Etch-A-Sketch, plus the Lite Brights you loved as a kid and you've got Magnatab! It's kept both my kids busy for hours. Click below to check it out and see how much sensory fun your kids can have with it.
Kid O Free Form Jumbo Glow in The Dark Magnatab
Spike from Innobaby – SPIKE is every student's sensory sidekick and perfect for their stocking this year. Squeeze and squish away while studying, quietly and without disruption. SPIKE can also easily fit in the palm of your hand as a discreet fidget tool. Everyone young and old can enjoy SPIKE, especially those with Autism Spectrum Disorder, anxiety, focusing issues, ADD, ADHD, sensory processing disorders and other attention issues. Perfect for classroom, home or office, as they are quiet and non-distracting for others. I'm putting SPIKE in each of my kids' stockings so that they can stay focused! No lie. I love it for myself. I may or may not be squishing one off and on as I focus on writing this post. Love 'em! Try the pencil toppers for something non-distracting for school-aged kids.
Spike Silicone Fij-It – Fidget Tactile Sensory Motor Aid for School, Home, Work (Green/Aqua)
Spike Silicone Fidget Tactile Pencil Topper & Grip Combo Pack – Sensory Motor Aid for School, Home, Work – (Yellow/Green)
40″ Round Tree Swing – LAEGENDARY spider swing set is made of strong and safe materials and can hold up to 450 lbs. They designed each component of the outdoor swing with safety in mind: foam handles for a safer/better grip, thicker foam padding for added protection and comfort, and reinforced seat stitching for more durability. You get a complete kids tree swing hanging kit so the excitement of receiving the yard swing doesn't have to stop to run to a hardware store.
We hung this swing from out jungle gym rather than an actual tree, and the kids love it. They especially love that I can hop on the swing with them thanks to the high weight limit!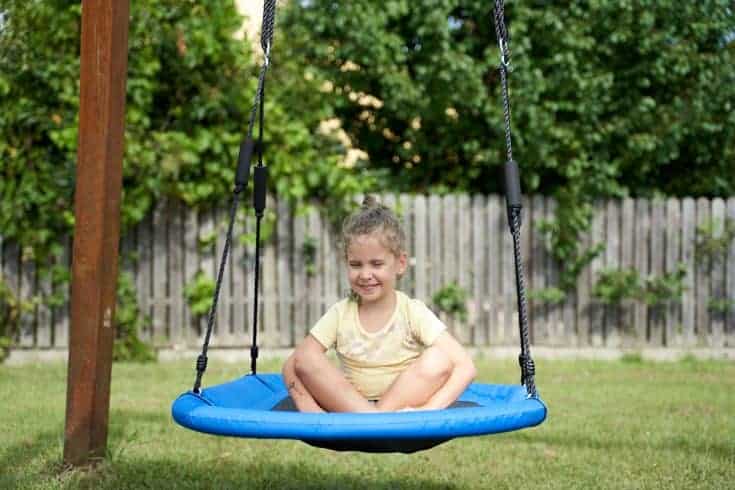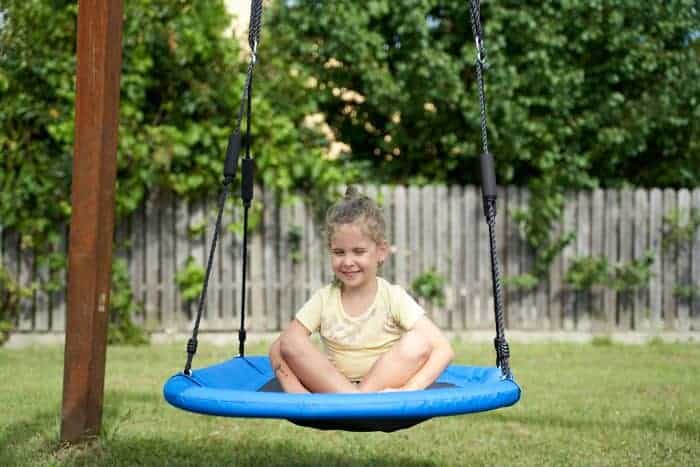 Hudson Glow Rattle – If you have any infants on your Christmas list this year, be sure to check out the Hudson Glow Rattle from PlayMonster. It's an award-winning, motion-activated rattle that responds to the way your baby plays. red! Hudson's textured legs are just right for teething babies, and the soft rattling sound will both entertain and stimulate the senses.
PlayMonster Kid O Hudson Glow Rattle
The Happy Bite Company Super Food Explorer Kit– Got picky eaters? *raises hand* It can feel like such a battle to get them to eat anything other than a peanut butter sandwich and potato chips. Believe me when I say that I speak from experience. The Happy Bite Company is here to help! We plan on using it as part of our homeschool science curriculum this year. Check it out!
The Super Food Explorer Kit puts proven research into practice. The kit encourages children to experiment with different foods and develop a "database" of food information they can use to figure out what a food will be like before they taste it. The kit includes 60 discovery activities and all the tools children need to confidently and joyfully inspect, examine, probe, rattle, sniff, slurp and, ultimately eat new foods.
Hix
– Hix is a versatile new construction toy consisting of four convertible cones in elastic silicone rubber. It's hard to categorize this amazing toy as a
STEM toy
or a sensory toy, but either way little ones will love it. Each cone transforms into four basic shapes which can be stacked and nested in a myriad of different configurations. Hix is a delight to fidget with and make geometry accessible and fun for all ages. Finally you have smart building blocks that don't create any noise when tumbling down!
MOLUK HIX 4PC Convertible Cones Building & Fidget Toy
Oogi® Family Pack – Oogi® is an irresistibly tactile and wonderfully expressive new figure toy. With suction cup head, hands and feet, and long stretchy arms, it connects to any smooth surface. Oogi leaves room for the imagination and invites children to explore and experiment while playfully training hand-eye coordination and fine motor skills. Unlike traditional dolls for girls and action figures for boys Oogi is gender neutral and fun for all ages.
The Squishy Craze!
As a sensory seeker (And avoider. Riddle me that?) Sweet T has been choosing "squishy toys" whenever she gets the option. If it can be squeezed and feel amazing, then she's all about it. I just know she's going to flip out when she finds Smooshy Mushy toys in her stocking this year, and I can only hope she doesn't steal Gus' Smushy Mashy. What am I talking about? Keep reading.
Smooshy Mushy – We've seen Smushy Mushy at both Walmart and Target and Sweet T keeps begging for them. She's going to be happy to find them in her stocking and under the tree this Christmas!
Smooshy Mushy Babies (6 pc PDQ), Multi
Smooshy Mushy Bento Box Series 2 Harper Hippo Multicolor
Smooshy Mushy Besties 1 Random Series 3 Snackies, Sweeties Or Munchies
Smashy Mashy
Smooshy Mushy Baby – Unwrap an amazing experience with Smooshy Mushys babies! Each item comes wrapped in a magic baby bottle. Inside is an adorable baby, a tiny surprise "bestie" mini-smooshy, a sticker, name tag and collector poster with a cute "birth certificate". Let the cuddling commence!
Smooshy Mushy Bentos – Snacktime has never been smooshier! Each Smooshy Mushy Bento Box comes with an exclusive, scented Smooshy pet, collector stickers, two mini scented "besties" and a super cute display tray. Comes with a try-me package so you can "feel the smoosh"! Also includes a collector poster with a hilarious "find your Smooshy name" game. Let the smooshing begin!
Smooshy Mushy Sweeties – Blind bags have never been squishier, or Smooshier! 1 of 39 different blind characters, scented Smooshy Mushy besties are included in each blind bag PDQ, which is themed like a refrigerator full of yumminess.
Smashy Mashy – Tilt the capsule and watch the ooze disappear! Soft, nacho cheese scented, slow-rising foam. Use secret decoder to discover and play the bonus word game. These elusive creatures have escaped from the secret lab on the outskirts of Smooshyville! Each capsule comes with a mystery nacho cheese-scented, slow-rising squishy Creature and Buddy, sticker, secret decoder, and collector's poster with bonus word search.
Gross right? I promise your kids will love them. Mine certainly do and who am I to question what appeals to kids these days, right? Sweet T loves them so much she keeps them on her nightstand at all times. *shrugs*. Check them out at your Walmart for likely better pricing than on Amazon.
Galaxy Goo – If your child loves slime, they'll get a bit of STEM learning along with it thanks to Galaxy Goo. Galaxy Goo is a fun way to learn about the solar system without a telescope. Each box comes with its own unique colored space goo, premium collector card with planetary facts and a display case. Stick one or all four in their stocking this Christmas!
Bblüv Düo Foot Finders – More babies on your list this year? Check out these fun foot finders from bblüv – Düo
Engage baby's senses!
Stimulates and helps develop baby's fine motor and sensory skills
Integrated rattles
Crinkle paper
Bright and contrasting colors
bblüv – Düo – Foot Finders – Fun and colorful baby developmental socks with rattle (Fox and Owl)
Homemade slime – Slime is one of the most engaging crafts Sweet T has ever experienced. I highly recommend you make some for you child's stocking, or better yet, make some together for Christmas! Slime engages the sense of touch and smell as well if you add essential oils.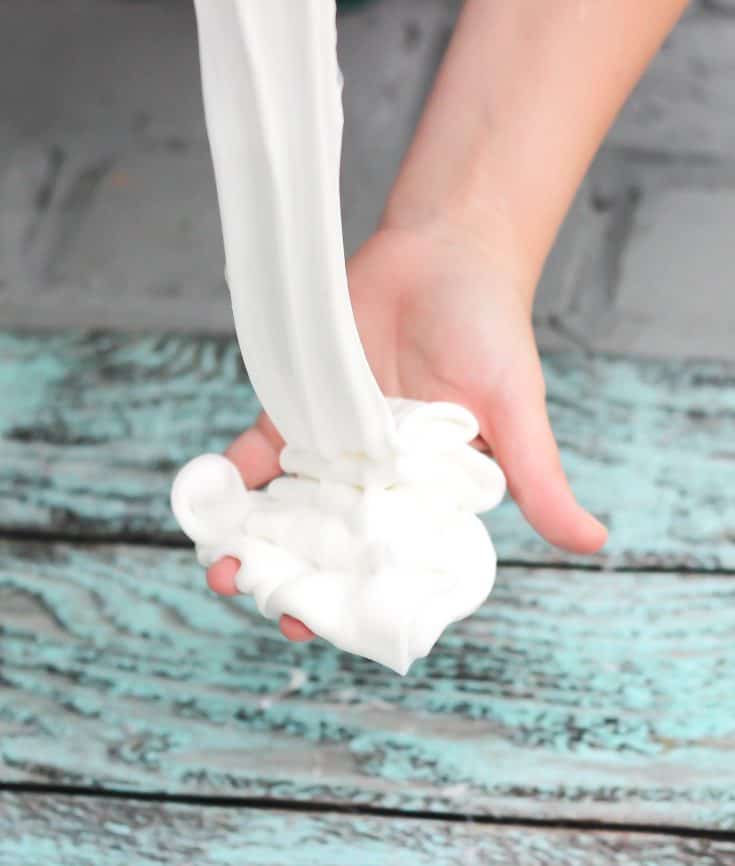 We've created so many different slimes with more to come!
Sensory play from Discovery Toys – Discovery Toys is one of our favorite toy brands and they carry a wide variety of sensory toys from Tactile Sand to their famous Tangiball. Other popular favorites you might want to consider include Boomerings and Measure Up Cups.
Usborne Touchy Feely Books – Brightly colored, high-contrast, multi-sensory book for babies. Delightful to share, touchy-feely books will engage even a tiny baby's attention. Full of squashy touchy-feely patches, finger-trails and holes which will stimulate small children and provide lots to talk about.
That's Not My Meerkat

That's Not My Kitten

That's Not My Elephant

That's Not My Mermaid

With so many sensory toys to choose from, which sensory gifts will you be giving the children on your gift list this year?