Does Proactiv Work?
If my 17 year-old self had known that my 29 year-old self would still struggle with acne breakouts, she would have been pretty depressed. Cyclic monthly breakouts are something I've been living with for about 15 years with seemingly no end in sight short of menopause.  Friends my age joke that we'll be having whiteheads in our wrinkles pretty soon!
My breakouts occur during PMS and gravitate toward my forehead leaving the rest of my skin clear. The only successful way I've combated acne until now is by eliminating carbohydrates from my diet completely. Boo. That's a lofty goal, but let's review Proactiv before saying goodbye to bread forever.
Proactiv 3 Step Acne Treatment System Starter Kit (30 Day)
My Proactiv kit arrived during a bad time of the month for me which worked out perfectly for this review! Here's my "before" picture.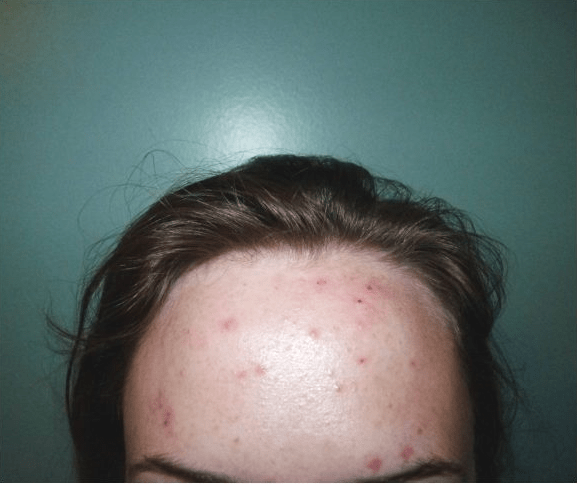 The camera flash makes it look a little worse than it is, but you can see I had a problem! Thank goodness for concealer or it would have been hard to go out in public.
I started using Proactiv the same day the products arrived and used the three-step system twice daily as directed. I didn't experience any dryness or peeling, though some users may need to reduce usage to once per day if this occurs. My kit included:
1.Renewing Cleanser
2.Revitalizing Toner
3.Repairing Treatment
Sulfur Mask – this is supposed to be used 2-3 times per week, but I kept forgetting to apply it and only used it twice in the month-long period.
Green Tea Moisturizer – love this lightweight moisturizer that kept my skin from drying out without making it feel oily.
Proactiv Before and After
To be fair and accurate I took my Proactiv before and after pictures in the same lighting conditions with the same camera during the same time during my cycle. You can see a definite improvement! So to answer the question, "Does Proactiv work?" I'd say yes. BUT…Keep reading.
Where to Buy Proactiv
You can purchase Proactiv directly from the company, but I don't recommend it due to the subscription requirement. I've had more than one friend struggle to have their Proactiv subscription cancelled and their recurring payments stopped. And a refund for that extra month or two where you were trying to cancel? Forget it. They've even taken to social media to try to get help to no avail.
You can easily buy Proactiv without a subscription from Amazon and try it out before you commit. If you enjoy the product and want to have it delivered to your door on a recurring basis, Amazon's own subscribe and save plan is a much safer choice.
Proactiv 3 Step Acne Treatment System Starter Kit (30 Day)
Proactiv+ Green Tea Moisturizer
Proactiv+ Skin Purifying Mask, 3 Ounce (90 Day)
Another reason you'll want to buy Proativ without a subscription is so that you can purchase products separately. You will likely run out of cleanser before toner, etc. Your rate of use will not be the same across formulas.