We just returned from a family weekend at the beach and enjoyed a couple of Pensacola Beach Restaurants including an old favorite plus somewhere new!
Pensacola Beach Restaurants

#1 LaBrisa Restaurant
My number one Pensacola Beach Restaurant pick is a well-kept local secret, but probably won't be that way for long. LaBrisa Restaurant isn't actually on Pensacola Beach, but about two miles away in Gulf Breeze. You'll have to pass right by it to get to Pensacola Beach if you're coming from the north so stop for brunch, lunch, or dinner at LaBrisa.
Heck, it's worth the two mile drive even if you're staying right on the beach. Actually it's worth the 5 hour drive from my house.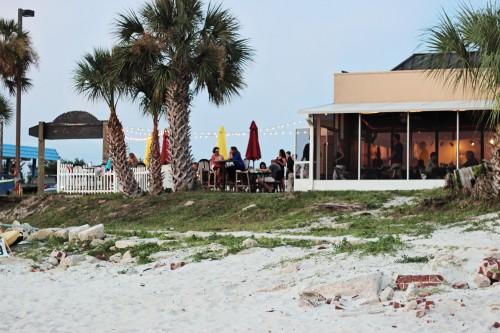 LaBrisa adjoins The Quality Inn in Gulf Breeze and I'm going to be honest here… The location caused us to think "eh. Hotel food" and we ate brunch there merely for convenience. Best. Decision. Ever.
LaBrisa has been owned and operated by Chef John Huggins for the past year and he serves up dishes that are about as far from hotel food as you can get.
Hubs had the Three Cheese and Bacon burger and promptly declared it the best burger he's ever eat. Hubs is not one to gush or get excited about much of anything so when he started gushing about his burger, I knew we'd struck gold.
I had the Border Burger and was soon equally in awe. Sweet T enjoyed pancakes with fresh whipped cream that put Cracker Barrel's to shame. Why didn't I bring my camera? Oh yeah because I thought this would be hotel food that wasn't worth capturing. Nooooo!
Not to worry. We went back that night for dinner and brought some local friends with us. Hubs had the exact same burger again because he wanted to enjoy the best burger in the world twice in one day. By the way, they have a house burger sauce that's reminiscent of Outback's blooming onion sauce, only they wish theirs was this good!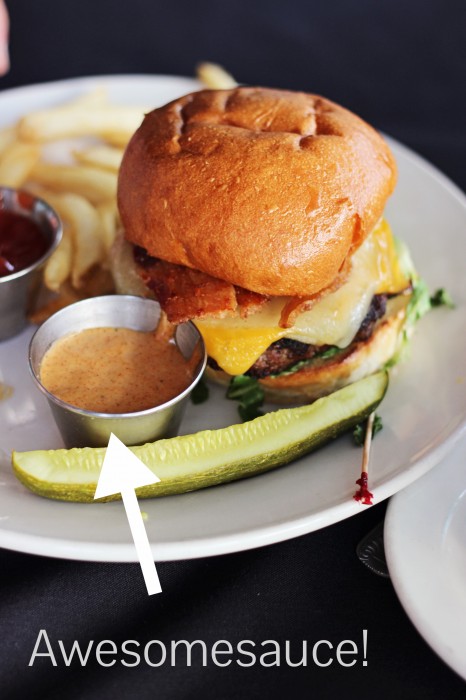 Our friend Jared ordered the Shrimp and Grits and was kind enough to let me have a taste. Crazy good! Many of the dishes at LaBrisa are crafted from local ingredients and these grits are hand-milled locally.
I actually ordered an appetizer for my meal at LaBrisa: the Bianca Grilled Flatbread. Savory and rich, it's satisfying as a meal on it's on. Plus you'll have a little room left for dessert. And you do not want to miss dessert at LaBrisa!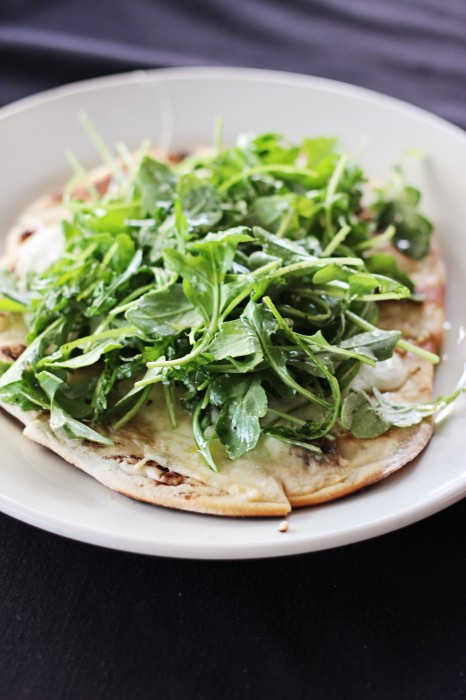 Gus scoped out the dessert case for us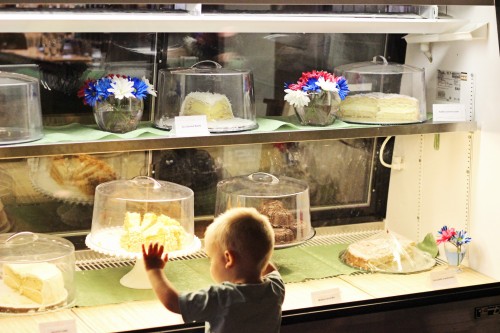 Hubs and our friends all chose the Chocolate Lava Cake and weren't disappointed.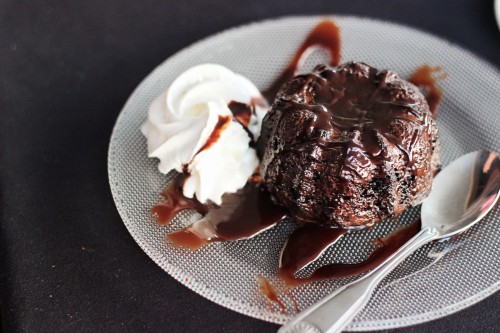 I opted for a coconut creation that I can't remember the name of. I almost ordered a second piece since Sweet T had several bites, but wound up refraining. I do have a little self-control, ya'll.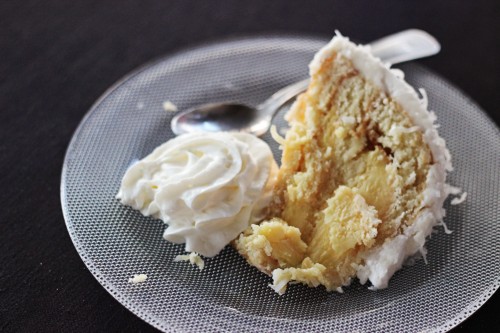 We enjoyed brunch indoors and dinner on the enclosed patio, but as the evening went on more and more locals showed up to relish the sunset from the outdoor cafe area.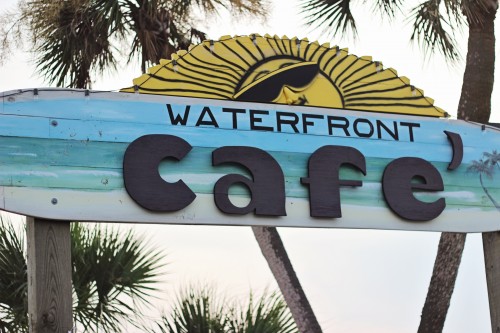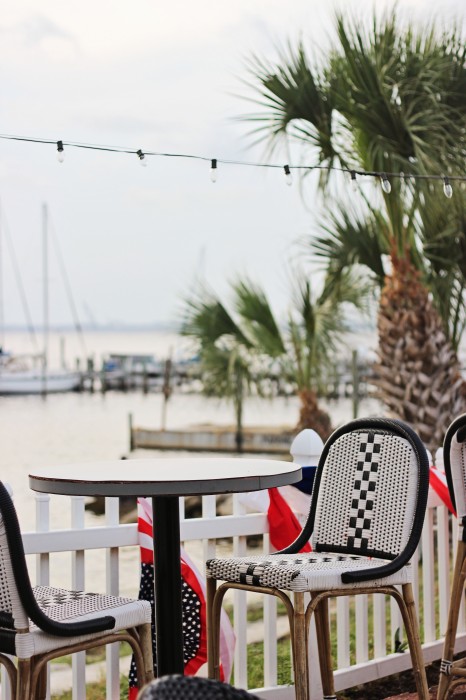 After our meal we took the kids down to the little bayside beach to let them play while we enjoyed the beautiful view. We even saw a couple of dolphins over by the boat docks.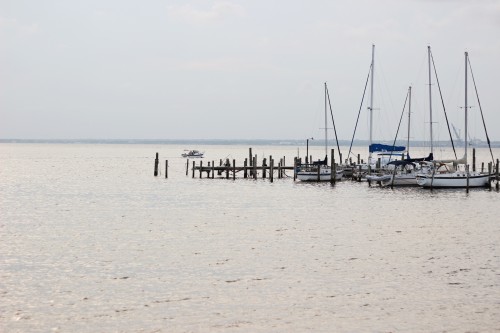 The kids played until sunset on the little bayside beach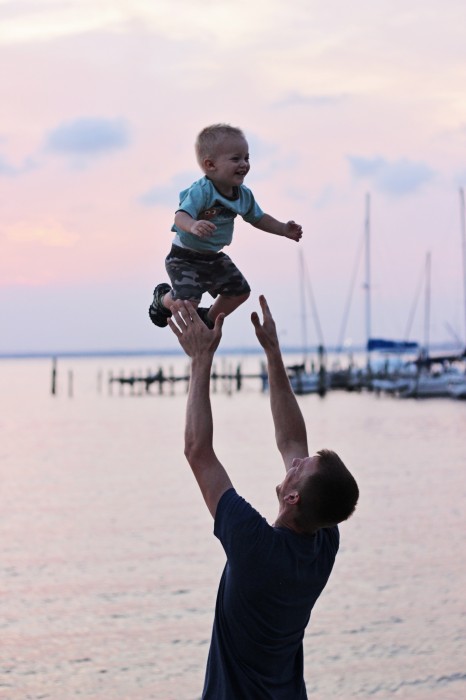 If you're looking for fine dining for casual prices in a relaxed atmosphere, make it a point to visit LaBrisa Restaurant. You won't be disappointed. 
#2 Flounder's Chowderhouse
We enjoyed eating at Flounder's over a decade ago when we lived in Pensacola. It's a popular Pensacola Beach tourist spot, but that doesn't mean you can't find good seafood there.
Within walking distance of the main beach, Flounder's Chowderhouse serves up flash-fried seafood in a lightly breaded, almost Calabash style. Flounder's portion sizes are over-the-top so bring your appetite or a friend to share with.
Normally I go for the seafood nachos appetizer as my meal, but during this visit I mixed it up a little and tried the fish taco appetizer The Baja Fish Tacos were flavorful enough that I was immediately plotting how to recreate them at home. Are you sensing a future recipe post? 😉
The cumin and pickled onions really set them apart from other fish tacos I've tried, and of course the fish was lightly breaded and fried to perfection.
And what is a trip to the beach without a dozen on the halfshell? Not complete, I tell you. At least not for me.
My in-laws still live in Pensacola and like to bring out-of-town guests to this Pensacola Beach Restaurant. They always order the Philly Cheese Steak Sandwiches. The lighting was funky and it was getting dark outside so sorry for the photo quality!
Hubs ordered Floyd Flounder's Flawless Full Flavored Florida Flash Fried Fish. Try to say it out loud. I dare ya.
The flash fry and the light breading make all of Flounder's fried seafood a good choice.
We didn't save room for dessert during this visit, but my father-in-law tackled Flounder's key lime pie all by himself during a 2007 visit.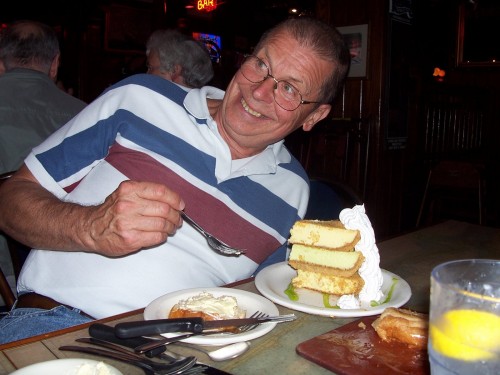 While the fare is noteworthy, I think most people enjoy Flouder's just as much for the atmosphere.
Where LaBrisa is relaxing and quiet, Flounder's is full of hustle and bustle. There's live music, sand volleyball courts, and a playground for the kids.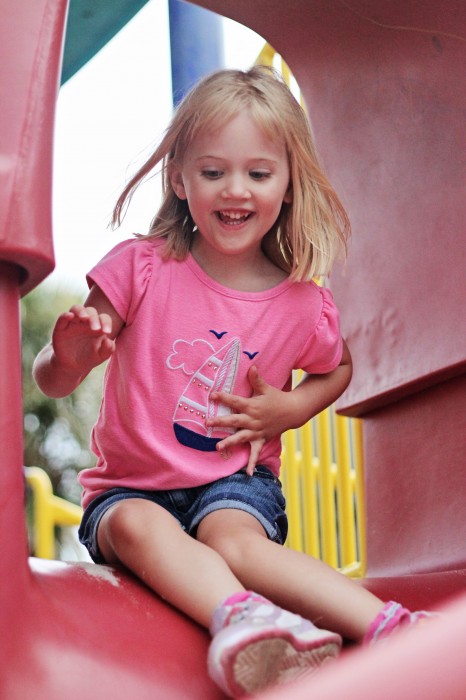 There's a pier out back with dispensers full of fish food too.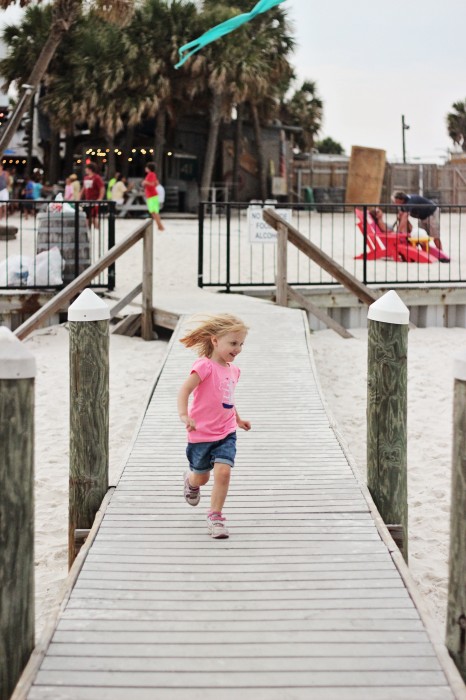 There's often a long wait to get into Flounder's Chowderhouse, but as you can see there are lots of ways for kids and adults to "flounder" about while they wait. And if you're a shutterbug like me, you'll love all the photo ops!
Those are my #1 and #2 picks for where to eat at Pensacola Beach.
While we didn't have a change to dine at Peg Leg Pete's this trip, we've never had a bad meal there. It does get a little crowded and lacks the activities found at Flounders that offset the wait time, but it's still worth mentioning in any list of Pensacola Beach Restaurants.
If you're in search of good coffee and are a fan of bagels, check out Bagelheads. Like LaBrisa it's actually in Gulf Breeze but worth the short drive for a pleasant wake-up call in the mornings. Bagelheads is one thing I miss about living in Pensacola.
Have you ever visited Pensacola Beach? Where do you like to eat?