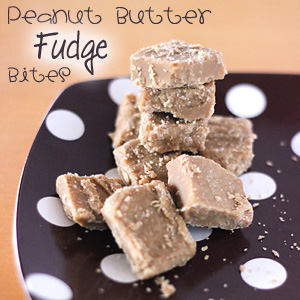 This Peanut Butter Fudge recipe is a favorite of ours. My mother-in-law loves to make it for us and I graciously allow her to. 😉 This peanut butter fudge is very rich so remember to cut into small, bit-sized pieces (1″ squares).
Peanut Butter Fudge
Peanut Butter Fudge Bites
Author:
A rich and delicious treat for the peanut butter lover
Ingredients
3 cups granulated sugar
1 teaspoon cocoa
3/4 cup water
1 stick butter
1 teaspoon vanilla
1 cup creamy peanut butter
Instructions
n a large bowl mix the sugar and cocoa well.
In a saucepan bring water to a bowl over high heat.
Reduce heat to medium and add sugar/cocoa mix.
Cook to soft ball (about 10 minutes.
Reduce heat to low and add butter and vanilla.
Remove pan from heat and quickly add the peanut butter. Stir until just blended.
Pour immediately into a greased 9×13 pan.
While warm, score 1″ squares.
Let cool approximately 20 minutes and cut completely when fudge is firm.
3.1.09
Enjoy your fudge!