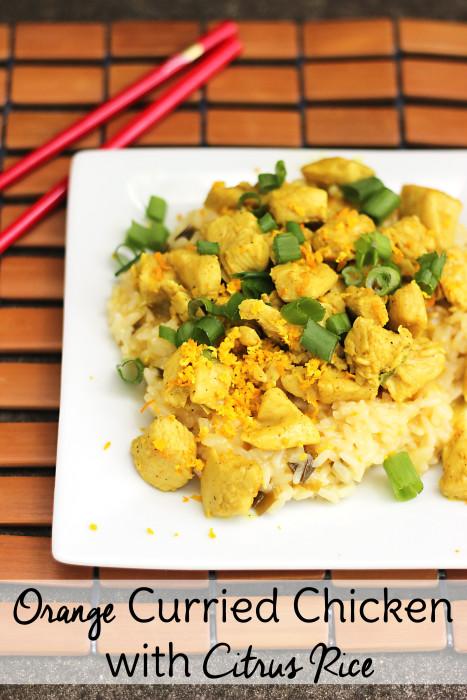 Chicken is so versatile and affordable, it's no wonder it makes it onto the dinner table so often. I serve it as often as the next mom, but like to mix things up a little bit with creative recipes that make my family think "winner, winner chicken dinner!" instead of "chicken again?"
Sunkist sent me some of their Cara Cara navel oranges to try and I used the juice and zest from them in this Orange Curried Chicken with Citrus Rice recipe.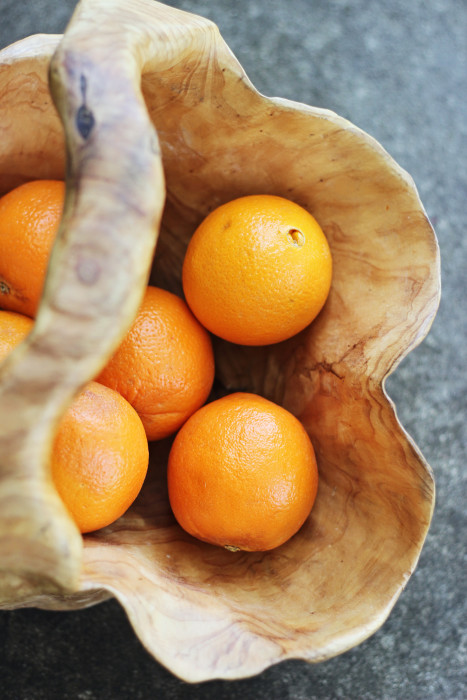 This unique variety looks like a Navel orange on the outside – but the seedless interior has a rich pink hue from the natural presence of Lycopene. Available December through May, these extremely sweet Navels are an excellent source of Vitamins A and C and a good source of fiber, earning them the nickname The Power Orange®.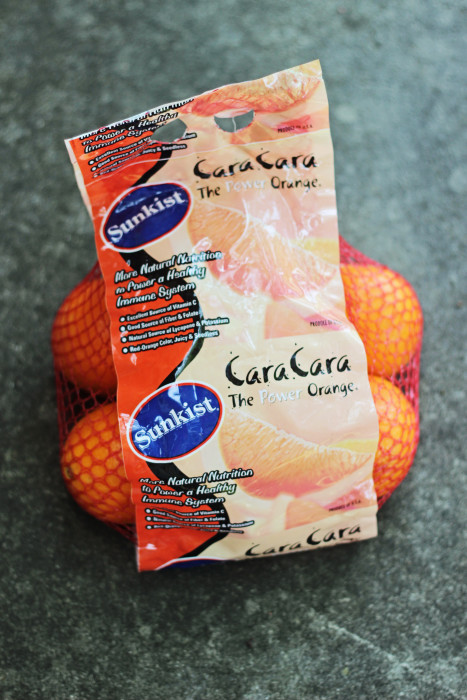 I love that Cara Cara oranges are seedless. So great for snacking and convenient for juicing by hand too! Use both the juice and the zest in the Orange Curried Chicken and the Citrus Rice.
Orange Curried Chicken with Citrus Rice
Orange Curry Chicken with Citrus Rice
Author:
Prep time:
Cook time:
Total time:
Sunkist oranges add a zesty citrus flavor to chicken and rice
Ingredients
2 Tbsp coconut oil
3 boneless, skinless chicken breasts, halved and cut into 1/2″ pieces
1 Tbsp Cara Cara navel orange zest
1/2 cup chopped green onion (root end)
1/2 cup Cara Cara navel orange juice
1/2 cup canned coconut milk
2 Tbsp curry powder
For Rice:
2 Tbsp butter
1 Tbsp Cara Cara navel orange zest
1 tsp minced garlic
1/2 cup chopped green onion (green tops)
1 cup white rice
1 cup chicken broth
1 cup Cara Cara navel orange juice
Instructions
Add chicken pieces and cook until no longer pink
Stir in curry powder and cook until fragrant, about 1 minute
Add onions, orange zest, and garlic an cook for 2 minutes stirring constantly.
Add orange juice and coconut milk and simmer until sauce thickens slightly, about 10 minutes.
Serve over Citrus Rice (below)
In a medium saucepan, melt butter over medium heat. Add orange zest, onion, and garlic. Cook for 2 minutes.
Add rice and cook 2-3 minutes more, stirring constantly.
Add orange juice and chicken broth.
Cover and reduce heat to medium low.
Cook 20 -25 minutes or until liquid is absorbed.
Here's a visual for dividing up your green onions. The pile on the left goes in the chicken and the pile on the right goes in the rice.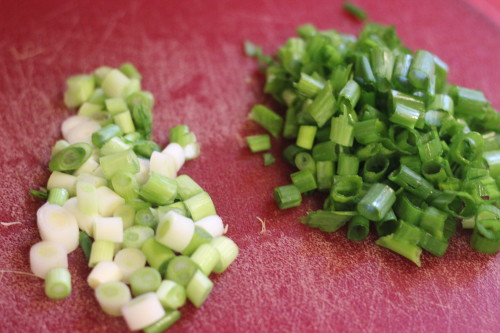 Sweet T loves to "help" with  my photoshoots by bringing out her own camera or asking to pose with the food. Today she asked if I would take her picture with an orange (dirt on her nose and all.) It's hard to say which is sweeter, Sweet T or the Cara Cara!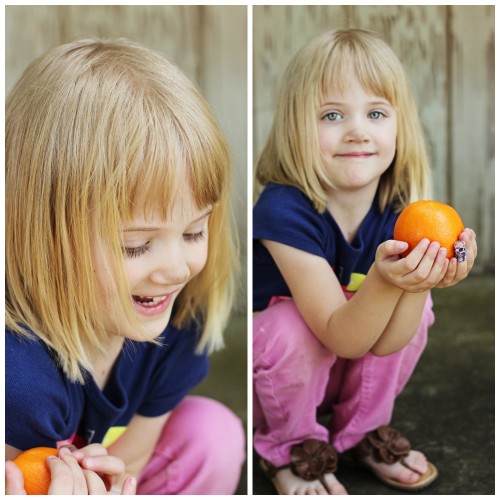 Very little of our oranges went to waste with this recipe, but if you find yourself with leftover orange peels from cooking or snacking, here are seven creative ways to put your leftover orange peels to good use.
1. Place orange rinds in the soles of your shoes to absorb moisture and for sweet-smelling feet
2. Make your own citrus potpourri by simmering leftover orange peels, cinnamon and hot water in a slow cooker
3. Keep your garbage disposal fresh-smelling by grinding citrus peels
4. Instead of baking soda to deodorize your fridge, cut an orange in half, remove the fruit and fill the orange half with salt, place in fridge
5. Remove coffee or tea stains from a mug with lightly salted citrus peels
6. Use half a citrus peel as a compostable planter – a fun activity for kids
7. Dry citrus peels and save them as kindling for a barbecue or fire. The oil in the peels makes them flammable and aromatic
This is a partnered post. All opinions are my own.