Check out this quick no-sew trick or treat bag that I designed to help you celebrate the season.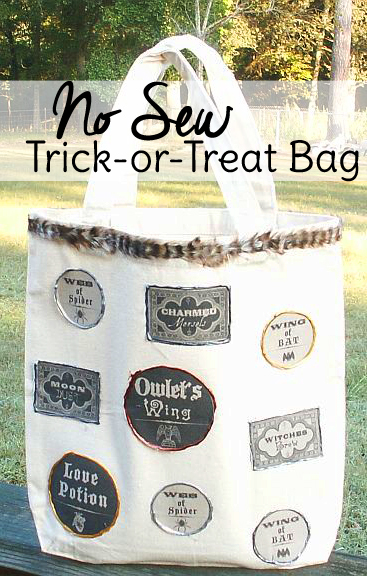 Don't buy a plastic pumpkin for you little goblin or witch, create this unique potion bag to gather their treats.  With signs like "Owlet's Wing" and "Love Potion," I'm sure it will get attention.
Materials:
1 Canvas Tote Bag
1/4 yard solid light colored fabric (not pictured)
Freezer Paper (for printing on fabric)
Fabric adhesive such as Liquid Stitch or Wonder Under (not pictured)
Assorted Fabric Paints
graphic for printing on fabric (not pictured)
1 package feather trim
Iron
Ironing board
scissors
Begin by pressing the canvas bag to insure there are no wrinkles.  Next, cut freezer paper to 8 1/2 by 11 inches.  Place freezer paper shiny side against wrong side of fabric iron in place.  Trim fabric to 8 1/2 by 11 inches.  Place fabric in printer and print desired graphic.   I selected the potion graphic from The Graphics Fairy website.  They offer many free graphics for just about any occasion.
Peel freezer paper away from graphic.  Cut individual signs.  Arrange signs on canvas bag until you have the desired look.  Apply adhesive to back of sign and place on canvas bag.  Repeat until all signs are in place.  Glue feather trim around top of bag.
Using gel paint pens run a bead of paint around all edges of signs.  Allow to dry overnight.  I printed 2 pages of graphics and placed the graphics on both sides of the canvas bag.  You will have to let one side dry before applying the other.
This is a great project to do with your children.  It's simple enough that even small children can help you create a unique treat bag.
What projects are you making for the season?  Leave a comment and let me know.