My best friend lives in Chattanooga, Tennessee so I'm no stranger to the city, but this trip was the first time my family visited just for a trip to Lookout Mountain.
We cozied up at the Riverview Inn, and thanks to the various attractions and restaurants on Lookout Mountain (or that are accessible from The Incline Railway) we didn't have to leave the Lookout Mountain area if we didn't want to.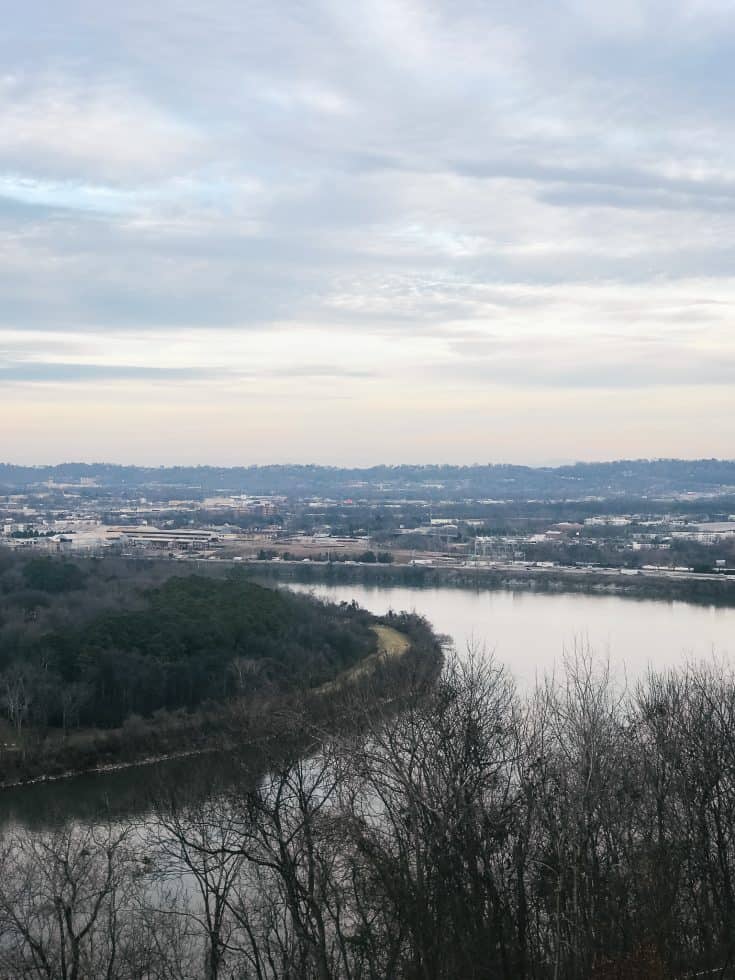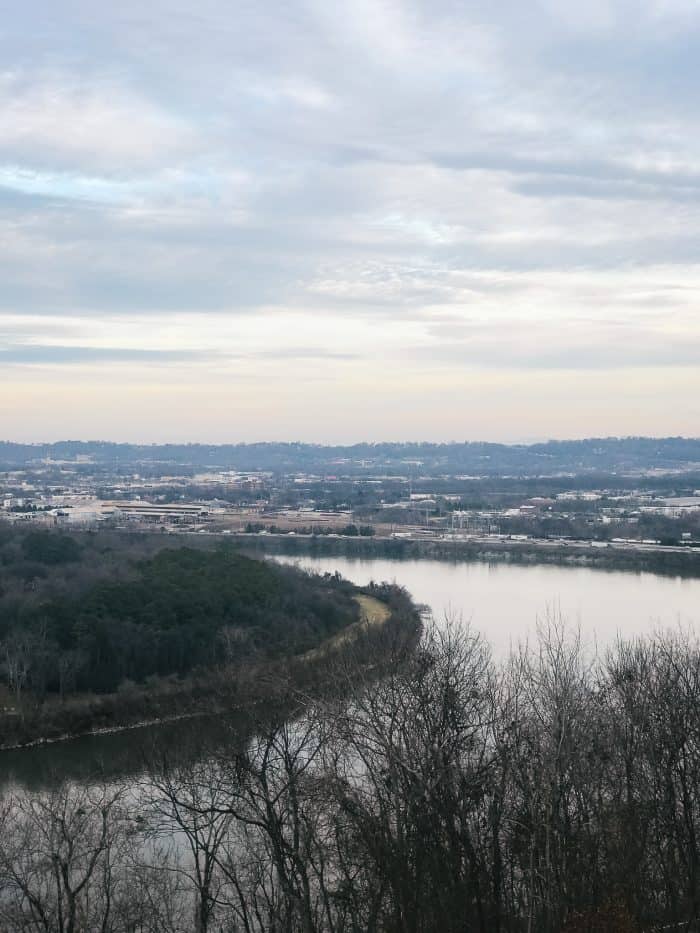 This made for a relaxing Christmas break trip for the four of us. We had plenty to do and see for three days and two nights of family fun and just enough downtime to relax. I'm looking forward to a return trip with just Hubs and the dog. Shhh. Don't tell the kids.
Lookout Mountain
Where to Stay on Lookout Mountain
Riverview Inn is located just around the corner from Ruby Falls. True to its name, there's a gorgeous view of the city and the Tennessee River. We stayed in room 10 (Hillside Suite) and this was the view from our porch.
Riverview Inn is charming, especially at Christmastime.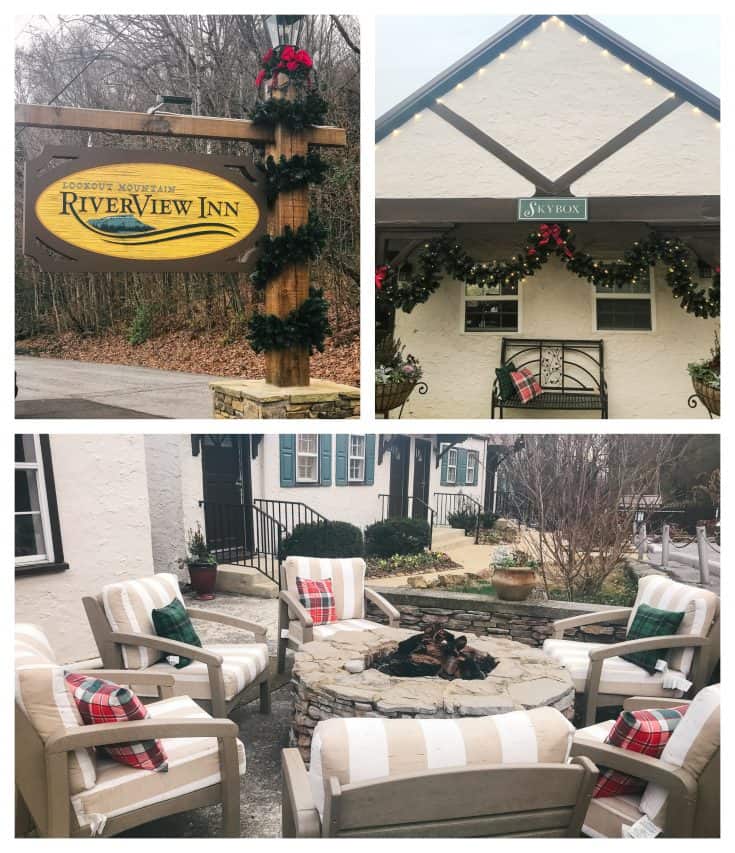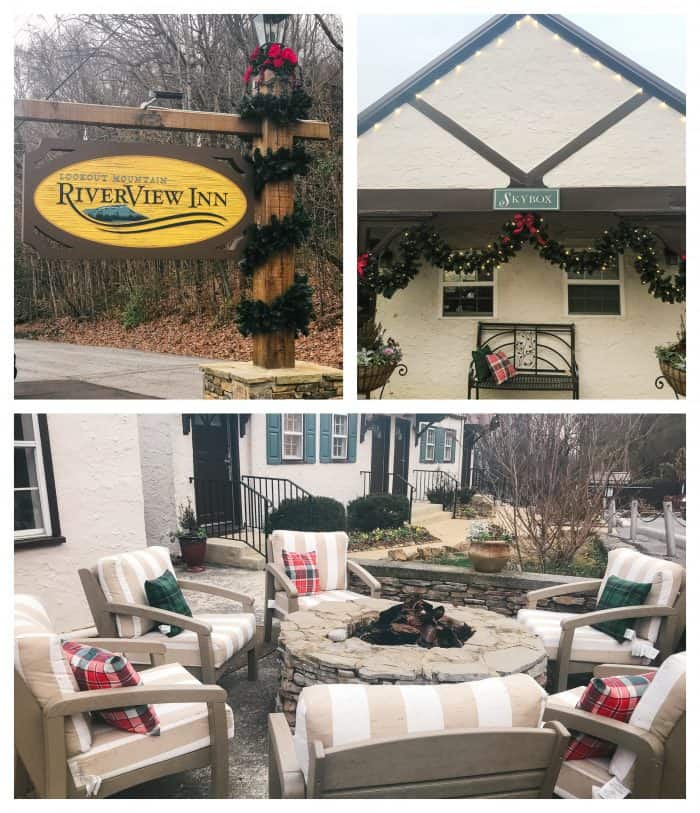 Make s'mores in the evening around the firepit or stop by the Skybox for coffee, hot chocolate, and sweet treats. They even had Gluten-free options for Hubs! Hot breakfast is included in your stay and served each morning in the Skybox too. Eat indoors or on the porch for a view of the city of Chattanooga.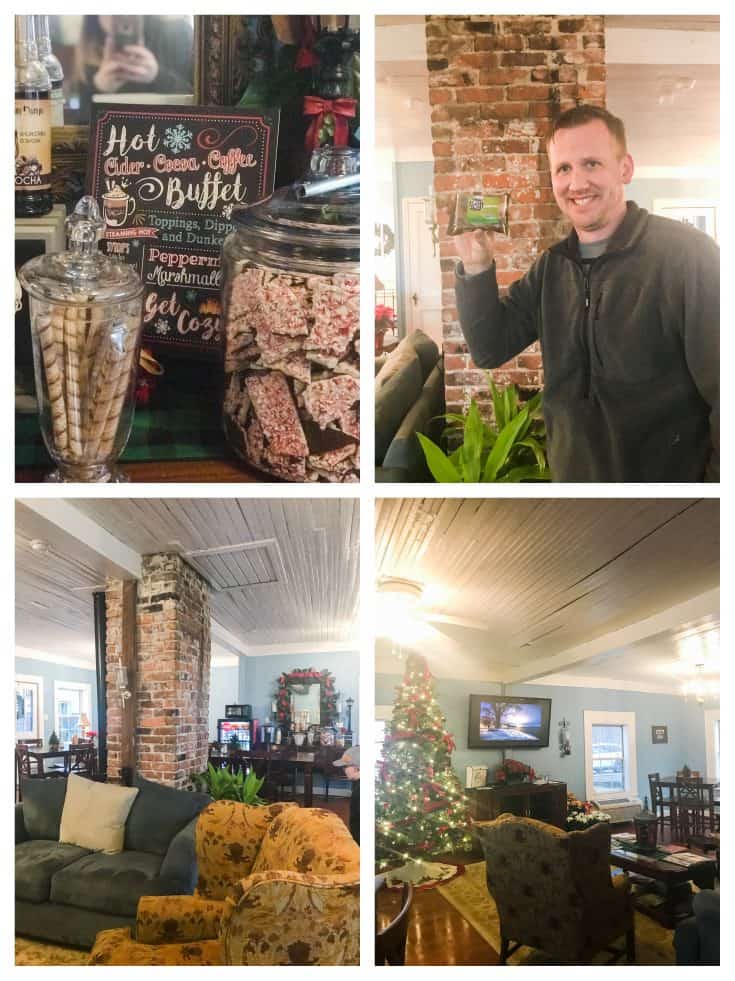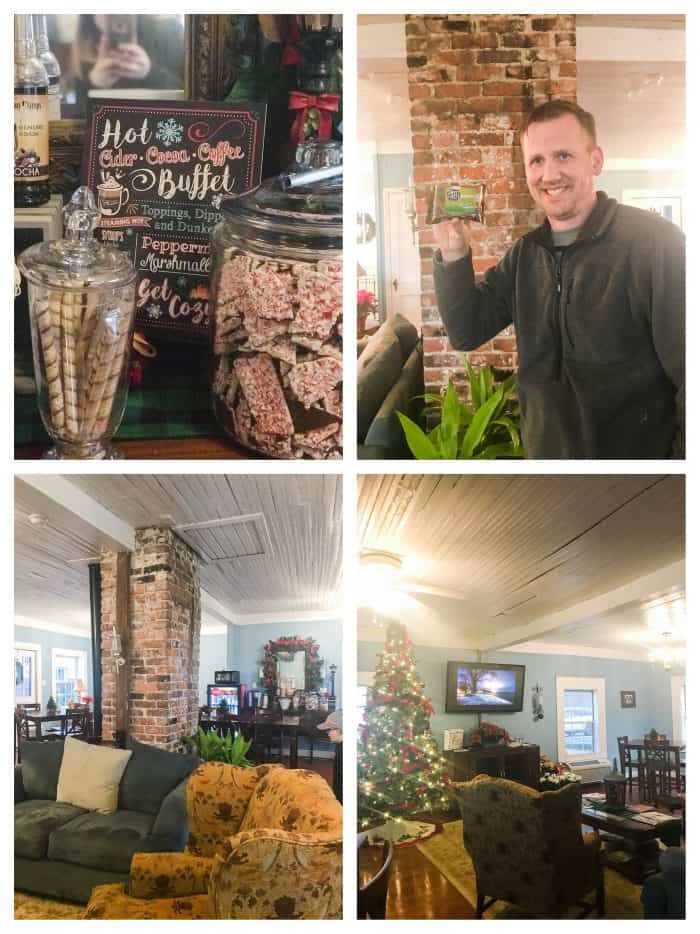 Hillside Suite was perfect for our family. We enjoyed having the master suite to ourselves and the kids loved sleeping on the hide-a-bed with their own TV. The bathroom was spacious and we enjoyed playing games and doing a puzzle from the collection available in the Skybox.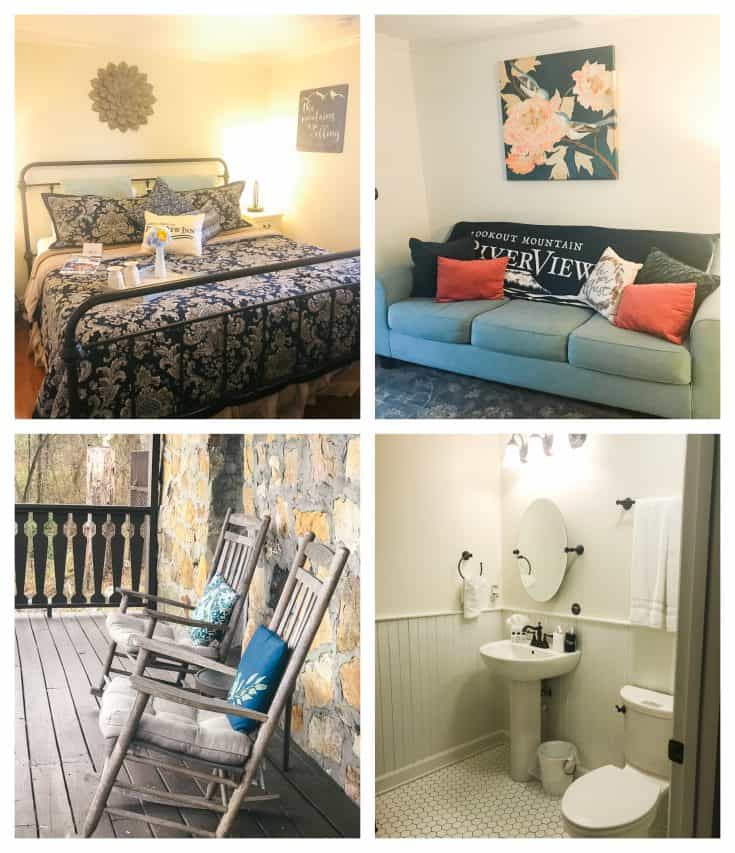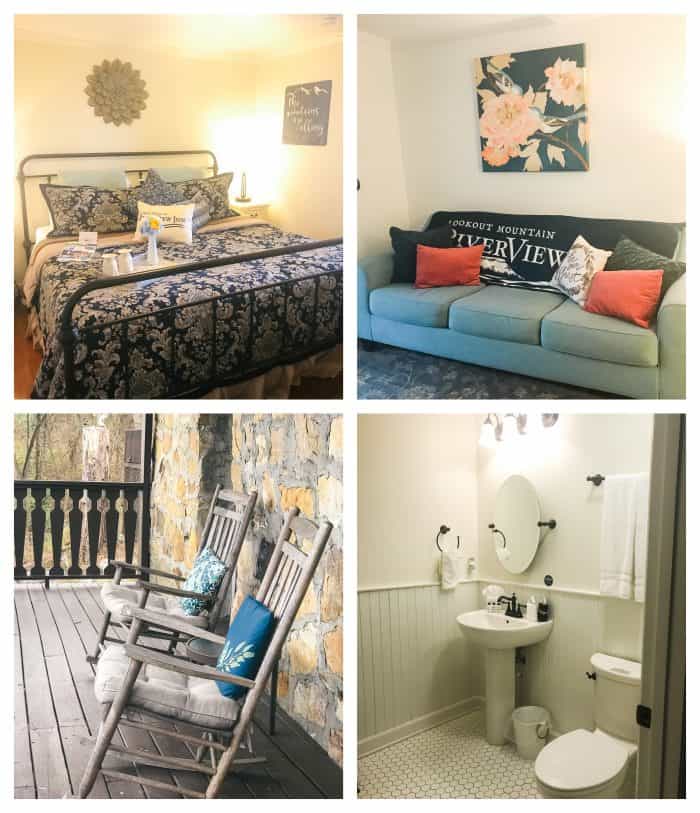 Since Riverview Inn is a dog-friendly hotel, we were able to bring our Frenchie with us so it was truly a vacation for the whole family.
With all the city lights, the view from our porch was just as beautiful at night as during the day.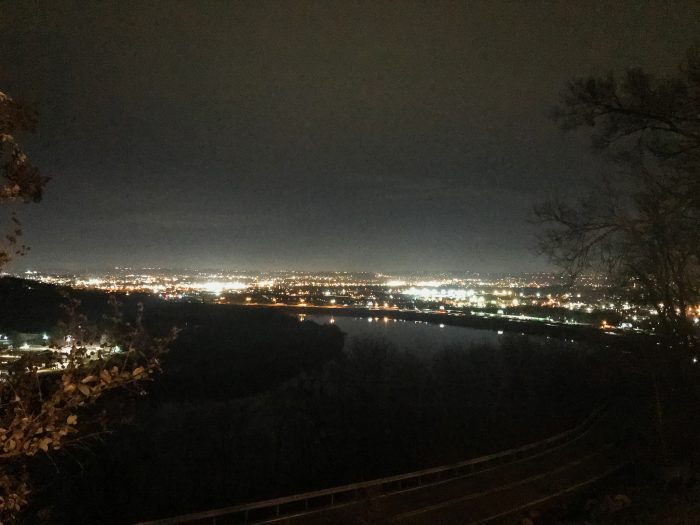 Things to do on Lookout Mountain
Rock City
If you've never been to Rock City, you'll definitely want to spend the better part of a day there. We happened to be visiting during the holiday season and wanted to take advantage of their Enchanted Garden of Lights display so we got to "See Rock City" at night during this trip!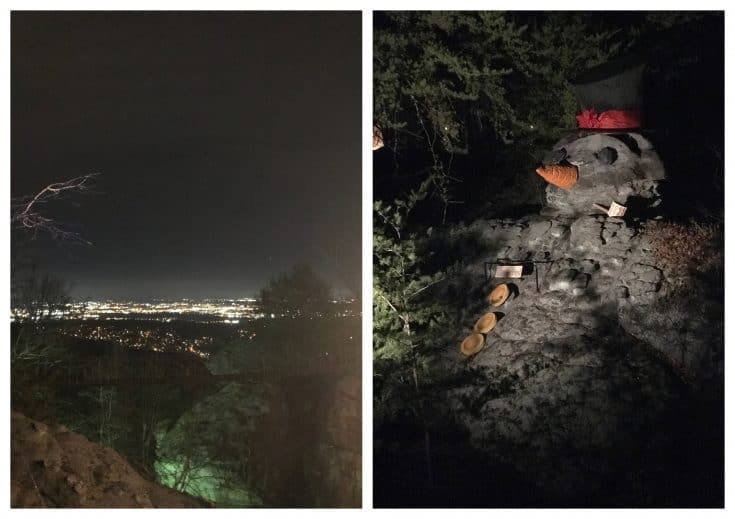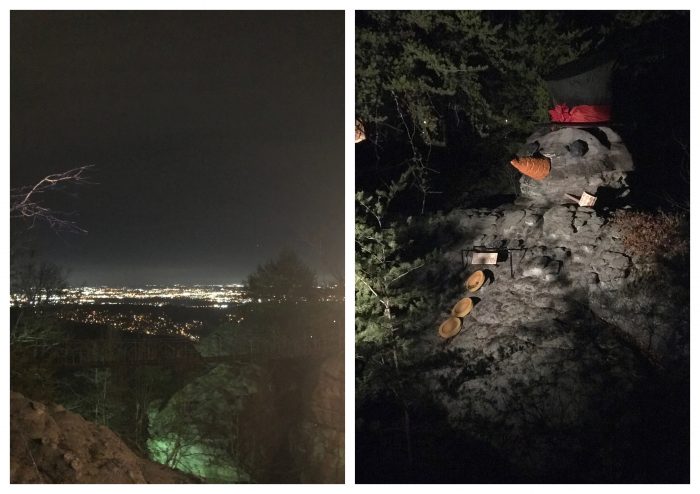 During Enchanted Garden of Lights, Rock City transforms into a winter wonderland.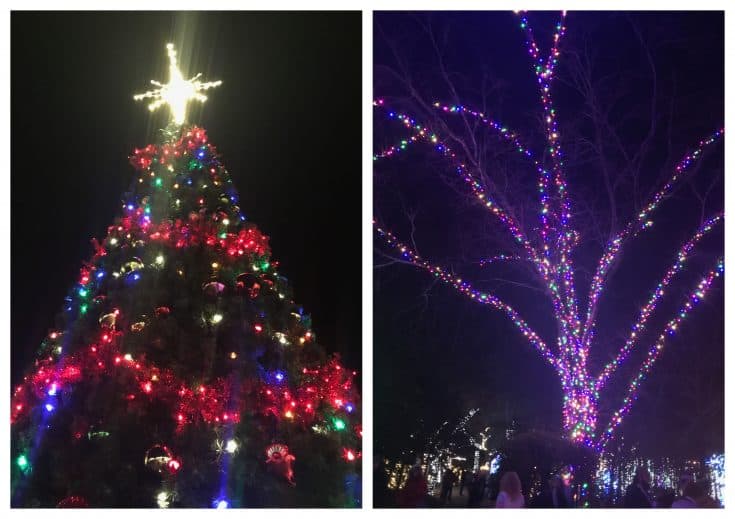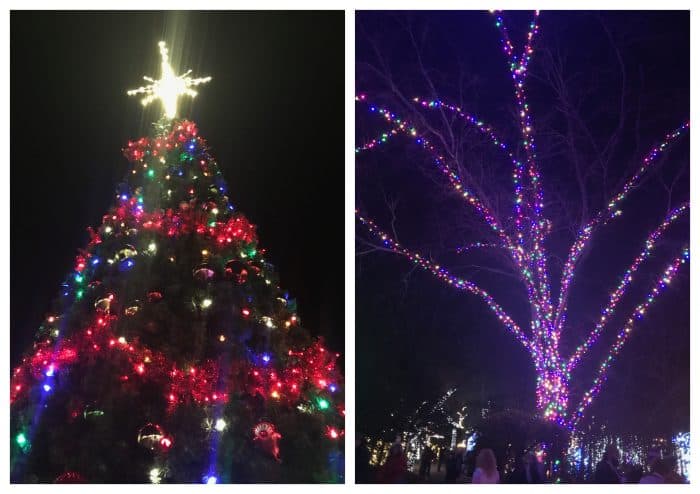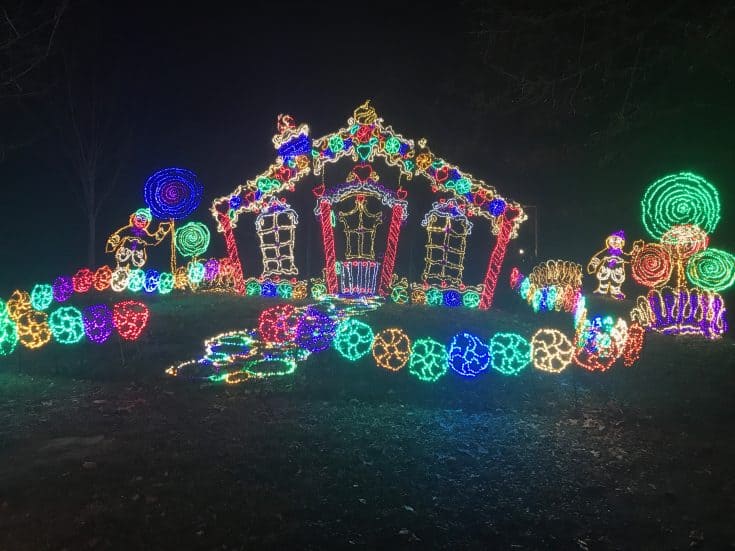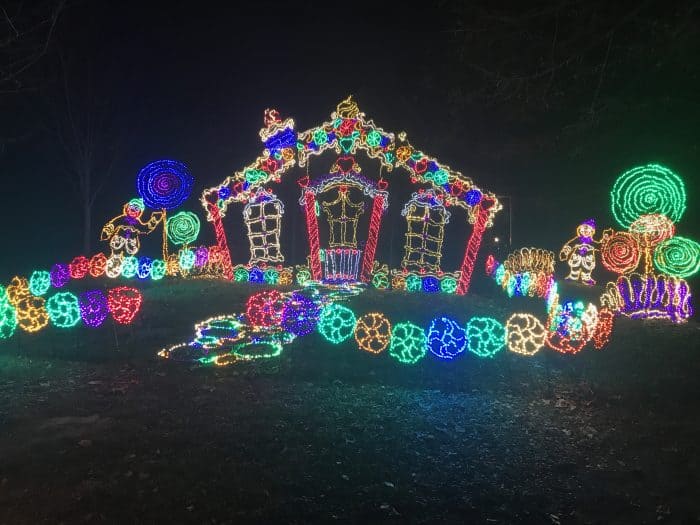 There are countless Christmas lights to experience as well as character meet and greets, cookie decorating, and live music.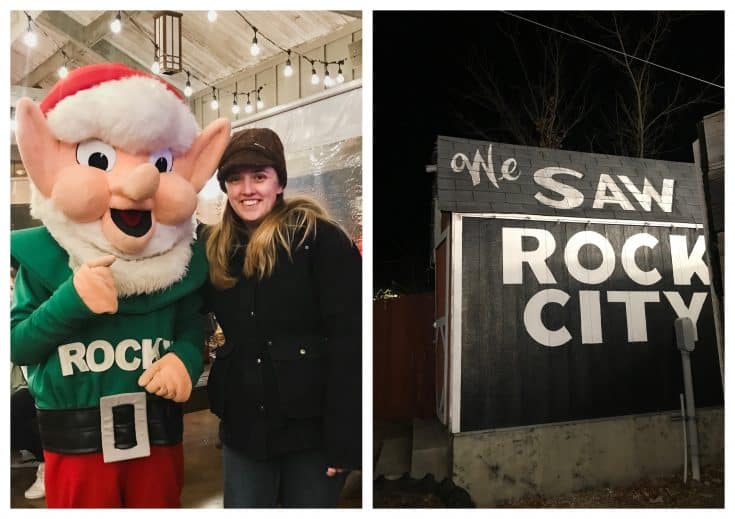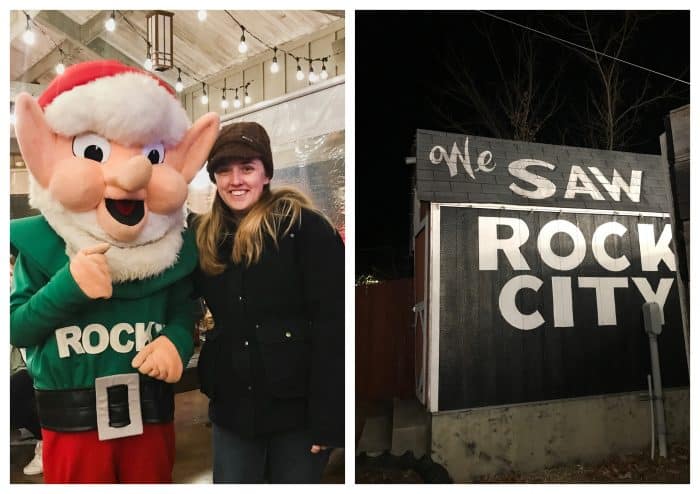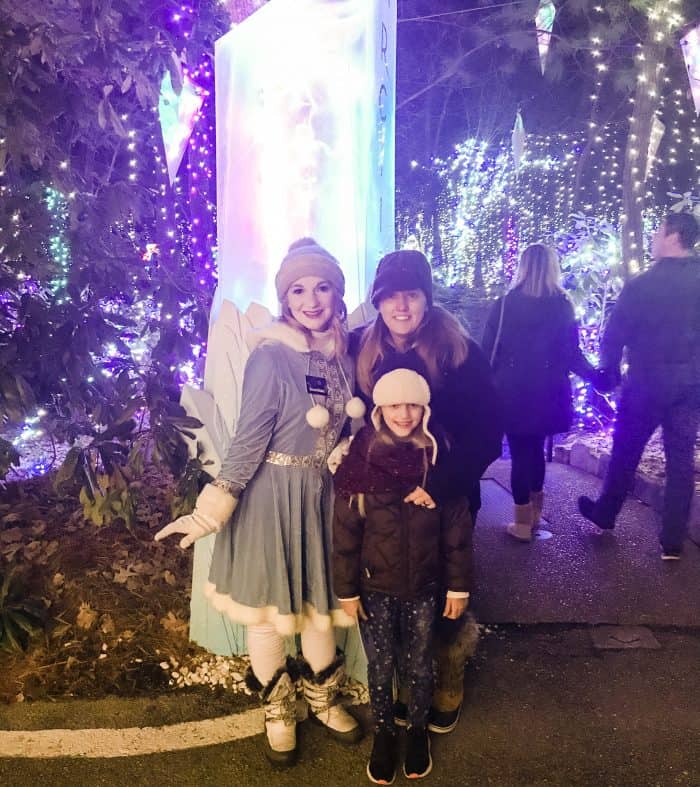 Rock City is dog-friendly and Nikki enjoyed meeting lots of new people. We were even able to buy a leash in the gift shop when we realized we'd left hers back at Riverview Inn.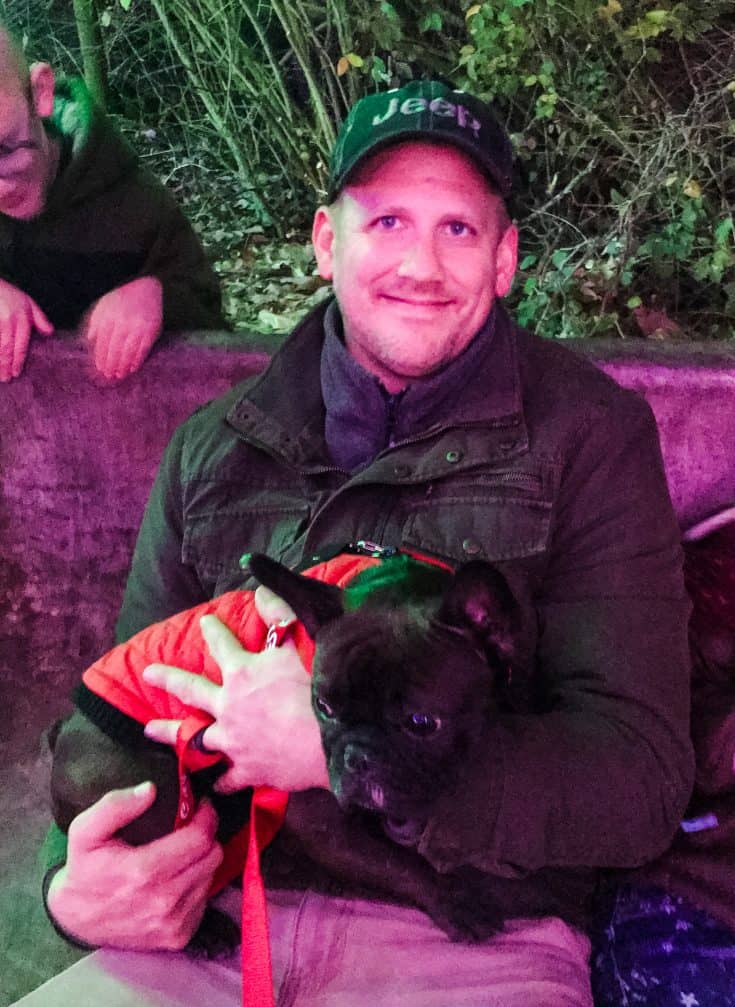 Bundle up, wear comfy shoes, and warm up next to the outdoor heaters and fire pits if you need to. Hot beverages are available too!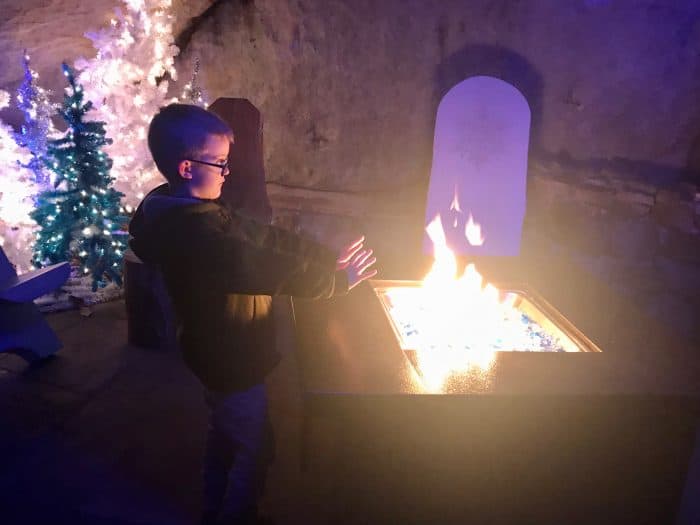 Enchanted Garden of Lights runs nightly from late November through early January with the exception of Christmas Eve.
Ruby Falls
Located less than a mile from Riverview Inn, Ruby Falls is the perfect rainy day attraction. Travel 1,120 feet down into Lookout Mountain with a tour of Ruby Falls cave and the waterfall itself.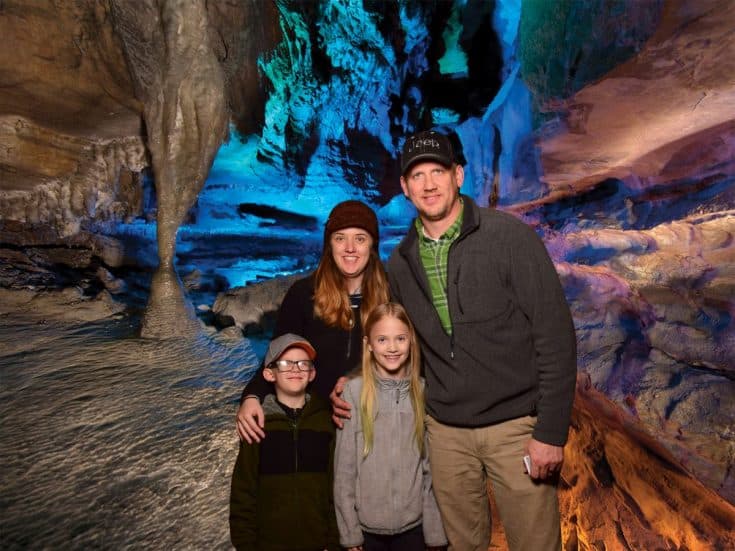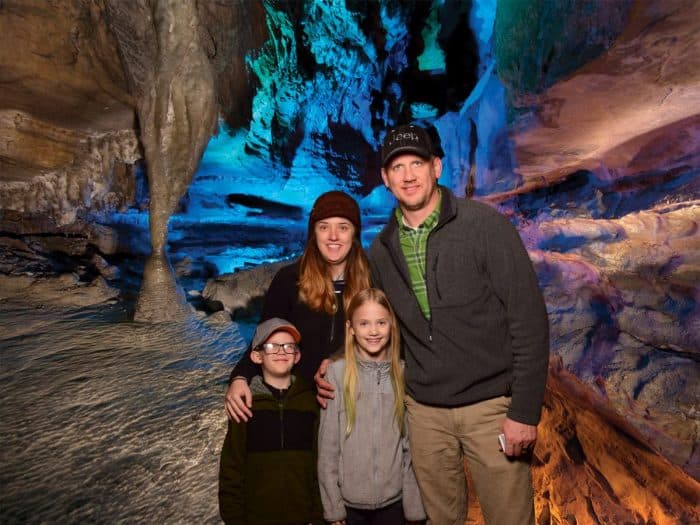 You'll see a variety of interesting formations on your way to the waterfall, and learn all about the history of the cave.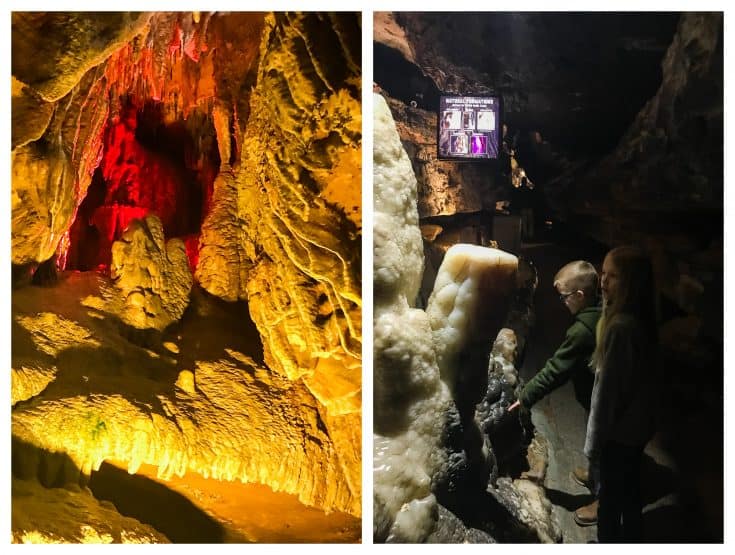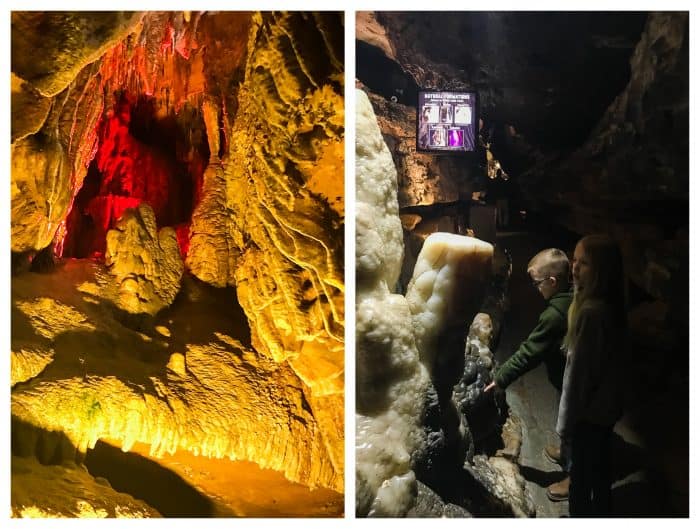 You'll get a little science lesson too and have plenty of time to take pictures at the falls.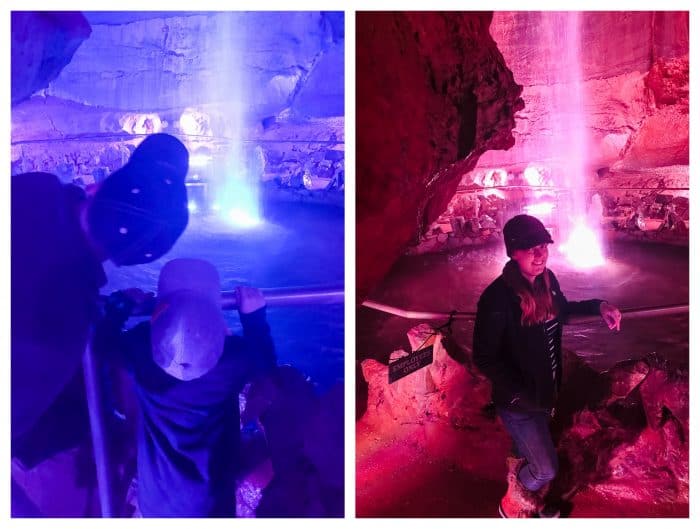 The cave stays a cool 60 degrees year-round. With the addition of humidity and a crowd, temps can get up to 70 degrees. This makes seeing Ruby Falls is a lovely way to spend a rainy, chilly winter day. I imagine it's a great way to cool off from the Southern summer heat too.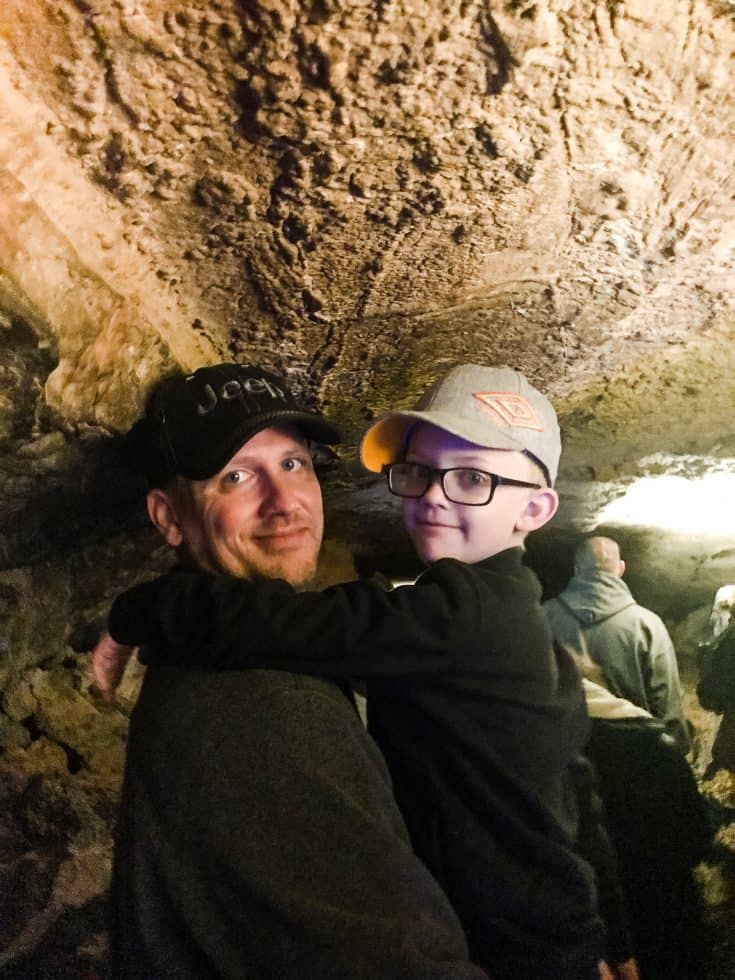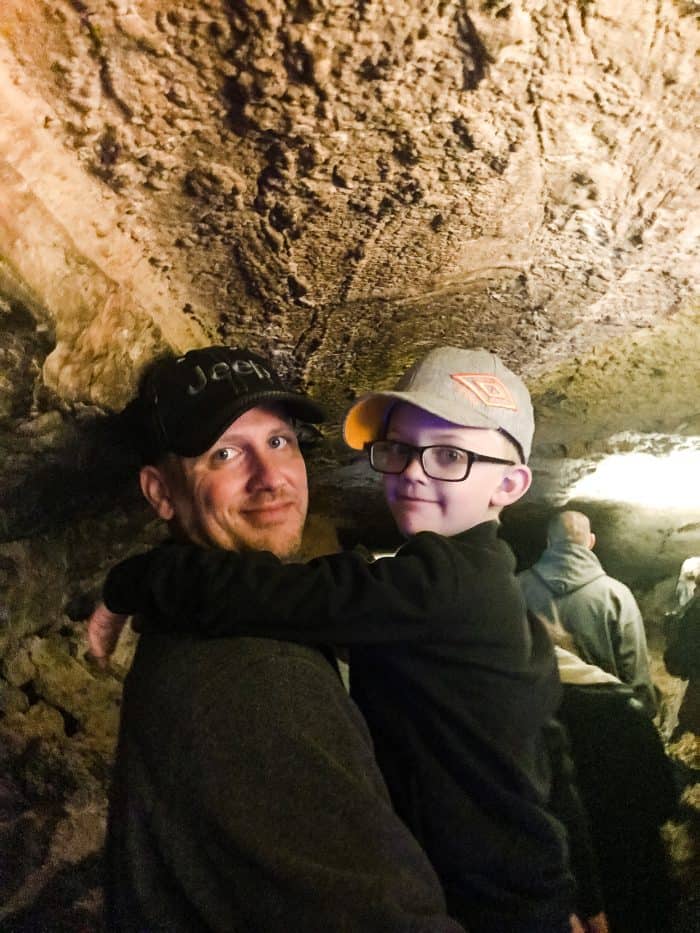 Lookout Mountain Incline Railway
The Incline Railway has been carrying visitors up and down Lookout Mountain since 1885!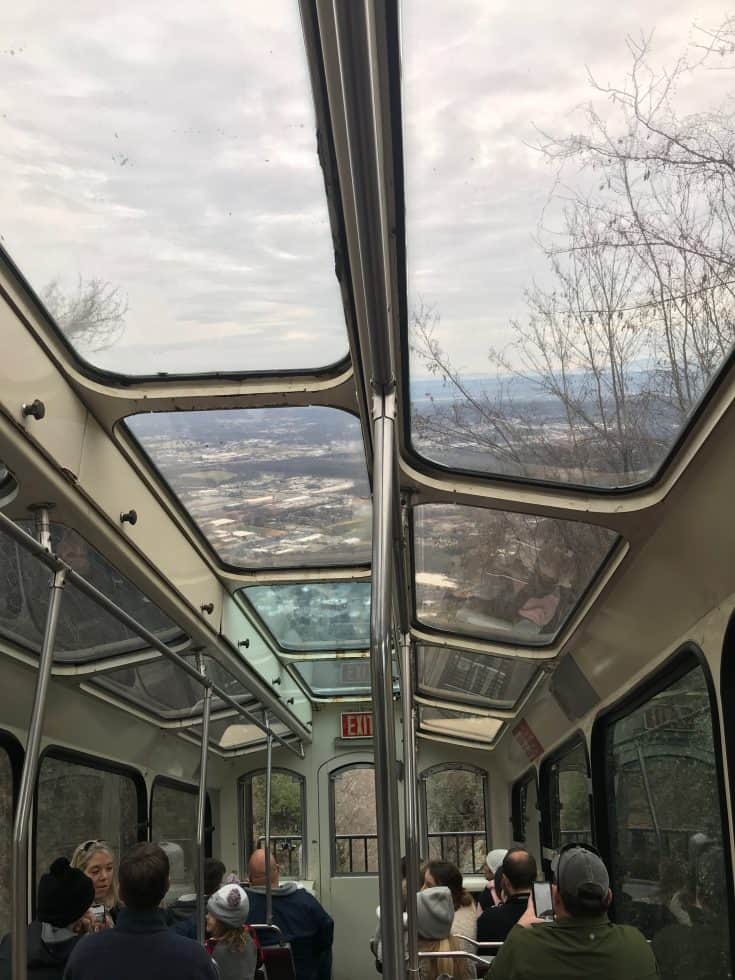 In addition to being a great way to get to the bottom of Lookout Mountain without driving (we were all cozy in our spot, remember?) the ride itself is a lot of fun.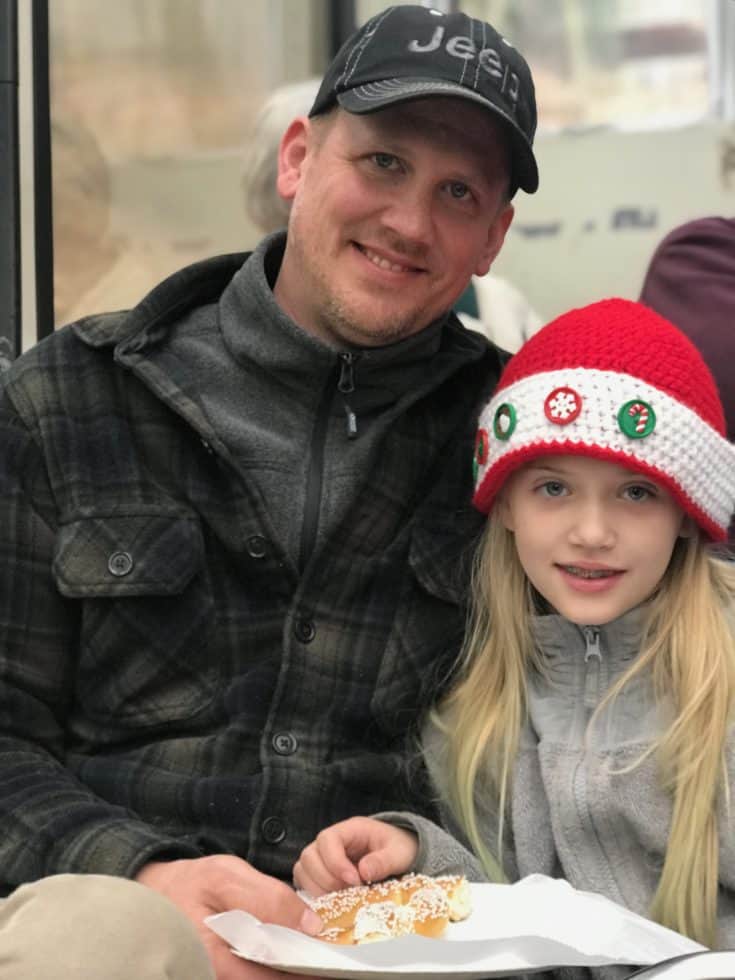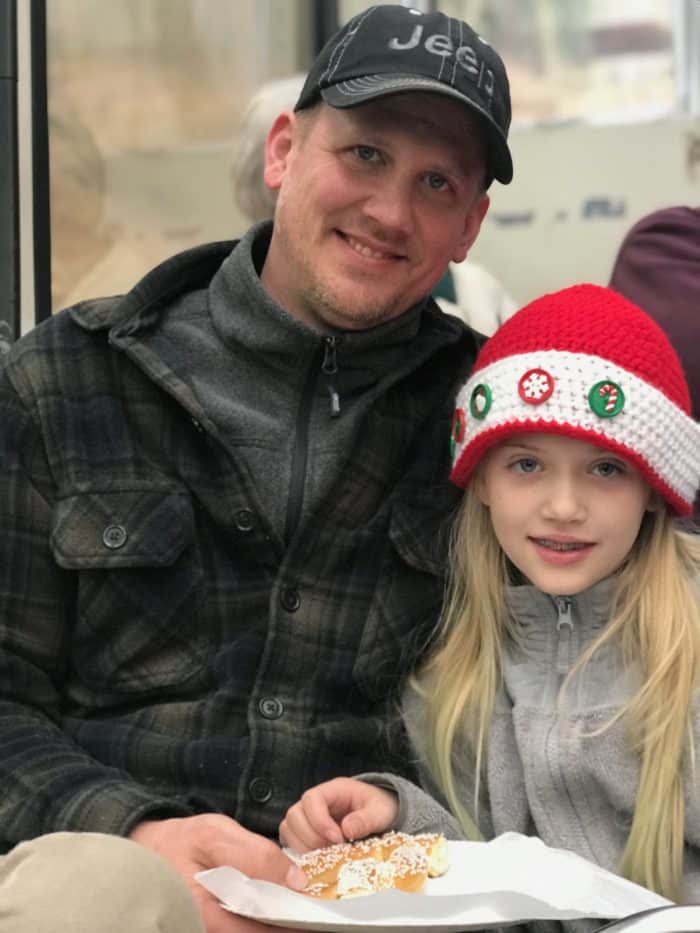 If you're staying on Lookout Mountain like we were, ride the incline railway down to the bottom of the mountain to the St. Elmo's neighborhood where you'll find plenty of great Chattanooga restaurants and shopping within walking distance.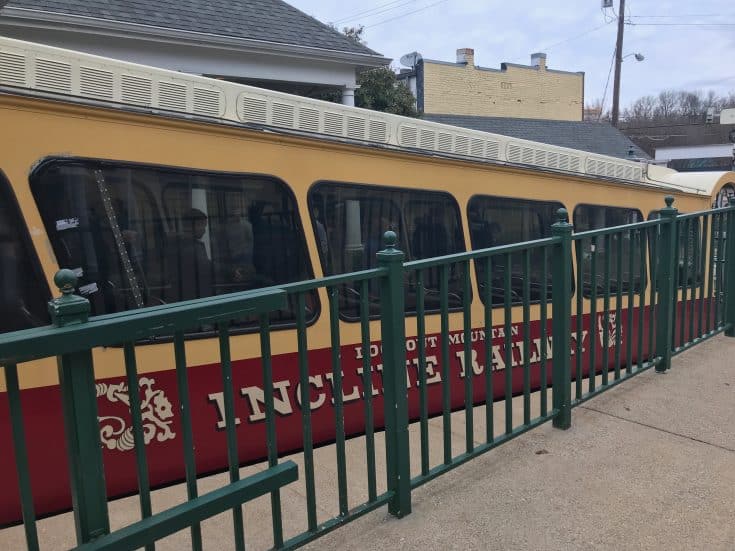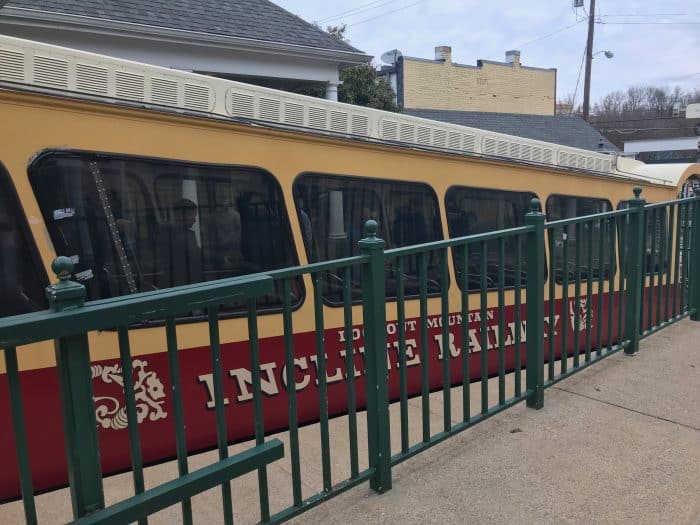 You won't even have to leave the incline railway platform to enjoy Clumpy's Ice Cream! (more on Clumpy's later)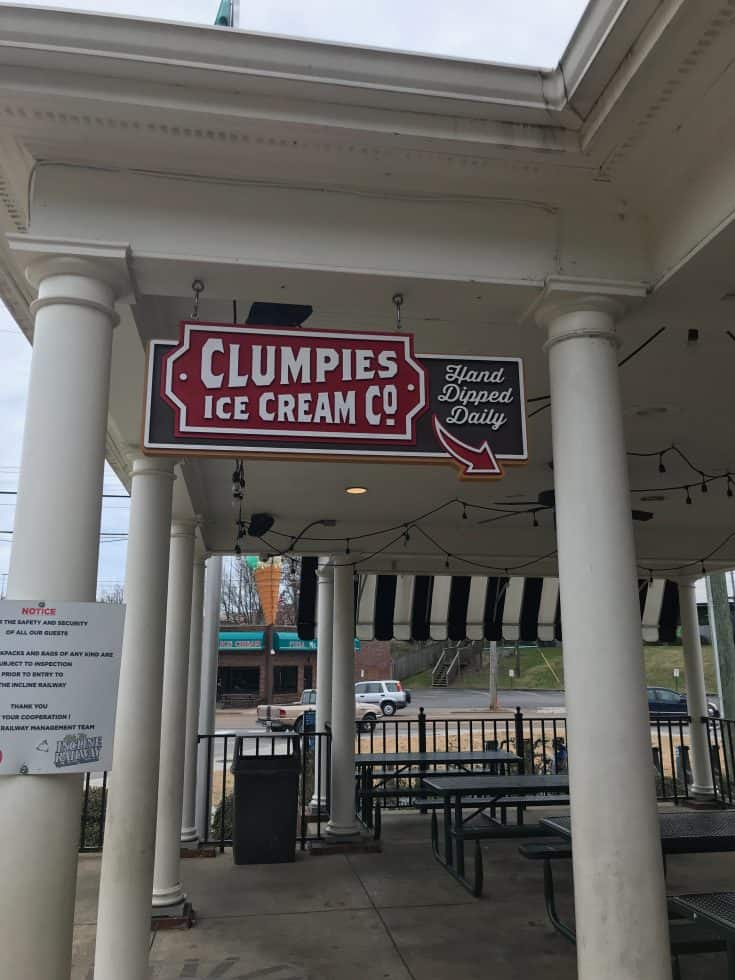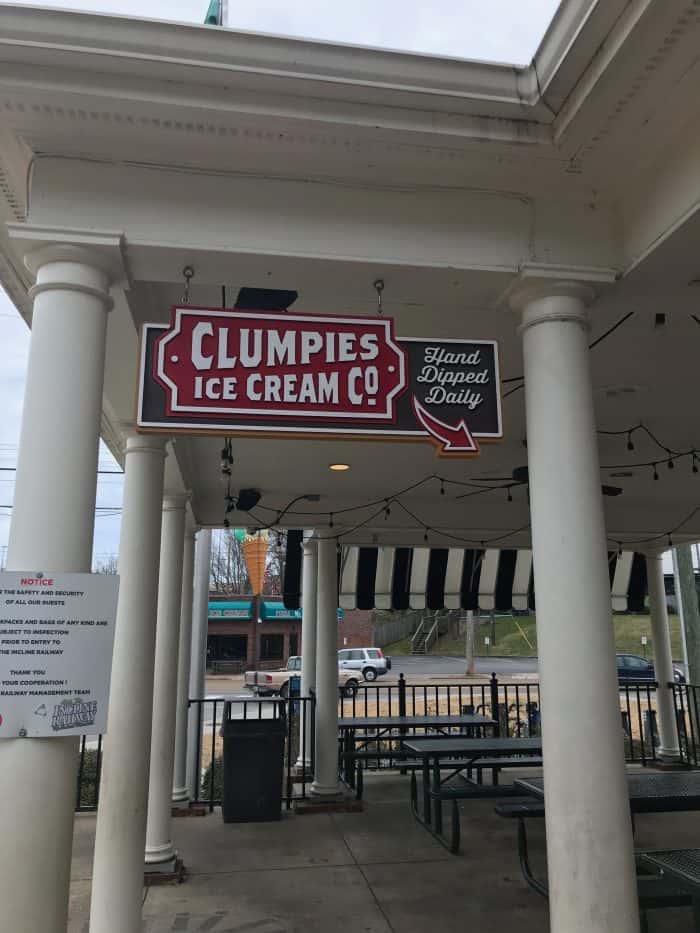 The Naughty Cat Cafe
Just a short walk from Clumpy's is the Naughty Cat Cafe.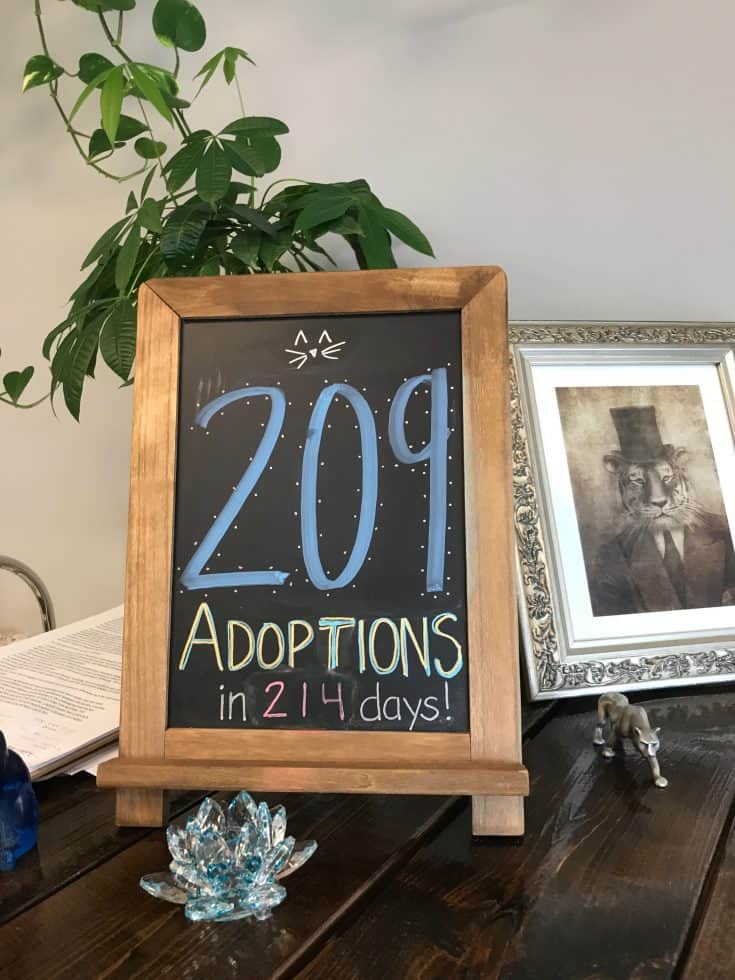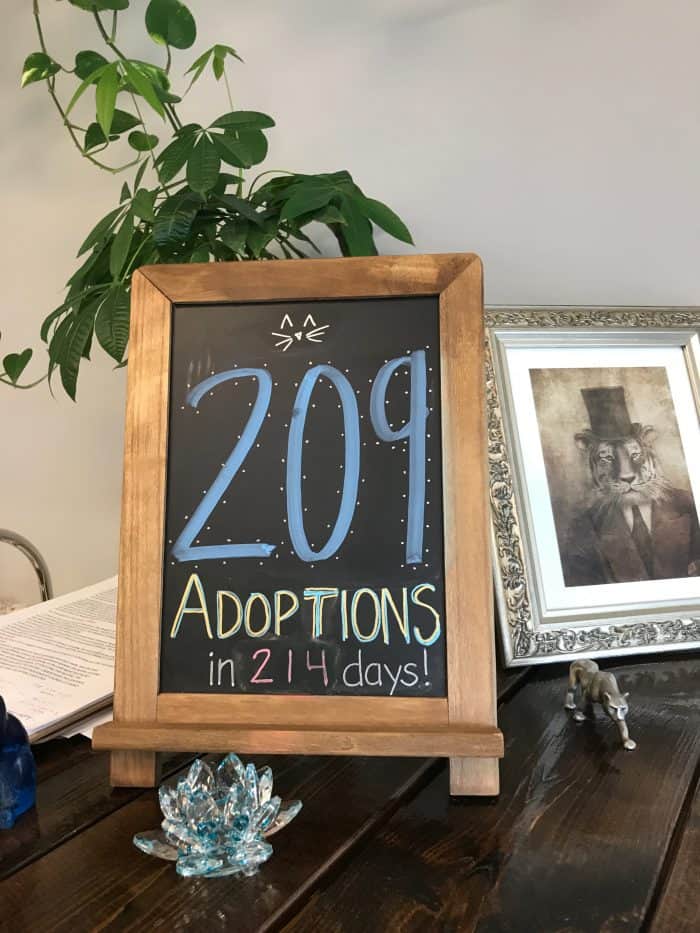 Guests age 11 and up (no budging on this as it's for insurance purposes) can enjoy coffee, treats, and Wifi with 30+ adoptable kitties! Sweet T is already planning an 11th birthday trip here.
Wi-fi and a beverage are complimentary with admission. Check their Facebook page for fun events like "Happy Meower" where the first round of local beers and ciders is free.
Point Park and The Battles for Chattanooga Electic Map and Museum
If you're planning to visit Lookout Mountain from Chattanooga, board the Incline Railway at St. Elmo's station and enjoy the ride.
Once on top of the mountain, you'll be within walking distance of Point Park and The Battles for Chattanooga Electric Map and Museum.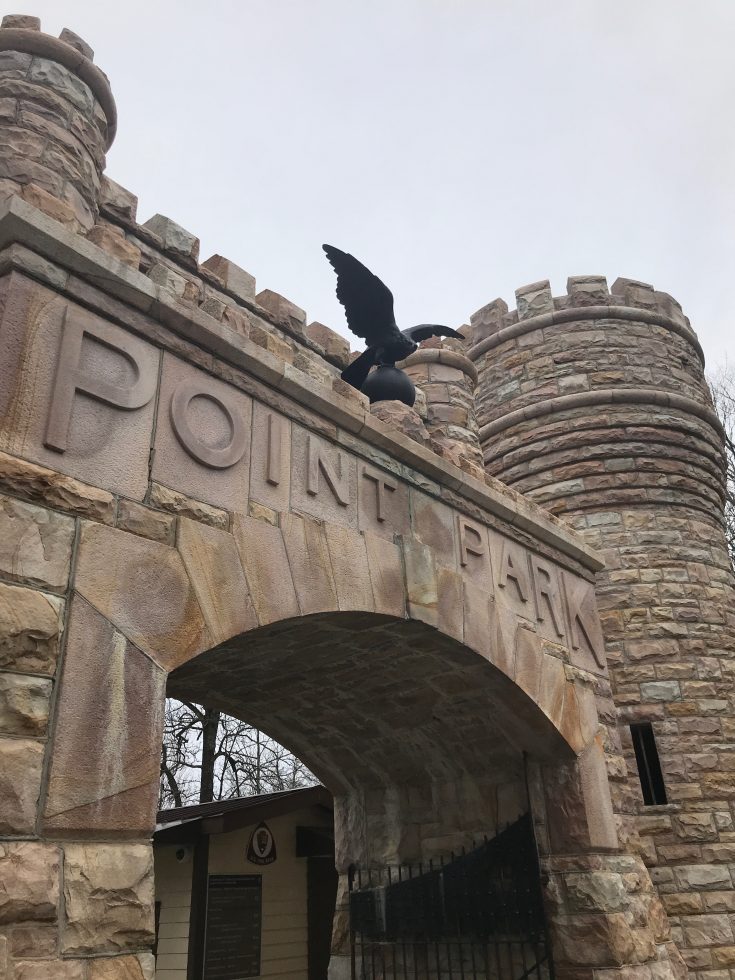 The Battles for Chattanooga film and electric map was a little too much for Sweet T's sensitive soul, but Gus loved every minute of it. He kept asking me questions about who was winning, who was losing, and why certain strategies were being used. He was fascinated by the guns in the exhibit cases as well as the toy ones in the gift shop. Boys!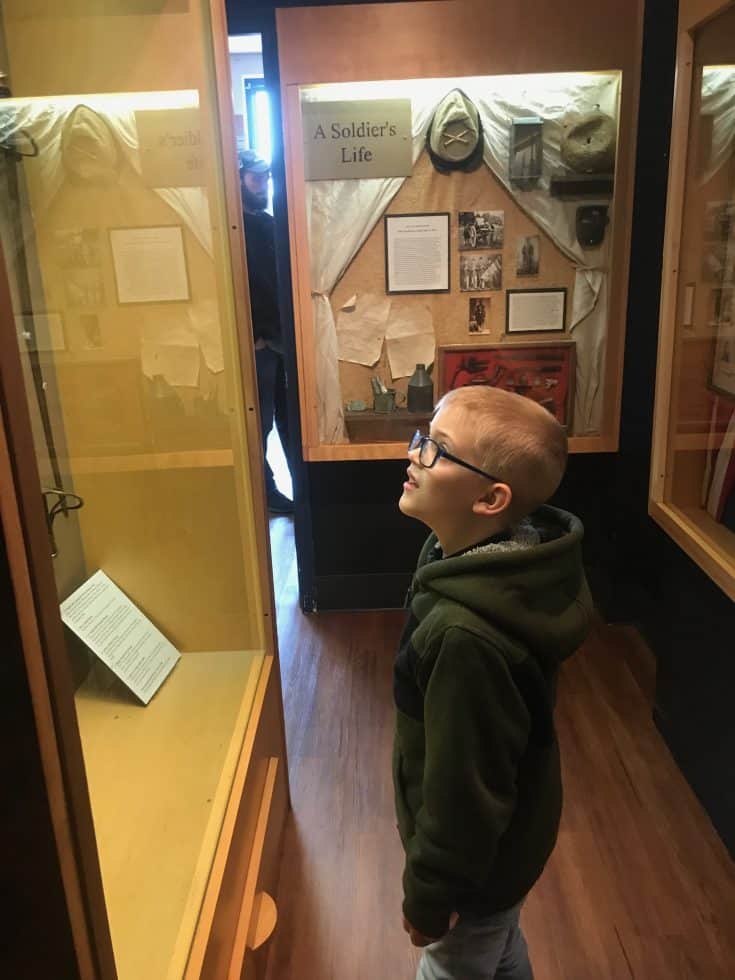 Point Park is a great place to let the kids run off some energy while you take in the views of the city of Chattanooga.
Where to Eat on Lookout Mountain
Clumpies Ice Cream
Remember Clumpies? One of their stores is located at the St. Elmo's Incline Railway Station so if you're taking a ride, be sure to get a treat too.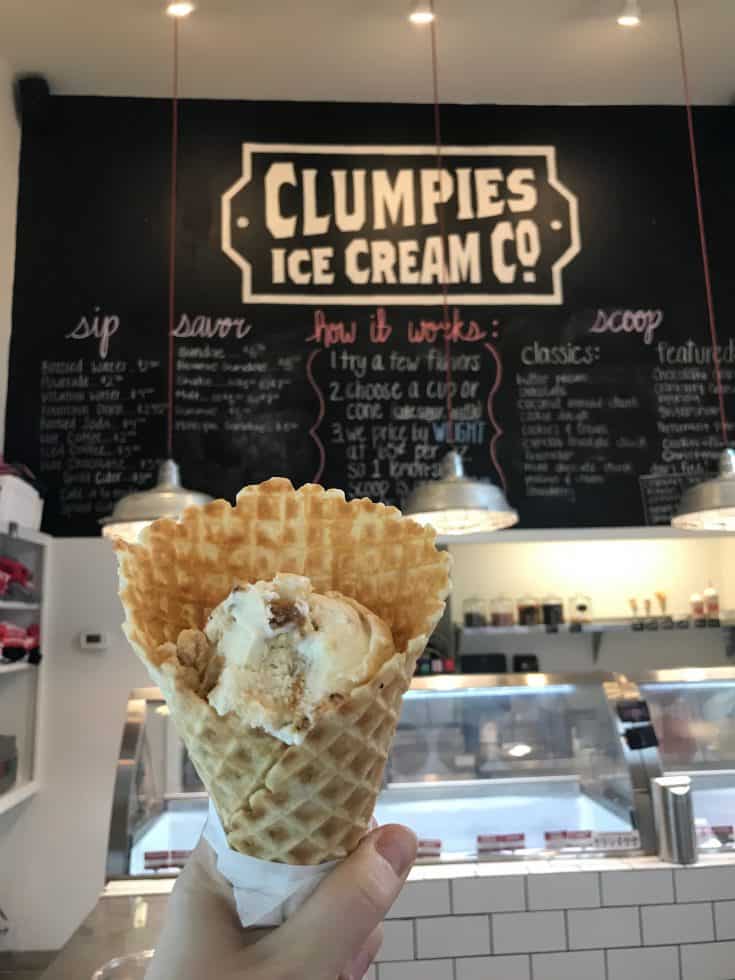 I tried Christmas Crack since it was a seasonal flavor that I didn't want to pass up. I wasn't disappointed. Gus had Cookies and Cream and gave it a big thumbs up.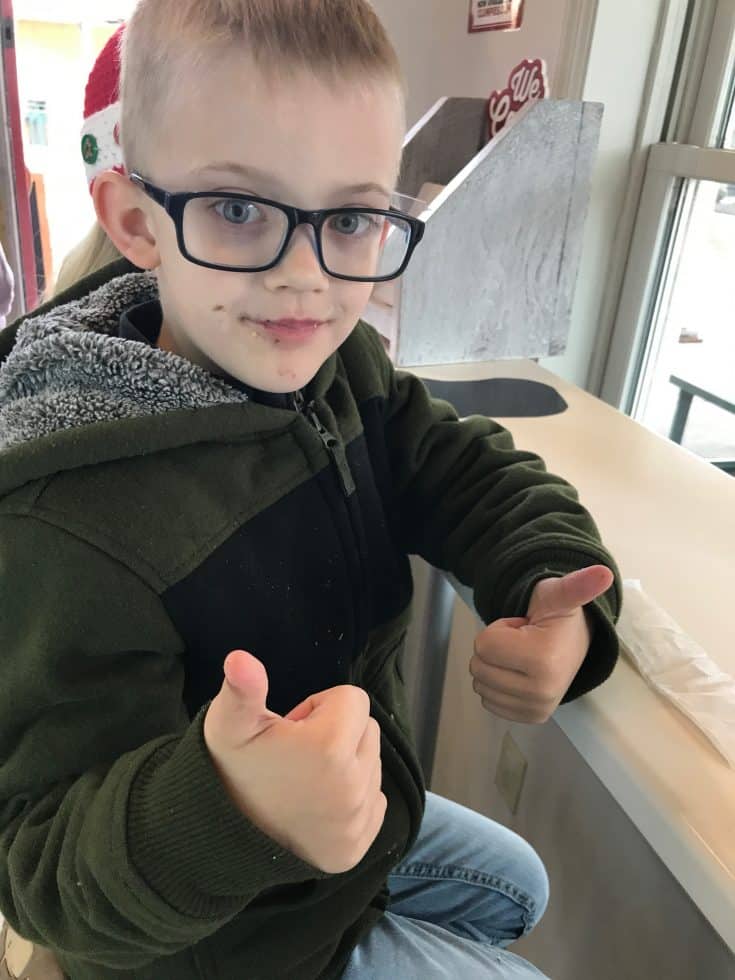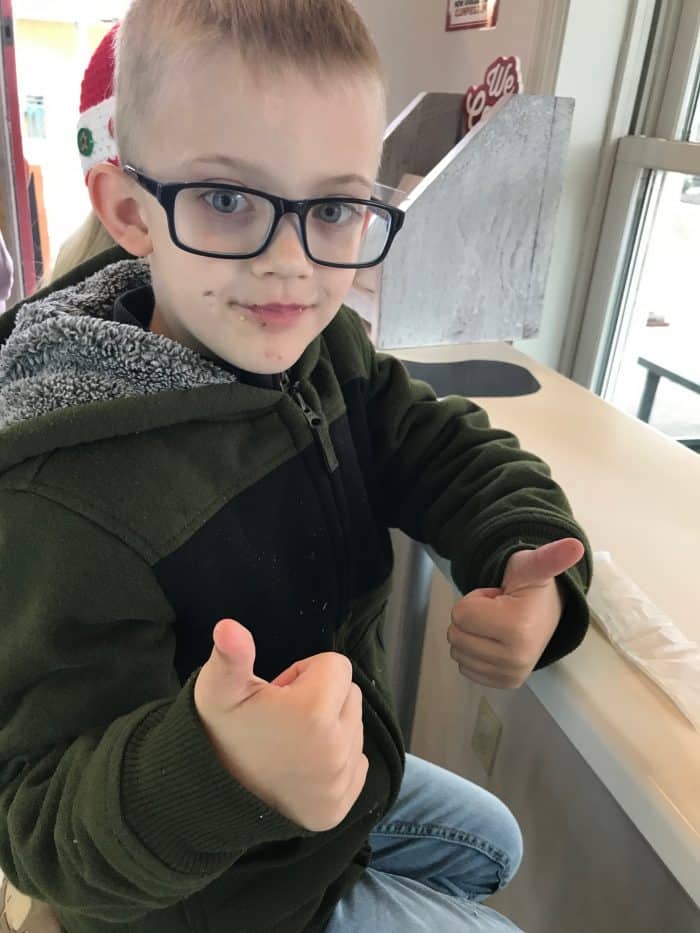 You can by Clumpies Ice Cream by the pint and bring it back to your freezer at Riverview Inn too!
Cafe on the Corner
After working up an appetite walking all over Rock City, we stopped at Cafe on the Corner atop Lookout Mountain to refuel. The restaurant is elegant yet family-friendly and there's a large variety of foods on the menu.
I had the Turkey Avocado Club and Hubs had the Panko Crusted & Fried Wild-Caught Domestic Shrimp. He was hungry so I let him dive in without taking a photo. Sometimes I'm nice like that.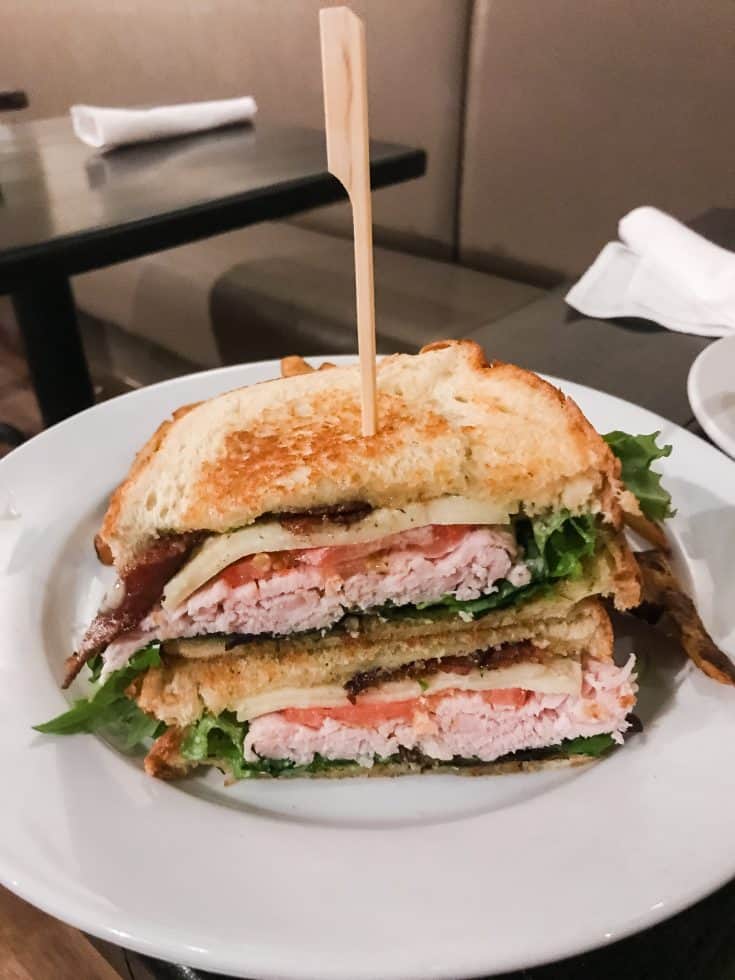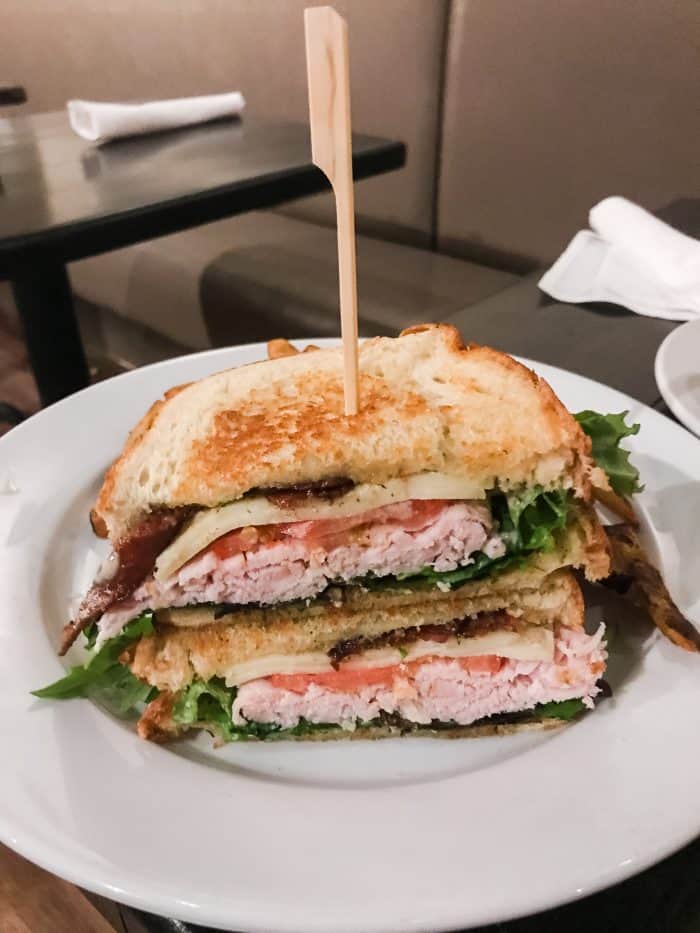 We all enjoyed the homemade potato chips and cornbread.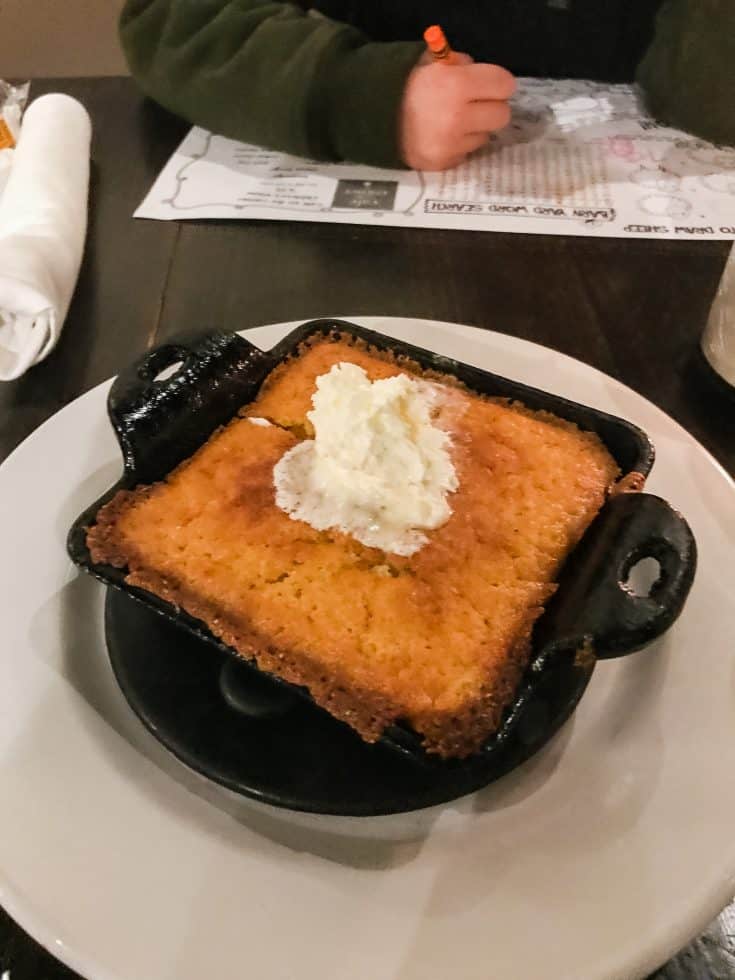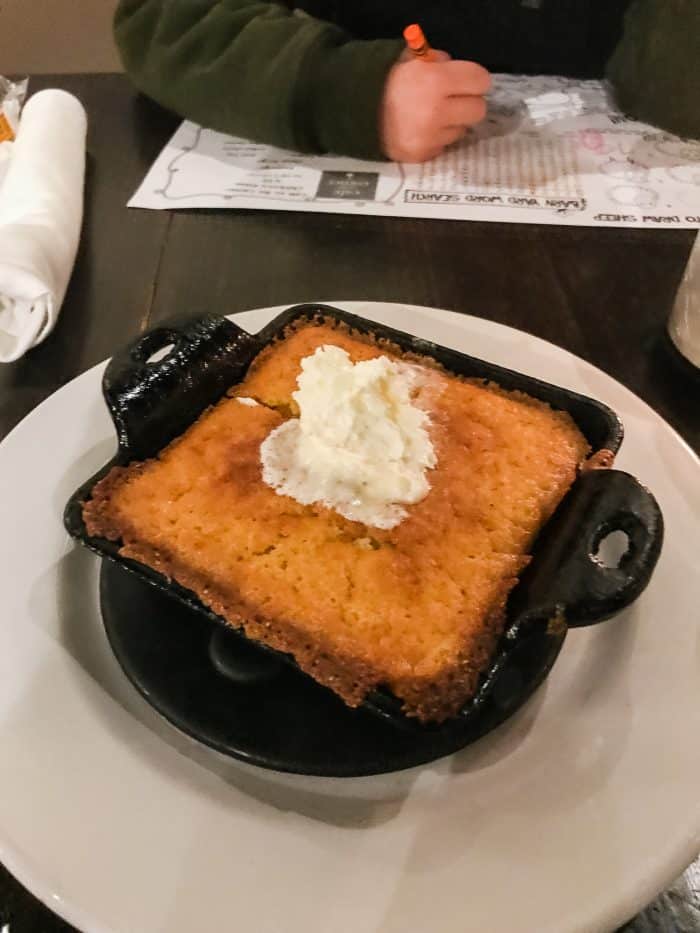 There are plenty of restaurants that are walkable from St. Elmo's Station that we'd like to try next time. Mojo Burrito is one of them as it came highly recommended by a friend.
Have you ever been to Lookout Mountain? What is your favorite thing to do there? Let me know on Facebook!
Accommodations and attractions were provided by See Rock City Inc. All opinions are my own.