Hubs and I were desperate for a childless weekend getaway and our Mentone cabin rental on Lookout Mountain wound up being just what we needed! Before checking into Amy's Cozy Cabin we stopped at Desoto Falls which is about three minutes away.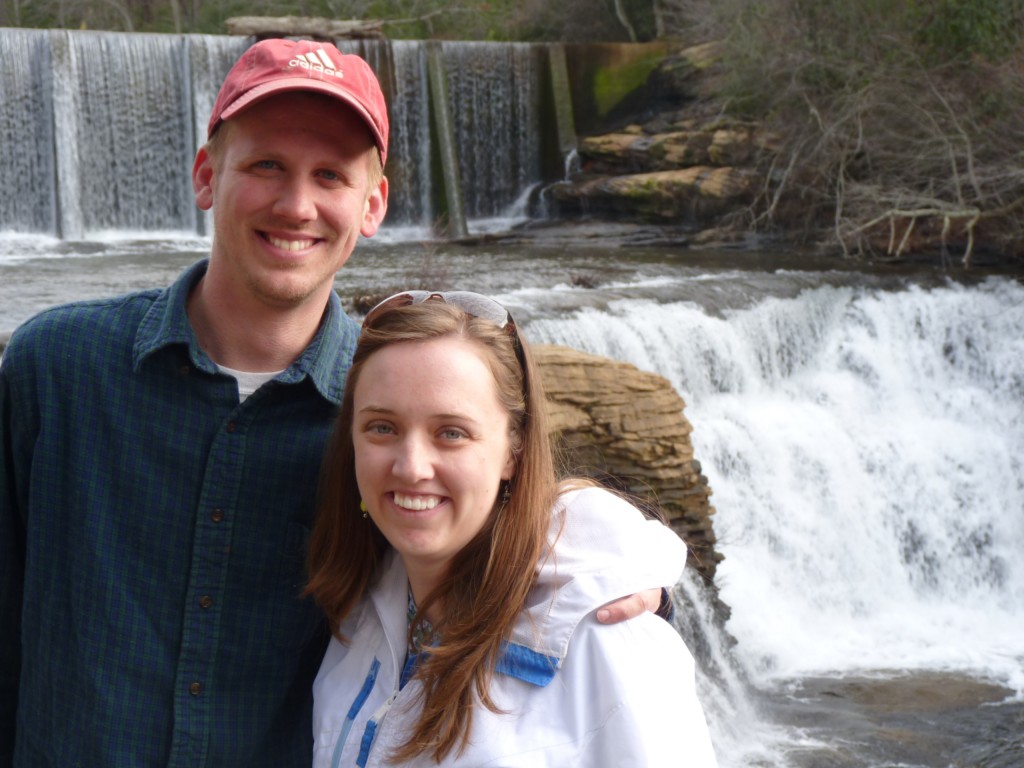 Since winter in the South tends to be very wet, the falls were in full force and beautiful! There were hardly any other visitors there save a few photographers one of whom was happy to snap the above photo for us.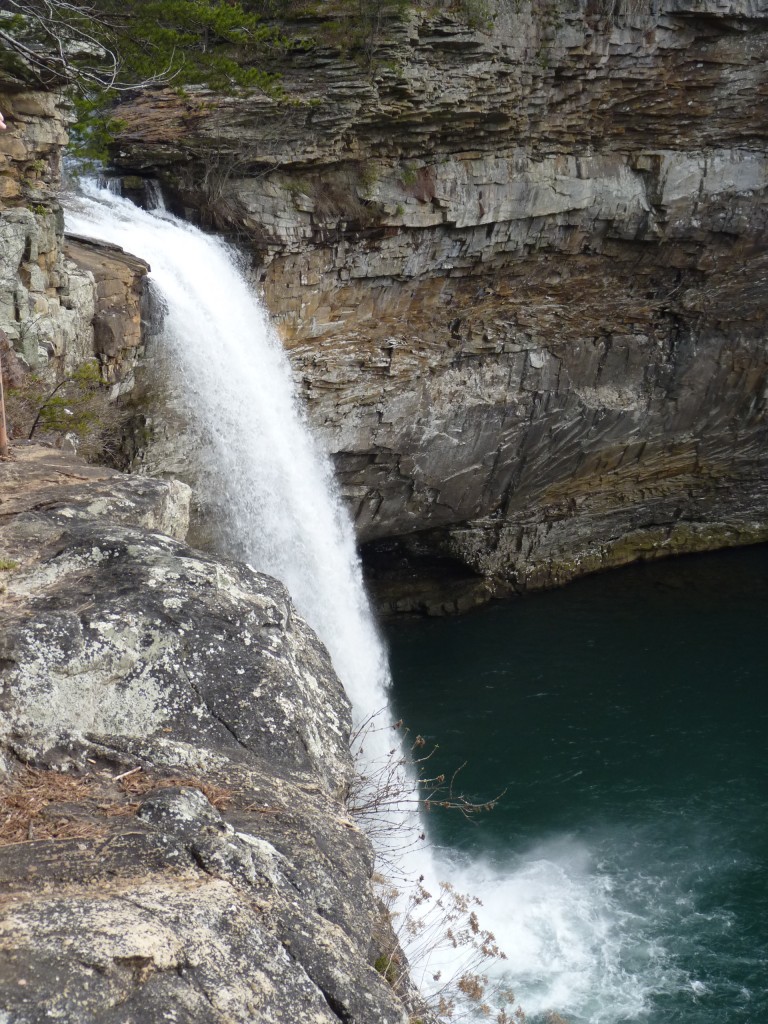 As a child I visited during the summer and remember this portion of the water being full of swimmers thanks to the dam.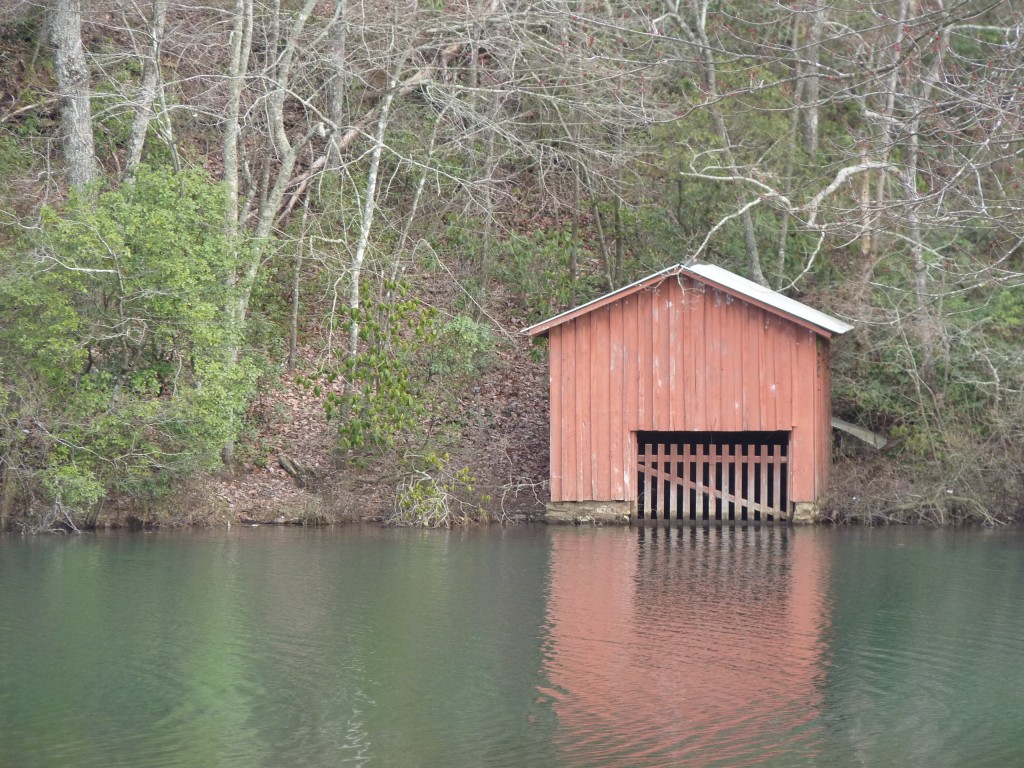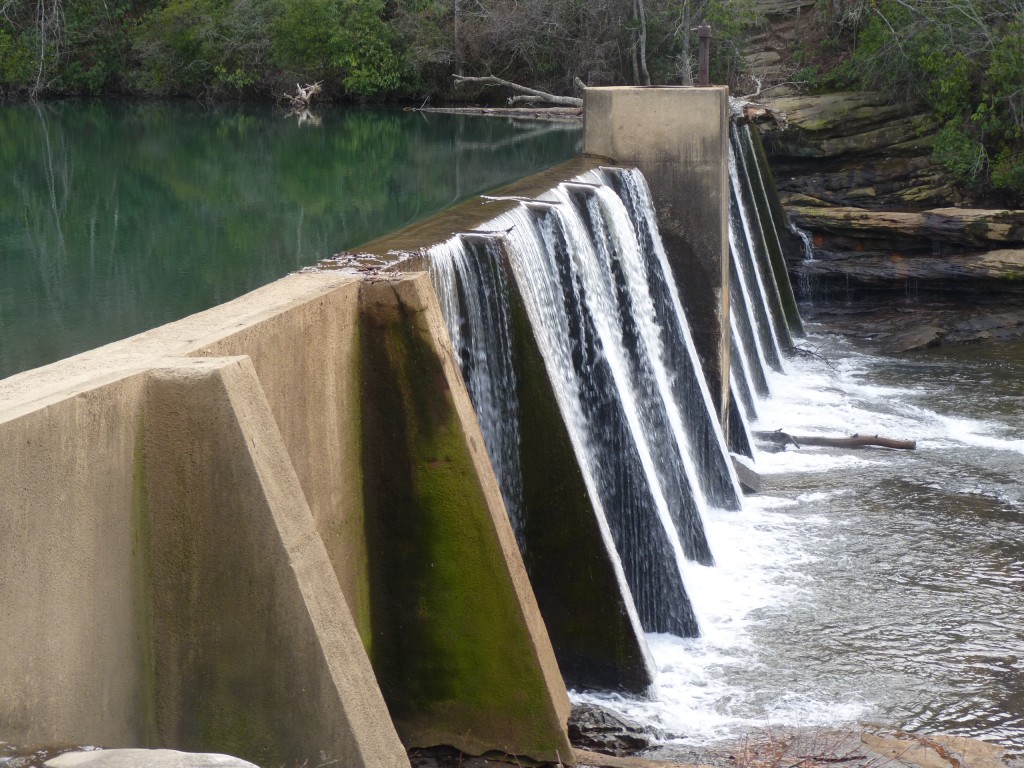 After exploring the DeSoto Falls area we checked in at Amy's Cozy Cabin. With amenities such as a hot tub and gas fire place, we might as well have been in the Smoky Mountains. In fact, this Mentone cabin was much cleaner than many we have stayed in in the Smokys, and for a fraction of the cost and drive!
The downstairs bedroom where rain trickling on the metal roof lulled us to sleep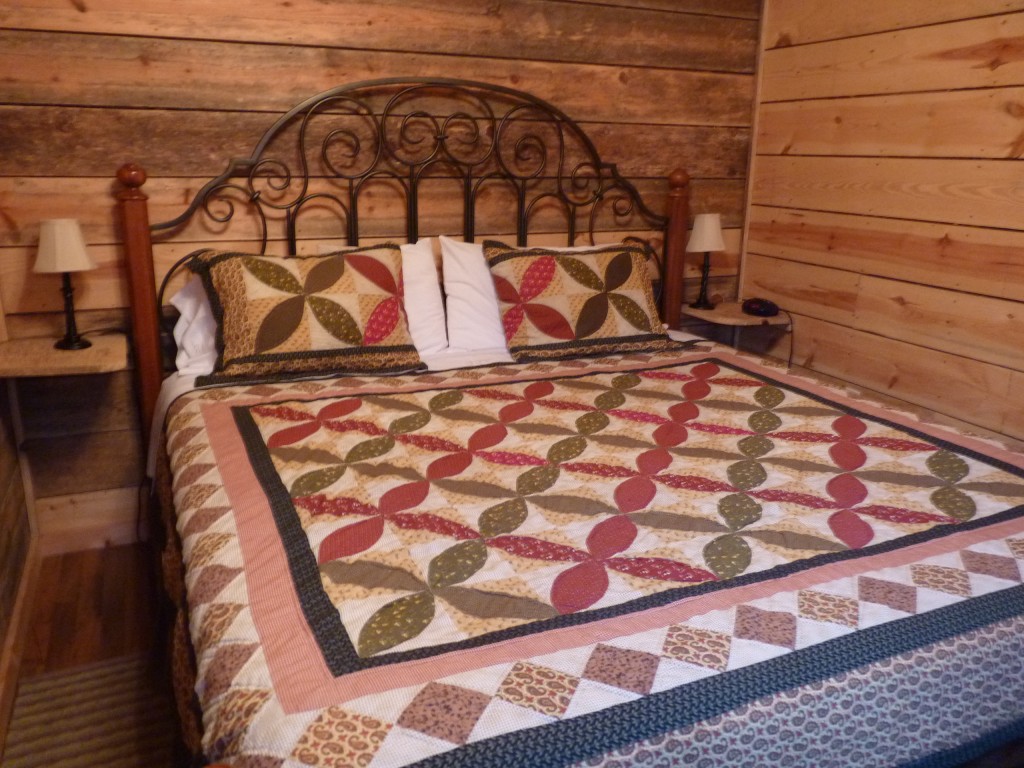 Bathroom #1. Love the barrel sink!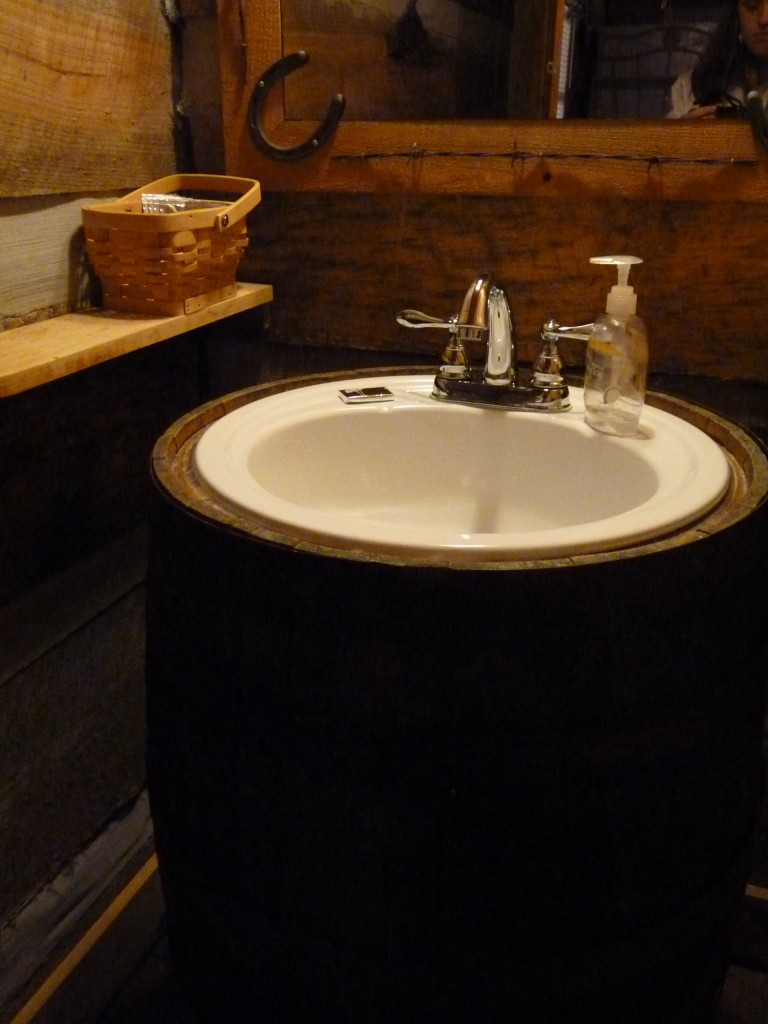 This kept us toasty warm and added a touch of romance.

We even spotted more deer than we ever have in The Smokies. We decided to sit out on the porch during dusk, opened the door and came face to face with a herd of deer.
"Holy crap, there's deer!" *runs to grab camera*
"Holy crap, there's humans!" *runs into the woods*
I got a picture anyway before they were completely gone. Can you spot the deer below?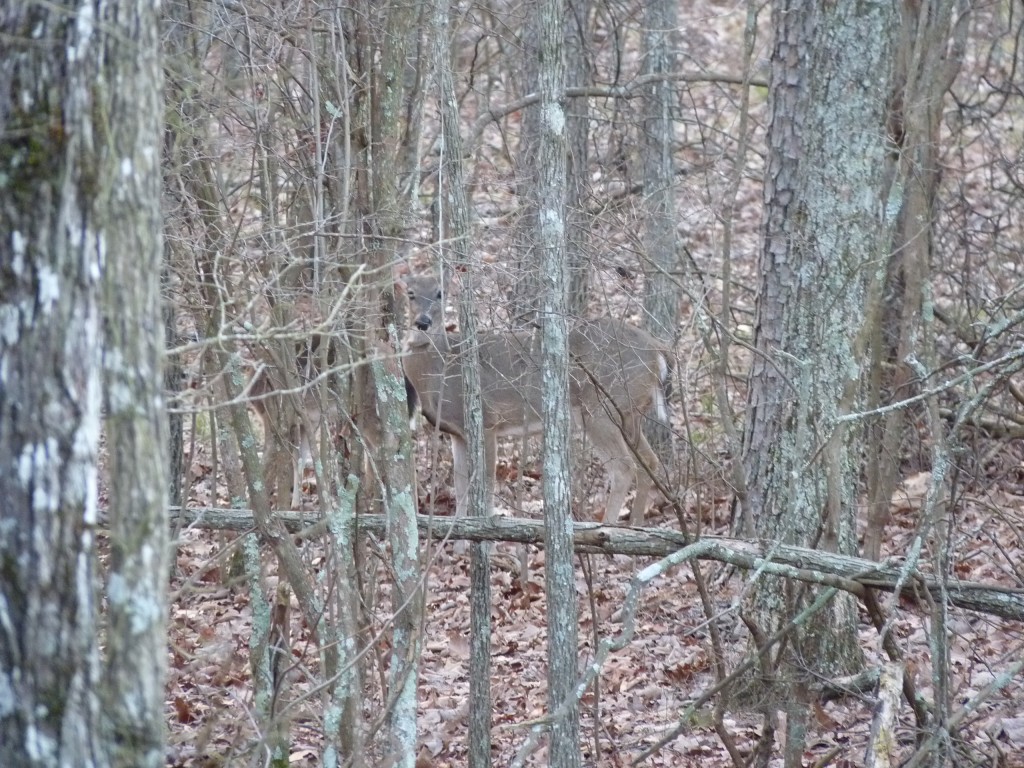 Use the link at the beginning of the post to explore more photos of Amy's Cozy Cabin as well as the other rental cabins offered.
During our first night we enjoyed dinner at the Moonlight Bistro in Mentone. Of course I whipped out the camera to photograph the food, but Hubs stopped me insisting that we were on vacation so I shouldn't be "working." I humored him, but let me tell you the food was delicious! Hubs raved about his bison burger, but my favorite part of the meal was our fried green tomato appetizer. It's served with a special sauce and topped with Parmesan cheese and bacon.
The first morning of our stay we managed to pry ourselves out of the hot tub long enough to enjoy some hiking trails at DeSoto State Park. We did the family bike loop on foot as well as the orange trail. On the orange trail we encountered a beautiful waterfall that is probably best viewed during the rainy winter.
Sorry for the scary face. I don't style my hair or wear makeup to go hiking. If you do, well…good for you.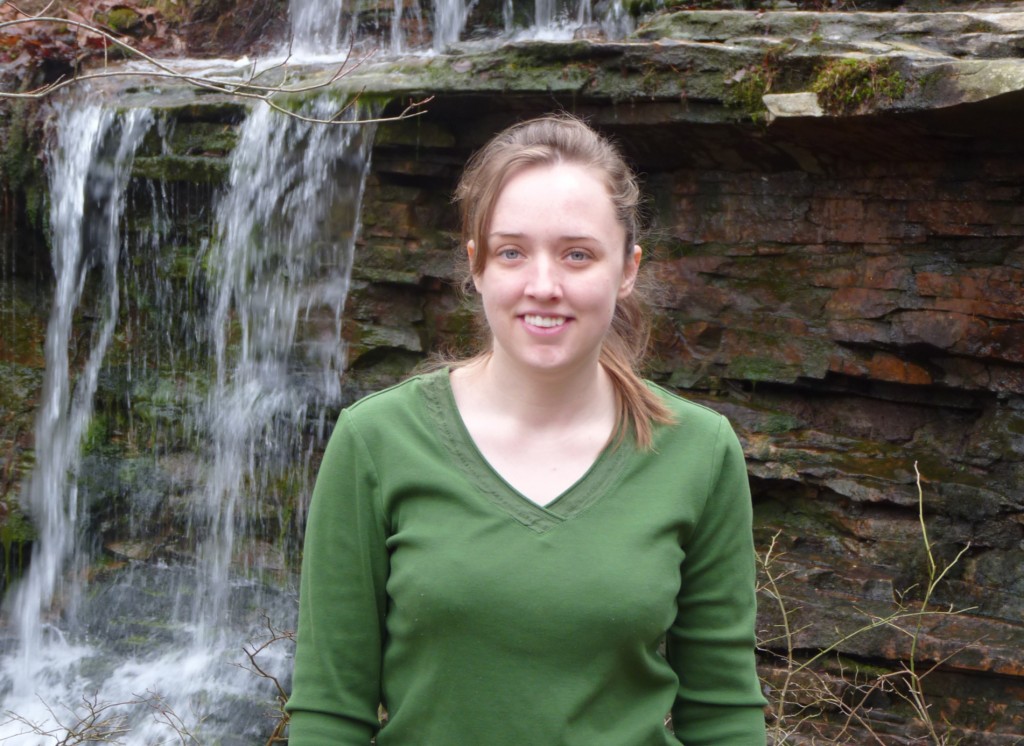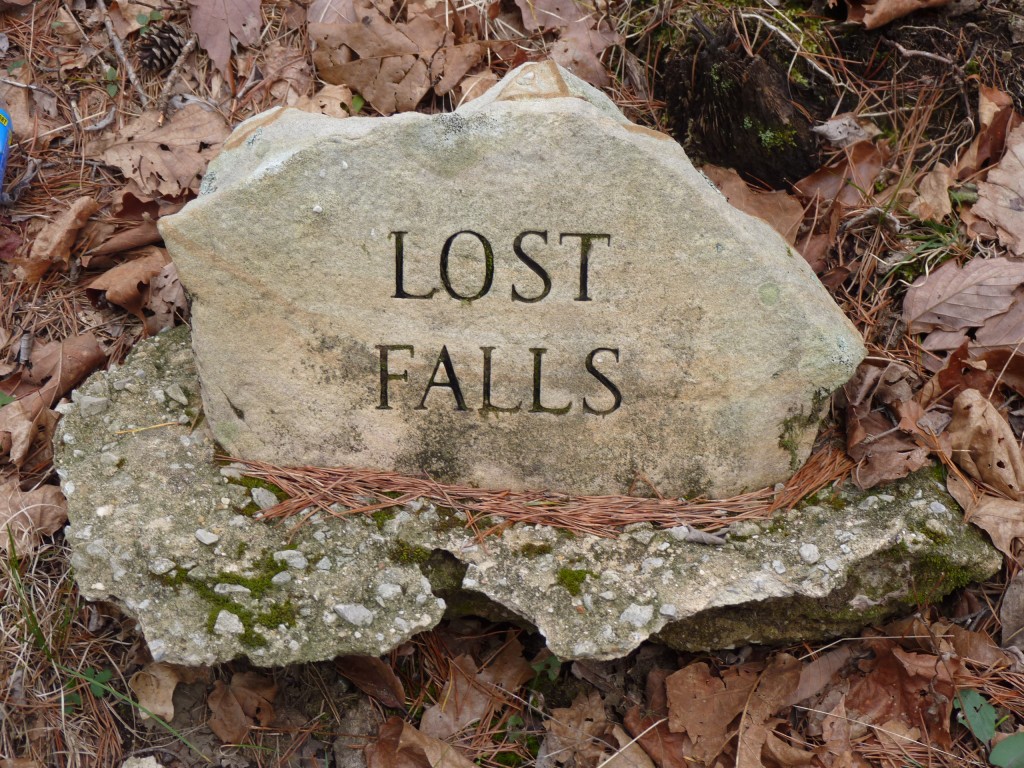 Hubs thought it was fun to knock over dead trees during our hike (for safety reasons of course so they won't fall on another hiker. It had absolutely nothing to do with the fact that it was fun).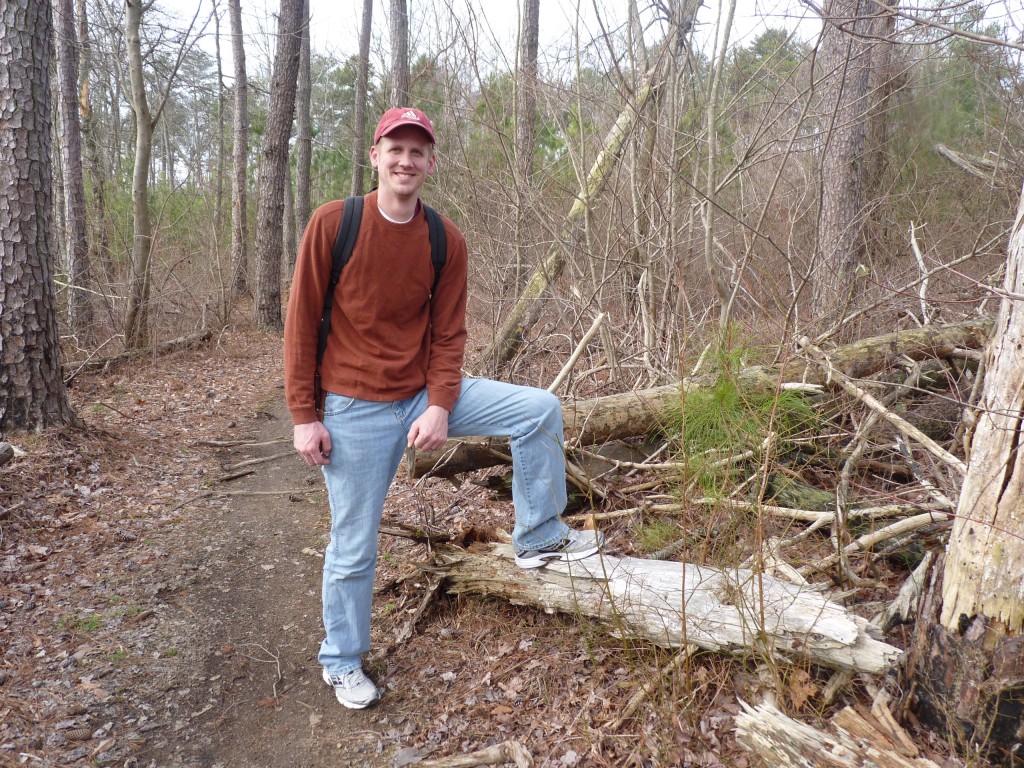 That night we enjoyed dinner at the Wildflower Cafe which is famed for its use of local, organic produce and hormone free meat. Live music set a romantic atmosphere and both enjoyed our entrees. I was disappointed that they ran out of peanut butter pie, but the carrot cake we ordered instead was moist and delicious.
We can't wait to visit Mentone again and plan to do so this summer. If you are in the Alabama, Georgia, Tennesee tri-state area, I highly recommend Lookout Mountain as a romantic retreat!