Friends, this Loaded Baked Potato Cheese Ball is the next generation of party food. Actually, it's the best food hybrid I've ever made, and it's so good and so jam packed with flavor and such a crowd favorite that I wont' be able to keep myself from from making it again and again.

I've been thinking about all the excuses to throw a party so I can whip this up and share it with family and friends (or you know just eat it in the kitchen while no one is watching) because it's really so good and so indulgent and so packed with all the good things in life.
Soft and tender potatoes, sour cream, bacon, cream cheese, cheddar cheese, green onions, a bit of garlic, some onion powder. Mmmm….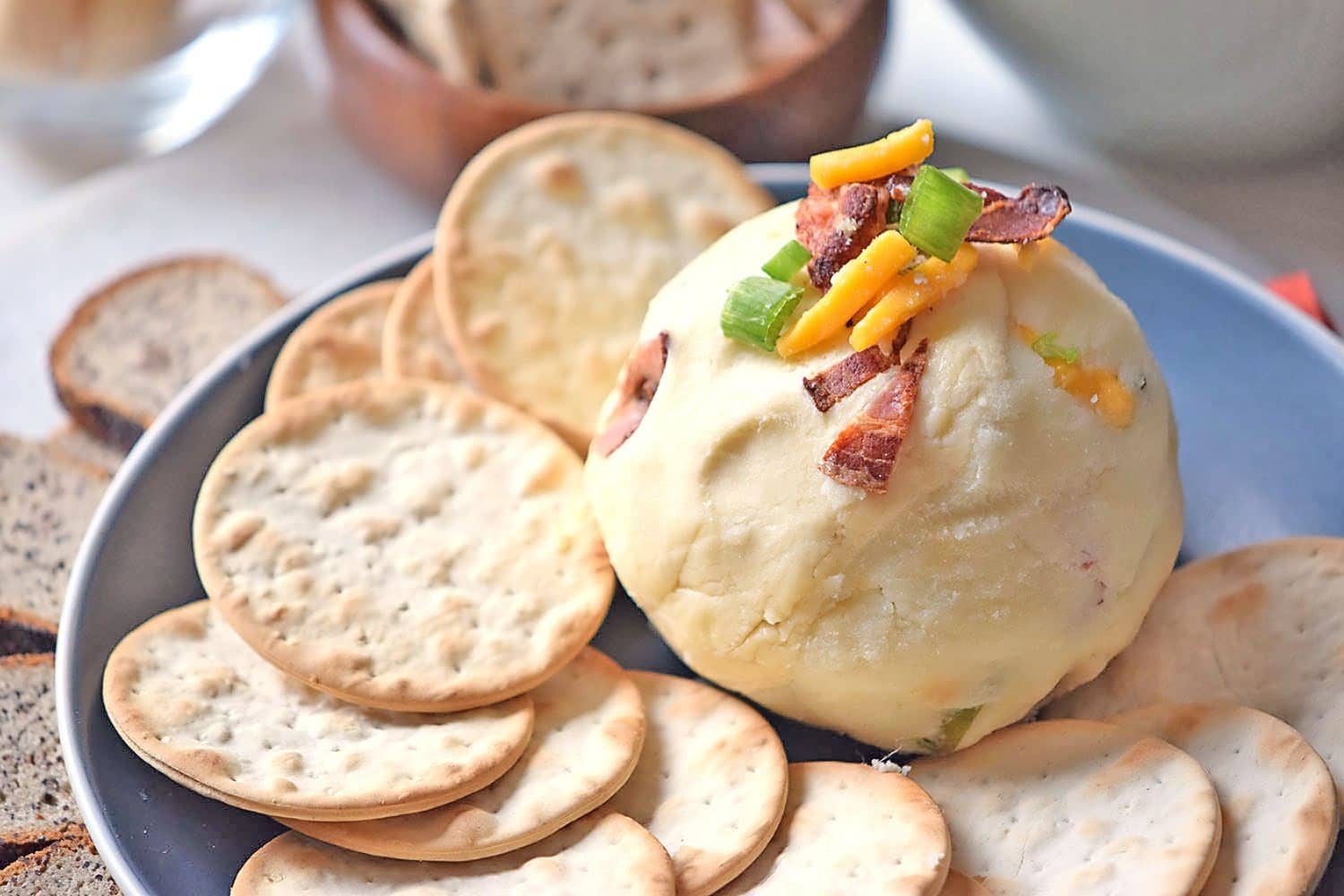 And can we please talk for a hot second about how this is really easy to make? I mean this looks fairly complicated (it's a food hybrid after all!) but it takes the same time than to whip up any of the traditional dips, spreads, and cheese balls that you already know and love.
It's just a matter of cooking your potatoes and mashing them and then just mixing everything together until you have a big bowl of deliciousness. And once the bowl is full to the brims with all your ingredients? Just form a ball and you are all set! Then just serve it with bread, or crackers (my personal favorite!) nachos or even veggies!
You can also make this ahead the night before which is also pretty handy when your schedule is packed with all the party planning activities, because let's be honest there's nothing better than knowing you already have everything you need to make the crowd happy sitting in your fridge waiting for everyone to arrive.
Ingredients
4 Potatoes
¾ Cup cheddar cheese, shredded
3 Bacon strips
½ Cup sour cream
½ Cream cheese brick
⅛ Cup green onions
1 Minced garlic clove
1 Tsp onion powder
Salt and pepper to taste
Directions
Boil water in a pot.
Peel the potatoes and cut them into fours.
Add them to the boiling water and cook until they are soft.
Meanwhile, chop the bacon and cook in a pan over medium-low heat until crispy. Set aside.
Once the potatoes are soft, remove from the heat and transfer to a bowl.
Mash the potatoes and then add the cream cheese and sour cream.
Mix everything.
Add the onion powder, garlic, salt, pepper, green onions, and ½ cup of cheddar cheese.
Mix until forming a uniform mixture, and shape into a ball.
Transfer to a serving dish and garnish with the bacon and remaining cheddar cheese.
Serve with crackers and enjoy.
If you love this easy appetizer recipe, check out my Fried Green Beans with Horseradish Sauce!