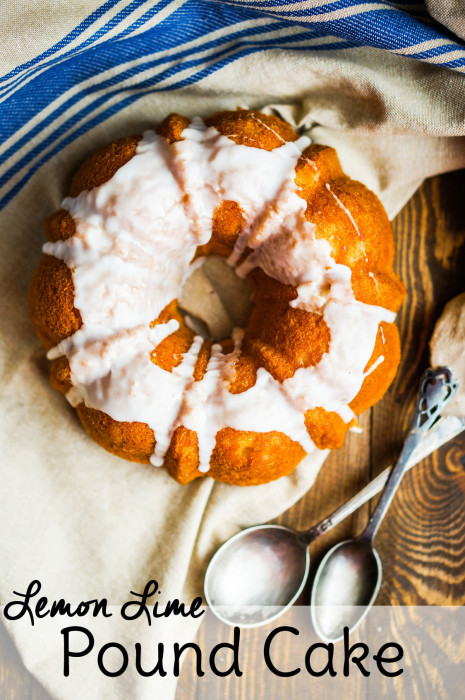 There's nothing like owning a bundt pan to make you feel like a legitimate adult (carrying an umbrella on rainy days is a close second.) I finally picked one up the other day at Ross while I was there for something completely unrelated.
If your bundt pan hasn't been used lately (or if you just joined the ranks of adulthood like I apparently did,) dust it off and give this Lemon Lime Pound Cake Recipe a try.
Lemon Lime Pound Cake
Lemon Lime Pound Cake
Author:
Cook time:
Total time:
Ingredients
1 cup butter
3 cups sugar
6 large eggs, room temperature
1/2 tsp baking soda
1/2 tsp salt
1 cup Greek yogurt
1 tsp lemon zest
2 Tbsp lemon juice
1 tsp lime zest
2 Tbsp lime juice, divided
1/2 tsp vanilla extract[br]
Icing
1/4 cup confectioner's sugar
1 Tbsp lemon or lime juice
1/2 cup Greek yogurt
Instructions
Preheat oven to 325 degrees
Grease and flour a 15 cup Bundt pan, set aside
Using an electric mixer, beat butter at medium speed until creamy. Add sugar gradually beating until fluffy. Add eggs, beating until well combined.
In a separate bowl, mix together flour, baking soda, and salt.
Combine flour mixture, butter mixture, and 1 cup Greek yogurt alternately, beginning and ending with the flour mixture.
Add zests, juices, and vanilla, stirring until combined. Pour batter into pan.
Bake 1 hour and 15 minutes or until toothpick inserted into center comes out clean
Let cool in pan 10 minutes, then remove from pan and cool completely on a wire rack
For icing: In a medium bowl, whisk together confectioner's sugar, juice, and yogurt.
Spoon over cooled cake.
Refrigerate until ready to serve.