Learn how to make paper Christmas ornaments with pictures! All you need is a few simple supplies to create these DIY photo album ornaments.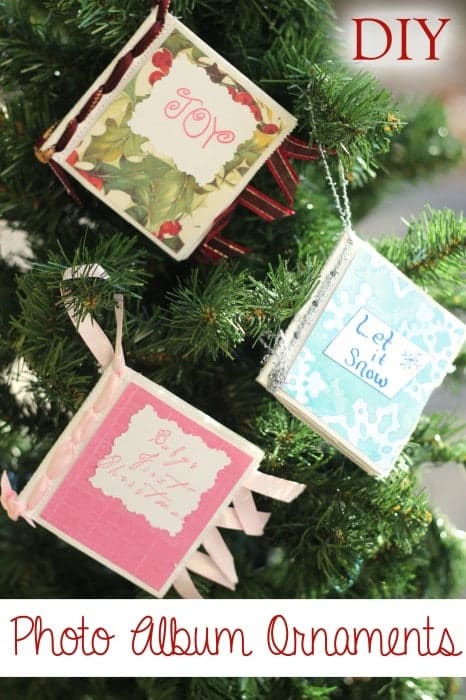 In the years before blogging (and kids!) my aunt and I used to make and sell different paper crafts at craft shows. Our mini paper bag photo album Christmas ornaments were our most popular item. They make adorable gifts and are easy to assemble in bulk for group Christmas activity fun!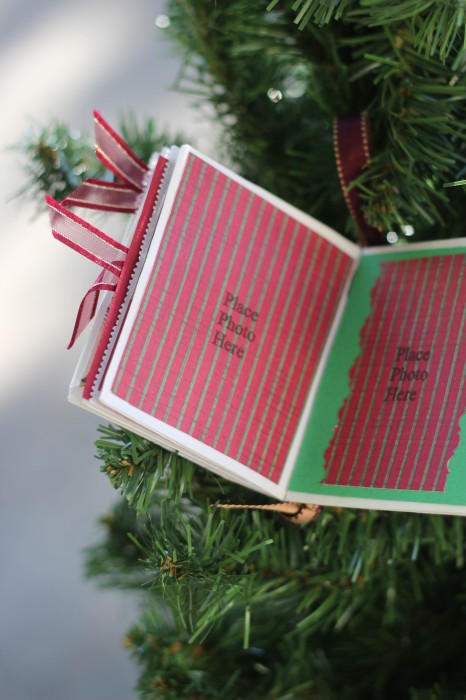 Here's how we make them step-by-step:
How to Make Paper Christmas Ornaments with Pictures
For each paper Christmas ornament you will need:
3 Mini paper bags (3 1/2″ x 6 1/2″) – I found white, yellow, and dark green bags at Big Lots for cheap!
Scrapbook paper
Cardstock
Stapler
Ribbon, twine, jute, or string
Adhesive
Eyelet Setting Tool

Rubber stamps
Sewing Machine
Photos from cvs.com/photo
Step 1 – Stack three bags on top of each other as shown (ignore the holes in this photo. You won't have them at this point.) Make sure to alternate which direction they are turned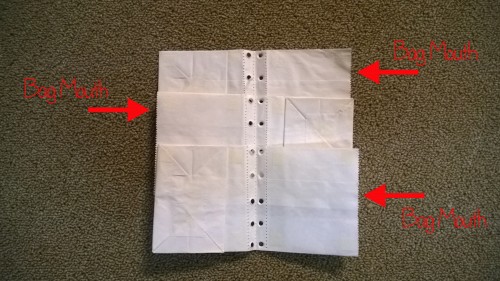 All stacked up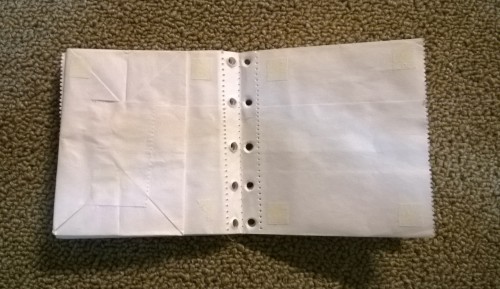 Step 2 – Crease bags in half horizontally then sew, staple or glue straight down the middle. Sewing will create the sturdiest books (ignore the holes!)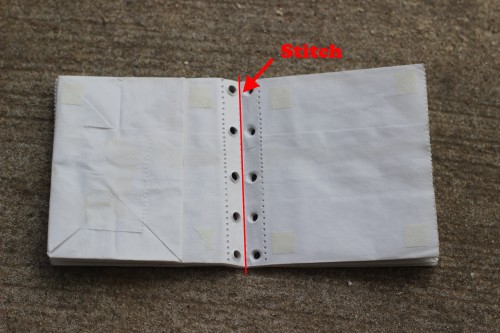 Step 3 – Fold album in half and straight stitch 3/8″ from folded edge (again, ignore the holes for now)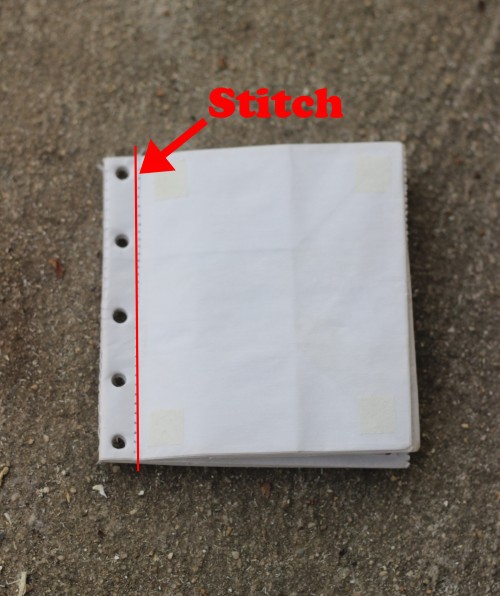 Step 4 – Using an eyelet setting tool, punch 5 holes along the edge of the album in between the two seams. A traditional hole punch won't get the job done. You need something you can twist or whack with a hammer to get through all those layers. I use the Silent Setter. There are other good choices on Amazon and at your local craft store as well.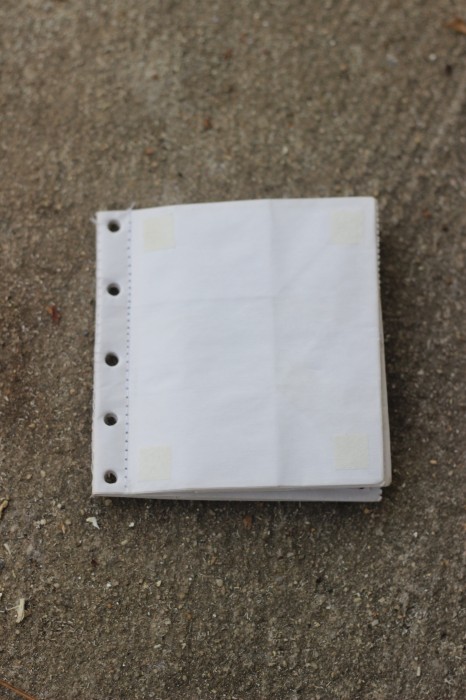 Step 5 – Use adhesive squares to apply scrapbook paper to the pages of the book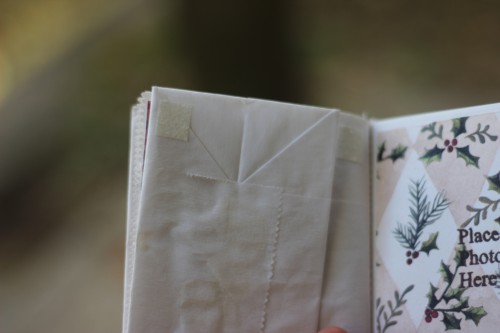 This can be as simple or complex as you like it to be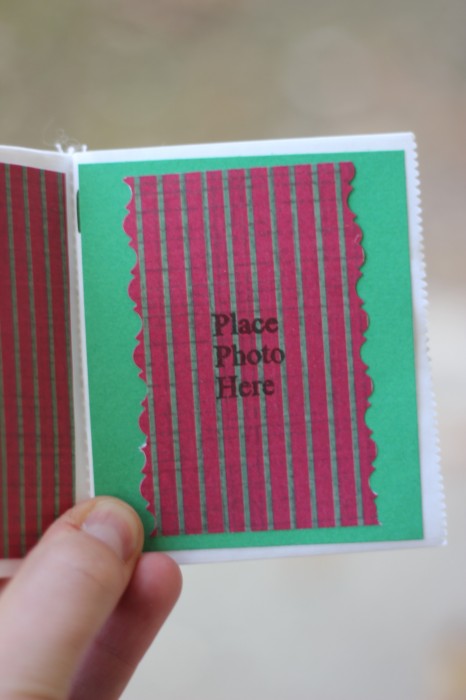 If you are giving this as a gift, I'd recommend leaving the pages plain, embellished only with paper.
If you're making it for yourself, add the photos as you go and embellish away! CVS.com/photo has same day prints available in 4×6, 5×7 and 8×10 sizes. You'll need to crop your 4×6 prints in order for them to to fit into these mini Christmas ornaments with pictures.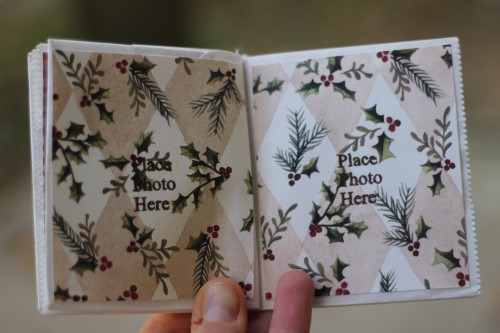 Don't forget the back of your album.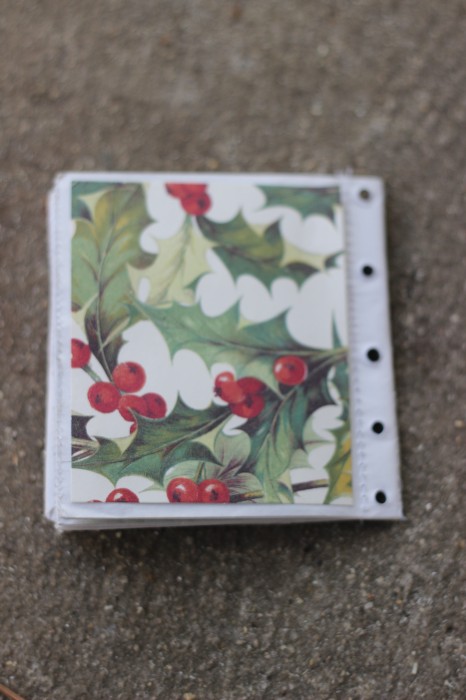 The cool thing about these paper ornaments with pictures is that you're only limited by the size of your paper bags. You could technically use paper grocery sacks and make giant ones for a Christmas display table!
Step 6 – Cut three pieces of cardstock approximately 3 1/4″ x 2 3/4″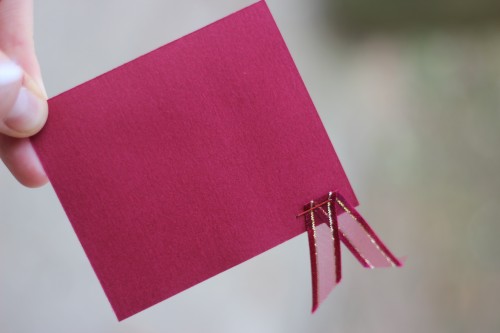 Use a stapler to attach a small folded piece of ribbon to each piece. Staple one ribbon to the middle edge of one piece, the top edge of another piece, and the bottom edge of the last piece. Colored staples
are fun to use here.
Standard (26/6) Metallic Color Staples – Pack of 3000
Place one piece of cardstock into each bag opening. These pages can be used for extra photos or journaling.
Step 7 – Using an 18″ length of ribbon, insert both ends into the top hole in opposite directions to create a criss-cross (see photo) leaving a loop at the top.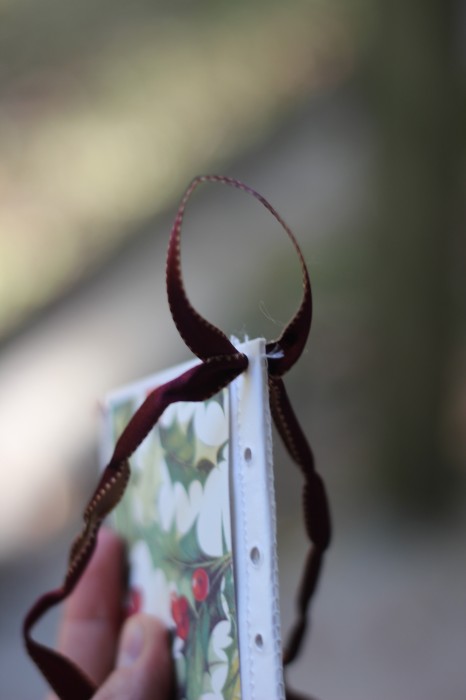 Continue weaving ribbon through each hole in the same manner
Tie ends in a knot.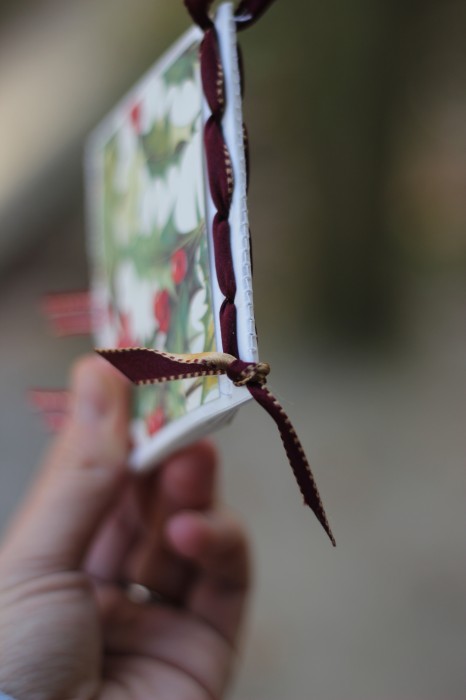 You can embellish the front with a printable, rubber stamps, or your own handwriting if it's better than mine. 😉 You're all done! Now you know how to make paper Christmas ornaments with pictures the easy way.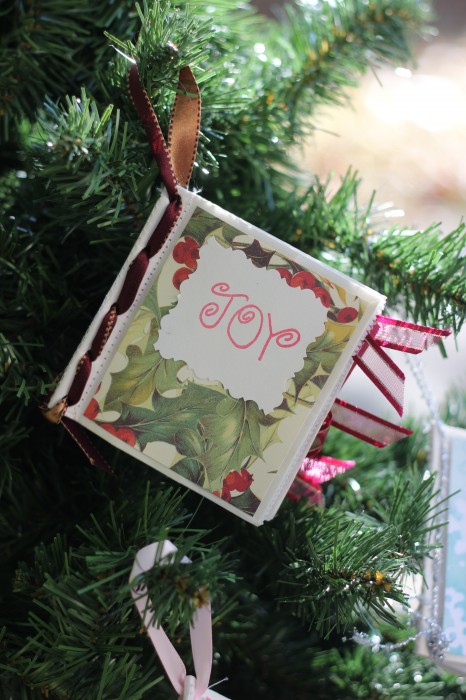 Baby's First Christmas and Our First Christmas are a couple of fun themed books to make as well.
You can order photo prints for your Christmas ornaments with pictures from CVS.com/photo as well as photo gifts. For those of you who prefer to access the internet with your smartphone, use the CVS mobile app to send your photo order in while on-the-go. You can upload your photos from social media too. It doesn't get much more convenient!
Here are a few of the beautiful winter memories I had printed from cvs.com/photo for this #CVSHolidayHowTo.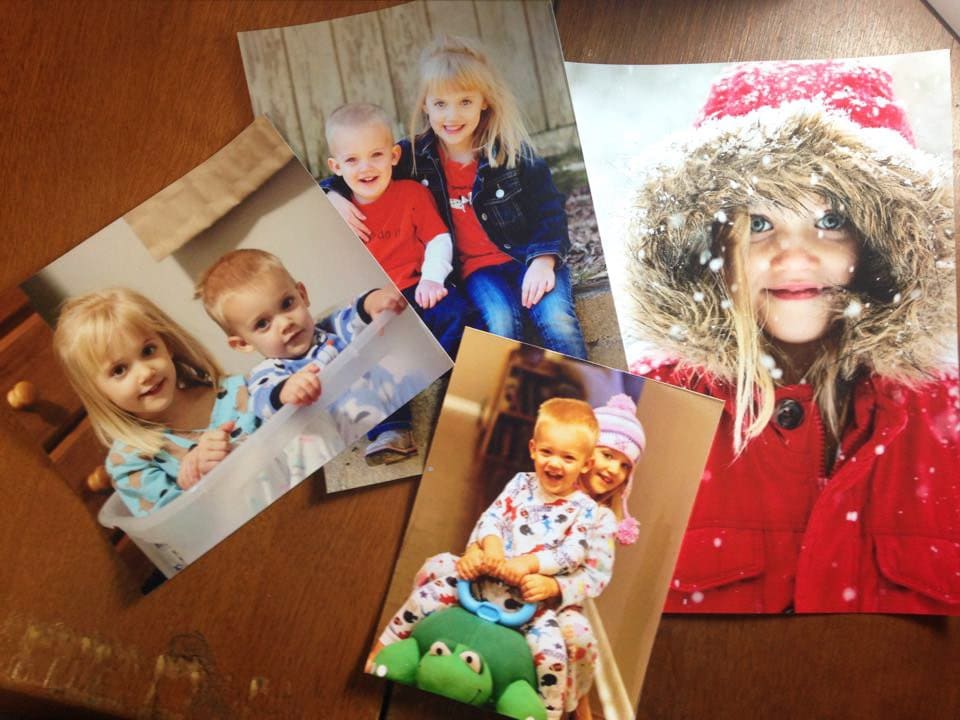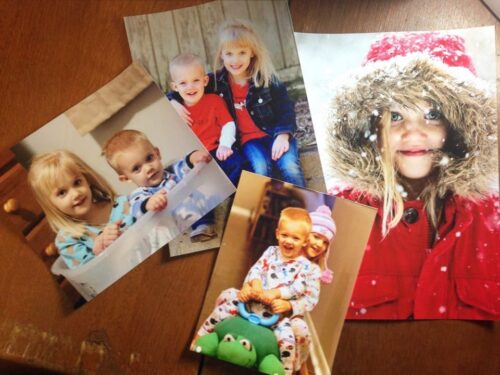 This is a partnered post. all opinions are my own.