In order for wool diaper covers to soak, they much be lanolized first. I found several different methods for how to lanolize wool diaper covers thanks to a Google search, but wound up combining a few of the lanolizing methods based on laziness and what I had on hand.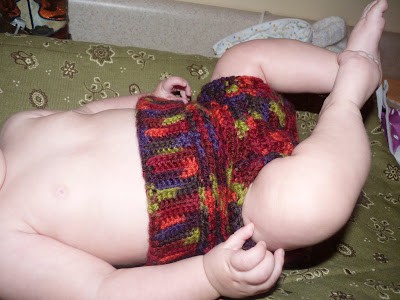 I decided to try my hand at making a wool diaper cover
using
this free crochet diaper cover pattern
from Rebecca at Ravelry. The diaper cover
pattern
is super cute and free, but I made lots of mistakes. Oh well. It gets the job done. Maybe my next
crochet
diaper cover will be prettier.
How to Lanolize Wool Diaper Covers
To lanolize wool diaper covers you will need:
Unscented baby wash
Lanolin. I used Medela PureLan 100 since I had a free sample of it already.
Water
Click the link for more lanolin options for your wool diaper covers.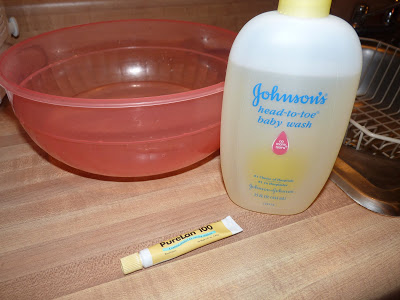 For one wool diaper cover, add a pea-sized amount of lanolin and a few drops of baby wash to a small bowl.
Fill with very hot tap water and wisk until the lanolin is dissolved. The water will be cloudy
Put the wool diaper cover in a larger bowl and add enough lukewarm water to somewhat cover it. Add the lanolin/baby wash mixture. Gently swish and squeeze the crochet diaper cover around with your hands then leave it
for at least 30 minutes
. I left mine overnight.
Remove the cloth diaper cover and gently squeeze out as much water as you can without being too rough with it.
Roll the diaper cover up in a towel and let it air dry. I draped mine over a small fan to speed up the process which can take up to two days otherwise. Wool is absorbent stuff!
I had enough yarn left to whip up a little crochet hat to match my crochet diaper cover. You can tell Sweet T's opinion of this by her expression.
This tutorial on how to lanolize a wool diaper cover, will work with other wool items too. Just adjust the amount of lanolin and baby wash depending on the size of your item.