Hiking with kids is the perfect way to get outdoors and shake off the winter blues. In fact, we could all use a little more time spent in nature. According to the National Recreation and Park Association, the average child in the U.S. spends just four-to-seven minutes a day engaged in unstructured outdoor play. With rates of disease and obesity on the rise in the U.S., it's important that we get our children outside.
Hiking is, hands-down, my family's favorite way to spend time outdoors. My husband works for the U.S. Forest Service, which means that we've been lucky enough to live on one National Forest or another for the last fifteen years. Our four girls were on the trails with us before they could walk, and took their first toddling steps through leaf litter and mud. Now, they're like little mountain goats, scrambling over boulders and logs and charging through creeks.

Hiking with kids might feel intimidating though, especially if you've not had any experience in the woods. With that in mind, I've put together some tips for hiking with kids to help you get started with your first hike.
Hiking With Kids
1. Find Your Local Natural Area
Hiking trails can be found in a variety of places including city parks, county preserves, National Parks and Forests, and state-run natural areas. To find them, check out your local tourism board, chamber of commerce, search online, or even just grab a map and look for green spaces. Chances are, there are hiking opportunities within a short drive of your home. All Trails is a website that is great for finding local trails, and even rates and reviews them. They also have an app available for both Apple and Android devices.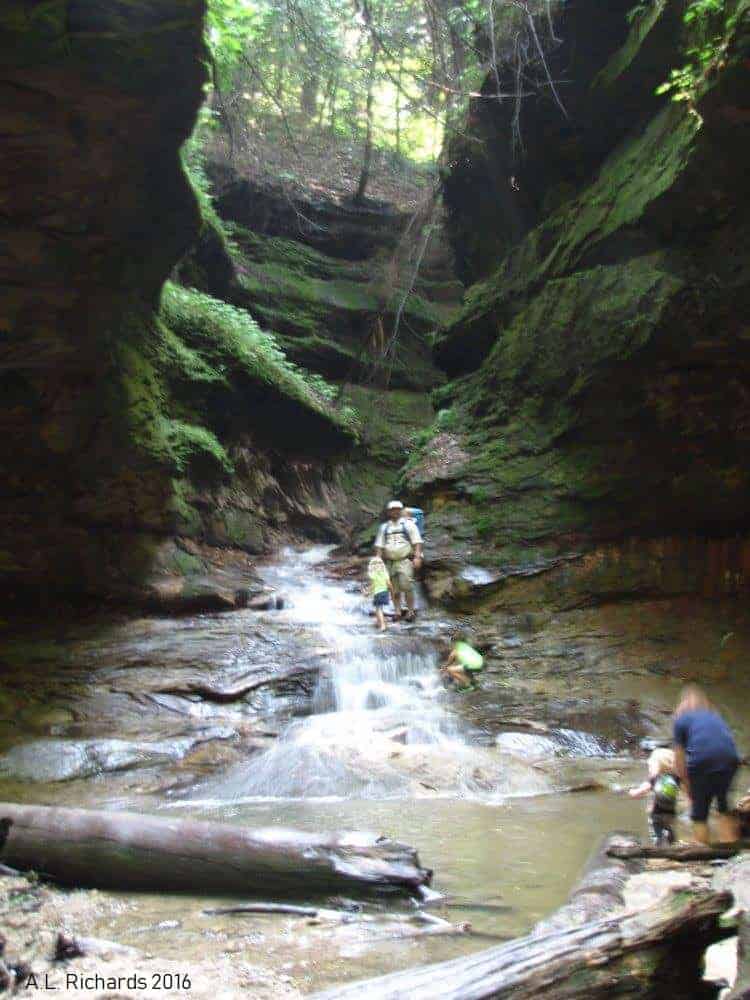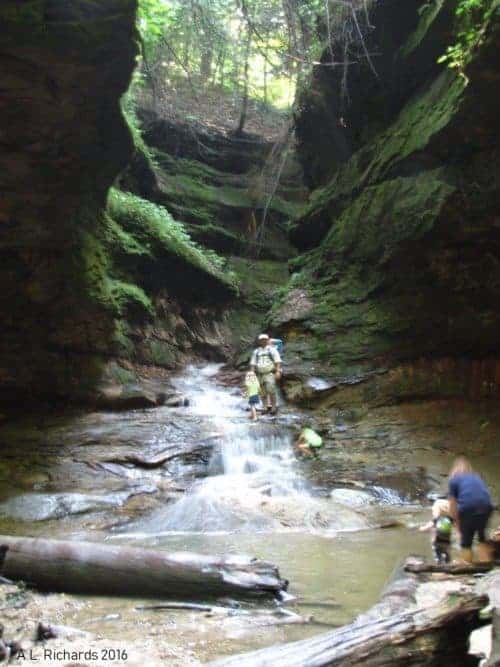 2. Choose a Trail
No one wants to get out on a trail just to end up stranded miles from their car at the bottom of a 30-foot ravine with no cell service (Thanks, honey!) so, park rangers have created a system to rate trails according to their difficulty. The most common system simply rates the trail as either Easy, Moderate, Rugged, or Difficult (Some places may use easy, moderate, hard, and very hard.). Choose a short trail to begin with. There are lots of gorgeous trails that are a mile or less.
"Easy" trails are level with few obstacles, and I suggest that you start with one of them when hiking with kids for the first time. They are comfortable for nearly anyone. Some of them are even paved! Interpretative trails (trails with educational stops along the way) are the most common type of super easy, beginner trail, and are a fabulous way to introduce kids to the forest. You can usually find them near the visitor's centers in state and national parks and preserves.
"Moderate" trails are a little more difficult than easy trails. They usually have features like stairs, hills, and small obstacles like tree roots to climb over. Trails in this category might lead you through dry creek beds and narrow passages. Moderate trails are a great starting point for people who have an average level of physical fitness.
"Rugged" trails are my favorite trails. These feature significant obstacles, such as climbing over boulders, wading creeks, climbing up and down cliffs or using ladders, and dealing with dramatic elevation changes. Some rugged trails are good for families with children who are out of the toddler stage, but you need to be to fairly fit to really enjoy them. Some trails are marked as "very rugged," but there really isn't much difference between the two categories.
"Difficult" trails are as tough as they come. They are designed for adrenaline junkies, which make them both fun and challenging, but they require significant hiking experience to travel safely.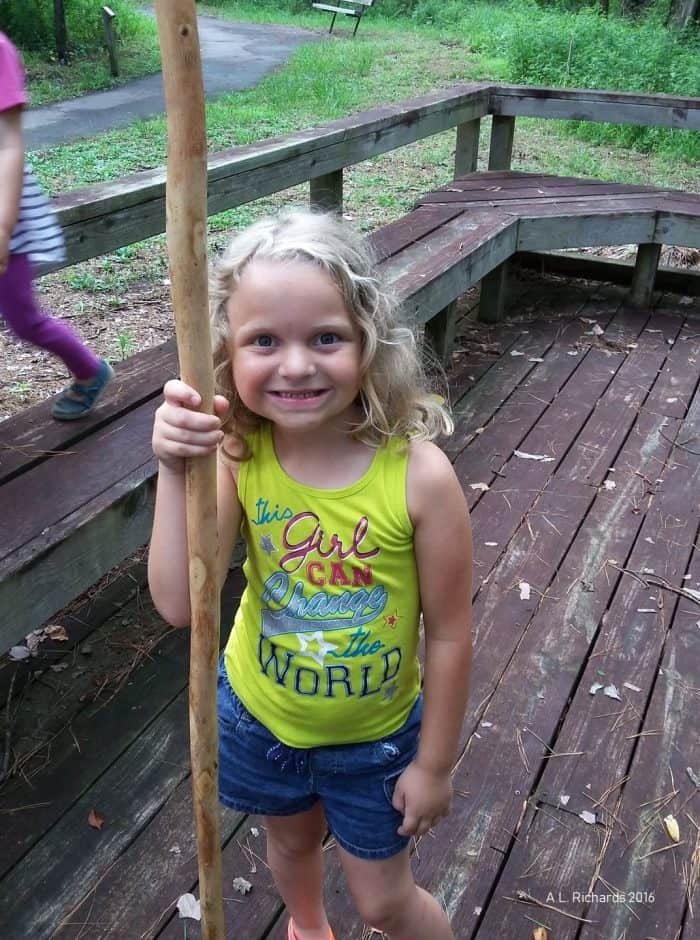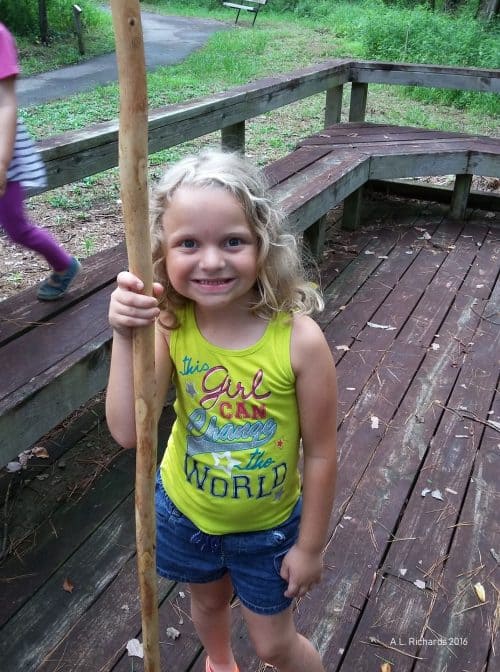 3. Know the Environment and be Safe
Natural areas are just that- natural, which means they can be hazardous. While many newcomers worry mostly about dangerous animals, they're not really going to be interested in your family (They tend to hide when they hear you coming.). Just be aware of what types of animals are in your area, and how to best avoid them.
Cliffs, fast-running creeks and rivers, caves, and rockfalls are very common and these are actually the largest risk you'll run into in the forest. In order to preserve the integrity of wild areas, there are not many man-made barriers to keep you safe, so it's important to know what's coming up ahead. If available, scan trail maps for dangerous areas. Talk to the local rangers and park managers, and be sure to read any signs posted nearby.
Carry a stick! A good hiking stick can help you keep your balance over obstacles and move hazards like thorny branches, vines, and even snakes, if necessary (They're also fun for poking slower family members in the butt, which is probably the most common use of a hiking stick.).
Check the weather before you go. This is especially important in mountainous or hilly regions, where flash flooding is a concern. Even relatively small amounts of rainfall can turn friendly creeks into nightmare-inducing torrents. Always be weather-aware!
Carry a small first-aid kit. You don't need anything really advanced. A few band-aids, some cleansing wipes, antibiotic ointment, and an instant ice pack will suffice for most of the injuries you'll run into while hiking. I usually keep a larger first aid kit in the car, anyway, so I just carry the "boo-boo" supplies from it with me. Remember to carry items like rescue inhalers, glucose tablets, and epi-pens if you need them. They won't do you any good in the car!
Lastly, always inform someone of your plans, especially if you will be hiking in a remote area. Many trails are located where there is no cell coverage. Hiking is a very safe sport, but accidents do happen. In the unlikely event that you don't make it home, you want someone to know where to look for you!
Hiking with baby or a toddler
4. Use Carriers and Harnesses
Hiking with baby? They love to be carried high on your shoulders or back where they can view the surrounding environment (and eventually doze off!). Hiking with a baby carrier is invaluable for hikers with infants and toddlers.
Hiking with a Baby Carrier
Carriers can be found in several varieties in all price ranges.
Hiking Carrier for Babies and Toddlers
Hiking with Baby and Kids Carrier
Harnesses are a good choice for families with more active toddlers who want to be on the ground. They allow your littles some freedom, while still keeping them close to you in case they need some assistance. Bonus points- a small backpack leash lets you turn your energetic toddler into a mini pack mule! At one point, my Younger-Middle was so proud of being able to help carry stuff in her "backpack" that she would wear it around the house and carry the "leash" in her hand!
Brica By-My-Side Safety Harness Hiking with Kids
5. Make it Fun!
I love hiking with kids, but sometimes they need a little encouragement and direction to make the most of our hikes. Play some games along the way. We give them a few things to find and assign points when they're able to actually point them out ("Find a leaf that isn't green. Find a yellow flower. Ten points to the first person who spots a lizard!"). As a side note, don't actually pick the flowers and plants unless you know that gathering is okay. In some places, like wilderness areas, this practice is illegal and carries heavy fines. Click the image below for a fun activity you can do while hiking with kids.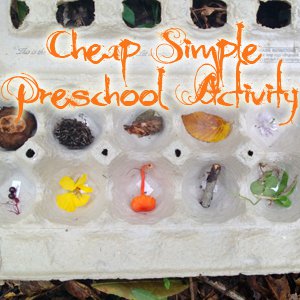 I've also seen people give their children bags and have a "treasure hunt" using litter along the trail as the treasure (Totally fine to pick up, BTW!). A pair of binoculars will make the day of nearly any kid, as will a custom, child-sized hiking stick.
Educational Insights GeoSafari Jr. Kidnoculars
Learning Resources Primary Science Big View Binoculars
As humans continue to spread and "subdue" our world, it is more important than ever that we instill a love and appreciation for nature in the hearts and minds of our children. But, it's nearly impossible to do this without actually getting them out into the wide, wild spaces! Whether you're hiking with baby, toddlers, or your teens, I hope that this article has encouraged you to go hiking with kids. See you on the trails!