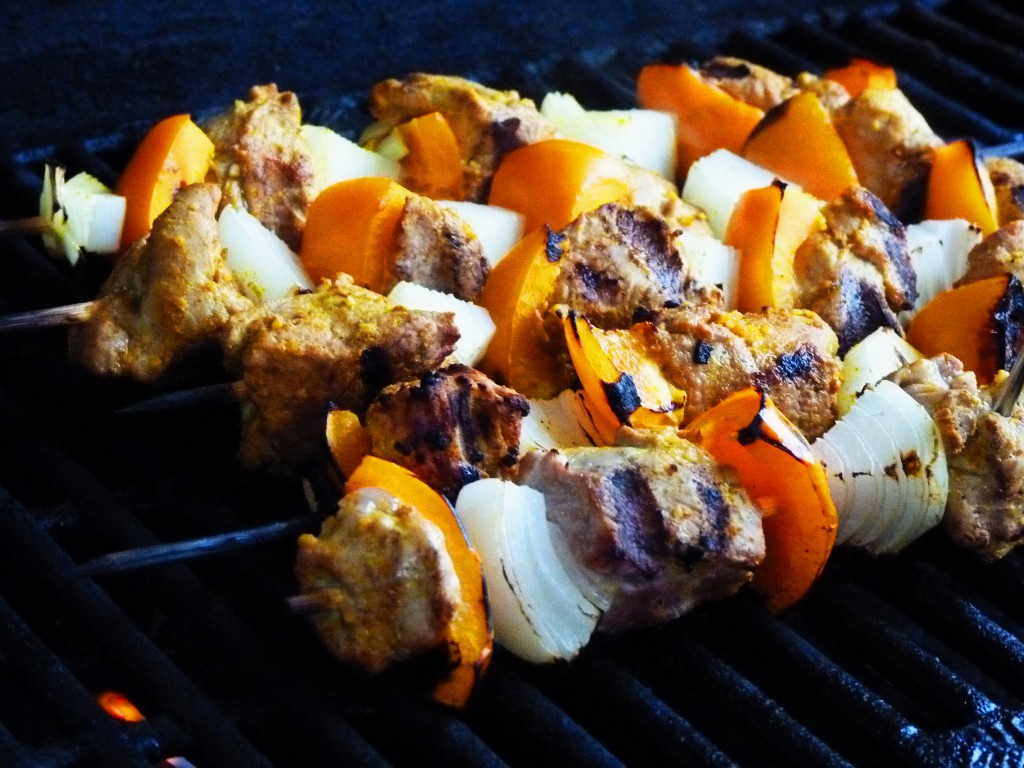 These Indian Pork kabobs wound up being my favorite of the pork series so far. Hubs too!  It's the first time I've worked with curry powder and I'm definitely hooked.
Ingredients
1 bone-in sirloin pork roast, about 4 pounds, boned and cut into 1 1/2-inch cubes
2 large red bell peppers, seeded, deribbed, and cut into 1-inch squares (I used orange since they looked fresher at the grocer than the red)
2 large sweet onions, such as Walla Walla or Vidalia, cut into 1-inch chunks
12 12-inch skewers, soaked in water for at least 30 minutes
Vegetable oil cooking spray
Indian Spice Paste:
4 large cloves garlic
2 tablespoons curry powder
1 tablespoon kosher salt
1 tablespoon ground cumin
1 tablespoon ground coriander
1/4 teaspoon cayenne
1/2 cup fresh lemon juice
2 tablespoons olive oil
2 tablespoons water
To make Indian spice paste, place garlic in food processor and process until minced. Add spices, lemon juice, oil, and water. Process until thoroughly combined. Place pork in large self-sealing plastic bag. Pour paste over pork and mix pork with paste until pork is evenly coated. Seal bag and refrigerate for 2 to 4 hours. Prepare medium-hot fire in charcoal grill or preheat gas grill to medium high. Thread pork onto skewers, alternating with pieces of red pepper and onion.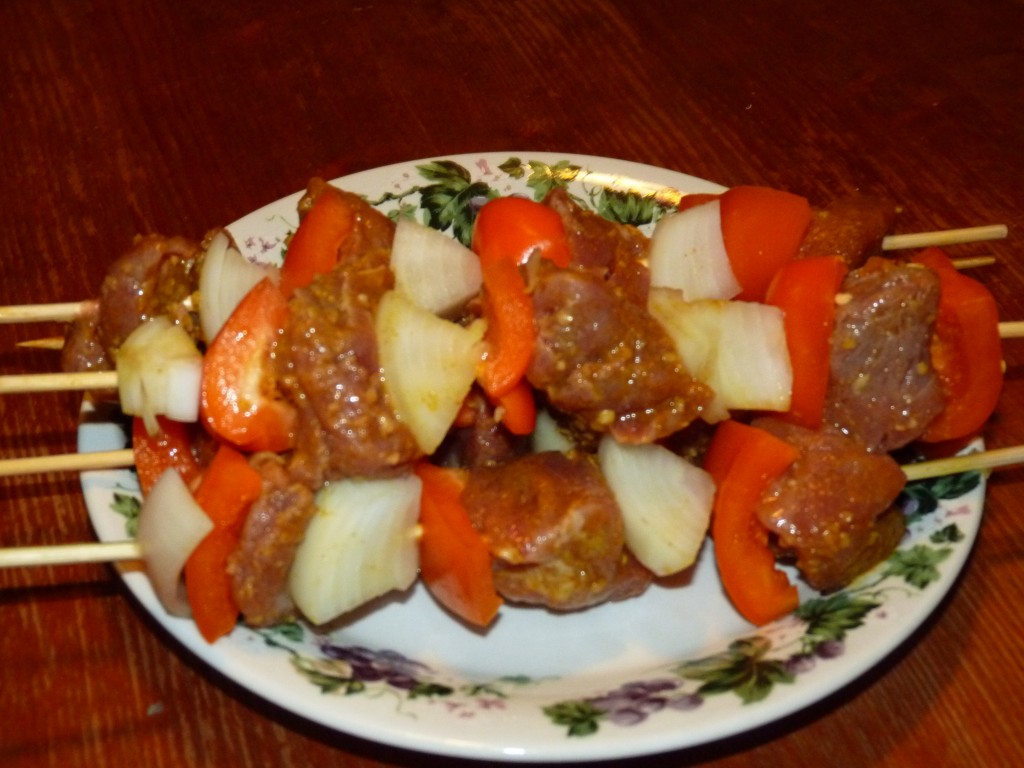 Spray grill grate with vegetable oil spray. Grill kabobs directly over medium-hot fire, turning to brown evenly on all sides, for total of 10 to 12 minutes. We used a digital thermometer to take the guess work out of doneness. We tend to be paranoid about meat being thoroughly cooked, particularly on the grill. This "better safe than sorry" approach often results in our meat being tough. I highly recommend a digital meat thermometer!  In 2011, the U.S. Department of Agriculture (USDA) announced that pork can be safely cooked to medium rare, at a cooked temperature 145 degrees Fahrenheit as measured on a food thermometer, followed by a three-minute rest time.
This new recommendation is a significant 15 degrees less than what was previously recommended and will typically yield a finished product that is pinker in color than home cooks may be accustomed to, resulting in juicy, tender and flavorful pork. We found this to be the case! Our kabobs were more juicy and tender than we've ever enjoyed them before.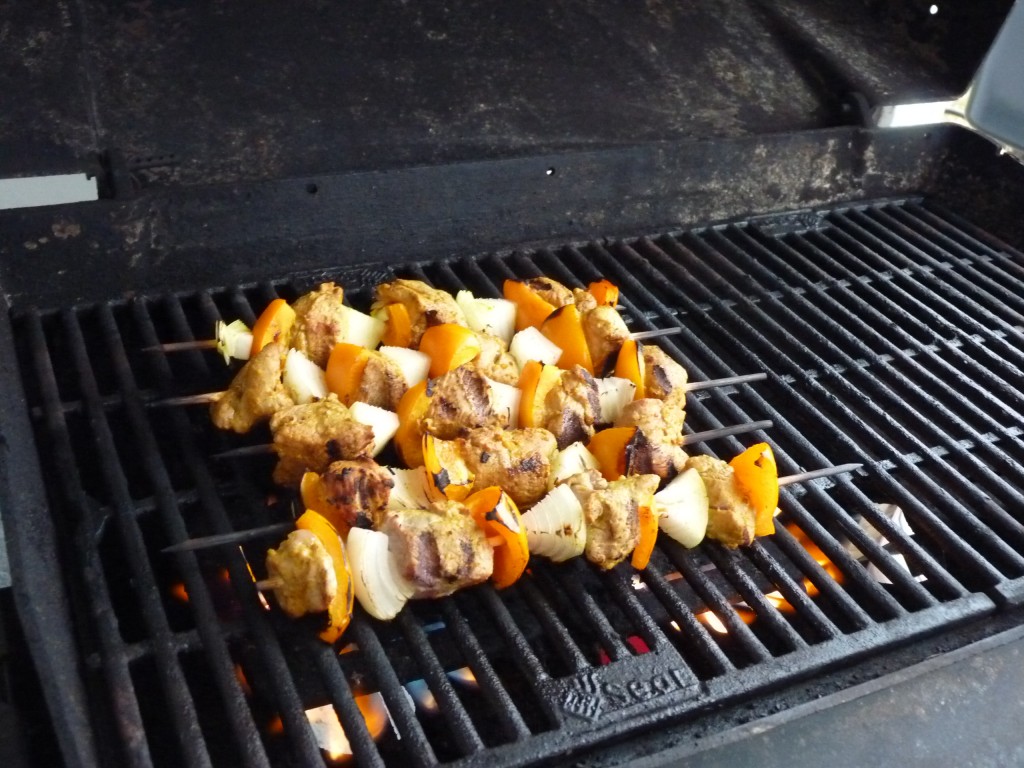 Transfer to warm platter or individual dinner plates and serve. Serves 8-10

Publix wants you to enjoy a Heart-y and Healthy Valentine's Day. Through February 15th at Publix, you will find bone-in pork loin roast on special for $3.39 per pound making it more affordable to prepare this healthy dish.