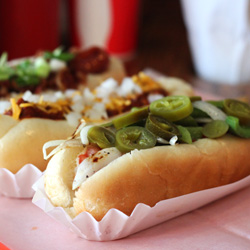 Located just a short drive from the aquarium, this Chattanooga restaurant provides a family-friendly menu and environment that will make you want to "sit, stay, eat." Good Dog serves such a dazzling variety of hot dog, bratwurst, and sausage combinations that I had a hard time choosing just one. The Fajita Dog with jalapenos, grilled onions and peppers, and salsa was my eventual selection and I chose wisely. Should have ordered two!

My local friend who suggested Good Dog enjoyed her usual: The BBQ dog. Housemade bbq sauce, bacon, scallions, and slaw (she likes it on the side) accompany this hot dog. If you like your dogs a little more traditional, varieties such as The Fred (pictured middle) are available

To accompany their hot dogs, Good Dog serves up some amazing fries (or frites) that are reminiscent of 5 Guys' french fries.


I'm not a huge fan of mayonnaise-based sauces, but their homemade Frite Sauce is well loved by most.
Instead I opted to try both their curry and wasabi ketchup. The wasabi flavor was my favorite hands down and it's going to be hard to be content with plain ketchup from now on!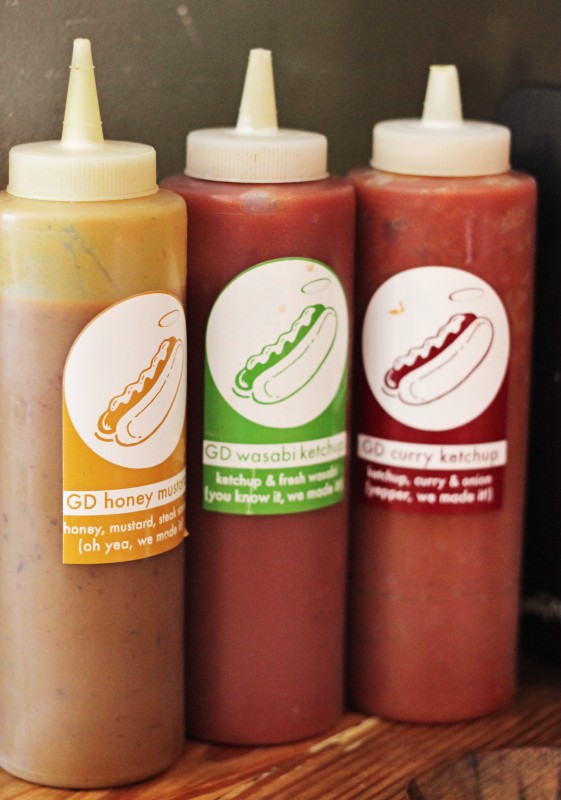 Good Dog has a funky, artsy atmosphere that jives with the ambiance of downtown Chattanooga. While customers were literally lined up to the door, the staff was capable and cheerful. Lexi tells me that she always experiences superior service here with employees often going above and beyond to accommodate her.
If you want to enjoy a fun atmosphere, great food, and Southern hospitality be sure to stop at Good Dog during your trip to Chattanooga. Maybe you'll see me there. I want to try the BLT dog next.
Disclosure: No compensation was received for this post. I just really enjoyed this Chattanooga Restaurant and thought you might too!