This Gluten Free Meal Plan will feed a family of 2 adults and 2 children for around $100. No couponing required! You'll use your Crock Pot a couple of times and make ahead breakfast for the week with two freezable recipes.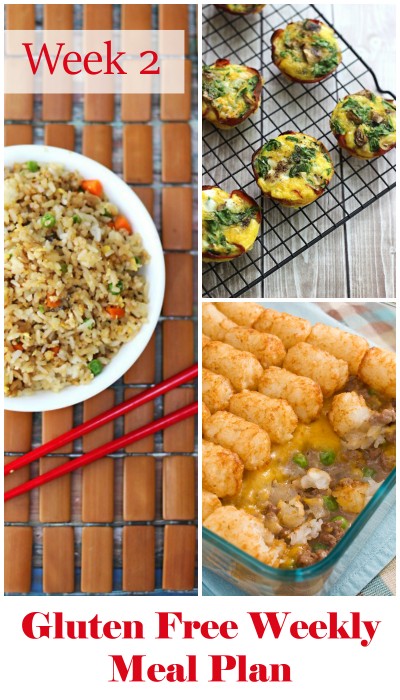 This menu is:
Inexpensive
Gluten free
Filling
Quick and easy
It is NOT:
Organic
Low fat or low cal
Gourmet
Dairy-free (unless you make some substitutions)
Gluten Free Weekly Meal Plan: Week 2
Monday
Grilled Pork Chops
Roast Brussels Sprouts (use frozen ones. So much cheaper!)
Mashed Potatoes with Coconut Milk
Tuesday
Sweet and Sour Slow Cooker Meatballs
Baked Sweet Potatoes
Wednesday
Tater Tot Casserole
Thursday
Chicken Enchiladas – Use gluten free tortillas or wraps. We get ours at Aldi
Spanish Rice
Refried beans – From a can. I heat mine in a skillet with some coconut oil to give them that restaurant-style taste
Friday
Chinese Restaurant Style Fried Rice – Make extra rice on Thursday when making your Spanish rice so you'll have chilled rice for this recipe
Chinese Green Beans
Saturday
Chicken "Tortilla" Soup
Sunday
Crock Pot Pork Tacos – Check your seasoning labels. My onion soup and ranch mixes are both gluten-free
Gluten free Corn Tortillas – or just buy gluten-free ones
All shopping was done at Walmart and Aldi reflecting Southeast pricing
Adjust dinner serving so that there are enough leftovers for everyone for lunch the next day
Breakfast: Make Ahead Freezer Breakfast Cups and Honey Nut Oat Muffins. Both can be prepared ahead, frozen, and eaten on-the-go!
If you missed my gluten free meal plan, week one you can check it out here.