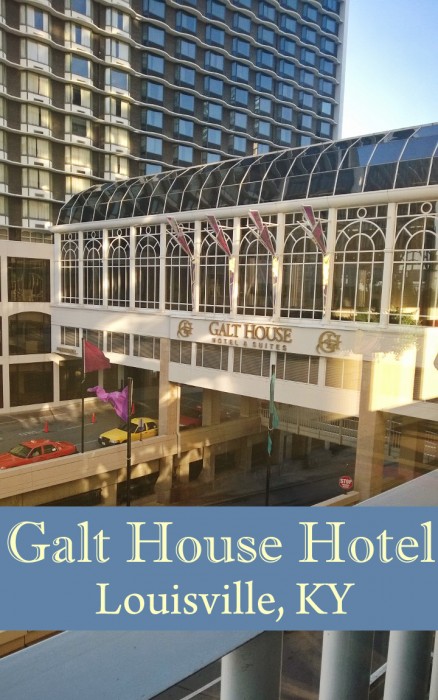 Last week I headed to Louisville, KY with three friends for the MOPS International Leadership Conference. These Moms Of PreSchoolers sure needed the refreshment we experienced in Lousiville over the weekend!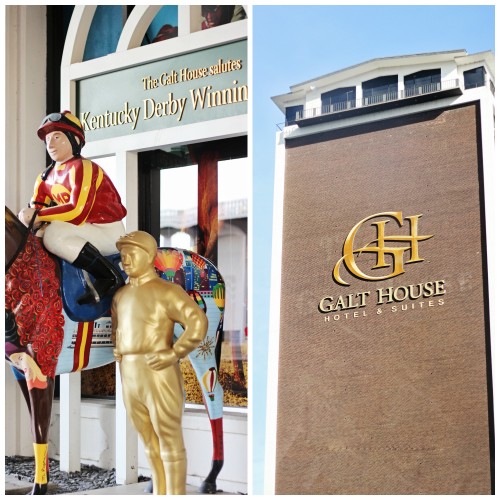 We spent three nights in an Executive Suite at Galt House Hotel which was ideal for our girls' getaway. Why?
1. Space – We were so much more comfortable in a Galt House Suite than we would have been in a hotel room. Think about it. Four women, all trying to get ready for the day and for bed at night at the same time. Our suite had two sinks and three areas suitable for makeup application which helped immensely.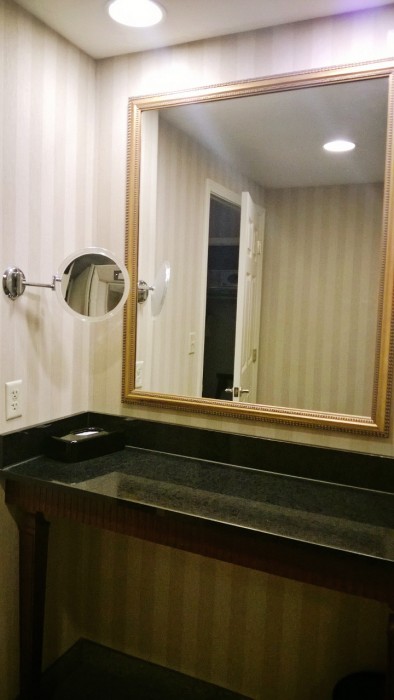 It was nice to have a separate living area for late night girl talk, and so that those of us (ok me) who prefer an earlier bedtime could manage that without inconveniencing anyone.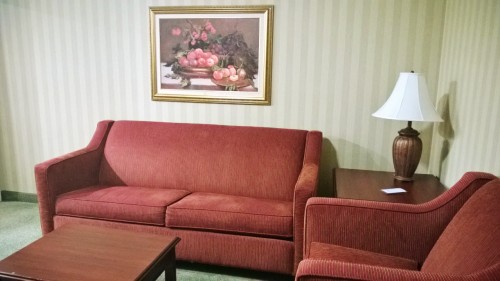 2. Savings – The mini fridge really helped me out. I like to eat out as much as the next person, but three meals per day is just too much. Too much on my wallet and my well-being! I brought a cooler bag full of food from home and thank to the mini fridge I was able to eat breakfast in the room each morning and pack my lunch to bring to the Convention Center on most days.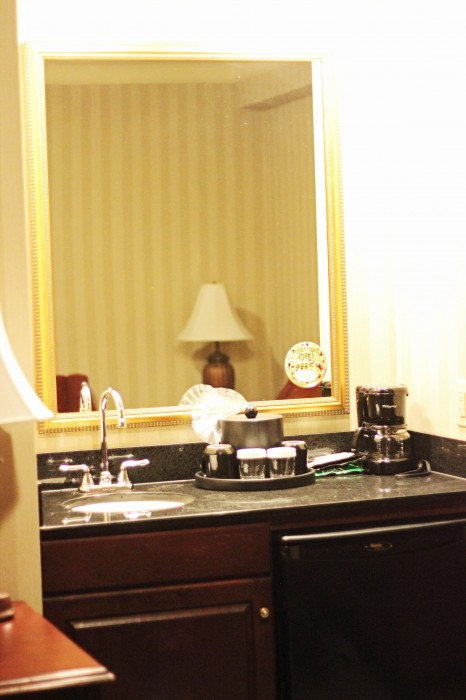 3. The Skyway System – During our last night in Lousiville, we attended Mom Con's 1920s theme Mom Prom. How thankful we were for the Skyway System that connects the Galt House to Kentucky International Convention Center!
It kept us from freezing in our costumes...
And I felt safe walking back to Galt House alone that night when I tired out a little more quickly than my friends. They view from the Skyway isn't too shabby either!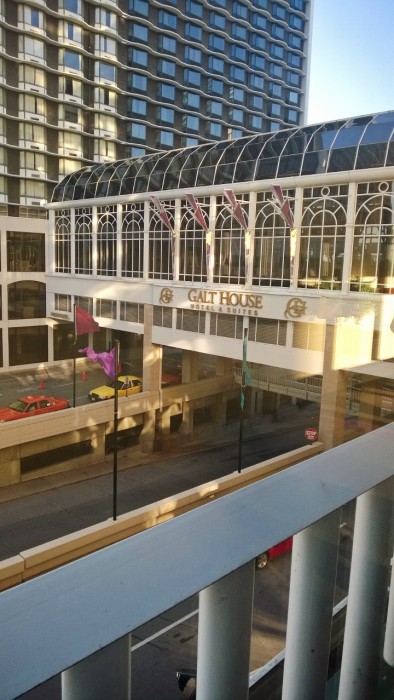 Chilly morning here in #Louisville Glad for the skyway from @galthouse to the CC. Every city needs one! #travelsweet #travel

— Jennifer G. (@SweetTMakes3) October 4, 2014
4. Swank! – We're moms to preschoolers. Half the time we fight for showers and live in clothes with food crusted on them. Galt House Hotel let us forget all that and enjoy classing it up for a while. Let's start with a shower big enough for 10 people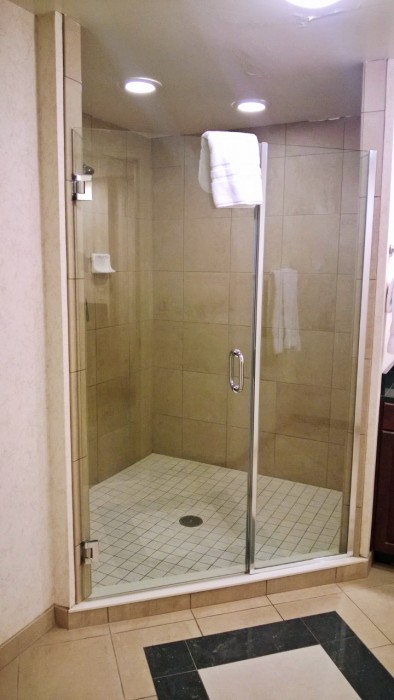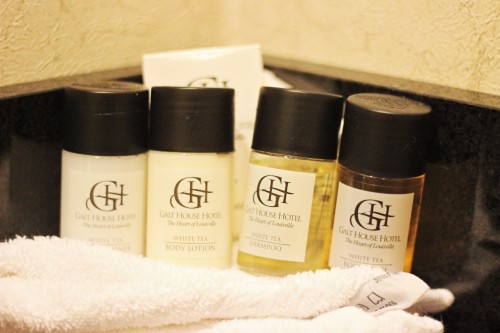 then add beds more comfortable that ours at home.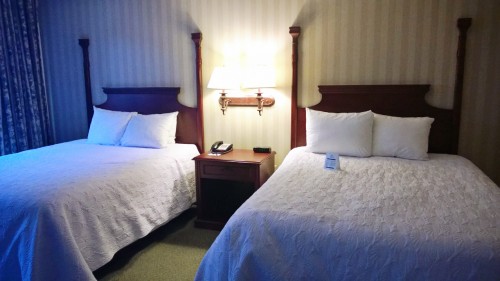 It's going to be hard to sleep in my own bed after the ones at @galthouse Best night's sleep! #travel #TravelSweet #momcon

— Jennifer G. (@SweetTMakes3) October 4, 2014
While lying in those crazy-comfy beds, we stared at the high ceilings, beautiful crown moulding and textured wallpaper and wondered what we could do to stay a little longer.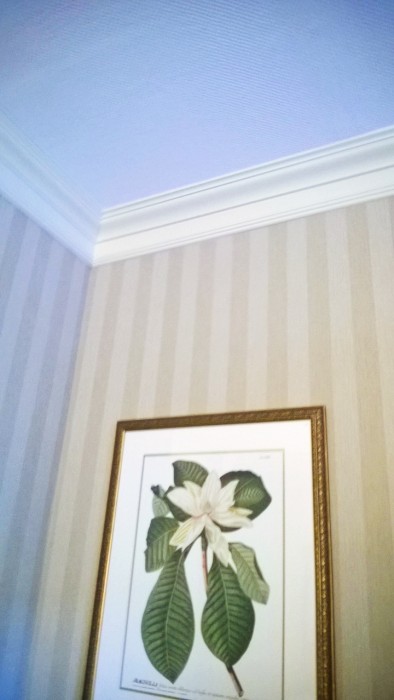 We enjoyed our caffeine fix in the mornings at Thelma's in the Conservatory (<<< because we're claaaassy if you didn't already know) with some feathered friends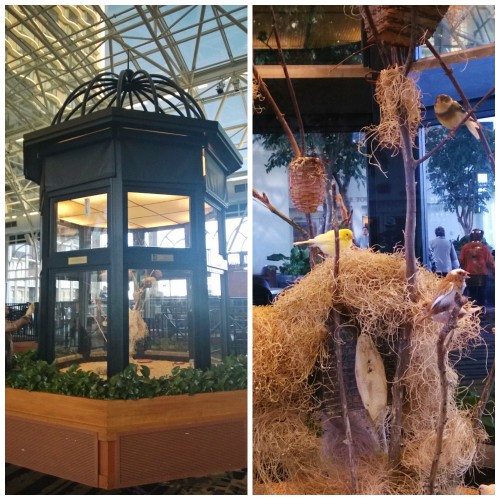 and a cool view.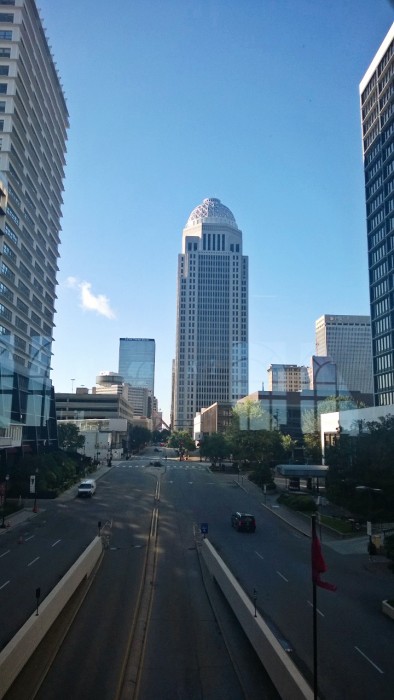 We loved staying at Galt House Hotel and I hope to return one day not only to enjoy the hotel, but to see a little more of Louisville itself. We didn't stray too far from the downtown area due to our conference schedule, but we did make a stop at Churchill Downs on the way home.