We normally get in cleaning beast mode in the spring, but fall cleaning is just as important. Between seasonal changes and approaching holidays, fall is the time to target a few special areas in preparation. Keep reading for a free fall cleaning checklist that you can print.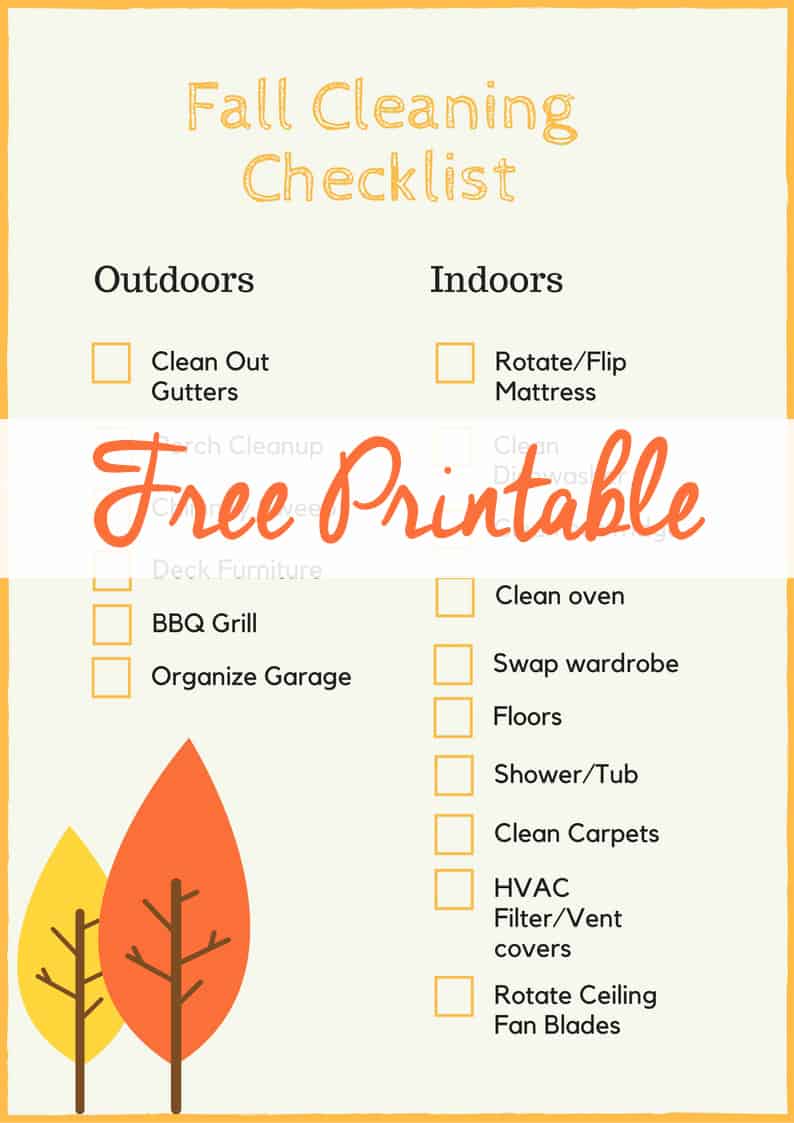 Indoor Fall Cleaning – Mild days mean open windows which makes fall the perfect time to tackle certain tasks while weather changes make other tasks necessary
Oven – I like to use the self-cleaning feature on my oven on days when the windows are open and the heat isn't fighting the air conditioning. Using oven cleaner? Open windows will help keep you safe from fumes.
Floors – Few things get a kitchen floor clean like ammonia. Open windows will keep the fumes manageable
Odors – Fall is a great time to tackle any lingering "funk." Having overnight guests for any of the holidays? Doing any entertaining? Start tackling pet odors now. Your nose might be immune to the cat box and any old "accidents" that you haven't tracked down yet, but that won't be the case for visitors.
Remove pet urine odors from carpets and other surfaces with OdorKlenz Pet Urine eliminator. It worked well on the carpeted stairs that go down to the basement that Fudge sprinkled when he was stressed a few months ago.
They also have Pet Litter Additive that I like to mix in with our scoopable litter.
Refrigerator/Dishwasher – Come Thanksgiving you'll be working your refrigerator and dishwasher overtime. Make sure they don't smell bad! Fall is a great time to clean your dishwasher. Be sure to and throw out old condiments from the fridge and make room for holiday fare. Replace your box of baking soda too while we're tackling odors.
HVAC – Swap the filter and vacuum the vent covers
Ceiling fans – Time to rotate the blades for cooler weather and give them a good dusting while you're at it.
Outdoor Fall Cleaning
Gutters – Make sure any residual foliage from last year is out of your gutters or you'll be behind before you start once the leaves start falling
Porch/Patio – Give your porch a good cleaning (and maybe a pressure wash) before you start placing hay bales and pumpkins.
Chimney – If you have a fireplace or woodburning stove, make sure your chimney is clear of any critter nests, natural debris or creosote.
Grill – We use the heck out of our grill during the summer months. The rack gets scraped between meals and that's about it! Give your grill a proper cleaning and you'll be glad you did when you resume using it in the spring.
Garage/Sheds – Fall is a great time to declutter, organize, and asses the contents of your garage. Store gardening tools and break out the seasonal decorations. Toss broken or out of date decor and figure out what you need to purchase for the coming holidays.
Free Printable Fall Cleaning Checklist
Click the link or the image below for your fall cleaning checklist printable.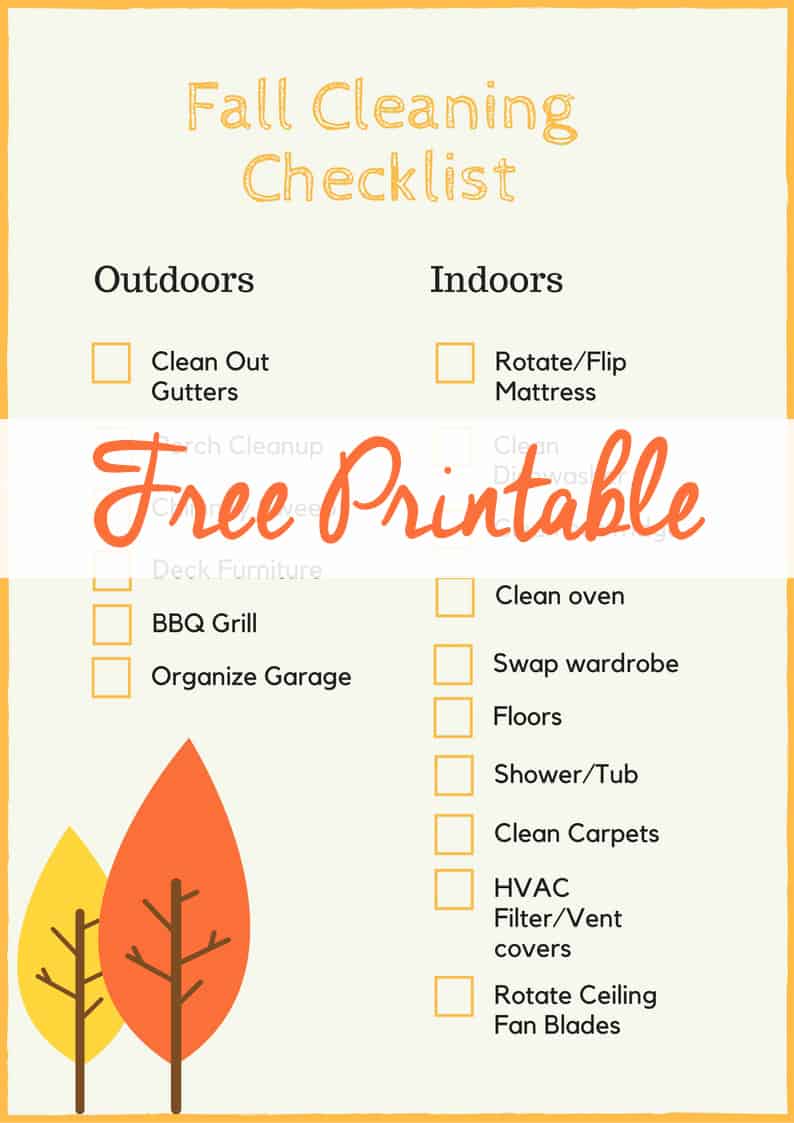 If you've gotten everything cleaned up make sure to keep the pests at bay, especially the kitchen ones. Check out this homemade fly trap and DIY gnat trap to keep your kitchen to yourself!
I have partnered with OdorKlenz to bring you this post. All opinions are my own.