Gratitude Activities
We all know we should practice gratitude year-round, but November seems to be the month most of us actually make a conscious effort to be thankful. Facebook feeds fill with gratitude activities and Pinners are busy creating gratitude trees.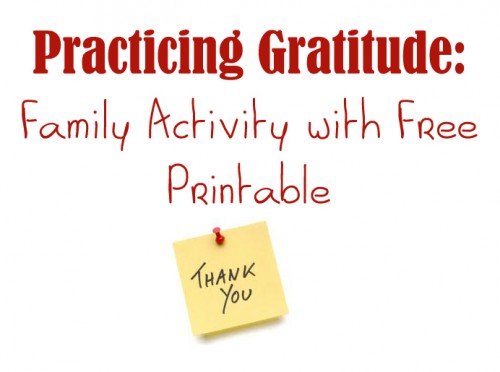 As a parent I'm constantly looking for ways to show my children how to express gratitude. In the process I'm always reminded to be Thankful myself!
Family Gratitude Activity
Below are printable cards to hand out to people you encounter every day. Just Click the image below for a PDF file so you can print 8 cards to a sheet. You'll need to write your family name in by hand. This makes for a personal touch and helps get the kids involved. Plus I couldn't get a Word file to work on here. 😉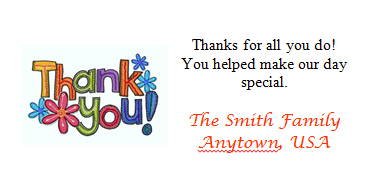 Drive-through workers, janitorial staff at the mall, and your  bank teller are all great people to begin with. You can even place one in the mailbox for your mail carrier.
Here's a list of ideas of people who will appreciate your thanks.
Food service workers
Retail workers
Janitorial staff
Nurses and Lab techs at the doctor's office
Your dental hygienist
Receptionists
Bank tellers
Pizza delivery person
Your lawn care/pool maintenance crew
Hotel maids
Your pastor/rabbi/priest
Teachers
Tape one to the top of your garbage can if your garbage is still dumped in the back of the truck by hand
Leave one in the mailbox for your postal carrier
UPS/FedEx delivery personnel
Service people who come to your home (Plumber, Electrician, Carpenter, etc)
Co-workers or classmates who help you out in a pinch
Strangers who hold a door open for you, let you go in line in front of them at the check-out, offer to take a group photo for you on vacation, etc.
The inspiration for these cards came from tagrel.com where you can print Cast Member Appreciation cards for your next Disney trip. Please do so! You wouldn't believe how they light up a cast member's day. Let's hope we can do the same in our own hometown with the cards above.
Looking for more family gratitude activities? Try these thankful Thanksgiving placeholders and enjoy the added benefit of getting rid of some of that leftover Halloween candy. 😉