Last week I visited my friend Deanna (of Halloween Centerpiece fame) and was once again awed by her creativity.
Her home looks like Hobby Lobby and Pinterest had a baby together; a beautiful, warm, cuddly one that sleeps through the night.
What a welcoming, festive atmosphere! Let's take a fall home tour of her dining room and all its Thanksgiving decor.
Fall Home Tour with Thanksgiving Decor
Gathering together to give thanks is what the Thanksgiving holiday is all about and I love how this dining room mantle captures the sentiment.
You can have a warm fireplace without throwing off actual heat thanks to a little ingenuity. It's a good thing since we've had 80 degree days this month here in Alabama.
Cozy up in this spot next to the twinkle lights and think of all the things you are thankful for.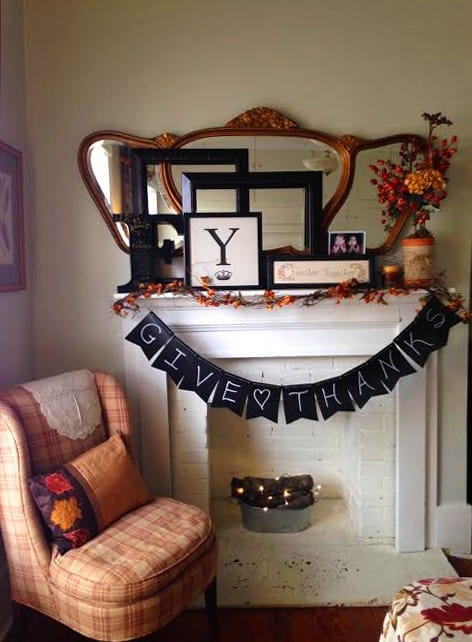 Wouldn't you want to eat Thanksgiving dinner at this table? I'm guessing Deanna cooks as well as she decorates. I think she needs to prove it to us though. Prove it with a pie and some homemade bread and….wait what were we talking about?
Burlap and sweet Pilgrim salt and pepper shakers keep this Thanksgiving tablescape warm and inviting while the gold turkey ads a touch of elegance without seeming "kitchy."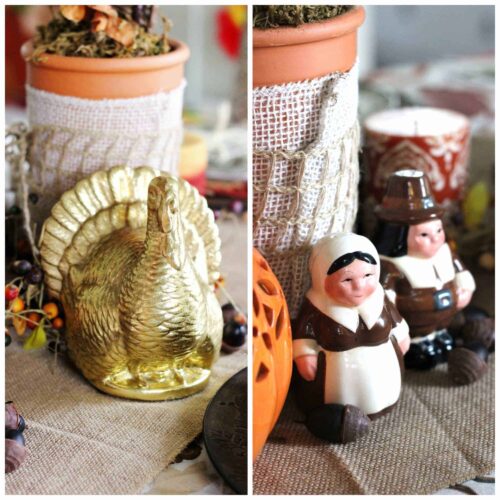 Ready for dessert? Deanna's sideboard has room to host a bevy of sweet treats this year, all canopied by her lovely expression of faith.
If you'd like the recipe for the holiday RITZ crackers recipe, I featured it earlier in the week. Just click the link.
Got to have some glitter somewhere! I just love these pumpkins.
Don't forget about the kids! It looks like Deanna is passing along her crafting skills to the next generation. Sweet T would love to make that turkey.
Thank you, Deanna for opening your home up to my readers with this fall home tour. Now bring that magic wand I know you're hiding over to my house and save us from ourselves because this is the extent of my Thanksgiving decor this year.