Parents of little ones often talk about the benefits of sensory play. But what exactly is it? Well, any hands-on play in which any of the child's senses – hearing, smell, taste, touch, and sight – are engaged constitutes sensory play. Babies and toddlers benefit substantially from the freedom to explore life using all of their senses. It helps them gain observational skills, cognitive skills, fine motor skills, and abstract thinking skills. These easy sensory play ideas should always be supervised and food, water, and general safety should be practiced at all times!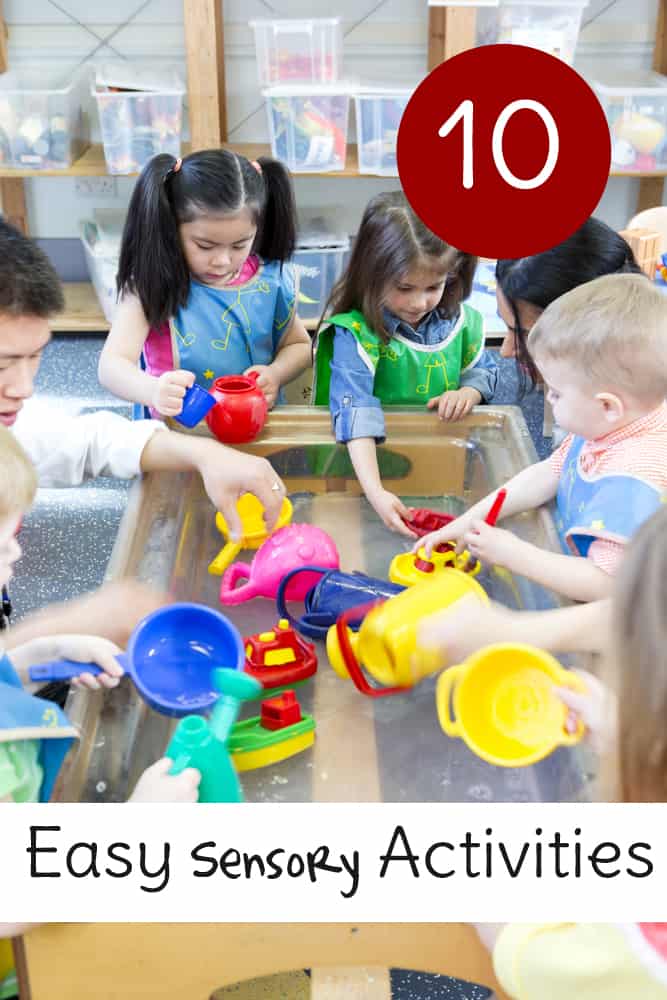 Here are ten easy sensory play ideas to help integrate sensory play into your child's daily routine.
Easy Sensory Play Ideas
Add Bubbles During Bath Time – Adding bubbles to a baby bath helps give your little one a full sensory play experience while you are able to provide the necessary cleaning. Just add a few drops of a bubble solution specifically designed for babies. Remember to never leave your child unattended in water and to test the temperature to make sure it's ok for a baby.
Infant Massage – A simple addition to your day is a quick infant massage. All you need is a blanket or towel and some baby lotion to provide a sensory play experience that will relax and comfort your baby. Just place your baby on the blanket or towel, rub the lotion on your hands to warm it up a bit, and massage it onto your baby gently on their arms, legs, feet, and tummy.
Add Simple Sounds and Rhymes – What better way to engage your baby's hearing while they play with their toys than to sing a song to them? You can also make silly sounds or animal noises, whistle, click your tongue, or clap along. All of these simple sounds will please your little one and add an exciting element to playtime. And don't worry about your singing voice – they don't care if you can't carry a tune!
Collect Sensory Items As You Go – Many household items can be used for quick and easy sensory play. Baby food, cooked spaghetti, ice cubes, wet newspaper, bubbles, tissue paper, cornmeal, and dry pasta are just a few household options that can be fun for babies and toddlers to see, smell, and feel. For added fun, throw some dry pasta or uncooked rice into a bottle to make a musical shaker.
Integrate Light – Mild light changes, like turning on a projector, salt lamp, or decorative lamp, can engage their visual senses in an exciting way while they play. You can even take them into a dark room and use a flashlight to put on a simple light show. Be careful to never shine a light into their eyes and avoid harsh lighting.
Put Toys in Boxes or Bags – A simple way to add more sensory elements to everyday play is to put your child's favorite toys into a bin, box, or fabric bag. They will want to dig through, rearrange, and dump out the bin over and over again. This activates their sense of touch by mixing different textures together.
Bring Nature Into Play – Spending time outdoors is great for your little ones, and as an added bonus, many items in nature are perfect for supervised sensory play. Nature is rife with different textures, sights, smells, and sounds. Take some time with your baby or toddler to gather leaves, rocks, flowers, sticks, and other large items in your yard. Label them as you play, so they can begin to associate these items with their names. Lay the objects out on a blanket and give your little one time to hold and discover them.
Sand! – Sand is a great item to have available for an inexpensive sensory learning experience. Simply find a cardboard box or plastic tub and fill it with sand. Hide smaller toys in the box so they can feel around for different objects in the sand.
Get Messy With Paints – No need to purchase expensive paint brushes or sponges for paint play. Just let your little one use their hands or feet! This adds an exciting sensory element to artistic play and will definitely be a memorable experience. Tip: For less clean-up, paint outside, on a tablecloth on the floor, or in an empty bathtub!
Let Them Play With Their Food – Mealtimes don't have to be all about eating! Activate your child's senses by offering chances for them to play with their food from time to time. This sensory play is especially important because it will help them to learn to feed themselves over time. Remember to always supervise, keep items that may be choked on out of reach, and only offer foods that are appropriate for their age group.
For more easy sensory play ideas, visit our Sensory Play Catalog and comment with your child's favorite sensory play activities.
You might also like water bead activity for sensory play!