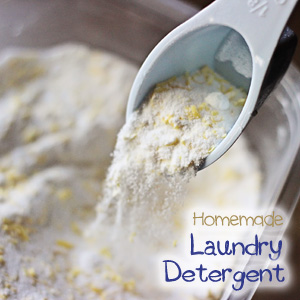 This Easy Homemade Laundry Detergent Recipe is great for sensitive skin and simple to make.  It costs less than 5 cents per load and works in HE machines as well as traditional. Why not DIY?
Homemade Laundry Detergent
Ingredients
1 box of Borax
1 Box of Arm and Hammer Super Washing Soda
1lb box of Baking Soda
3 bars of Fels Naptha grated finely
Simply mix in a large container. Use about 2-3 tablespoons per laundry load.
If you have sensitive skin or suffer from urinary tract infections, give this homemade laundry detergent a try. My aunt made the switch from Tide to this homemade recipe and hasn't had a UTI since. Who would have thought? You don't have to sacrifice performance either. My laundry has come out just as clean with this mix as it has with high-end detergents like Tide and even better than when using the cheaper brands.
game day recipe or bring it to your next potluck. There are NEVER leftovers. " width="397″ height="480″ />
I've enjoyed using this homemade laundry detergent for loads from sheets to baby clothes, but note that it is NOT recommended for cloth diapers. I recommend Nellie'sAll Natural Laundry soda
for washing your fluff. I've been using it for over a year to wash our cloth diapers and haven't had a problem with absorbency, nor have I had to strip the diapers. Nellie's is a Canadian company so if you live in the US, click the link to buy it from Amazon.com and you won't have to pay shipping charges if you have Prime or order $25 worth. Not only is it effective for cloth diapers, but purchasing in bulk on Amazon makes it the most cost effective cloth diaper detergent option I've found so far. If you know of something cheaper (including shipping) and just as effective, please leave me a comment!