The Dyson V6 Absolute Cordless Vacuum had made it's way into my house! This is my first experience with a Dyson of any kind. You can read all the specifications and features of the Dyson V6 Absolute by clicking the link. In this Dyson cordless vacuum review, I'll show you my five favorite things about this cordless vacuum, a couple of neutral features you need to be aware of, and the one area where I see room for improvement in the Dyson V6 Absolute.
Dyson V6 Absolute Review
Five things I LOVE about my Dyson V6 Absolute Cordless Vacuum
1. Dyson Fluffy– I don't know about you, but whenever I sweep my floors it sometimes feels like I'm just stirring dirt around. That may have something to do with the fact that I have a 2 year old "helping" with the dustpan. 😉 The Dyson V6 Absolute delivers powerful cleaning of my hardwood floors without scratching thanks to the Soft Roller Cleaner Head. It's engineered to suck up both large dirt and fine dust simultaneously on hard floors.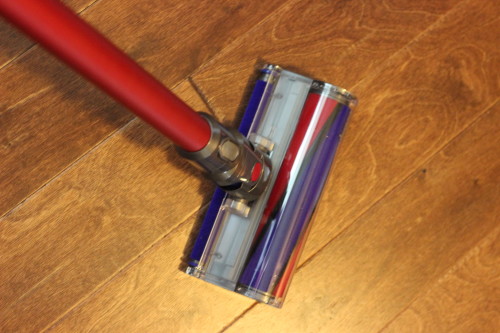 This is not to say that the Direct-drive cleaner head for carpet (pictured below) isn't effective. I was just seriously impressed with the Fluffy.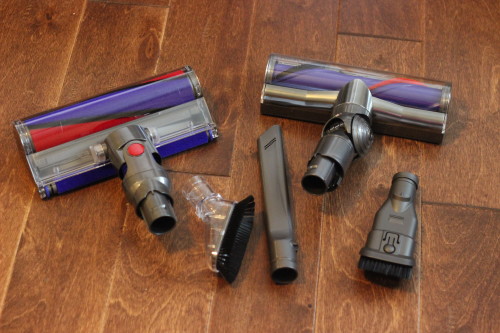 2. Converts to Handheld– Simply detach the stick and add whichever attachment you prefer and you've got a handheld! Great for cleaning up the couch. I set out to vacuum up potato chip crumbs, but the Dyson V6 Absolute made the job so easy I decided to remove the cushions for a deep clean while I was there. Know what else this is great for? The car! No more hauling our regular upright vacuum down to the garage and locating an extension cord. I'm giddy.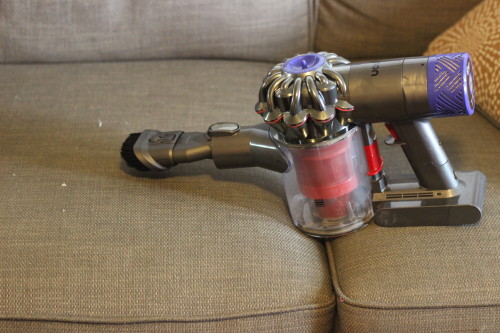 3. Mini Motorized Tool – This is the tool I leave on the Dyson while it's charging. I love it for vacuuming our stairs!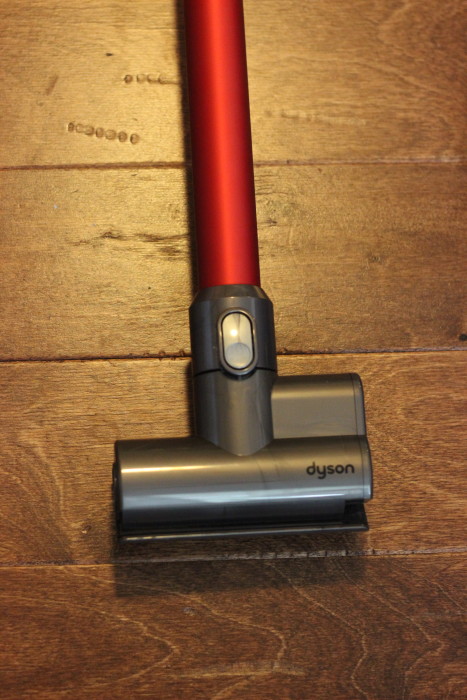 Thanks to the Dyson V6 Absolute, the carpeted stairs leading to the basement are now being vacuumed with regularity. You can tell by the amount of gunk in the canister how neglected they were.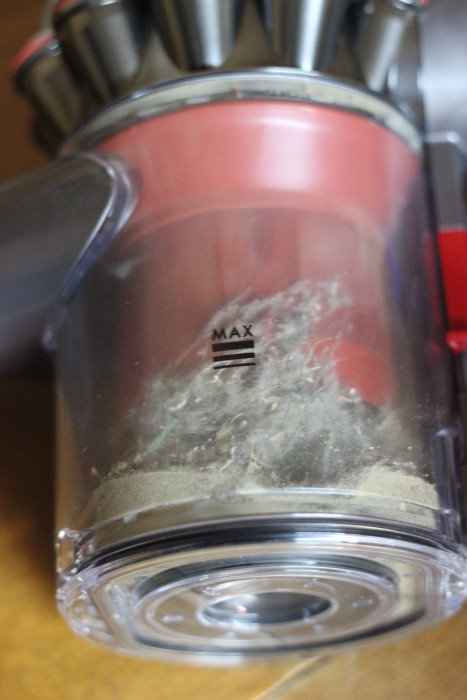 Excuse me for a moment while I indulge in a First World Problem: It's such a pain to wrangle our vacuum down the stairs and balance the vacuum on the stairs with my leg and hip while I try to use the hose and attachments to clean each step. So I don't do it. It gets super disgusting and when Hubs can't stand it anymore (or my inlaws are coming to visit) he vacuums them. Needless to say, Hubs was happy to welcome this machine into our home. It's so easy to vacuum the stairs and the car now, that's two things off his plate.
4. Cordless – See that cord? Me either. It's so nice to vacuum and not repeatedly unplug replug or have to do the "vacuum dance" where your right hand does the pushing while your left holds the cord like a partner and periodically flips it over the vacuum itself. You know what I'm talking about. This is my first experience with a cordless vacuum cleaner, and I think I might be sold!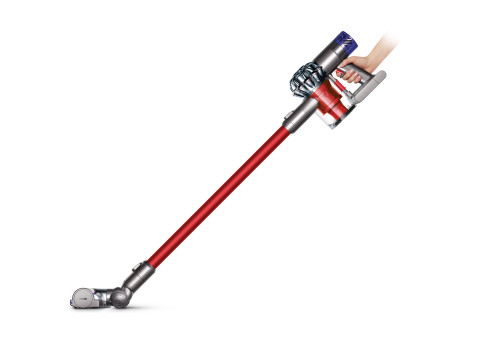 5. Weight – Lack thereof would be a better way of putting it. At 5.1 pounds, even Sweet T can manage this vacuum! There are more chores in her future. What's nice is that you aren't sacrificing power with the lighter weight and size of the Dyson V6 Absolute.
Neutral Features of the Dyson V6 Absolute Cordless Vacuum
These aren't necessarily "cons" to owning this vacuum, but merely characteristics of a cordless vacuum that you need to be aware of.
1. Docking – You can't just roll cordless vacuums into the closet. Cordless vacuums mustbe docked on the wall near a power outlet. No biggie for us. We just placed it in the workshop in the basement near the stairs. The stairs that are now actually being vacuumed.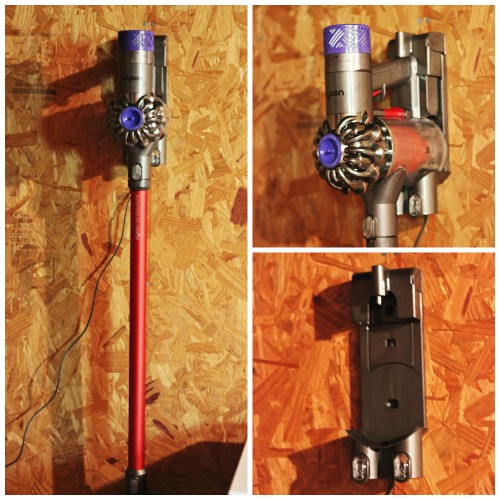 2. Charge time – It takes 3.5 hours to fully charge the Dyson V6 Absolute (mine arrived fully charged out of the box which was nice!) Once fully charged, the max time you'll be able to operate the vacuum before it needs another charge is 20 minutes. Again, no biggie for us since we have a small home. I could easily vacuum everything in 20 minutes, but if you have a large home you may not be able to. Still, I think this Dyson cordless is worth having in a larger home. Use it for your upstairs vacuum and let your clunkier model live downstairs permanently. You're going to love it for your car and furniture anyway. Trust me.
Where the Dyson V6 Absolute Needs Improvement
There's only one feature I feel my Dyson V6 Absolute lacks, and that is a trigger lock. Now there may be some technical/mechanical reason that you have to hold the trigger down while your vacuuming, or it could be a safety issue. I get it.
I just know from a user's standpoint it would be nice to be able to lock the trigger in place instead of having to hold it down. It's kind of like when you go to pump gas and they've disabled the trigger latch so you can't go sit in the warm car while your gas pumps. It's a minor inconvenience, but still worth mentioning
Final Thoughts…
Overall, I love the Dyson V6 Absolute and am so happy to have it in my home! Hubs is very happy too for reasons we've already established and don't need to repeat. Once is enough to make myself look bad. If you're looking for a cordless vacuum I definitely recommend this one. Order one today! Your car, couch, hardwood, carpet, husband and your back will all thank you for this powerful cordless vacuum.
The reviewer has been compensated in the form of a Best Buy Gift Card and/or received the product/service at a reduced price or for free