My earliest encounter with an oatmeal bath came in 3rd grade when I contracted chicken pox. Mom made a this DIY Oatmeal Bath Recipe to help me get some relief!
Sweet T has diaper rash for the first time in her life and I'm turning to the same oatmeal bath recipe to help her through. Why pay for oatmeal bath soak in the store when you can easily make it yourself?
DIY Oatmeal Bath Recipe
You will need:
Plain oatmeal (rolled oats, quick cook or instant will all work as long as there's no sugar or flavoring added)
a coffee grinder, blender or food processor
a clean, empty container with a lid.

Grind the oats into powder using a food processor, blender or coffee bean grinder. I like using the coffee grinder best. It's quick, simple, gets the oatmeal into a fine powder and it easy to clean afterward.
Store your DIY oatmeal bath recipe in a container with airtight lid. That's it!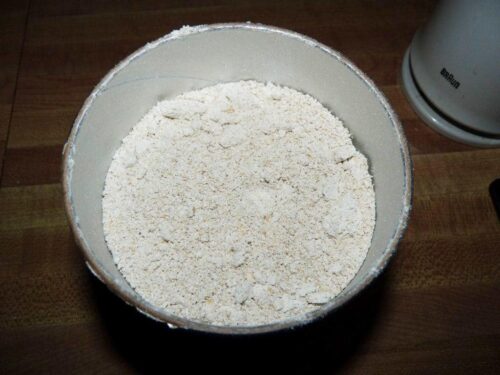 How to take an oatmeal bath
Wondering how much of your DIY oatmeal bath recipe to use? That depends on the size of your bathtub or container.
Use about 1/3 cup for a baby oatmeal bath in the sink. Use more if bathing in the bathtub with more water.
This makes a nice, natural soak for mamas too. For an adult bath in a full bathtub, use about 1 cup.