A DIY deep conditioner is a must if you have long hair! I Love the way my long mane feels after using this use this homemade deep conditioner recipe. It's simple and affordable enough to make some to share too. Just find some glass containers and you've got a lovely gift idea for your essential oil-loving, long-haired friends.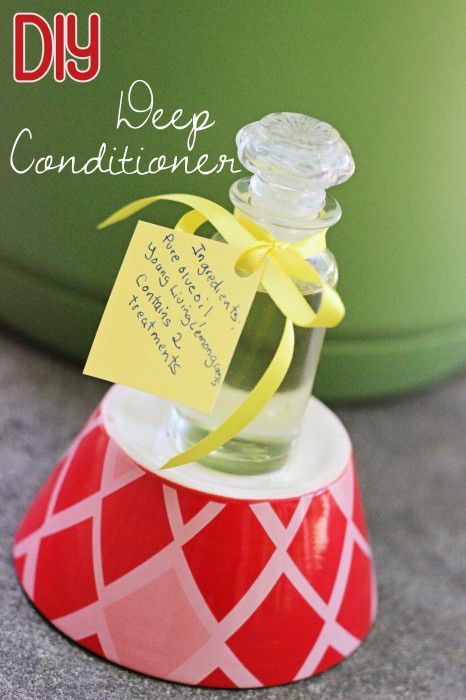 gift idea for your essential oil-loving, long-haired friends." width="466″ height="700″/>
DIY Deep Conditioner
Ingredients:

Combine two ingredients and store in a glass jar. A baby food jar will work!
When ready to use, warm the jar in a pan of boiling water. Don't get it too hot, just comfortably warm.
Apply warm oil mixture to hair and scalp (If you have short and/or thin hair, this recipe will make two treatments. If your hair is long and/or thick like mine you'll need the whole thing.) Leave on 15 minutes.
Shampoo out. You may need to lather/rinse/repeat a couple of times, or add some baking soda to your shampoo to make sure all of the olive oils gets washed out.
Enjoy silky, shiny, manageable hair!
Tips
Put your oily hair up in a disposable shower cap (or a Dollar Tree cap used only for this purpose) to keep your clothes and furniture from getting oil on them.
You will likely have to lather, rinse, repeat several times to get all of the deep conditioning treatment out
I only use Young Living Essential Oils for maximum safety and effectiveness.
You can use other essential oils besides lemongrass in this homemade deep conditioner recipe. Some suggestions are:
Lavender Essential Oil – Lavender essential oil is great for boosting your spirits and applying to dryer hair types.

Rosemary Essential Oil – If your hair is oily and/or fine, you'll love rosemary essential oil for your hair!

Chamomile Essential Oil – This soothing essential oil works wonder to moisturize and clarify your scalp.

Sandalwood Essential Oil – In addition to smelling great, Sandalwood is ideal to use on split ends.

Peppermint Essential Oil – Winter scalp? Try some peppermint essential oil!

Cedarwood Essential Oil –Cedarwood essential oil supports hair growth. Perfect for when you're trying to grow bangs out like Sweet T and it's taking forever.

Juniper Essential Oil – another essent

ial oil that supports hair growth, try mixing with conditioner for maximum potential.
Homemade Deep Conditioner
Yield: 1
DIY Deep Conditioner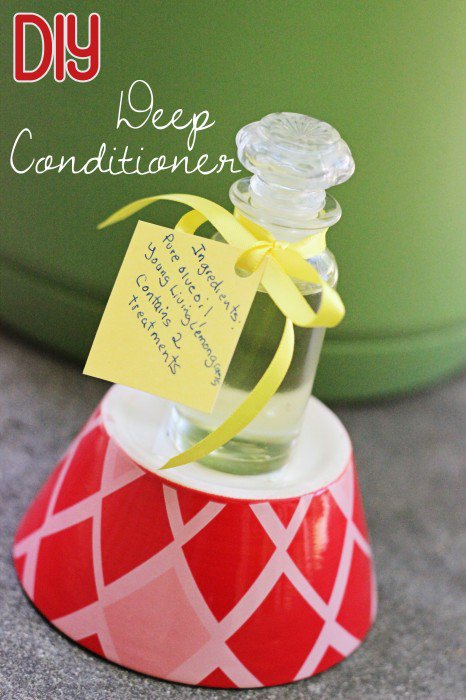 Active Time 5 minutes

Total Time 5 minutes

Difficulty Easy
Materials
1/4 cup Olive Oil
5 drops Young Living Lemongrass Essential Oil
Anyone who signs up under me with a Young Living Premium Starter Kit right now will receive the following!
Ready to start your oily journey? Now is the time!