Are you achin' for some bacon? This pig towel animal (well…washcloth animal) is serving up bacon that is swine-approved. It's soap! Soap that's cheap and easy to make. We may not have a guest room in our home but there's nothing like bacon soap and a little towel piggy to make them feel welcome even if they are sleeping on an air mattress.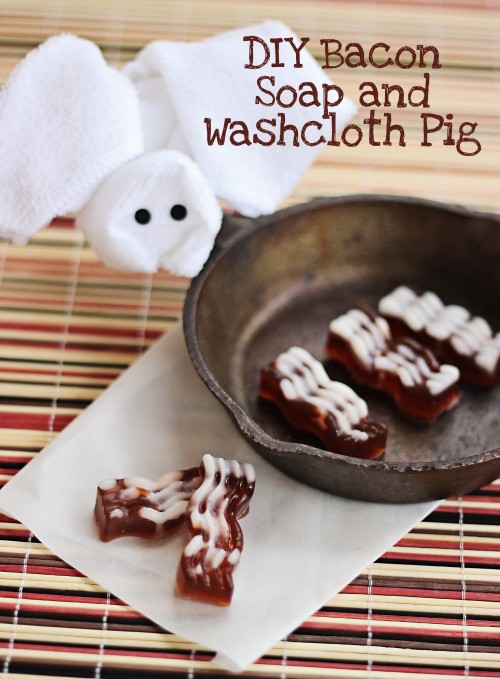 gift idea ever!" width="500″ height="679″ />
Here's what you'll need:
Soap
Clear Glycerine Soap Base (find it at Hobby Lobby)
Bacon Ice Tray (it's been in the $1 spot at Target for the past two summers)
Blue, Red, and Yellow food colors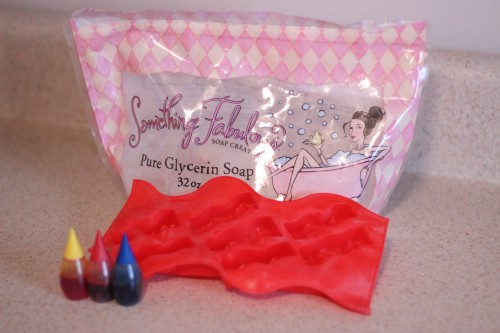 Use white glycerin soap base instead of clear if you have it for the bacon fat. I didn't have it and didn't feel like buying a whole bag or driving to Hobby Lobby. My solution was to melt about a tablespoon of clear base and add a few drops of cream to it. Yep, actual cream from your fridge. Milk might work too.
Spoon a tiny bit of the melted creamy soap onto the bacon mold. You gotta be quick! It's such a tiny amount of soap that it firms up fast. Just dribble it in there like so.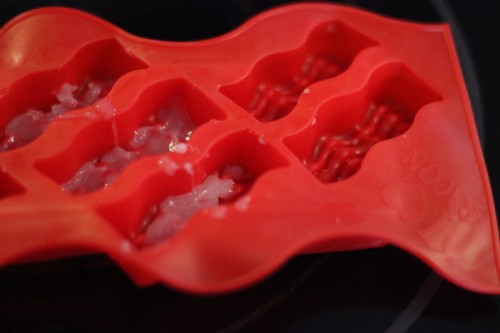 Next, microwave one block of glycerin soap in a pourable microwave container for 30 seconds or until liquefied. stir in 2 drops red, 1 drop blue, and 1 drop yellow food coloring for that perfect bacon color. Pour over creamy soap and allow to cool. Soap will be ready to be removed from the mold after about 30 minutes.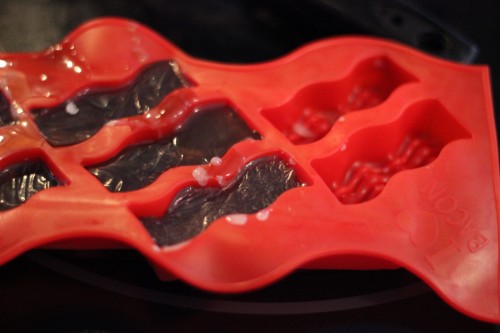 That's it for the bacon soap. Now on to our towel animal pig.
Towel Pig
1 Microfiber washcloth (get a 3 pack for $1 at The Dollar Tree)
A rubber band
Black foam and a hole punch (optional)
Start by laying your washcloth out flat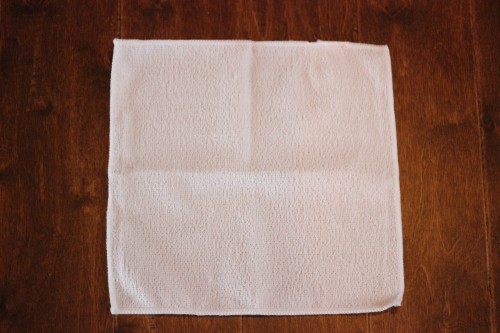 Turn the bottom edge of the washcloth up about 1.5 inches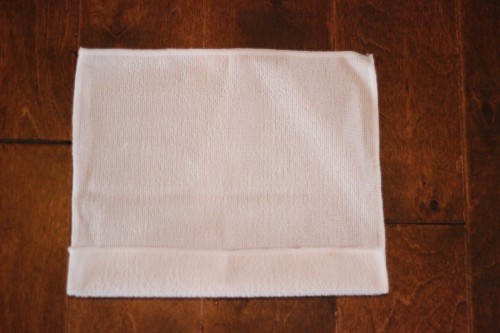 Fold the bottom left corner into the center to form a triangle.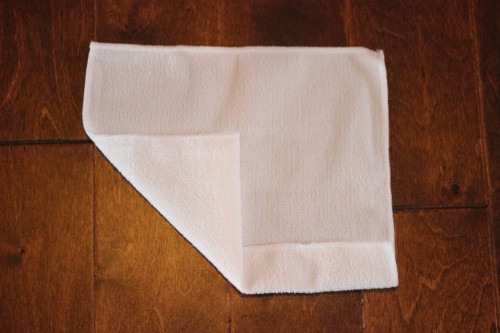 Do the same thing with the bottom right corner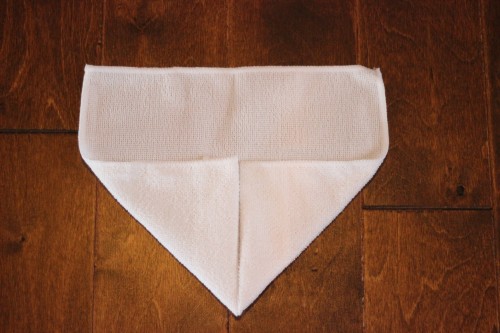 Fold the tip of the triangle under so it looks like this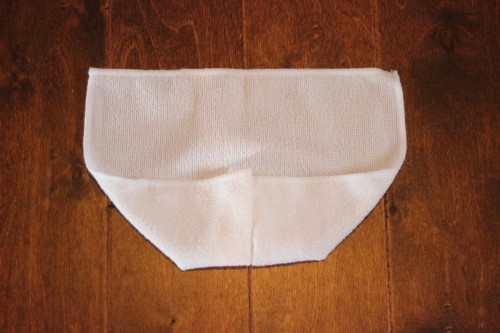 Roll the right side of the washcloth at an angle toward the middle. Had to use my foot to hold it down and take a good picture since it will spring back at this point.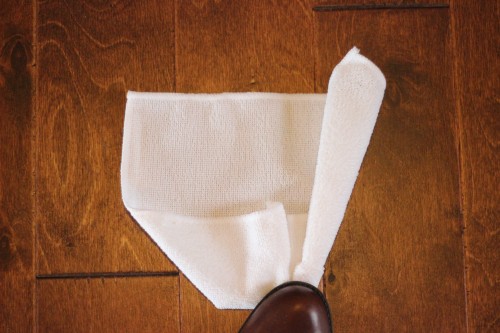 Roll the left side the same way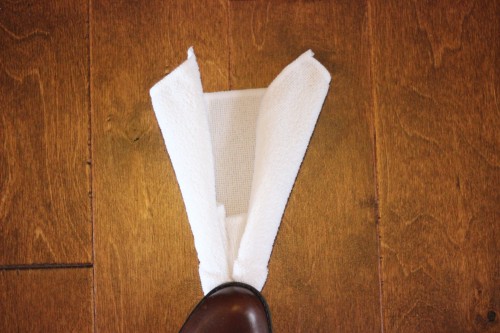 Grasp the washcloth with your fingers just above where my boot is in the photo above, then turn the washcloth over. You have a snout now!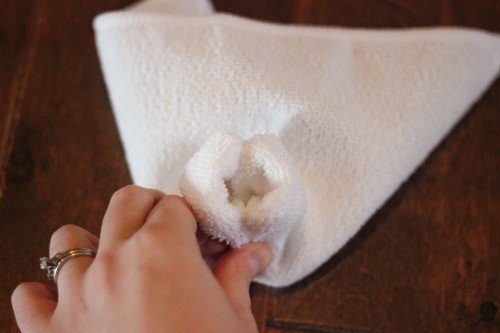 At this point I like to rubberband our little piggy friend to keep the snout together.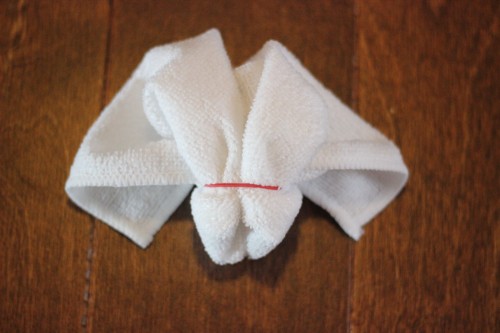 Bring the center of the washcloth down and tuck it in the rubberband behind the pig's snout. Now you have ears. They're giant though! Fold, twist, and tuck using the rubberband if you like to hold them down until the ears look like you want them to.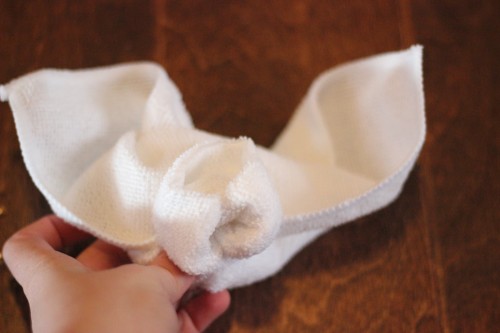 If you like, punch two holes out of craft foam sheets and glue them to the snout using tacky glue.
If this is for a gift, consider buying a Mini Cast Iron Skillet for presentation. Obviously optional, but sure is cute! You can find them at Academy Sports among other places for about $4
If you like this bacon soap tutorial, check out my DIY Sea Creature Soaps. They are easy and fun to make with kids.