This post is sponsored by ABRAMS Books
Moving and remodeling and remodeling while moving has always been a part of our family life. We typically move (locally) every 3-4 years and revamp our living space as we go. Hubs is talented at home updates and it's a way for us to "flip" our primary residence every few years. I think we're finally settled for a while, at least until the kids head off to college (I have tiny house and/or RV living aspirations for retirement.)
All our experience with remodeling means we definitely connected to the newest book in Jeff Kinney's Diary of a Wimpy Kid series. The kids were so excited to get their hands on Diary of a Wimpy Kid: Wrecking Ball , which is the 14 th book in the series and just released this month.
In the book, the Heffley family experiences all kinds of chaos as they start on a home renovation, and Greg has some very unique ideas for the house.
At ages 7 and 9, the kids are old enough to have strong opinions about their rooms now. Gus wants to paint his whole room black and put up black curtains and a black bedspread. We'll continue to change the subject when he brings it up until this phase passes!
Sweet T, however, has more or less graduated from playing with toys to doing hands-on things like crafts and puzzles in her spare time. She's ready for her bedroom to accommodate her craft supplies and provide an area for her to make all the creative messes she wants. We're thinking of turning her walk-in closet into a craft room. We'll be re-doing some shelving and maybe even adding a built-in either for storage or workspace.
With a mini room remodel on the way, the latest book in the Diary of a Wimpy Kid series came just in time!
Synopsis
In Wrecking Ball, Book 14 of the Diary of a Wimpy Kid series—from #1 international bestselling author Jeff Kinney—an unexpected inheritance gives Greg Heffley's family a chance to make big changes to their house. But they soon find that home improvement isn't all it's cracked up to be. Once the walls come down, all sorts of problems start to crop up. Rotten wood, toxic mold, unwelcome critters, and something even more sinister all make Greg and his family wonder if the renovations are worth the trouble. When the dust finally settles, will the Heffleys be able to stay . . . or will they need to get out of town?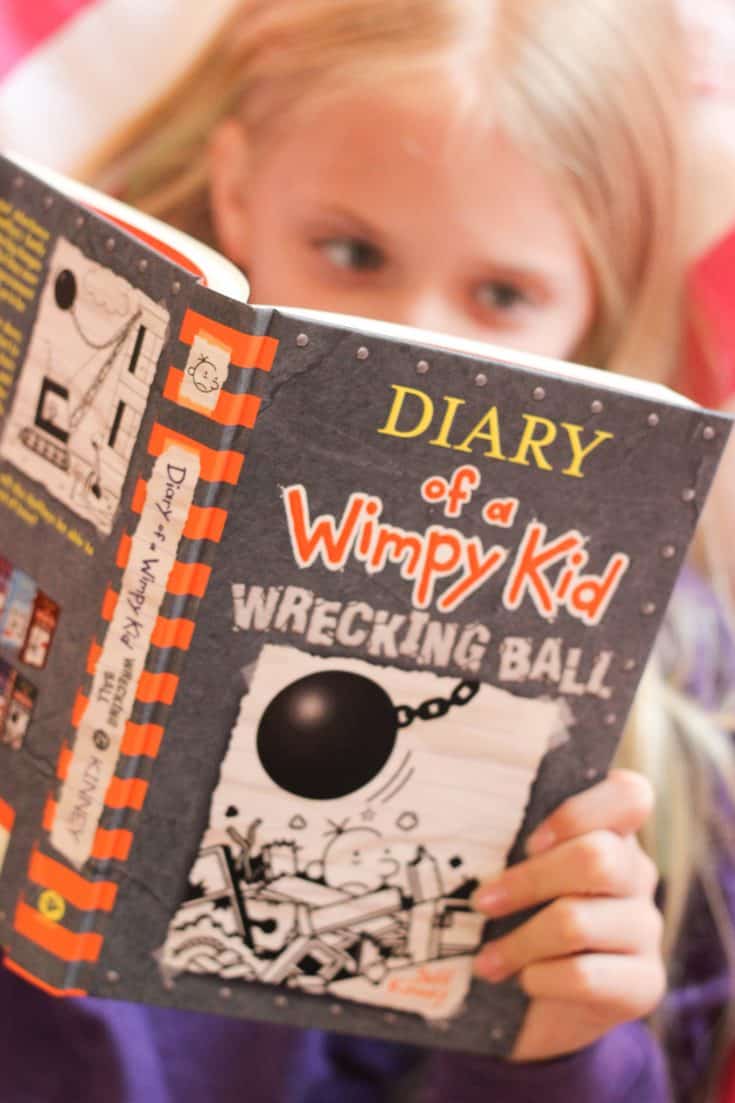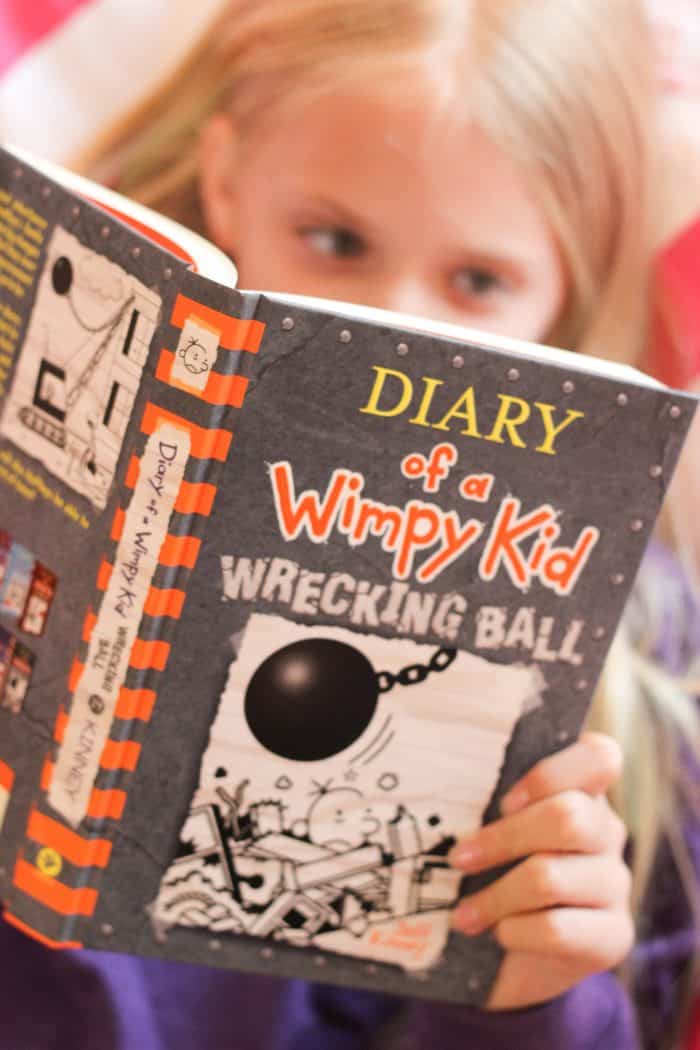 Wrecking Ball is actually Sweet T's first Diary of a Wimpy Kid book. She was excited when it came in the mail and said, "All the kids at school read these books!" So far she's a fan.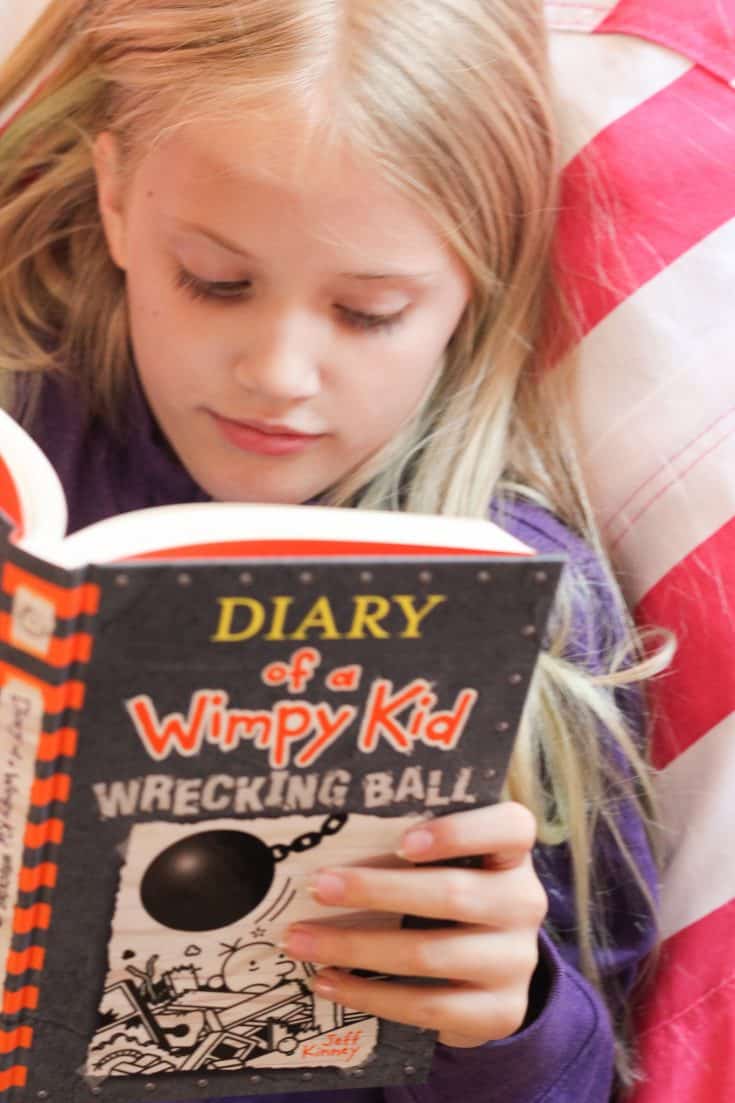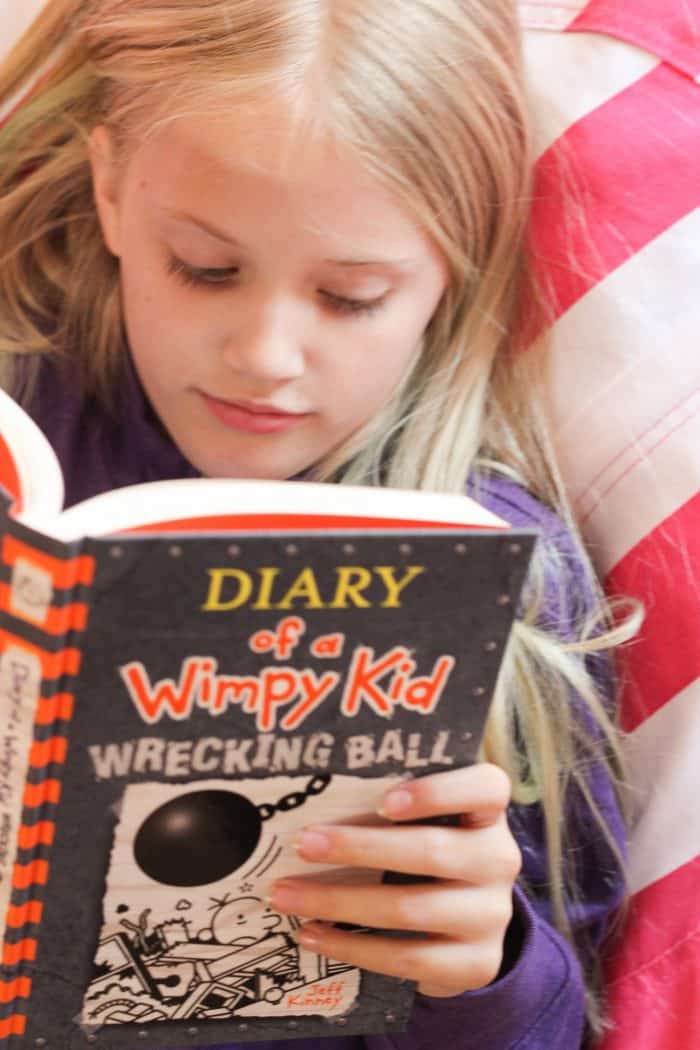 She can be a bit of a reluctant reader and having the text broken up with pictures really helps her feel less intimidated by a book's size. As a creative, she's also very visual which is another reason she loves the generous number of drawings.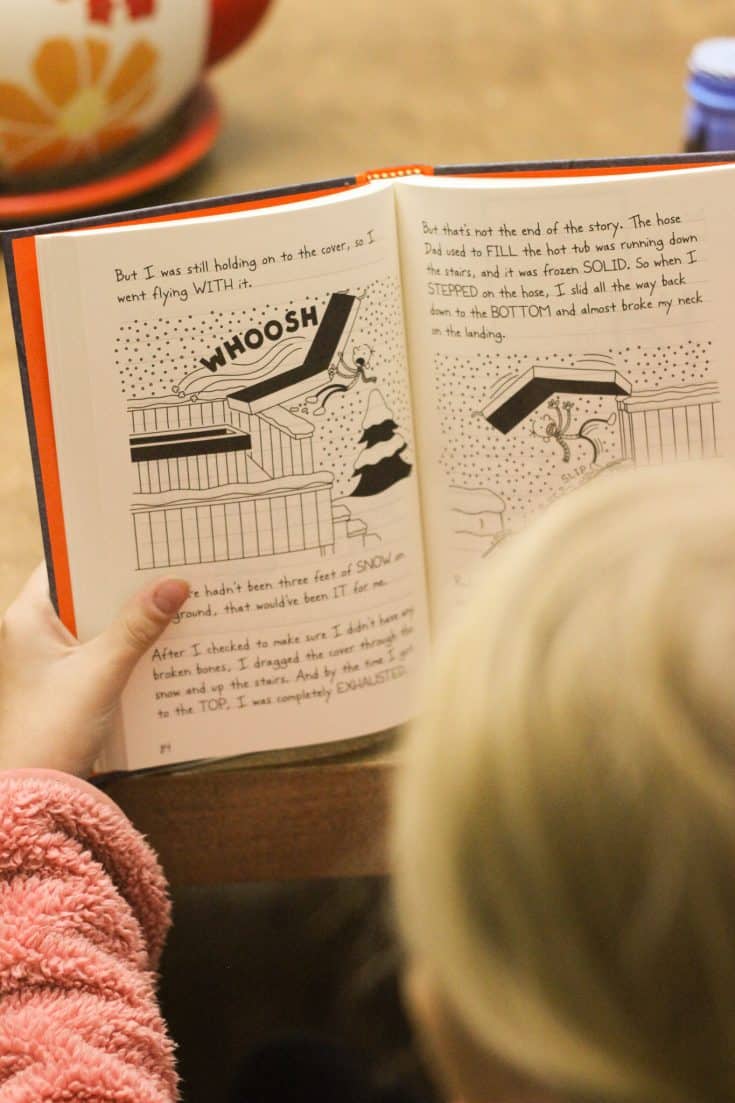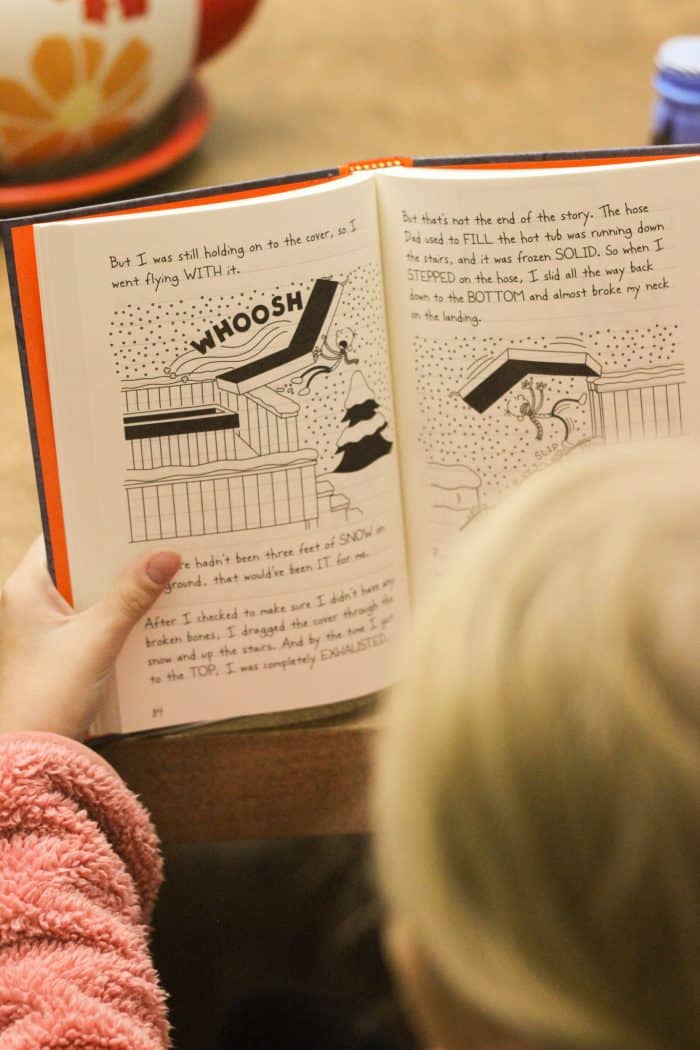 I'm pretty sure we'll be making a trip to our local library so she can read the series from the beginning. In the meantime, Wrecking Ball will give us the opportunity to discuss Sweet T's upcoming remodel and all the mess that will come with it.
Bonus: The book looks cute on my fall mantel. 😉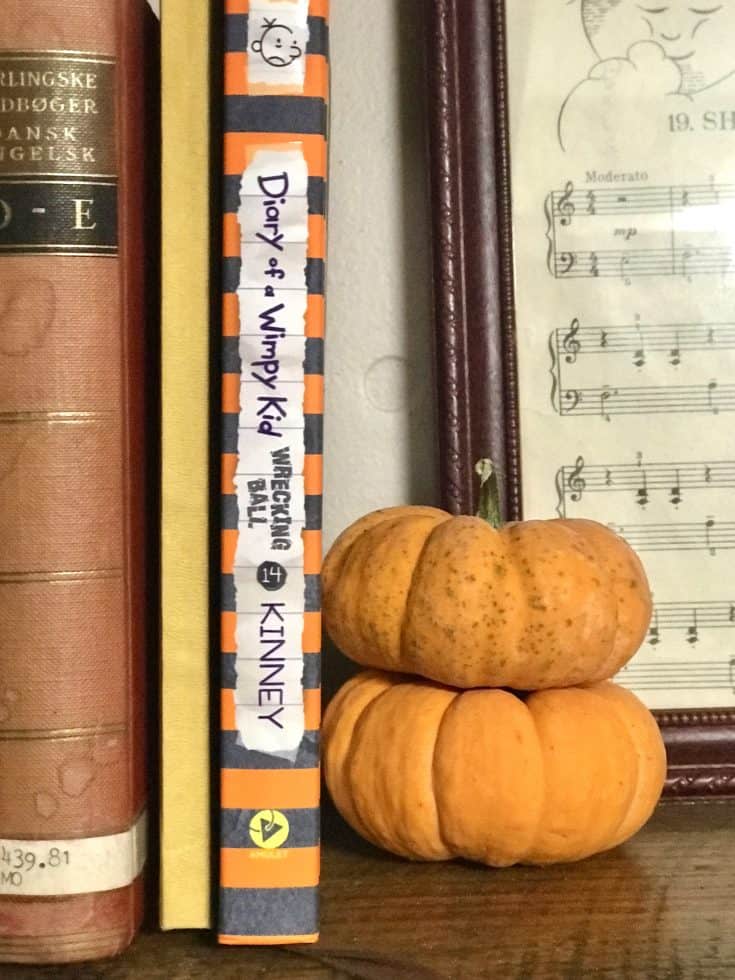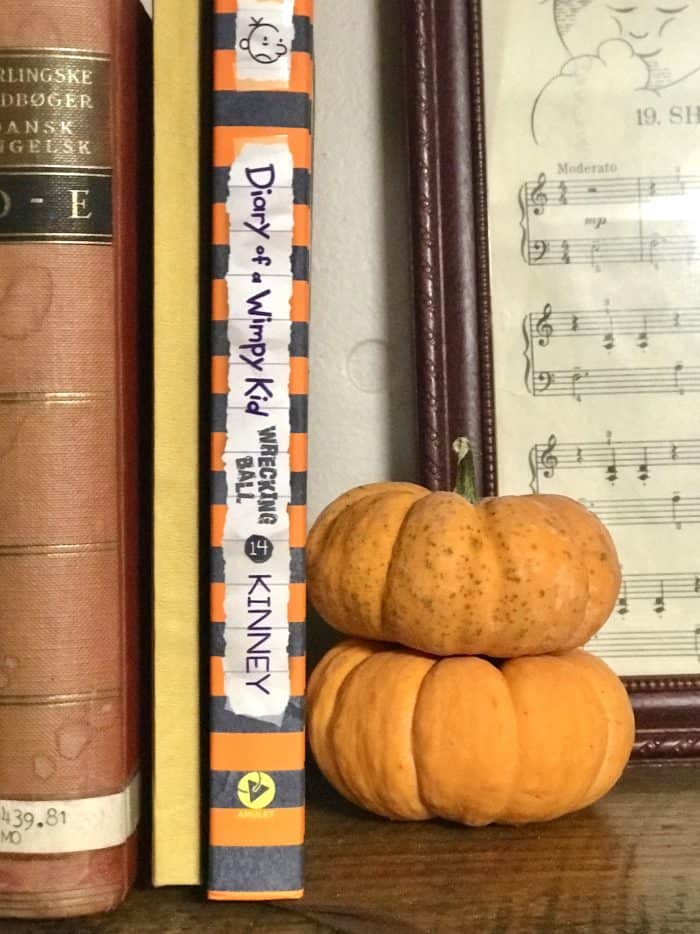 About the Author
Jeff Kinney is the #1 USA Today, New York Times, and Wall Street Journal bestselling author of the Diary of a Wimpy Kid series and a six-time Nickelodeon Kids' Choice Award winner for Favorite Book. The Meltdown, book 13, was published in October 2018, and was a #1 bestselling book. His latest book, Diary of an Awesome Friendly Kid: Rowley Jefferson's Journal, was published in April 2019. Jeff has been named one of Time magazine's 100 Most Influential People in the World. He is also the creator of Poptropica, which was named one of Time's 50 Best Websites. He spent his childhood in the Washington, D.C., area and moved to New England in 1995. Jeff lives with his wife and two sons in Massachusetts, where they own a bookstore, An Unlikely Story.