If you missed Deanna's Vintage Christmas Decorations for Outside, you can click the link to see what the front porch entrance of this 1920s historic home looks like. Now it's time to step inside and learn how to decorate your house for Christmas with vintage flair!
How to Decorate Your House for Christmas with Vintage Flair
When you first walk into this home, your eye is drawn to the living room Christmas tree. It was certainly my first stop on this Christmas home tour.
When I see home tours by bloggers who I know have children, it baffles me that they often display a tree full of perfectly coordinating ornaments. Either that picture-perfect tree comes down after the photos are taken and the real tree with all the kid's ornaments goes up, or they leave it up and don't display those types of sentimental ornaments at all.
Deanna has incorporated both glass, vintage-style ornaments alongside photo and artwork ornaments from her children and grandchildren without loosing that vintage feel. I think this is a beautiful, hybrid look for those of use who have small children or grandchildren.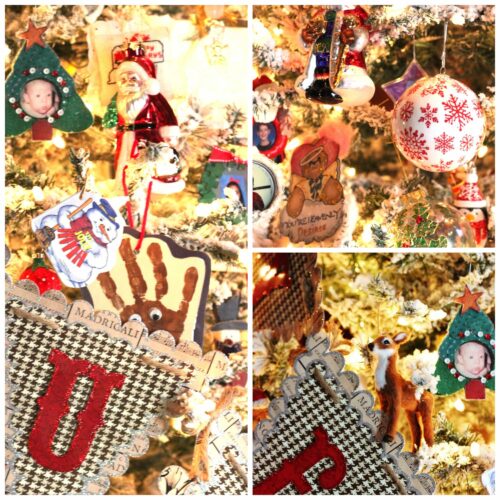 Adding to the homey feel is this Pottery Barn hack; a throw pillow from an old sweater and felt applique
The living room mantle is adorned with handmade, monogram stockings and paper straw garland.
DIY Christmas home decor at its cheapest!" width="467″ height="700″ />
Santa and his elves are busy getting ready for Christmas Eve.
Moving on to the dining room, we see tree number two than maintains more of an antique, Victorian feel.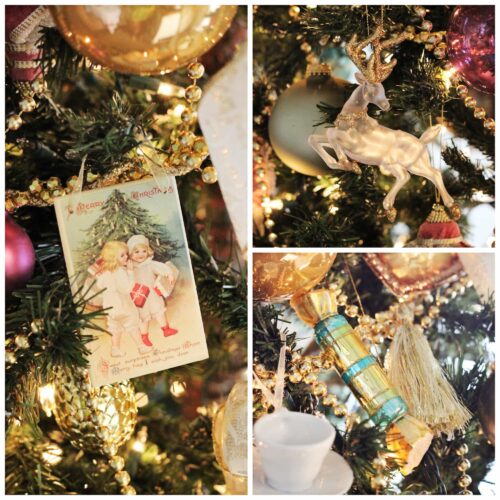 The dining room mantle is adorned with a homemade garland.
The colored foil between each letter is taken from the base of vintage tinsel lights.
The dining room table centerpiece is a collection of white paper mache and gold glittered decorations.
The tablecloth itself is embroidered with Santas. You can find beautiful similar ones on Etsy.
The chalkboard over the buffet is adorned with authentic vintage bubble lights and a Christmas hymn.
The buffet underneath hold Deanna's growing collection of vintage Christmas ornaments.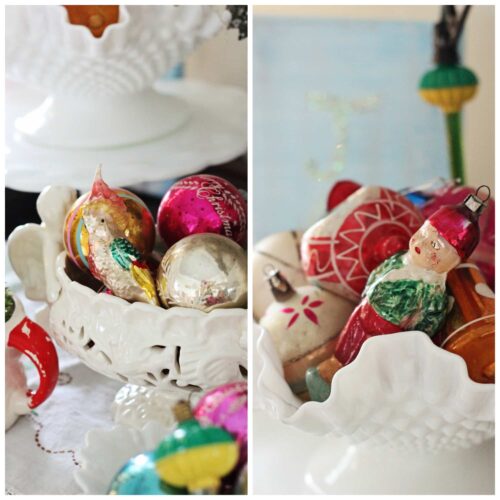 Similar
Tinsel Town Vintage-style Winking Santa Ceramic Pitcher & Cups Set of 5
Nothing says vintage like a white Christmas tree with glass ornaments, especially if it sits atop a hutch full of antiques.
Deanna's kitchen makes you feel full of possibility. As you stand behind her kitchen island and look around, it's as if the spirit of Julia Child comes over you and you feel like could be that Pinterest mom (when you exit the feeling leaves, so be sure to soak it in.)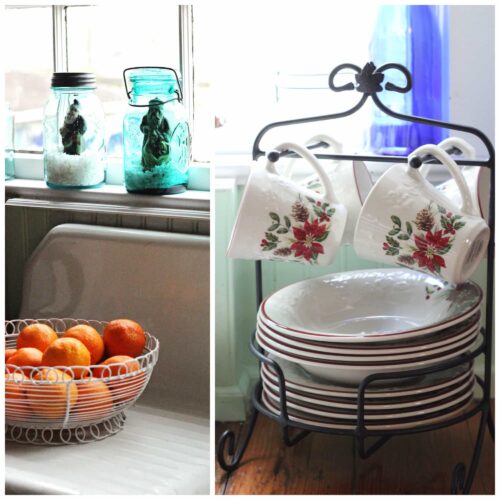 She's ready for guests with Christmas china and fresh fruit. And what vintage kitchen is complete without antique Mason jars?
Putting an aqua Kitchenaid Stand Mixer on your kitchen counter won't instantly give you a vintage kitchen, but it certainly won't hurt!
KitchenAid KSM150PSAQ Artisan Series 5-Qt. Stand Mixer with Pouring Shield – Aqua Sky
ff
And if you grow tired of rearranging your Elf on the Shelf, you can always give him a permanent holiday home in the kitchen.
I hope this gave you some inspiration for how to decorate your house for Christmas. Don't forget to check out her front porch! Next week I'll be sharing a kids' Christmas dessert recipe with you and showcasing Deann's vintage kids' Christmas table.