Going on a Caribbean Cruise in the future? Wondering what to pack and what to wear? Next month I'll be embarking on my 5th Caribbean cruise (squee!) and went shopping this week to prepare. Mama doesn't have a lot of time or money to spend on outfitting herself. If that describes you too, let me show you how to outfit yourself for cheap so you can spend the extra $$$ on a shore excursion!
Mix and Match – Mixing and matching will save room in your suitcase while keeping your wallet padded. Here's a few looks I came up with. And yes, I realize I went "overboard" (<<<see what I did there?) with the stripes. Couldn't help it. So cute, and cheap, and…nautical!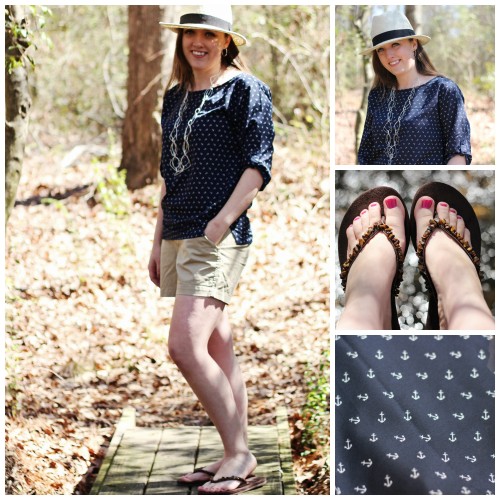 Top – Old Navy Clearance $12.99
Shorts – Old Navy $19.94
Sandals – Kohl's Clearance $1.50 <<< yep!
Panama Hat – Old Navy $14.94
Necklace – Premier Designs (password BAMA)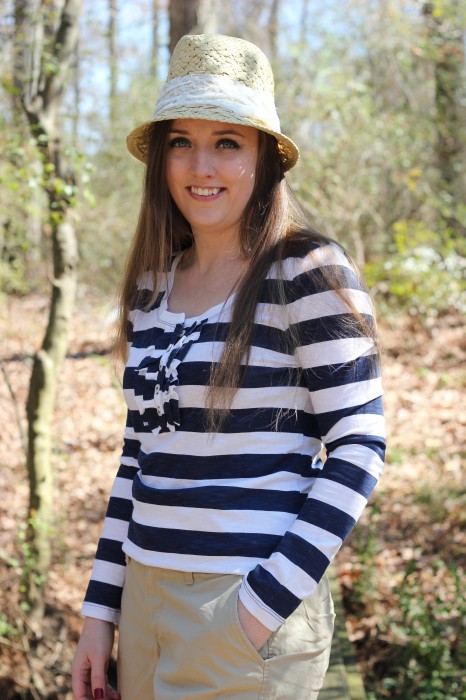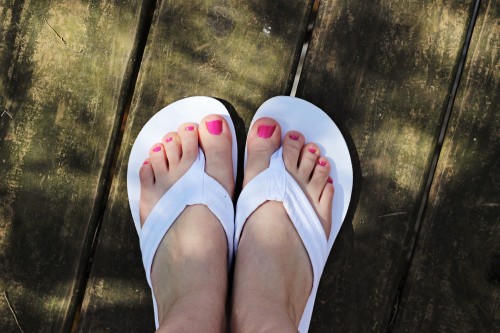 Top – Old Navy Clearance – $6.49
Shorts – same as above
Hat – Kohl's Clearance $1.50 <<< get to Kohl's!
Flip-flops – Kohl's Clearance $2.50 <<< siriusly u guys!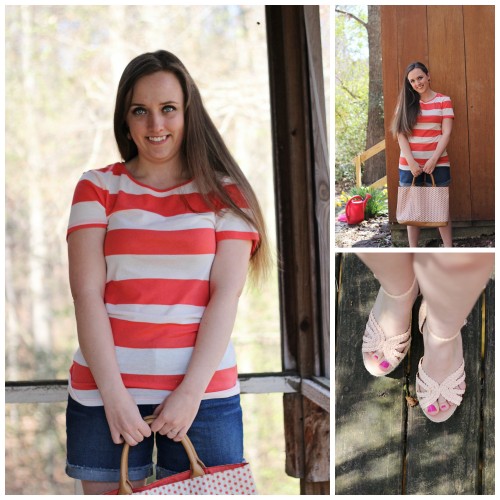 Top – Old Navy $6
Shorts – Old Navy $19.94
Shoes – "The" Wedges
Bag – Borrowed from my mom. The only thing cheaper than buying at Kohl's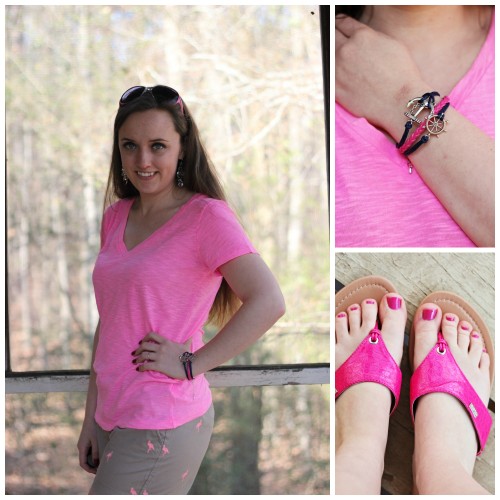 Top – Kohl's clearance 90 cents <<< are you at Kohl's yet?
Flamingo Shorts – Old Navy clearance $4
Sandals – Kohl's clearance $2
Bracelet – Facebook Co-op Buy – $3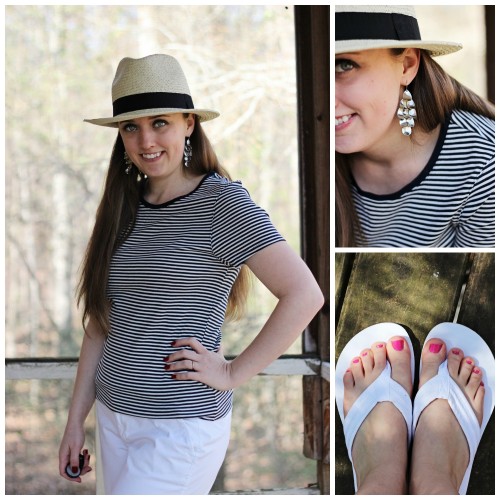 Top – Old Navy $6
Shorts – Old Navy clearance – $4
Shoes and Hat – repeats…scroll up!
Earrings – Premier Designs (password BAMA)
Wireless remote that I forgot to hide – Amazon
Lots of mixing and matching with shorts, shirts, sandals and hats! Now on to a dress
Ross/T.J. Maxx/Marshall's – Take advantage of these off-price retailers when you need a cocktail dress for your cruise's formal night. There's no way I'm spending $100 (or even $50!) for a dress I'm going to wear once. I got the dress below at Ross for $14.99. That I can live with! Now if I could only figure out what to do with my hair.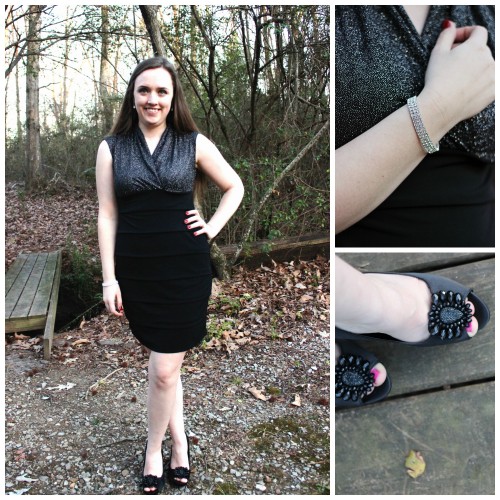 Dress – Ross $14.99
Shoes – Kohl's clearance $8.99
Bracelet – Bridesmaid gift from years ago
Last but not least, you gotta have a swimsuit on a cruise!
ModCloth – Highly recommend buying a swimsuit from them. There are lots or reasons to be dissatisfied with swimwear choices at brick-and-mortar stores. Here's a few of my complaints:
Skimpy Coverage – Not all of us like to let it all hang out
Poor Quality – Bathing suits from Walmart, Target, and the like generally look cheap to me.
Wrong Style – Choices seem to be either a bikini that belongs on a 19 year-old (that's what I've been wearing for a while now!) or a granny suit if you want more coverage. I'm 31 so neither options makes me happy.
My solution was this swimsuit from ModCloth.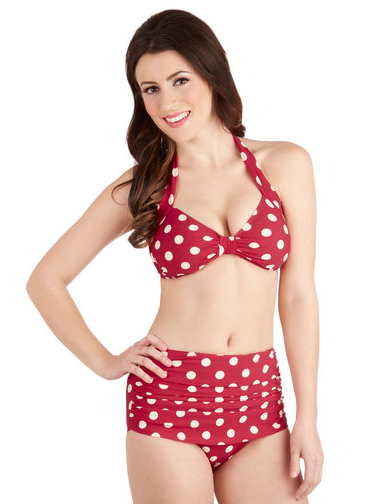 It offers enough coverage that I wouldn't be embarrassed for my dad to see me in it, yet it doesn't look like something someone twice my age would wear. The vintage style ensures that it won't be out-of-fashion any time soon, and it's high enough quality that I don't have to worry about it wearing out after a summer at the pool. It was worth the investment for me. Here's a couple of tips for shopping ModCloth.com
1. Have a friend refer you – When someone refers you, you both get a $15 credit! That takes a little of the sting out of the price tag. Don't have a friend on ModCloth? Feel free to use my referral link: http://sharethelove.modcloth.com/a/clk/Czpj0
2. Look at the reviews for the piece you are considering – ModCloth members love to post pictures of themselves in the items they've purchased. Find someone with your body shape/size and see how the piece looks on them. That's how I had such success with this swimsuit. I found a girl wearing the suit who was built just like me (Hubs said, Hey! Those are your legs! LOL) and read her review. The swimsuit looked fab on her so I bought the same size she did, and success! Wish she could try on everything on the site for me. 😉
Have you been on a cruise? Going on one anytime soon?