During all my past visits to Chattanooga, I've never had reason to visit the Creative Discovery Museum. Now that I'm mother to an almost 4 year-old, I finally had an excuse to go!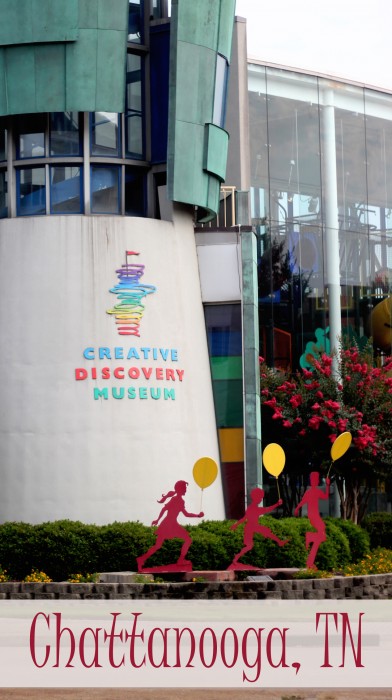 The Creative Discovery Museum is located downtown within walking distance of the Tennessee Aquarium (and a lot of great eateries!)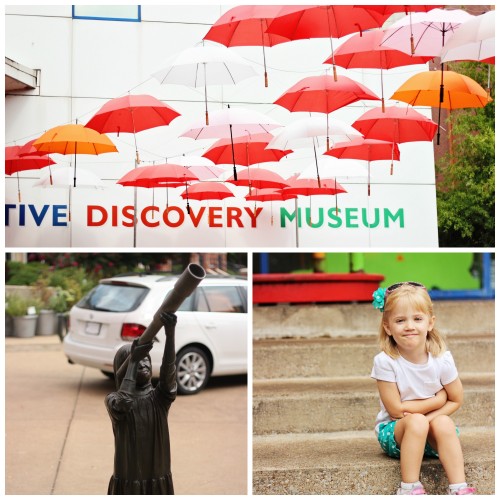 Children are drawn in just from the lobby alone. Bright colors and activities keep them busy while mom and dad buy tickets. Since we visited the aquarium the day before, I purchased our Discovery Museum tickets at the same time to take advantage of the discount being offered.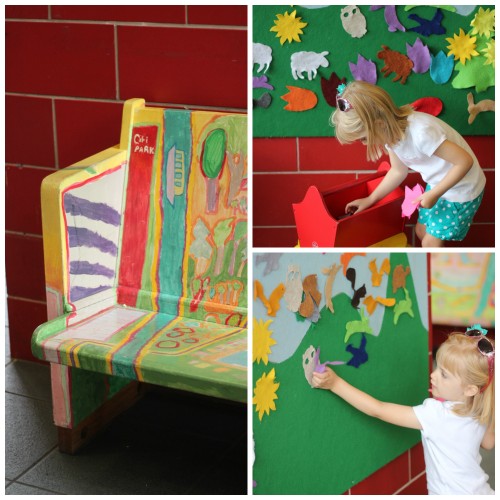 Visitors must pass through the Riverplay area to get to the main part of the museum (unless you want to cut through the gift shop)
Sweet T piloted a river boat, caught a fish, cooked it up in the galley and served it at the table.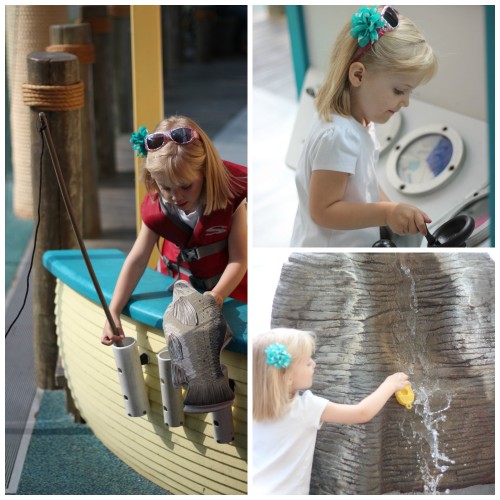 There's also a huge indoor playground in this area along with many water activities. Smocks are provided to keep clothing reasonably dry. Still, Miss OCD didn't care for getting wet and was grateful for the hand dryers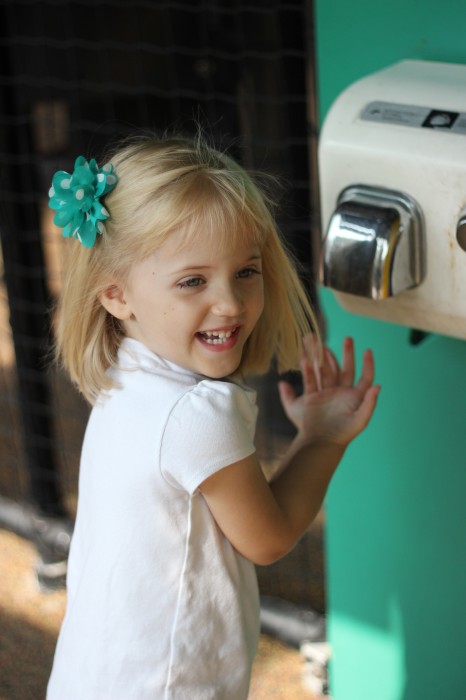 After making your way through the water works and the mother of all indoor play places, the museum opens into an atrium area and branches off into themed sections.
Sweet T started at the Inventor's Clubhouse where she proceeded to build a house. Her carpenter daddy would have been proud! Older children could learn about the physics of roller coasters. Sweet T just loved making the ball go zoom!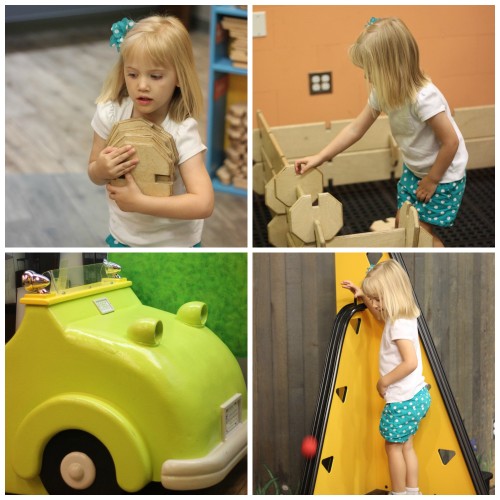 She also thought sending messages using pneumatic tubes was pretty cool. Way more fun than texting, right?
At this point I asked a stranger to take a picture of us together so we'd have one. Do you think she's a little excited about the day ahead?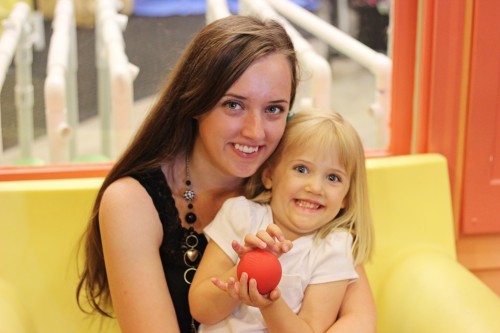 If you've ever been around a preschooler, you know how much they love pretend play. Sweet T could have spent the entire day at the Corner Clinic diagnosing and treating.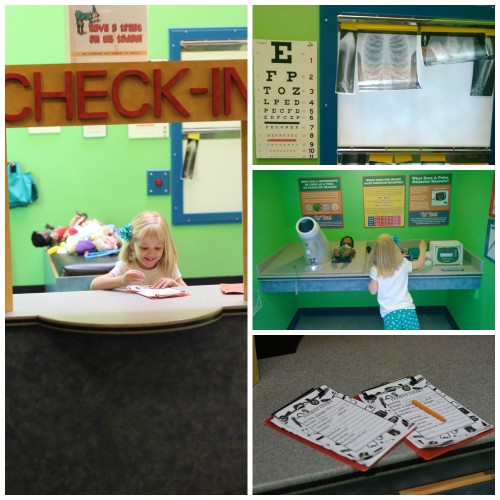 Mama hustled her along to the Visual Art Gallery to create some masterpieces.
Design, sculpt, draw and create in our hands-on, multi-media gallery space. From drawing and clay building to stop motion photography, there's something here for kids of every age.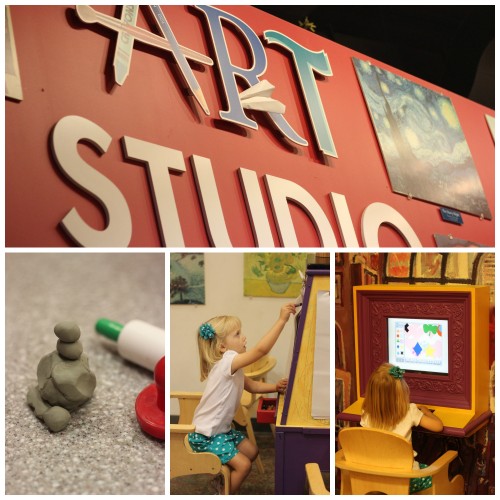 There's even a room full of nothing but paper, tape, glue, scissors and other paper objects for kids to go nuts with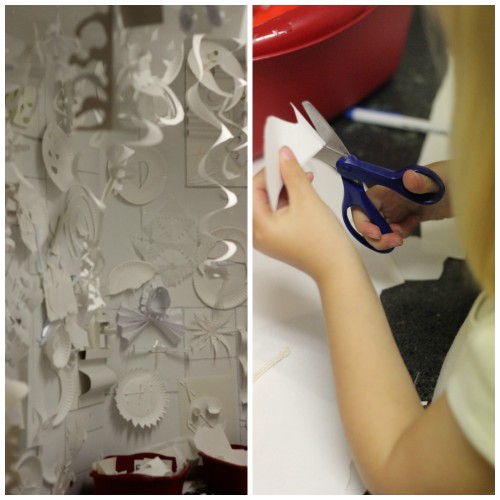 And it that doesn't fuel your creativity enough, there's always the performing arts gallery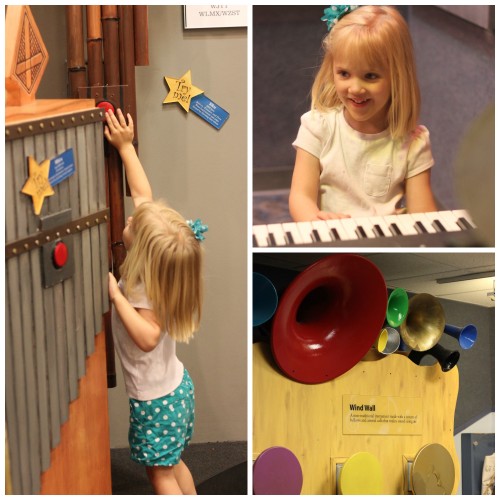 Once you've prepped for Julliard, you can enjoy some down time at the Excavation Station.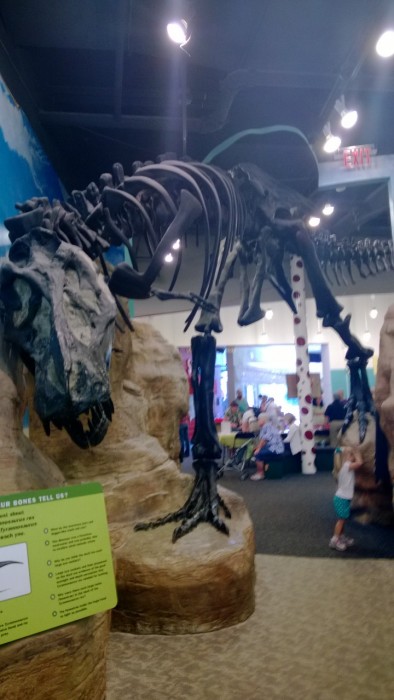 There's a GIANT sandbox fossil dig and caverns with real live critters like snakes and tarantulas in case you didn't see enough at the aquarium
I lost count of all the dress-up opportunities around the Creative Discovery Museum. Selfieosauruses!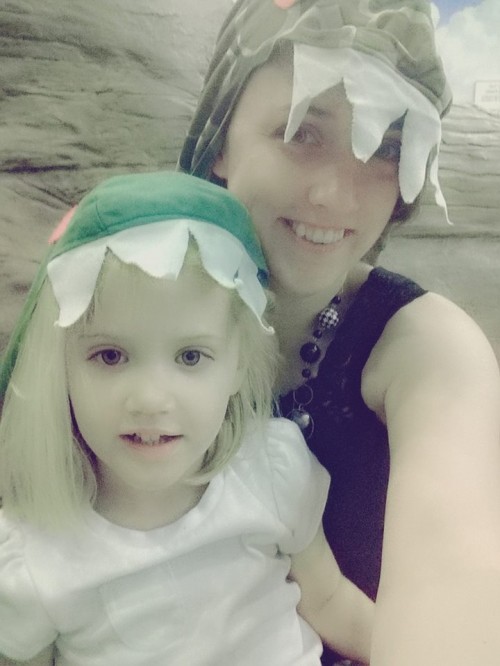 As if there weren't enough to do downstairs (yep. We're about to go upstairs where there's even more!) the Creative Discovery Museum was celebrating Honey Harvest while we were there! Sweet T got to "make and take"  a lip balm, soap, a beeswax candle, a bee hat and create a beeswax collage (tutorial coming soon!) There was also face painting and the opportunity to meet a beekeeper. All of this was included in the price of admission.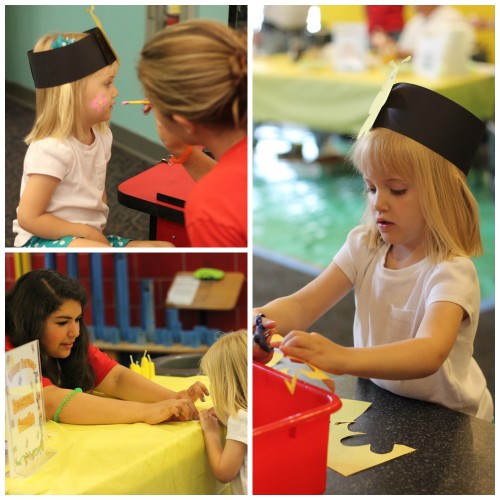 They even had a honey tasting. We sampled at least 10 different honeys and voted on our favorite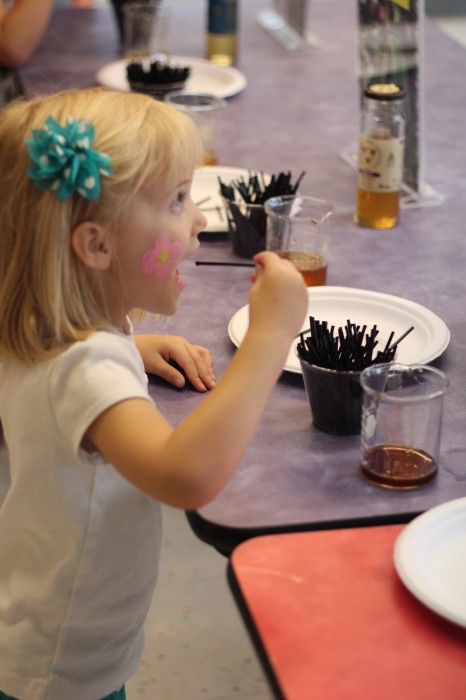 So what's for little bitty ones at The Creative Discovery Museum? The Little Yellow House! Children from newborn to age 4 have a place just for them with lots of pretend play like a fully equipped kitchen. There's even a space sectioned off for babies under 2 to play safely.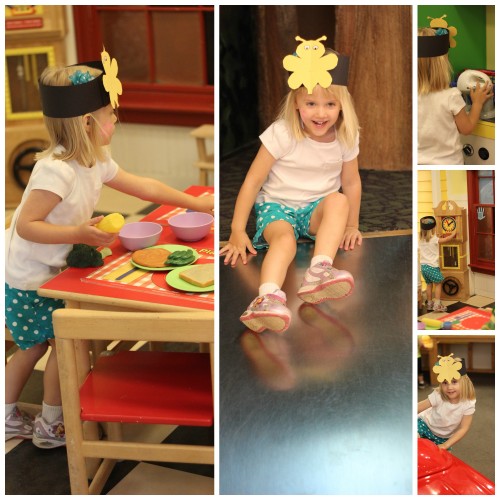 My breastfeeding days may be over, but I'm not so far removed from them that I've stopped scoping out nursing areas. Does that habit ever die? There's a comfortable nursing station at The Creative Discovery Museum equipped with a rocker, changing table, as well as space and toys for your older children to bide their time until their little sibling is finished eating. Good on ya Creative Discovery Museum!
And all the bathrooms are kid-friendly with step stools and colorful installations.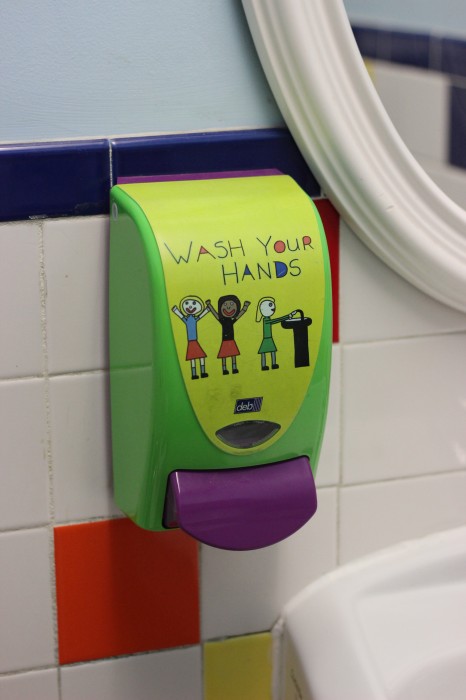 Ok back to the fun. I didn't even cover everything downstairs because I was really trying to shut off "photographer blogger mom" and turn on "just enjoy the moment with your child mom" 😉
Upstairs until September 7, 2014 you can see the Wizard of Oz traveling educational exhibit. Hang out in Kansas and farm…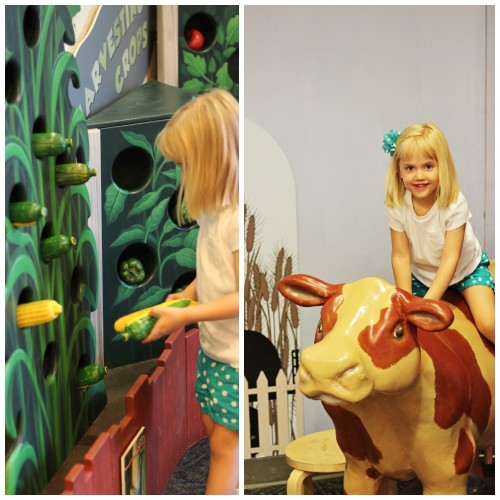 then get swept away to Oz!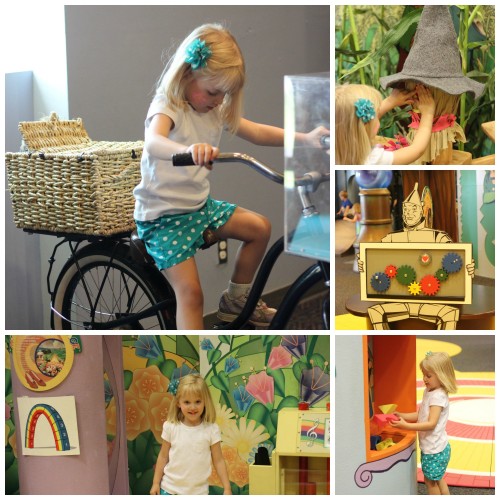 Upstairs is also where the bees make their home at Buzz Alley and Bee Garden. We saw a live honey extraction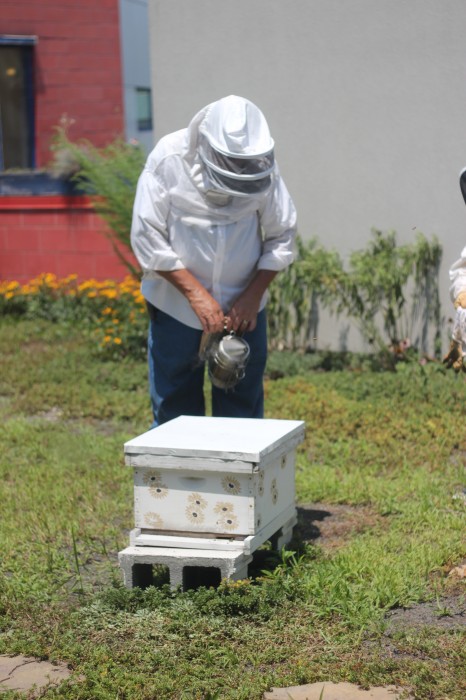 and Sweet T dressed up like a drone.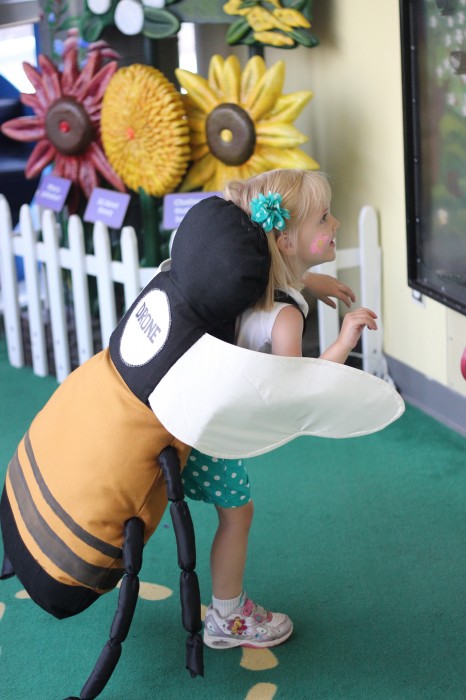 Then we took things outdoors to the Rooftop Fun Factory. Educational opportunities abounded…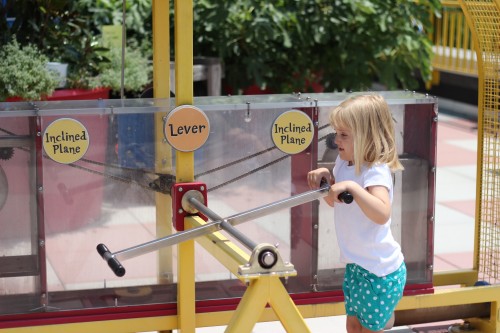 but we were mostly in it for the bubbles!
After traversing the entire museum, we went back and hit a few of Sweet T's favorite exhibits. All in all we spent 5 hours at the Creative Discovery Museum and could easily have spent more time if mama Sweet T wasn't completely wiped out.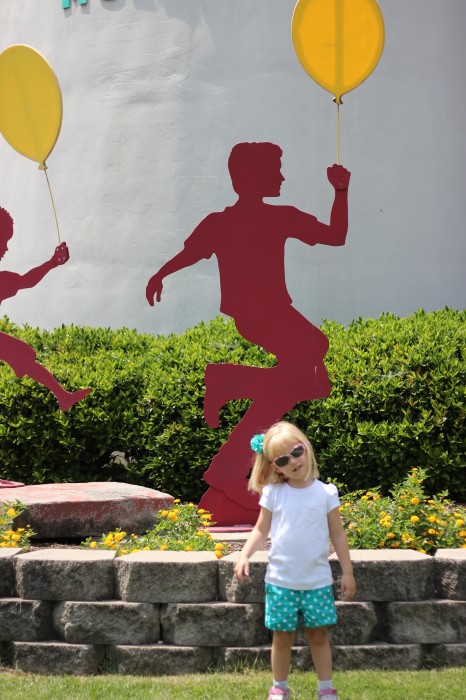 If you are traveling to the Chattanooga area with children you don't want to miss The Creative Discovery Museum!  Here are a few tips:
Avoid Saturdays – The place will be packed.
Go when they open – We visited on a Sunday and arrived shortly after opening. We were able to enjoy the museum without crowds for the first couple of hours. Things picked up around lunch but it was still no where near as crowded as what we saw passing by on a Saturday!
Bring snacks – No food or drink is allowed in the museum, but you can eat in the lobby or out on the steps. We took a snack break and kept right on going.
Dress for a marathon – I wondered why all the local mamas were in workout clothes while I was in flip flops. 15 minutes into our visit I realized tennis shoes and a ponytail would have been a better choice for playing and wrangling.
Bring a backpack – I at least had the sense to carry a backpack instead of a purse. This allowed me to carry our snacks and drinks and a change of clothes for Sweet T and keep my hands free for creativity and play.
Note that you will have to pay for parking since this is downtown. There are several nearby garages and rates range from $5-$8 per day.
There are so many things to do with kids in the Chattanooga area! For more ideas check out 100 Things to do in Chattanooga Before You Die.
100 Things to Do in Chattanooga Before You Die (100 Things to Do Before You Die)