This week's previous recipes have culminated into one delicious dish. Cornbread and pulled pork are both distinctly Southern foods, and they're even better together! These cornbread BBQ sliders make a quick and easy dinner idea for busy weeknights.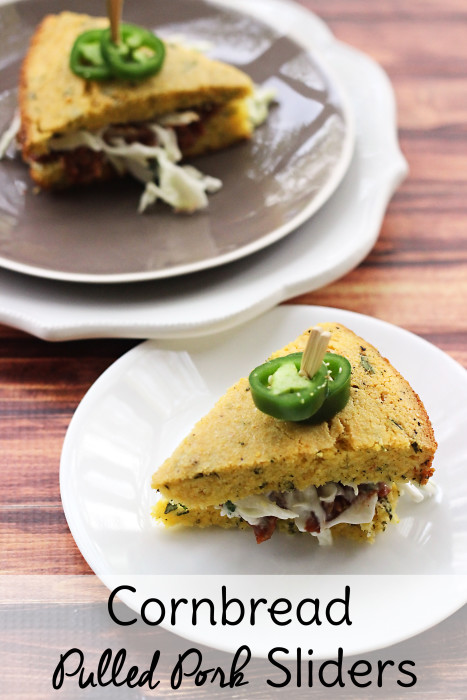 You can cook a pork loin in the crockpot all day and add sauce after cooking for an easy way to stuff these sliders. I took an even easier route and just used prepared pulled pork from the deli section. I promised this was an easy recipe, right?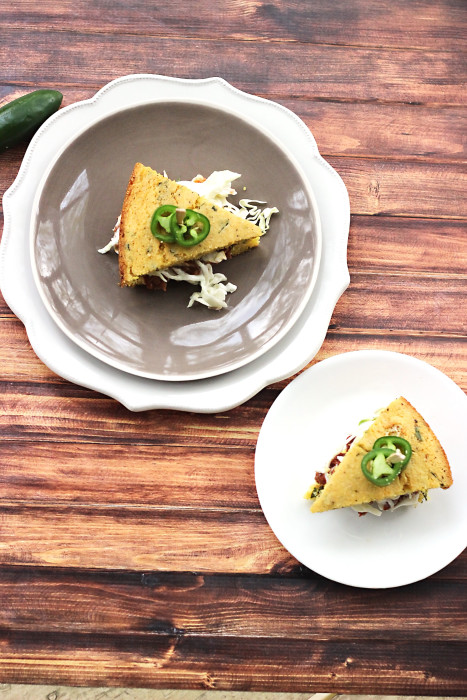 Cornbread Pulled Pork Sliders
Cornbread Pulled Pork Sliders
Author:
Pulled pork and slaw sandwiched between cornbread slices. This taste of the South makes a lovely BBQ or picnic food!
Ingredients
1 lb prepared pulled pork (I like to buy tubs from the deli section with sauce already mixed in. Curly's and Lloyd's are both delicious!)
1 recipe Cilantro Cornbread
1 recipe Citrus Coleslaw
Jalapenos for garnish
Instructions
Slice cooled cornbread wedges in half horizontally
Sandwich warmed pulled pork and chilled slaw in between cornbread halves.
Top with jalapenos if desired.
These Cornbread Pulled Pork Sliders were a hit with Hubs for dinner! I'll be serving them again this summer as a BBQ or picnic food.