'Tis the season for baking, baking, baking! Have you started baking holiday treats yet? We're fans of cookies all year round and my Maytag has the power and even-baking performance to feed our sweet tooth. With its 6.2 cu. ft. capacity I think it could even handle my mother-in-law's Christmas cookie load, which is no small task.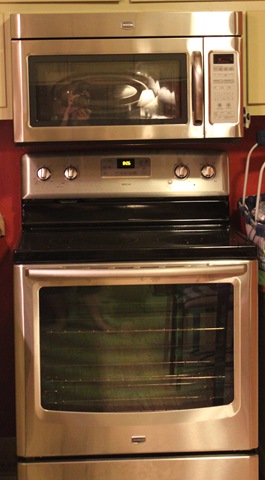 Sweet T likes to help bake cookies (and by bake I mean place pre-packaged dough circles on a cookie sheet ;)) and with the Maytag range we can actually watch her cookies baking. The visibility with this range compared to our old range is like going from a black and white tube television to a big screen HDTV. The window is so large and clear and the light is so bright that there's no need to open the oven to take a peek during the process.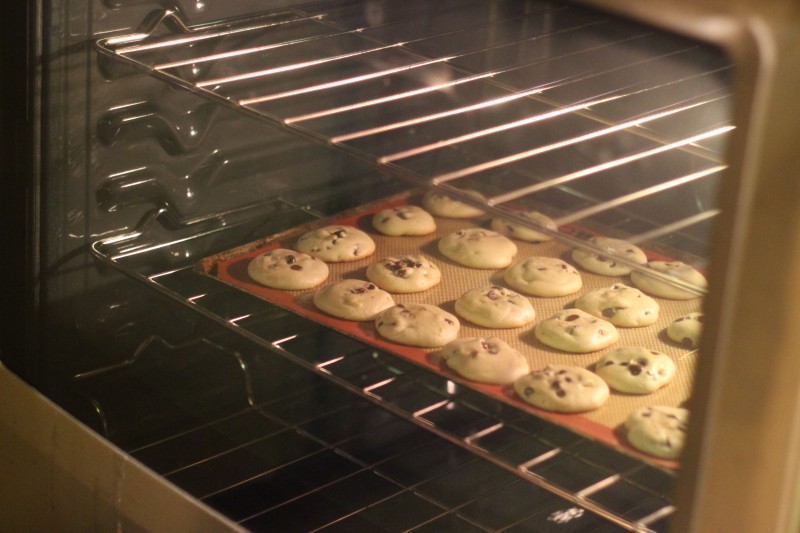 See what I mean? Opening the oven to check on food is one of Hubs' pet peeves since it lets heat into the house. This range makes my utility bill ogre happy! You can also see that the cookies are baking evenly. No need to rotate the cookie sheet during the cooking process.
Another of my favorite features of the range is the speed heat option which allows the right front burner to boil water twice as fast as my old range. Making macaroni and cheese for Sweet T is even quicker now. She's actually interested in helping make the mac and cheese since she doesn't get impatient waiting for the water to boil. Maytag just disproved the saying that "a watched pot never boils." 😉 The expandable left front burner is handy too and winds up being the burner I use most next to the speed heat eye.
Function gets an A+ from be so let's move on to cleaning. We live in the hot, humid South and when it's warm outside (80% of the year around here!) I refuse to use a high-heat self-cleaning feature. Goodness knows I'm not going to actually scrub the oven by hand, therefore I would only clean the oven in the winter. That made for a dirty oven most of the time! Thanks to the Maytag range now I can have a clean oven when "company is coming over" even if it's the middle of July! The Maytag range has an innovative coating with AquaLift Self-Clean technology that activates with water and heat to release tough baked on soils from underneath without extreme heat or odor. And the utility bill ogre is pleased once again.
For more information about Maytag be sure to check out Maytag on Twitter andMaytag on Facebook.
I wrote this post participating in an Maytag Moms Dependable Kitchen Ambassador program by Mom Central Consulting on behalf of Maytag. I was provided with a Maytag kitchen appliances set, including a refrigerator, microwave, dishwasher, and range to facilitate my post.