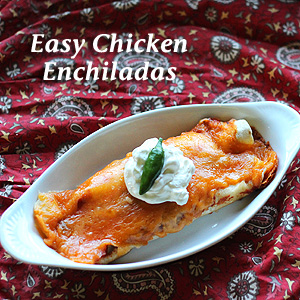 This easy chicken enchilada recipe is perfect for busy nights. I assemble them the night before or around lunch during Sweet T's naptime then all I have to do is put them in the oven 30 minutes before it's time to eat dinner.
The recipe is also extremely flexible. I've never made it the same way twice! You can make just about any tortilla size work and use more or less chicken, onion, and cream cheese depending on how much of each you have handy. No enchilada sauce? Use salsa. No shredded cheese? Slice up some Velveeta. Make that one little can of chicken you found in the back of the cupboard go further by using more cream cheese and onions. You get the idea.
Author:
Easy Chicken Enchiladas that can be assembled ahead of time.
Ingredients
10-12 soft taco size flour tortillas
12.5 oz can chunk chicken or fresh cooked equivalent
8oz cream cheese, softened
1 small onion, diced
1 can enchilada sauce or 1/2 jar salsa
8oz shredded cheese of choice
Sour cream (optional)
Jalapenos (optional)
Instructions
Preheat oven to 400 degrees.
Mix cream cheese, chicken, and onion together to create filling
Spread about 2 tablespoons of filling onto each tortilla
Roll up enchilada style (no need to tuck in ends) and place in greased 13×9 pan
Top with enough sauce or salsa to spread to cover tortillas
Top with shredded cheese.
Bake COVERED for 30 minutes.
Bake uncovered an additional 2-3 minutes if needed to melt cheese.
Serve topped with sour cream and jalapenos if desired
Want to know what else is cool about this chicken enchilada recipe? They taste even better the second day! Even though it's just me and Hubs eating them, I always make the full-sized portion so that we enjoy them two nights in a row.