For the backstory, click to read our
Home Emergency Preparedness Tips
 which probably should be renamed "Shoulda, Coulda, Woulda." A tornado-induced power outage caught us unawares. Today I'm going to talk about a few of the things we were actually properly prepared for, including an emergency car kit checklist!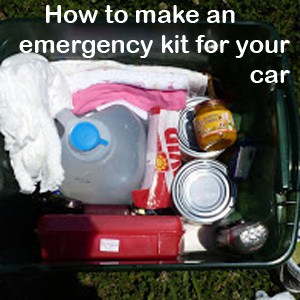 1. Build your Own Emergency Car Kit –  We didn't wind up needing it, but I was glad we had a car kit  just in case. Why? Crazy evacuation traffic! At one point the interstate was gridlocked and we opted to exit before reaching the endless line of motionless cars in hopes of getting a hotel. All the hotels were booked! Fortunately we were able to take some back roads and get around the traffic to get through, but if we'd stayed on the interstate in hopes that the traffic would eventually thin, there's a good chance we'd have been stuck for a long time with no way to move forward or exit.Thanks to The Survival Mom I had put together a kit several months ago to keep in our trunk at all times. There's lots of things you can include in your build your own emergency car kit, but here's what we wound up with. You'd be amazed what you can cram inside a container as small as this. Check out my emergency car kit checklist below to see what wound up in mine.
Emergency Car Kit Checklist
Baby food
Diapers
Gallon of water
First aid kit
Two large cans of ravioli and a can opener
Sunflower seeds
Wind up flashlight and phone charger
(2018 Version) iRonsnow Solar Emergency NOAA Weather Radio Dynamo Hand Crank Self Powered AM FM WB Radios 3 LED Flashlight 1000mAh Smart Phone Charger Power Bank (Red)
Antibacterial hand gel
Toilet paper (take the cardboard tube out to save space)
Tissues
Sanitary napkins
All-in-one type hand tool
Old tennis shoes for me (Hubs always wears footwear suitable for walking. He doesn't even own dress shoes or sandals.)
Adult diapers (I know you don't even want to contemplate this one, but if you are stuck on the interstate for three hours you might be glad they are there! I pray we never need them.)
Use this emergency car kit checklist to build your own emergency car kit. Keep it in your trunk and forget it for a while. You'll be glad you did.
2. Feminine Hygiene – Even if you are a fan of mama cloth, please keep a box of disposable products in your home at all times. Disposable users, if you are the type that only buys a box of tampons once a month as needed, get in the habit of buying a couple of boxes and keep one stored. What do you do when your monthly visitor comes in the middle of widespread power outage when you can't run to the gas station or grocery store to grab a pack because no business within a 50-mile radius has power? I fall into both of the aforementioned categories. I use mostly mama cloth, but if I find the traditional stuff on sale for a great deal then I'll stock up. I'm really hit or miss with having a box of tampons in the house.  Thank God there was a sale sometime in March and I bought a bunch. Otherwise I would have been roughing it on the road in mama cloth that I didn't have a means to properly wash. If you don't even have cloth for a backup then you'd be in real trouble. Go buy a box. Now. LOL
3. Food and Water – After the power went out at my first thought was the irony of having prepared more for "the big one" and not a simple five day power outage. My next thought was "hey, at least we won't go hungry!" We wouldn't have gone thirsty either if we had to stay in our home without running water (it was cut off the day we left) or electricity. In this bad economy many families, including ours, are getting into serious couponing. Buying more groceries than you immediately need at low prices is the perfect stepping stone to putting up food stores. My long-term goal is to have a year's worth of food stored for our family of three. Right now we have about three months worth. This would have easily seen us through five days without refrigeration with enough left to share with hungry neighbors. Same thing goes for water. Buy a few gallon jugs then starting filling your empty soda and juice containers to store.
Build Your Own Emergency Car Kit
I hope our little adventure, the mistakes we made, and the things we did right will be of use to you. I'm not a preparedness blog by any means, but will continue to write some "prepper" posts here and there as it pertains to our daily life. If you would like to learn more about short -term preparedness or delve into long-term preparedness,