While I don't do full-on freezer cooking (yet) Hubs has to have breakfast pre-made in the mornings. Why?
1. He likes to sleep until the last possible second, eating during his commute whenever possible.
2. I do not get up early enough to send him off to work with said breakfast.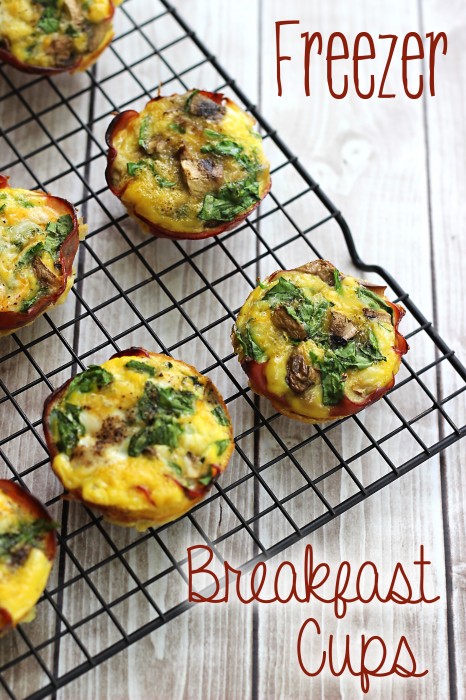 Our solution is breakfast burritos or a breakfast casserole of some sort. He can no longer eat breakfast burritos due to his gluten intolerance, and the casserole is impossible to eat from behind the wheel…safely anyway.
So this week Sweet T and I made him these easy make ahead breakfast cups. I keep them in a gallon freezer bag in the refrigerator and he pops a couple in the microwave to eat on the way to work. You can also freeze them for freezer meal breakfasts. Just be sure to thaw them completely before microwaving.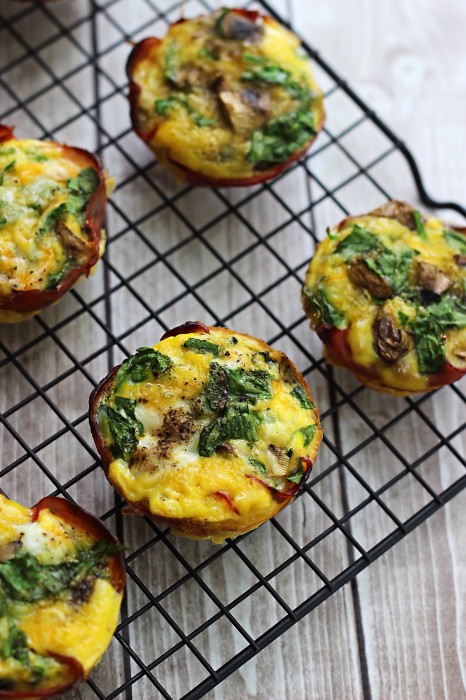 The key is to slightly undercook them if you will be reheating later. Nobody likes to eat tough, overcooked eggs!
Make Ahead Breakfast Cups
Author:
Prep time:
Cook time:
Total time:
This breakfast freezer meal is perfect for weekday breakfasts since you can eat them on-the-go!
Ingredients
12 slices deli ham
2/3 cup fresh spinach, chopped
2/3 cup fresh mushrooms, chopped
1/2 cup shredded cheddar cheese
9 eggs
salt and pepper to taste
Instructions
Preheat oven to 350
Spray muffin tin with non-stick cooking spray
Line each muffin cup with a piece of ham
In a medium bowl, whisk together spinach, mushrooms, cheese, eggs, salt and pepper.
Pour mixture into muffin tins over the ham.
Bake 20 minutes if serving immediately. Bake only 15 minutes if you are freezing or refrigerating to reheat later.
It takes three or four of these breakfast cups for Hubs to feel satisfied so next time I'll be doubling the recipe and making 24 instead of 12, with half the batch going in the freezer and the other half in the fridge.